If you are looking for the best Instagram hashtags, then you are in the right place at the right time. In this guide you will find the famous and right hashtags to integrate in your posts, useful for improving your visibility and becoming popular on Instagram.

What are Instagram hashtags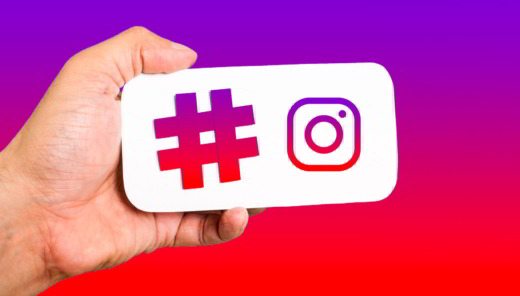 - Hashtag are words that are used not only to label but also to identify photos or videos on social networks such as Instagram, Facebook, Google+, Twitter and so on. Hash (hash) and tag (label) are always preceded by a hash "#". Through Hashtags you can identify the belonging of photos or videos to a certain category, for example if you photograph a flower, you can use the hashtag #flower or #flower to have a greater diffusion through the English language.
Instagram it is not the only Social Network that uses hashtags. They are also used on Facebook e Twitter, with the latter they became popular.
Through hashtags for Instagram you can get visibility and like from your followers by naturally including photos and videos and applying the geolocation of the set place.
Read also: How to use Instagram and what its potential is
How Hashtags are used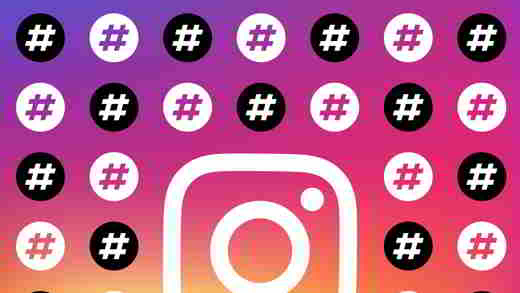 To get more likes, followers and comments for your Instagram profile you need to use the most popular hashtags and those that best suit your needs.
First of all you need to know that for each post you can enter a maximum number of 30 hashtags. Try to enter at least 3 description lines and at least 10 hashtags. Don't overdo it and try to always include hashtags in the description.
Tag the photos with the profile of the people present or who could leave you a like. You will increase your visibility and content. To tag you must enter the chiocchiola and then the name (for example @Soultricks) or click on the photo on the icon to insert theInstagram tag.
Always try to enter one Description when you post a photo, so as to include hashtags as well. Remember that the maximum description length is up to 2200 characters.
Use sensible, non-invented hashtags.
Tag the people who comment using the snail (@) and then the name of the person who wrote.
Enter the location of the photo, you will get more likes and greater visibility.
If you intend to increase Instagram followers and likes and also become popular on Twitter, here are other useful tips:
How to increase followers and likes on Instagram
The best tricks to get more followers on Instagram
Best tricks to increase Facebook likes
The best Instagram hashtags to get more likes
Instagram phrases
Best sites and apps to increase followers and likes on Instagram
The best Instagram hashtags

Popular hashtags

Popular Top 30 - Popular Top 60 - Popular Top 90

Generic Hashtags

Generic - Social Network - Followers - Like - Follow / Like / Comments - Love - Contest of the day - Book - Map - Video

Animals Hashtags

Generic animals - Dogs - Cats - Fish - Horse

Hashtag Art and Photography


Generic art - Black and White - Design - Graphic Design - Photography - Architecture

Hair Hashtag

Hairstyle - Blond hair - Curly hair

Food hashtag

Generic food - Desserts - Drinks - Sushi - Coffee - Wine - Spirits - Beverages - Tea

Hashtag People

People - Girls - Boys - Family - Boyfriend - Friends - Girlfriends - Children - Babies - Hippie - School - Work - Selfie - Love - Medicine - Phrases - Good night - Good morning

Fashion hashtag

Beauty and Fashion - Woman Fashion - Jewelry - Makeup - Model - Heels - Tattoos - Fashion Man - Nails - Earrings - Bracelets - Piercings - Sneakers

Entertainment Hashtag

Music - Guitar - Piano - Film - Video Games - Drawings - Comics

Hashtag Nature and Seasons

Nature - Beach - Cloud - Flower - Landscape - Sea - Sky - Summer - Dawn - Night - Rain - Sun - Snow - Trees - Winter - Summer - Autumn - Spring

Hashtag sport

Sport - Basketball - Free Body - Car - Running - Swimming - Swimming - Yoga - Fitness - Gym - Soccer - Dance - Weight Loss - Motorcycle - Plane - Boats

Hashtag Events

Christmas - New Year - Valentine's Day - Birthday - Wedding - Easter - Holidays - Halloween

Hashtag Technology

Tecnologia – Android – Smartphone – Apple -iPhone
Below is a collection of the most used hashtags for likes to get lots of likes on your photos or videos on Instagram. Attention most of the tags for Instagram are in English and the maximum number of hashtags that can be inserted on an Instagram photo is 30. All you have to do is copy and paste them into your post.
Have a good consultation with the popular Instagram hashtags!
Popular Instagram hashtags ▲
Popular Hashtags Top 30
#love #instagood #me #cute #tbt #photooftheday #instamood #iphonesia #tweegram #picoftheday #igers #girl #beautiful #instadaily #summer #instagramhub #iphoneonly #follow #igdaily #bestoftheday #happy #picstitch #tagblender #jj #sky #nofilter #fashion #followme #fun #sun
Popular Hashtags Top 60
#smile #instagramers #pretty #food #friends #like #lol #nature #hair #onedirection #swag #beach #funny #bored #life #cool #blue #dog #pink #art #versagram #sunset #hot #photo #instahub #my #tagblender #family #throwbackthursday #cat
Popular Hashtags Top 90
#amazing #girls #awesome #clouds #baby #tagblender #party #red #repost #music #black #jj_forum #instalove #all_shots #igaddict #night #followback #yummy #white #bestfriend #green #yum #instago #halloween #school #eyes #harrystyles #sweet #2012 #2013
Generic Instagram hashtags ▲
Generic Hashtags
#implus_daily #follow #photooftheday #fun #love #jj #instadaily #igers #igersoftheday #me #gramoftheday #instagramhub #instamood #bestoftheday #tbt #picoftheday #igdaily #webstagram #statigram #instatalent #ig_watchers #insta_global #instago #ig_snapshots #golook #gang_family
Hashtag Social Network
#igfotogram #igscout #_wg #1d #instagramer #instaaaaah #insta_crew #instapicture #instamillion #instagold #photolocker #insta_shutter #instagroove #ignation #instahub #original #photoaday #golook #most_deserving #bestsnaps #bestphoto #instapic #ig_ #universtagalsta_ #instaweb #clubsocial
Hashtag Followers
#follow #followme #followforfollow #followme #follower #followers #alwaysfollowback #followbackalways #teamfollowback #followbackteam #f4f #ifollow #followall #followher #pleasefollow #pleasefollowme #me #likeback #tagsta #tagstagramers
Hashtag Like
#likeforlike #likeall # like4like # likes4likes #liking #instagood #tagblender #tagblender #likesforlikes #ilike #liker #love #ilikeback #liketeam #likealways #tflers #likebackteam #ilikeyou #ilikeit #photooftheday #likes #likesback #likesforliked # #ilu #iliketurtles # l4l #likeme #likemeback
Hashtag Follow / Like / Comments
#f4f #s4s #l4l #c4c #likeforlike #likeall #like4like #likes4likes #liking #instagood #tagblender #follow #followme #followback #followforfollow #follow4follow #followers #followher #follower #followhim #followbackteam #followall #comment #comments #commentback #comment4comment #commentbelow #shoutout #shoutouts #shoutoutback
Hashtag Contest of the Day
#contestday #imagin8 #bestoftheday #fabshots #bd #instagramhub #insta_shot #igfotogram #gramoftheday #igfotogram #rscpics #contestgram #tagsta_ #gang_family #dayshots #instapicturing #instamood #most_deserving #instagallery #greatfeeds #insta_crew #instahub #photowall #photomafia
Hashtag Book
#paper #library #love #bestoftheday #imagine #book #photooftheday #kindle #tagblender #page #literature #books #readinglist #nook #geek #plot #lovebooks #literate #text #pages #read #bookworm #reading #reader #author #story #words #climax #stories #instagood
Hashtag Map
#geography #mapastepec #atlas #yeartrip #traesuremap #crazytrip #urmap #maplesyur #hike #imap #maplesyrup #map #mapleton #countrymap #mapletulip #tour #traveling #maplestory #lovetohike #maps #worldmap #mapex #excursion #tagblender #mapmaker #outing #maple #trip #maplegrove #mymap
Hashtag Video
#videogram #awesomevideo #videoshoot #iphonesia #myvideo #love #videoshow #cute #instav #videooninstagram #picoftheday #instamood #tagblender #video #videoclip #tweegram #videooftheday #videography #photooftheday #videodiary #me #instagramvideos #instavideo #instagood #videogames #videostar #videogame #tbt #instagramvideo #videos
Hashtag Instagram Pets ▲
Animals Hashtags
#animal #animals #wildlife #nature #tagsta #tagsta_nature #instalife #dayshots #wild #tagstagramers #natgeohub #igs #instanature #awesome_shots #nature_shooters #vida #fauna #animalsofinstagram #animali #naturaleza #natura #tagstagramers #instanaturelover
Hashtag Dogs
#dog #cute #adorable #pet #pets #dogsofinstagram #ilovemydog #dogs #instagramdogs #dogstagram #nature #animal #animals #puppy #puppies #pup #petstagram #picpets #cutie #life #doggy #petsagram #dogoftheday #loveit #tagsta #tagsta_nature
Hashtag Cats
#cat #cats #pet #petstagram #nature #kitten #kittens #catstagram #cutie #pets #kitty #catlovers #catsofinstagram #animal #sweet #life #catlover #ilovemycat #ilovemypet #instapets #petsagram #picpets #instacat #loveit #happy_pet #tagsta_nature
Pisces hashtag
#fish #sea #food #water #dolphin #whale #dolphins #ilovefish #ilovefishing #fishingboat #fishingpole #underwater #sealife #underwaterphotograpy #underwaterworld #underwatercamera #underwaterphoto #underwatergram #instafish #tagblender #seafood #seafoods #fishtagram #animals #fisherman #fishy #fishyface #fishys #coral #coralreef
Horse hashtag
#horsebackriding #fast #showjumping #horseshoe #nature #pony #horsey #instanature #riding #animallover #animal #naturegram #naturelovers #animalsofinstagram #horse #horseofinstagram #horsemask #tagblender #horseshow #animallovers #horsepower #ponies #horseriding #horses #instapet #ride #instahorse #petstagram #horsestagram #horsejumping #ponies #farm #riders #wild #pretty #horse #tagblender #riding #horses_of_instagram #instahorses #jockey #gallop #rider #photooftheday #mane #horseshoe #pony #horseshow #good #nature #horsestagram #horsesofinstagram #grass #cute #horses #ilovemyhorse #beautiful #field #babyhorse #instagood
Insects hashtag
#animals #bug #bugs #bugslife #closeup #creature #creatures #earth #insect #insects #instagood #instanature #lovenature #macro #macro_creature_feature #macrogardener #macrophotography #nature #nature_shooters #naturelover #photooftheday #wildlife
Hashtag Instagram Art and Photography ▲
Hashtag Art
#art #tagblender #artist #artistic #artists #arte #dibujo #myart #artwork #illustration #graphicdesign #graphic #color #colour #colorful #painting #drawing #drawings #markers #paintings #watercolor #watercolour #ink #creative #sketch #sketchaday #pencil #cs6 #photoshop #beautiful
Black and White Hashtags
#blancinegre #monochrome #bw_lover #byn #blancoynegro #irox_bw #art #bw_society #nero #blackandwhite #ic_bw_bw #bwstyles_gf #bandw #beautiful #perfect #nb #noir #bw #tagblender #good #mono #bnw #monoart #black #igersbnw #bwoftheday #noiretblanc #noirlovers #bwbeauty #white
Hashtag Design
#design #designer #designed #designs #fashiondesign #interiordesign #architecture #architect #artist #classical #clean #beautiful #perfect #shiny #amazing #best #hairdesign #craft #antique #vintage #retro #line #linedesign #homestyling #styling #style #stylist #tagblender #good #artwork
Hashtag Graphic Design
#graphicdesign #tagblender #design #designer #designed #designs #graphic #graphics #adobe #illustrator #photoshop #cs6 #vector #professional #printers #webdesign #site #website #artist #classical #clean #beautiful #perfect #shiny #amazing #best #artistic #artists #arte #colorful
Hashtag Photography
#photography #photo #photos #tagsblender #pic #pics #art #tagblender #artist #artistic #artists #arte #dibujo #myart #artwork #color #all_shots #exposure #composition #focus #capture #classical #clean #beautiful #perfect #shiny #amazing #best #colorful #illustration
Hashtag Architecture
#abstract #archidaily #archilovers #architecture #architecturelovers #architectureporn #architexture #art #arts #beautiful #building #buildings #cities #city #composition #design #geometric #geometry #instagood #lines #lookingup #minimal #pattern #perspective #skyscraper #street #style #town #urban
Instagram Hashtag Hair ▲
Hashtag Hair Style (pettinatura)
#instafashion #black #brunette #longhairdontcare #hairideas #hairdye #straighthair #haircolour #perfectcurls #tagblender #haircut #hairoftheday #hairdo #hairofinstagram #hairstyles #curly #coolhair #fashion #longhair #hairfashion #instahair #style #brown #braid #haircolor #braidideas #blonde #straight #hairstyle #hair
Hashtag Blond hair
#gold #blondehair #tagblender #longhair #blondguy #hairposts #hairdo #goldhair #hairstyles #light #fun #hairstyle #haircolour #hair #cute #instahair #outfit #fashionstyle #lighthair #blondgirl #fashionable #haircut #fashiondiaries #blonde #instafashion #coolhair #fashion #hairdye #haircolor #beautiful
Hashtag Curly hair
#black #frenzied #haircolour #colorful #curls #hairstyle #fashion #beautiful #tagblender #diffuse #curly #fun #light #funny #hairdye #curlyhair #coolhair #heat #gamin #haircut #blonde #hairstyles #blondgirl #goldhair #crazy #lighthair #afro #natural #fashionable #haircolor
Instagram hashtag Food ▲
Food hashtag
#fresh #getinmybelly #gnam #healt #healty #homemade #hot #hungry #igersbarcelona #ilovecooking #ilovefood #instacake #instafood #instagood #instamood #love #lunch #munchies #photooftheday #recipe #recipes #sharefood #sogood #stuffed #sweet #tasty #tasty #yum #yummy #yumyum
#amazing #beautiful #bestoftheday #breakfast #cibo #cook #cooking #cucina #delicious #delish #dessert #dinner #eat #eating #fashionfood #favorite #food #foodaddict #foodart #foodblog #foodblogger #foodgasm #foodie #foodism #foodlover #foodpic #foodpics #foodporn #foods #foodstyling
Hashtag Desserts
#cake #tagblender #sugar #dessert #desserts #instafood #food #sweet #cakes #yummy #yum #foodporn #foodpics #eat #delicious #eating #foodgasm #foodphotography #hungry #tasty #benandjerrys #cupcakes #chocolate #foodstagram #nomnom #cookies #pancakes #icecream #sweettooth #fat
Hashtag Drinks
#drinkup #glass #pub #bar #drink #drinks #wine #beer #beers #photoofthed #slurp #tagblender #drinking #alcohol #yum #yummy #cocacola #nomnomnom #enjoy #thirsty – #thirstythursday #liquor #foodforfoodies #getinmybelly #foodporn #cocktails #mmm #sweets #hard #good
Hashtag Sushi
#asianfusion #chinese #dinner #fish #food #foodgasm #foodie #foodphotography #foodporn #foodstagram #fresh #freshfood #instafood #instagood #japan #japanese #japanesefood #like #lunch #maki #salmon #sashimi #seafood #sushi #sushilovers #sushiroll #sushitime #tempura #yummy
Coffee hashtag
#cafe #cafelife #caffeine #coffee #coffeeaddict #coffeegram #coffeeholic #coffeelife #coffeelove #coffeelover #coffeelovers #coffeemug #coffeeoftheday #coffiecup #cotd #drink #hot #instacoffee #mug
Hashtag Wine
#bestwine #doc #foodandwine #instawine #madeinitaly #redwine #riserva #sommelier #whitewine #wine #winelover #winelovers #winery #winetasting #winetime
Liquor Hashtag
#alcohol #alcool #amaro #aperitivo #bar #borghettino #brandy #cocktail #cocktails #darkpassion #drink #drinking #drinks #friends #gin #grappa #limoncello #liquirizia #liquore #liquori #pub #rum #skypass #tequila #vodka #wine #wodka #yum #yummy
Hashtag Drinks
#bar #beer #beers #can #cocktail #cocktails #drink #drinks #drinkup #glass #instagood #liquor #photooftheday #pub #slurp #thirst #thirsty #wine #yum #yummy
Hashtag Tea
#drink #healthy #hot #ilovetea #instatea #mug #tea #teaaddict #teacup #teagram #teaholic #tealife #tealove #tealover #tealovers #teaoftheday #teastagram #teatime
Hashtag Instagram People ▲
Hashtag People
#people #boy #boys #man #men #tagblender #guys #guy #cute #hot #love #girl #girls #girlsday #girlsbestfriend #girlswhosmokeweed #mouth #hunk #swag #sexy #cool #kik #eyes #friends #face #girlsnight #hair #bored #portrait #bab
Hashtag Girls
#eyes #family #tagblender #babysister #love #baby #babysitting #friends #goodtime #fun #cute #babyswag #babysis #babys #my #sleepy #sweet #bad #awesome #instakids #instababies #girls #instagood #smile #cool #sleep #face #kid #babyshower #kids
Hashtag Boys
#boy #boys #man #men #tagblender #guys #guy #cute #hot #love #me #handsome #picoftheday #photooftheday #instagood #fun #smile #dude #mylife #hair #model #male #malemodel #abs #hunk #swag #sexy #cool #kik #eyes
Family Hashtag
#awesome #dad #goodtime #happy #sis #life #mother #bro #guy #fam #love #smile #siblings #mom #instagood #photooftheday #father #family #fun #brother #children #brothers #related #tagblender #sisters #sister #cute #guys #kids #familytime
Boyfriend Hashtag
#funny #ex #cool #smiling #myboyfriend #hair #enjoy #feelgood #face #tagblender #mouth #boy #sexy #boys #eyes #hunk #boyfriend #funtimes #kik #bored #boyfriends #man #bab #love #lovelife #portrait #men #swag #friends #guy
Hashtag Friends
#friend #friends #fun #people #boy #boys #man #men #tagblender #guys #awesome #goodtime #guy #cute #hot #love #girl #girls #live #forever #smile #bff #bf #gf #best #bestfriend #lovethem #bestfriends #goodfriends #friendship
Hashtag Girlfriends
#girl #girlfriends #cute #sweet #kik #girlsgeneration #girlsgoneweed #hunk #sexy #girlstuff #portrait #girls #face #lips #eyes #cool #beauty #girlfriend #friend #girlsnight #bab #girlsnightout #friends #hot #love #tagblender #bored #swag #mygirlfriend #hair
Hashtag Children
#adorable #baby #babies #child #children #childrenphoto #cute #family #fun #handsome #happy #instababy #instacute #instagood #instakids #kid #kids #little #love #photooftheday #play #pretty #smile #sweet #thechildrenoftheworld #young
Hashtag Babies
#adorable #babies #baby #beautiful #children #childrenphoto #cuddle #cuddly #cute #family #happy #igbabies #infant #instababy #instagood #kid #kids #life #little #love #lovely #newbaby #photooftheday #sleep #sleeping #small #sweet #tiny #toddler #young
Hashtag Hippie
#whatsyourfavorite #summerslimdown #figure #fitchick #flowerpower #curls #happiness #sunshine #lovinglife #feelgood #lanadelrey #tumblrhipster #curlyhair #yingandyang #summertime #rushpopup #longhair #healthier #marinadiamandis #i #rockstud #sun #natural #yang #instastyle #thats #redhead #vibes #tagblender #skyferreira
School Hashtag
#book #books #bored #class #classess #classmate #classmates #homework #instagood #messingaround #peer #photooftheday #school #student #students #TagsForLikes #teacher #teachers #textbook #textbooks #work
Hashtag Work
#biz #bored #business #company #computer #dailygrind #dayjob #grind #ilovemyjob #instadaily #instagood #instajob #instalife #job #life #mygrind #myjob #office #photooftheday #TagsForLikes #work #working #workinglate
Hashtag Selfie
#eyes #face #follow #followme #fun #hair #handsome #igdaily #igers #instagood #instalove #instaselfie #life #love #me #mirrorselfie #portrait #pretty #selfie #selfiee #selfiegram #selfienation #selfieoftheday #selfies #selfiestick #selfietime #selfiesunday #shamelessselefie #smile #workselfie
Love hashtag
#adorable #all_pixs #beautiful #bepopular #bestpicture #bf #bff #boy #boyfriend #couple #cute #fabshots #followme #forever #fun #genginsapgan #gf #girl #girlfriend #golook #happy #hot_shotz #hugs #ig_bestever #igaddicts #imagin8 #instabeauty #instacool #instafamous #instagain
#instagallery #instagood #instalove #instalove #instalovers #instaplus #instasg #kiss #kisses #latergram #life #love #loveher #lovehim #me #photooftheday #pickoftheday #popularpic #pretty #romance #smile #tbt #teamrebel #together #xoxo #yolo
Hashtag Medicine
#body #doctor #doctors #doctors #fit #fitness #health #healthcare #healthy #hospital #nurse #life #medical #medicine #medschool #medstudent #motivation #motivations #nurse #hospital #health #surgery #vita
Hashtag Phrases
Friends
Goodnight hashtag
#bed #bedtime #dark #goodday #goodnight #insta_sleep #instagood #instagoodnight #knockedout #knockout #lightsout #latenight #lunar #moon #moonlight #night #nightowl #nighttime #nightynight #out #passout #photooftheday #rest #sleep #sleeptime #sleepy #sleepyhead #star #stars #tired
Hashtag Good morning
#awake #bed #breakfast #day #daytime #early #earlybird #fresh #gettingready #goingout #goodmorning #instagood #instamorning #light #morn #morning #photooftheday #ready #refreshed #sky #sleepy #sluggish #snooze #sunrise #sunshine #tired #wake #wakeup #wakingup #work
Hashtag Instagram Fashion ▲
Beauty and Fashion Hashtag
#fashion #makeup #dress #hot #clothes #clothing #fashionable #instafashion #swag #swagger #model #style #musthave #weheartit #girly #classy #fashiondiaries #pants #ootd #highheels #shoes #clubsocial #accessories #loveit #tagsta #tagsta_fashion #fashionblogger #fashionshow #fashionista #fashionable #fashionweek #tagblender #fashiondiaries #model #beauti #photooftheday #instagood #cute #winter #winter2012collection #look #modeling #style #accessories #classy #nails #nail #hair #hairstyle #instahair #instamakeup #cosmetic #cosmetics
Hashtag Donna Fashion
#accessori #lifestyle #instagood #art #girls #hair #2012 #fashiondiaries #cute #awesom #girly #pink #trend #fashionshow #fashionblogger #modeling #photooftheday #outfit #winter #color #pretty #fashionista #beauti #tagblender #models #fashionable #fashionweek #winter2012collection #accessories #classy
Hashtag Jewellery
#brandybabe #cute #trendy #clothing #mint #lookbook #accessories #jewelery #ring #braclet #fashionista #spring #style #beautiful #tagblender #ruby #emerald #pretty #trends #amethist #rich #necklace #jewel #outfit #mannequins #visuals #earrings #fashion #topaz #jewelry
Hashtag makeup
#blush #mascara #instafashion #fashionable #tagblender #mac #palettes #fashiondiaries #beauty #eyeshadow #lip #outfit #barrym #fashionblogger #lips #makeupartist #beautiful #fashionstyle #gloss #eyeliner #lipgloss #cosmetics #fashionstudy #lipstick #concealer #foundation #powder #eyes #eyebrows #glue
Hashtag Modella
#purse #love #instafashion #beautiful #style #dress #shoes #eyes #modelgirl #girls #instagood #heels #stylish #pretty #photooftheday #girly #girl #skirt #hair #beauty #models #modelguy #styles #outfit #nails #model #cute #tagblender #fashion #jewlery
Hashtag Heels
#heels #shoes #highheels #high #shoe #instashoes #fashionblogger #fashionshow #fashionista #fashionable #fashionweek #tagblender #fashiondiaries #model #model #beauti #stilettos #boots #footwear #sandals #brogues #laces #shoesoftheday #platforms #sneakerporn #shoeporn #fashion #swag #instagood #walklikeus
Hashtag Tattoos
#tat #instatattoo #tattooed #ink #sleevetattoo #instagood #photooftheday #tatted #inkedup #cute #tattoist #tflers #tattoo #bodyart #love #coverup #inked #instaart #amazingink #tatts #me #tattedup #design #happy #handtattoo #chesttattoo #art #tats #tattoos #tagblender
Hashtag Uomo Fashion
#fashionblogger #fashionshow #fashionista #fashionable #fashionweek #tagblender #jacket #look #cool #streetwear #model #style #musthave #weheartit #gentleman #skirt #clothes #clothing #tshirt #shoes #sneakers #styles #jeans #swagg #guy #boy #boys #man #fresh #dope
Nail Hashtag
#nails #nailswag #shiny #polish #nailpolish #pretty #girl #girls #stylish #sparkles #styles #gliter #nailart #fashion #fashionable #instafashion #fashiondiaries #fashionstyle #fashionblogger #naildesign #nailartclub #nailartaddicts #nailartheaven #nailartaddict #nailartjunkie #nailvarnish #prettynails #tagblender #awsome #beautiful
Hashtag Earrings
#accessories #beautiful #cute #earring #earringaddict #earringfashion #earringlove #earrings #earringsoftheday #earringstagram #earringswag #fashion #fashionista #girl #gorgeous #jewelry #love #pierced #piercing #piercings #stylish #trendy
Hashtag Bracelets
#accessories #armcandy #armparty #armswag #beautiful #bracelet #bracelets #braceletsoftheday #braceletstacks #fashion #fashionista #fashionlovers #instagood #jewelry #love #pretty #trendy #wristgame #wristwear
Hashtag Piercings
#bellybar #bellybuttonpiercing #bellybuttonring #bellyrings #bodymods #ear #earlobe #girlswithpiercings #instagood #lipring #modifications #navel #nosepiercing #photooftheday #pierced #piercing #piercingaddict #piercings #septumpiercing
Hashtag Sneakers
#converse #fashion #flykicks #fresh #igsneakercommunity #instagood #instakicks #instashoes #kicks #kickstagram #nicekicks #nike #peepmysneaks #photooftheday #shoe #shoegasm #shoeporn #shoes #sneaker #sneakerfiend #sneakerfreak #sneakerhead #sneakerheads #sneakerholics #sneakerporn #sneakers #solecollector #soleonfire #swag #walklikeus
Hashtag Instagram Entertainment ▲
Hashtag Music
#artistic #guitar #punk #song #musician #recording #band #hiphop #classic #pop #rockstar #musicvideo #songs #onedirectioninfection #musical #festival #group #concert #bands #1d #rocknroll #rockband #singer #hardrock #tagblender #guitarist #pianist #musicals #rockstars #trumpet
Guitar hashtag
#melody #shredding #play #gibson #jackson #fender #playmusic #instrument #guitars #guitarist #guitarpick #guitarplayer #guitare #lespaul #guitar #rock #music #tagblender #guitarhero #guitarsolo #guitaramp #guitarstrings #iloveguitars #ilovemusic #musician #musicflow #musicismylife #musicnotes #guitartabs #musicislife
Hashtag Instagram Technology ▲
Hashtag Technology
#technologies #technology #tech #technews #technologynews #techworld #techies #colleges #innovation #techno #engineering #techie #newtechnology #techy #informationtechnology #technologie #techlover #technologyrocks #techgeek #technologythesedays #instatech #gadgets #instatechnology #futuretech #students #m #servers #digital #techlife #bhfyp
#internet #d #newtech #engineer #hightech #datacenter #development #design #hardware #server #it #coding #techstartup #ziontechgroup #hardwareengineering #innovations #serversmaintenance #structuredcabling #storage #itsupport #servicedesk #technologyworld #hardwaretools #storagemaintenance #globalsupport #hardwares #hardwaremaintenance #restorationhardware #techaddict #uvtiskarna
Android hashtag
#android #iphone #ios #samsung #smartphone #apple #tech #technology #oneplus #mobile #pro #plus #xiaomi #s #app #google #huawei #galaxys #phone #oppo #instagood #game #vivo #like #nokia #bhfyp #instagram #a #games
Hashtag Smartphone
#smartphone #iphone #samsung #android #pro #apple #technology #tech #mobile #xiaomi #plus #phone #s #oneplus #huawei #instagood #gadgets #tecnologia #gadget #ios #realme #celular #a #smartphones #galaxys #technews #vivo #photography #redminote
Hashtag Apple
#apple #iphone #samsung #plus #airpods #applewatch #pro #ios #ipad #s #iphonex #macbook #smartphone #android #huawei #technology #xiaomi #tech #appleiphone #shotoniphone #like #macbookpro #applewatchseries #instagram #promax #iphonexs #instagood #love #photography
IPhone hashtag
#phone #iphone #mobile #smartphone #samsung #apple #technology #android #instagood #photography #instagram #love #tech #plus #pro #s #photooftheday #ios #case #phonecases #xiaomi #huawei #photo #phonecase #like #nokia #follow #iphonex #mobilephone
Other useful articles