Facebook blocks website links and shares. If you also find yourself in this situation, read this guide carefully on how to get out of it.
Can't publish posts on your website's Facebook page? Have all your posts been deleted for spam? It means your site has been banned from Mark Zuckerberg's social network.
We experienced this problem firsthand and came out of it through a series of operations that were successful. In this article I want to share with you all the options I used to get out of this ban that prevented me from sharing the links of my articles on Facebook.
Facebook blocks website links and shares
It all started on November 28, 2019. In the late morning I receive several emails in which Facebook informs me that "Your post doesn't meet our Community Standards, so it's only visible to you". To be exact, there are at least five and all of them are related to recent posts.
By accessing the Support Messages page for each disputed article, I was able to check the actual reason for these emails: "This post violates our Spam Community Standards". For each Facebook post it gave me the option to specify whether I agreed or not. Of course I disagreed.
For some types of content it is indeed possible to request a control. Open the message and if you see the option, click on Request a check. Facebook will review the content within 24 hours and if it finds out you made a mistake it will restore your post.
I didn't give much importance to all of this, considering that it was a few posts. The world fell on me the next day, when connecting to Facebook I realized that all the links shared on my Facebook page, on my profile and on that of friends and groups, and pointing to my website, were gone. These were posts published from 2011 to 2019. So you can imagine the concern of seeing the work of so many years thrown away.
So what did I do? I started browsing the Internet looking for solutions, using keywords, such as: how to contact Facebook support, how to contact Facebook chat, Facebook has blocked articles to my site, Facebook does not let me share posts from my site, Facebook blocks website links and shares, I can't post on Facebook page and so on.
Initially I thought that everything was a bug of the social network platform or that they had blocked my Facebook page or my profile. But then I tried to write something, like "Competition post"And I found that I could easily publish. So I realized it must have been a ban on my website on Facebook.
That's why Facebook blocked sharing my links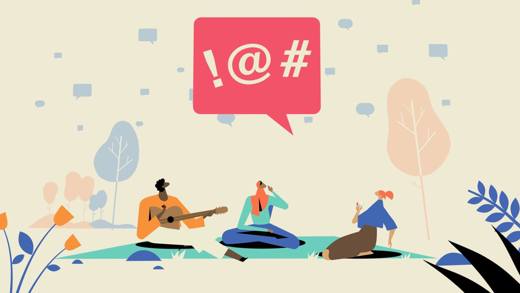 What I was able to ascertain by deepening the subject, is that there has been a real attack on SoulTricks, and that unknown persons have seen fit to send a huge amount of reports to the social network describing our content as offensive or as spam.
I have read and reread the Facebook Community Standard trying to find something that motivates this block by focusing on terms such as: bullying, violence, hate, privacy violation, fake news, false identities and finally spam. The reason that led to my site being banned.
On spam Facebook says: "We work hard to limit the spread of commercial spam to prevent deceptive advertising, fraud and security breaches that undermine people's ability to share and connect. We do not allow people to use misleading or incorrect information to collect "likes", followers or shares. " With actions to avoid, including: "Don't artificially increase distribution for financial gain."
Well none of this involved my articles.
How to contact Facebook support
After realizing the real reason that Facebook contested me, indeed that some users contested me, I decided to defend myself and appeal by contacting Facebook assistance. But since it is never easy to get out of a ban applied by a giant like the blue social network, nor to contact support, I decided to follow different ways to reach my goal.
1. Checking the ban of a site

The first step was to verify the actual ban by going to the Facebook for Developers site. In the field Enter URL to see the information used when shared on Facebook, I entered the URL of my site and then I clicked on the button Debug.
2. Facebook Blocks Help Center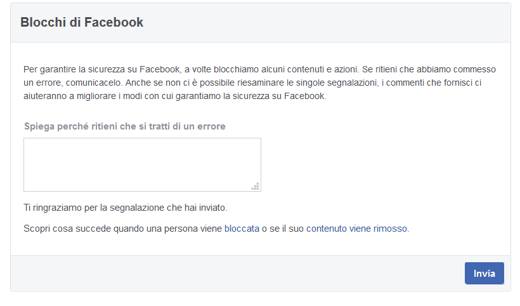 If after entering your URL in Facebook for Developers the message obtained is The content does not meet community standards, you will be able to click on the link Communicate it and be sent back to the page to appeal. You will then access the City Center Facebook block assistance where you can send a message and explain that you did not spam or make any other mistakes.
3. Facebook Support Forum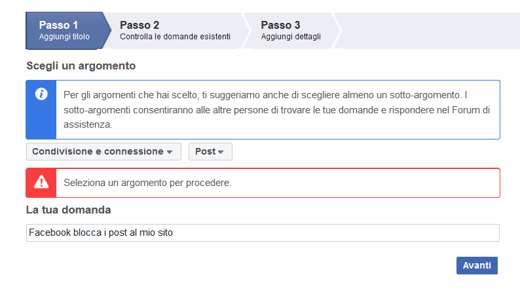 I logged into the Facebook Support Forum and clicked on before asking a question Choose a topic I will select the voice Sharing and connecting and Choose sub topics, to select Post. In the field your question I typed "Facebook blocks links to my site"And pressed on the button NEXT to view all existing questions and answers.
Not finding anything interesting that solved my case, I pressed the button My question is new and entered my reasons on the block applied and disappearance of my articles, in the field What is this? Then press the button Public.
4. Report a problem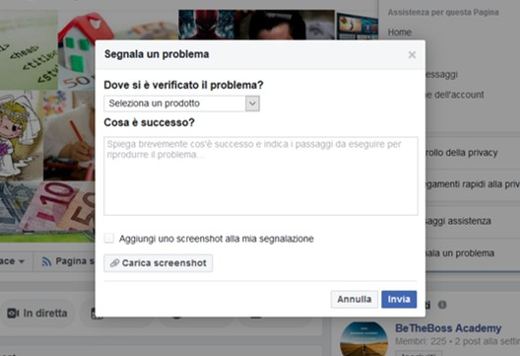 By reporting a problem on Facebook you will be able to communicate a problem and that something, in your opinion, is not working or has not worked correctly. By reporting promptly, you will help Facebook improve.
What I did and log into Facebook from the computer and clicked onicon with question mark, top right, of my Facebook page. Selected Report a problem and chose the option Something does not work.
In Where did the problem occur? I have selected Pages (you can also select Other), and explained, in the field What happened?, all my reasons regarding the block received. At the end I pressed on the button Send.
5. Report a Bug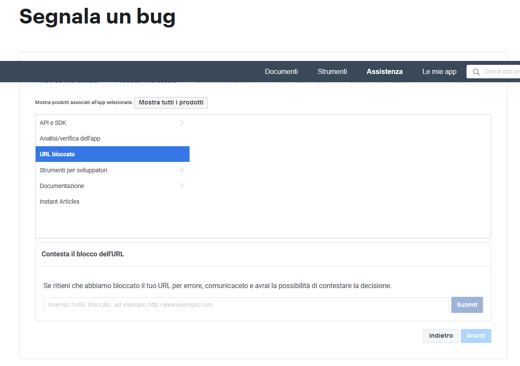 If you think it's a Facebook application error, you can link to this section of Facebook Developers and fill out the form to report a bug to Facebook. Log in and fill out the form specifying the entry URL blocked. Then enter your URL, in Challenge the URL blocking and press the button Submit.
6. Contact Facebook support via chat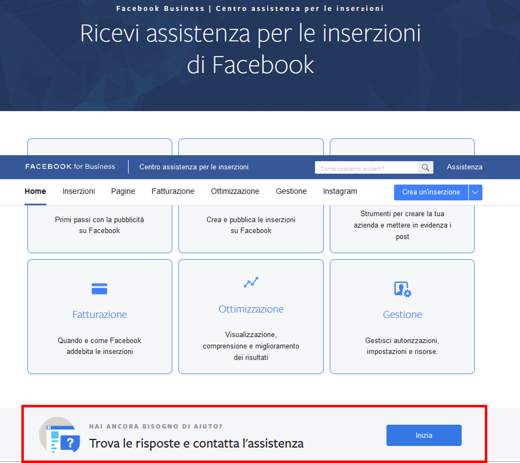 After applying all the various options mentioned above, I was also able to chat via Facebook Messenger with a Facebook operator. What I did was connect to my Facebook page and click on Support> Contact us. He menu Quick is at the top right next to the item Settings.
Once logged in, at the bottom of the page you will see the entry "Find the answers and contact support" click on Start.
On the page How can we help you? press on the box Advertisements.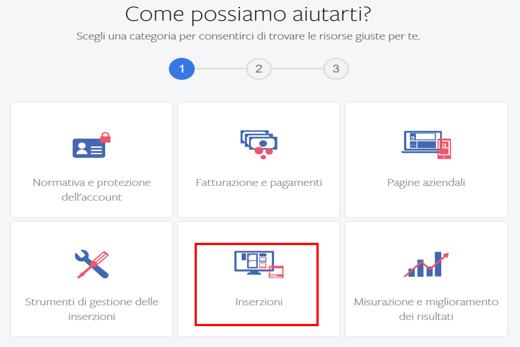 Immediately after pressing on starts a chat with a representative to start a conversation. You will be redirected to Facebook Messenger to leave your data (telephone, email, etc.) and the reason assistance.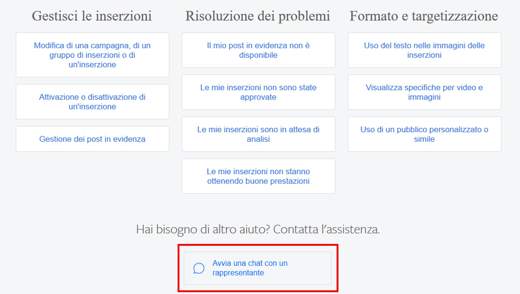 In a few seconds an operator will respond via chat who will help you solve the problem.
7. You cannot share this link

The last option I took advantage of was to post an article from my banned site on my Facebook page and publish it. Facebook immediately warns you with a message stating that it is not possible to share the content because the link violates the Community Standards. If you believe the content meets the Community Standards, let us know.
Click on let us know to access the page again Facebook blocks and in the field Explain why this is a mistake, explain your reasons.
Other causes why it is impossible to share Facebook posts
Temporary blocks for sharing posts on Facebook can occur not only because content marked as unwanted has been shared, but also for other reasons:
You have published too many posts in a short amount of time.
You've shared content that doesn't meet community standards.
Conclusions
In the late evening the block to the links of my site was unblocked and all my shared posts were restored in the page, in the profile, in the groups and among my friends.
If after all your appeals you still find a ban on your website link, my advice is to engage your followers by writing an article on your blog asking them for help in restoring the sharing. What they will need to do is share a post from your site to their wall and when it says Content cannot be shared because the link violates Community Standards. If you believe the content meets the Community Standards, let us know. Ask them to click Let us know to report the block to Facebook.
Other useful articles