Are you looking for a tool to better manage your Instagram page and increase your Influencer popularity? Do you want to get new followers, new likes and authentic comments on Instagram? Then it is the case that you speak of Combin. This is a tool that will help you discover how to be successful on Instagram and to target your marketing correctly, through a search system that indexes those users who may be interested in your page or product.
How many times have you come across tools that promised paid likes and followers and then turned out to be real scams or non-working programs, well Combin is different. Give me five minutes of your free time and I'll reveal you in detail how to be successful on Instagram with Combin, in a few simple steps.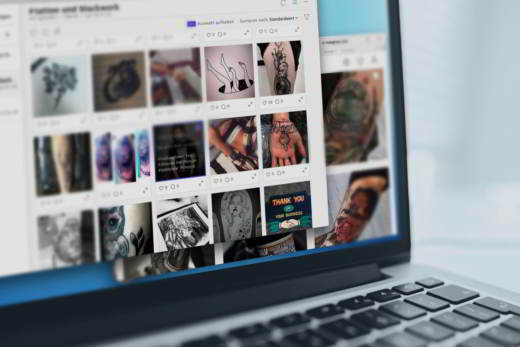 What is Combin
Combin does not give followers or likes but manages and promotes your Instagram account in a safe and concrete way. Finding Influencers and new real followers with Combin is quite simple. The tool offers several features:
Advanced search in Instagram with combined searches by hasgtag and location.
Search for target users to find followers and commentators of your competitors or a public account similar to yours. By doing this, you will be able to find out who the followers are for a successful brand.
System is followed/unfollowed to identify who did not follow-back and to make you notice the users to follow with a click. In this way, the chances that an account ended up in your field of action will start following you are really very high.
Simple communication to participate in discussions with potential followers and leave likes and comments.
Sorting and preview to decide in advance who to follow by looking at the best posts and the most followed accounts.
Management of multiple accounts to be switched with just one click. By doing this you can interact with multiple accounts and have different users as followers.
Other features will be released soon such as:
Scheduling dei post to queue and publish them whenever you want.
Activity statistics to analyze how many followers and likes you managed to earn. Not only will you be able to find out which content or hashtags brought the best results.
Instagram DM and comments received to keep the direct messages of your Instagram account and not lose the comments of your followers.
How does Combin
Do you want to find out how to be successful on Instagram with Combin? Then read the next lines carefully, I will reveal how it works and how to best use it.
After connecting to the Combin official website, enter your email and download the installation file for free, which can be used on Windows, Mac and Linux. Launch the installation package and at the end start the application by logging in with your Instagram account.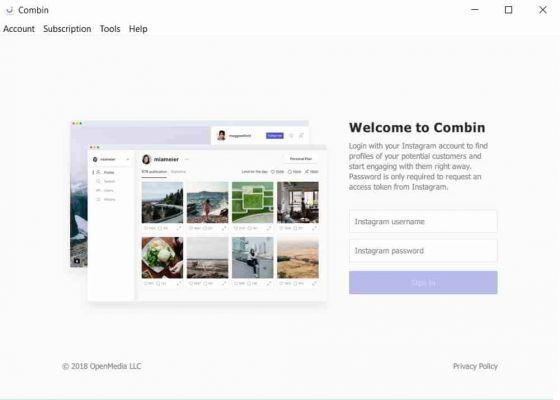 Combin's dashboard is very user-friendly. On the left column you can view the items: Profile, where you can consult your publications, Search, User e History.
Clicking on Search and then on the button + Add Search you can search for Posts e Users.
With Post you can specify a hashtag, for an place, a data (Posted) and limit of posts to display (Search limit). By checking the item Analyze users when searching, the system will find target users in your area using localization.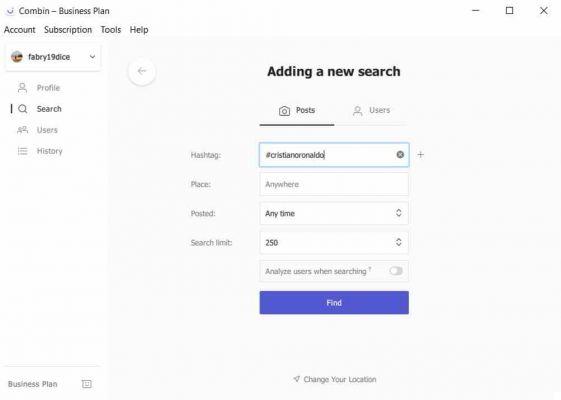 With Users you can specify an Account and get information about his followers and comments, and specify the limit of the data to be displayed. With Users List you can analyze multiple accounts at the same time by separating them by a comma.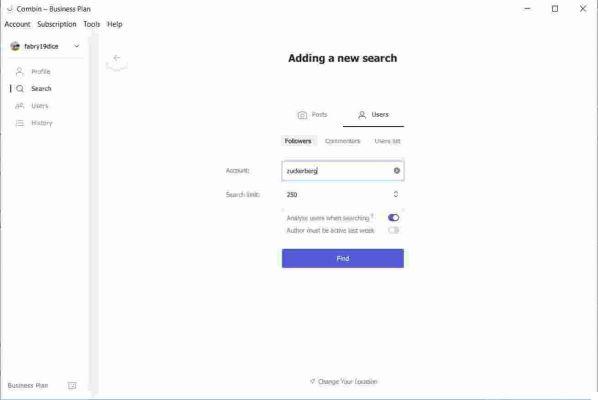 Press the button Find and start searching to find content that will be useful to your business. You will be able to sort the result by Data, Likes e Comments and interact with your competitors' followers. By clicking on the symbol capacitor positive (+) lead next to the hashtag text box, you can do more searches by combining multiple hashtags and improving your search results.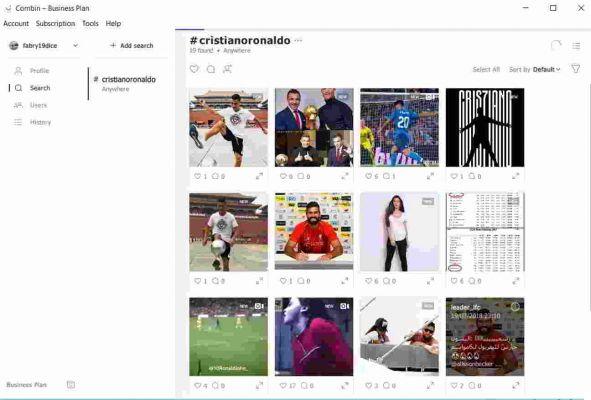 You can select the users you are interested in and click on Follow to follow them or view them on Instagram, you can add a comment or like their latest post. All these activities carried out on Combin, will increase your popularity on Instagram in a fair and concrete way.
The section Users showcases all your followers, your followings, unfollowed and hidden ones. You can check who follows you, create Safe Lists and much more.
The section History contains the evidence of all the actions you have performed: Like, comments, following, unfollowing, Users. Tasks are queued and automatically scheduled.
Conclusions
Combin is a tool especially suitable for those who manage an Instgram page for business purposes and for those who want to improve their business, but if you want to make the most of the potential of Instagram and increase your popularity, I invite you to try it in all its features. Combin is available in three plans:
Starter (free): 1 account, 50 search results per post and account, and 250 actions per day.
Personal (12.20 € / month): 1 account, 500 search results per post and account, and unlimited actions per day.
Business (36.60 € / month): 5 accounts, 500 search results per post and account, and unlimited actions.