The breaking news is the introduction by the hugely popular chat application Whatsapp of a annual subscription at 89 cents for Android, BlackBerry and Windows Phone versions. For the iPhone version, the App has a fixed cost per download, so there is no annual renewal.
Completely free until recently, WhatsApp is a service that has grown with the spread of smartphones and that allows you to send messages through an internet connection unlike telephone operators who, on the other hand, provide SMS / MMS packages for a fee.
A simple sentence "your whatsapp service expires in a few days. Do you want to renew now?"Will warn you that if you want to continue using the smartphone messaging service, currently the most famous in the world, you will have to pay an annual subscription to be directed to Google Play Store (for those with an Android system). Payment can be made either by credit card, paypal or post office.
The payment extension is for 1 year: € 0,89, € 2 for 2,40 years, € 5 for 3,34 years.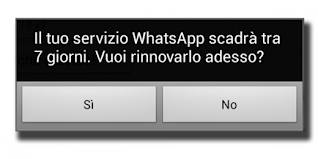 You can find out when the free period will expire by going to Settings> Account Information> Payment Information.
There are not many 89 cents but users complain on the Net about the way in which Whatsapp asks to pay: after having addicted them to the service, now they ask for money.
For its part, Whatsapp has no advertising and has technical infrastructural costs to be incurred for the service offered, this is certainly due to the lack of updates and the introduction of new features.
For those who do not want to pay, we at Inform @ rea recommend valid free alternatives: Skype, Facebook Messenger, Tango e Viber.