Instagram is an application that allows users Android e iPhone to take pictures with your smartphone and apply filters in style vintage to then share them on Social Networks such as Facebook, Twitter, Flickr, Tumblr, etc.
Once the photos have been shared, they can be viewed and commented on by all social users, who can apply the classic Like or Tweet. For example, the more likes and comments a certain photo has, the more it will have the chance to enter a special ranking of the most popular.

Obviously the Instagram system does not require authorizations, so anyone who follows us sees our photos and, in this way, they become public domain. The only possibility we have is to set our profile privately, because by default it is public.
How to use Instagram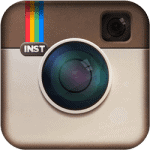 How to download Instagram
First of all, if we have an iPhone smartphone, just go to theApp Store and type Instagram, same thing for Android devices, in Google Play Store typing Instagram we will immediately find the application to install and use.
Once the installation is complete, all we have to do is Register us by entering our data (email, name, telephone), if instead we already have a account Facebook, we can select "Use your Facebook information"To log in with the same account, and immediately after logging in with Facebook user and psw. After logging in the app will ask us if we want immediately find our Facebook friends on Instagram.
How to get started
To begin with, we can immediately notice the main icons of the application below:
The first icon on the left "la cottage"Is the home page and takes us back to the main page where you can see all the photos published by the users we have chosen to follow.
The icon star polar allows us to see the best photos of other users.
The icon of the machine photographic allows you to take pictures with our smartphone.
The icon a little heart with speech bubble, serves to communicate that we like a photo and to leave a comment on the photo or the author of the same.

The icon with identity card show our profile where you can see the photos we have published, access the list of our followers and the following list. We can also access our personal data and possibly modify them.

Let's take a picture and post it
Let's try to take a picture by clicking on the camera icon and take our first shot. Immediately after taking a photo, a screen will open where you can select the effects to apply.

The tools below the picture are all vintage effects that we can add to the photo (Amaro, Mayfair, Rise, Valencia, etc.) while the tools above are useful for applying frames, undo the last change, apply blurs drop or rectangular e delete the shot.
Made any changes necessary to make our photo acceptable, we can publish it on Instagram and on Social Networks by pressing the blue button at the top in the shape of a double arrow >>.

Now our photos are online.

Instagram also allows you to look at the photos of other registered users (by clicking on the Polar Star icon) and to search, with the filter by Name or Tag (the word must be preceded by the # symbol), photos divided by topic. If we see, then, a photo that strikes us we can click and open it and leave a comment or at the same time a liking (eg a Like).
As I said before, all those photos become very popular with users Popular. This title is awarded when a photo acquires many likes and comments in a short time.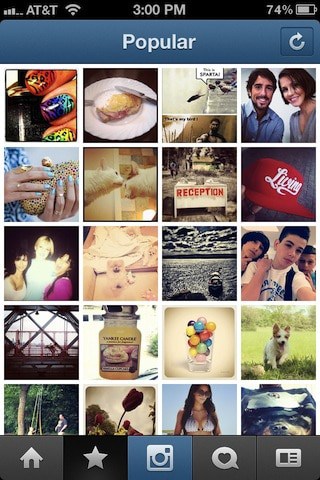 In conclusion, Instagram is an easy-to-use application, uploading photos is fast and efficient, and its ability to geolocate photos is unmatched, also considering its remarkable ability to interact with the best Social Networks.
On this topic, however, it is our duty to open a little parenthesis to say that: Instagram is an app purchased from Facebook six months ago for about a billion dollars, but a few days ago users who use it were informed about a change in the regulation relating to privacy, which in a nutshell, allows Facebook and Instagram to use information and images to your liking, and especially for marketing purposes. In this way, the shared contents can be sold to third parties for commercial and advertising purposes without any copyright being recognized.
These changes will come into effect from January 16, 2013 but the large Instagram community has already expressed anger and dissent and many are ready to close their account.
We are curious to see how it will turn out!