How to make money with your photos with the best sites with photographic content that allow the purchase of images in stock.
Are you a photography enthusiast? Smartphones and compact digital cameras have made the world of photography more accessible even to amateur photographers. If you have discovered that you are a good photographer and you think you have what it takes to make your passion a real job, then you absolutely must keep reading this article, because I will reveal to you how to make money with photos in a few simple steps.
How to make money with your photos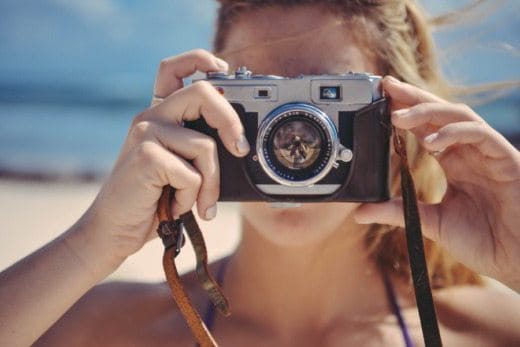 To sell your photos, you need to know that there is a service called Shutterstock which allows you to upload the photographs you have taken and receive compensation based on the downloads made on the site.
The earnings go in stages, they are not very high, but they increase on the single download as a percentage of the money earned. Making money with photos and joining the Shutterstock community isn't easy at all.

Shutterstock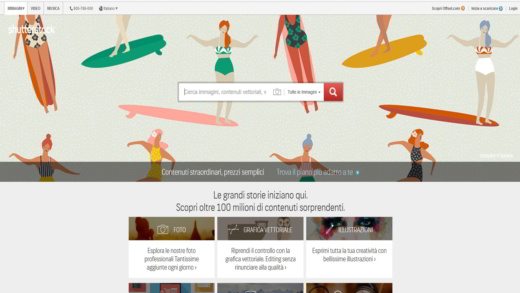 Shutterstock is a very selective site and claims to first evaluate at least a dozen of your works before making you an official contributor. Furthermore, even once you have entered, your photos, before being published, must be submitted to the attention of the portal managers and only they have the right to decide whether to accept them or not.
If, on the other hand, you need to download images for your site or blog, just subscribe to an annual or monthly subscription and it can concern 3, 4 or more users.
To start earning photography you need to sign up for Shutterstock, to do this you must first go to its official page and click on the link at the bottom of the footer, Become a collaborator. Once clicked, you will be redirected to a new page where you can register and create an account by clicking on Create un account.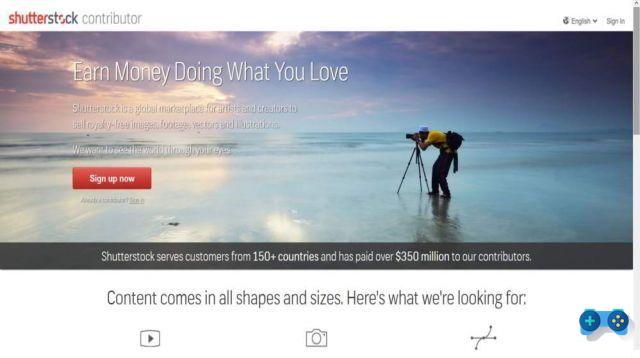 A form will appear on the screen to fill in with email, password and the name you intend to use on the site.
To confirm your email, you will need to enter your email and click on the link that will be sent to you by Shutterstock. At this point you will be asked for your address and identity document. The profile will not be validated until the community verifies your real existence through your document.
To verify your identity, the portal will warn you that it will take at least 2-3 working days. In the meantime, you can easily upload your shots.
The entries are then evaluated very carefully, for this reason it may take a few months before you are accepted in the Shutterstock community. You just have to hope to be taken to get started right away earn with photos.
Read also: How to sell photos on the Internet
Adobe Stock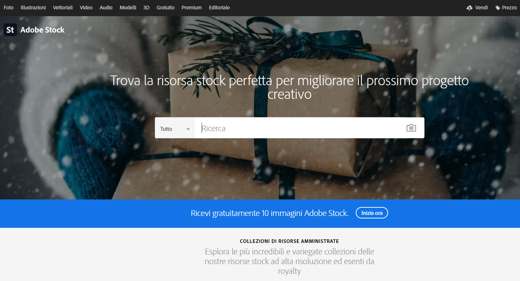 It is one of the best services to sell your photos online. Adobe Stock allows you to upload your own photos and sell them with earnings percentages that can even reach 33%. Payment takes place with PayPal upon reaching the minimum threshold of 50 euros.
To use the photo platform, you need to connect to the Adobe Stock's official Internet page e premere sul pulsating Sell. Then click on the Introduction button, and create your Adobe ID, if you do not have it, indicating your details (name, last name, Password e date of birth) and press on Sign Up, following the instructions on the screen. In case you already have an account, skip these steps and click on I already have an Adobe ID.
By logging in for the first time you will be asked to indicate if you are a Fotolia author (microstock agency acquired), in order to link this account with Adobe Stock and automatically upload the photos that are on Fotolia, or click on No. Proceed to the next step.
Other sites to make money with your photos
Here are other websites where you can upload and sell your photos. By joining these programs you will have to agree to give away a good percentage of your revenues, ranging from 20% to 50%.
iStockPhoto by GettyImage
iStock Photo- You can submit your application and become a contributor by downloading the Contributor by Getty Images app. Install it on your smartphone Andoid o iPhone and upload 3 or 6 images, videos or illustrations. Your works will be reviewed and after a few days you will know if you have been accepted for Getty Pictures or for iStock by Getty Images.
You must be 18 years old and once you become a collaborator, you can earn for each license purchased by a customer. The royalty earned is calculated as a percentage of the price paid by the customer. The more photos you have, the higher the chances of earning.
Dreamtime
Dreamtime: also on this site you can sell your images after registering on the platform. To enter this community, your works will first have to be uploaded and then approved. If so, you will receive an email communication and you can start publishing on the site. Depending on the quality, a certain file will be downloaded a certain number of times.
Reached 10 downloads the sale price rises and consequently the file goes to a higher level and so on. The photographer will receive a salary of 25-50% and an additional $ 0.20 bonus for each approved image. Payment is made via Paypal o Moneybookers upon reaching dollars 100.
DepositPhotos
DepositPhotos is another commercial platform that connects authors of high-quality licensed photographs, graphics, vectors and videos with customers who appreciate their work. By registering you can become a partner and have earnings starting from 40% on every first purchase, plus a recurring commission up to 15% for each user. You can achieve earnings of up to $ 300 per customer.
Flickr
Flickr: it's a social network of photography and it's a great channel to build a professional profile. You can use it as a showcase for your photographs and why not, be able to give greater visibility to your portfolio. Upload your photos and try to interact with other photographers.
Snapwire
Snapwire: it is a site also available as an app for Android and iOS. It offers the possibility to amateur photographers to earn with their photos by responding to published ads. Those who need images for their site or for other purposes can, therefore, create ad hoc ads on the platform and each photographer can propose their own works. It allows you to grow your reputation and increase your earnings over time.
Etsy
Etsy is an online store, which unlike the sites listed above, allows you to earn by selling your prints. This specialized trading platform allows you to sell creative handmade products. What you need to do is register and upload your prints to the site and hope for potential customers interested in your art.
Thing means Royalty Free
I am sure that in downloading images you will have come across the term several times Royalty Free. This term indicates a type of license that allows the use of a resource (photos, videos, etc.) with limited restrictions on its use and paying a low initial cost.
Other useful articles
How to sell your creations
How to make money by writing online
How to find out who uses your photos