Best PC controllers. A buying guide on which gamepad to choose to play on the computer instead of mouse and keyboard.
Purists will say that a gaming mouse and gaming keyboard are the only way to play PC games and, until recently, they were almost always right. The customization options in strategy games and more precise aiming in shooters make them a perfect solution for playing the best PC games today.
Now, however, many AAA games are designed with console controls in mind and PC gamers often find themselves turning to controllers for some more demanding genres - sports, RPGs like Sekiro: Shadows Die Twice and fighting games, are among the best reasons to invest in a controller. decent for your PC, when a keyboard or mouse is no longer enough.
The tricky part, however, is choosing a controller that fits your needs. There are hundreds of viable options to suit every budget, and many sport a number of features that may or may not be appropriate for your situation.
How to choose a PC controller
Before revealing the best controllers for PCs, it is good to know that there are models that differ in some characteristics which are:
Wired and wireless controller: Most pads are wired and connect to PC via USB. The wireless ones, on the other hand, connect to the PC thanks to an adapter that connects via USB to the PC and acts as a signal receiver.
Controller Wireless: are pads that connect to your computer via Bluetooth. To be considered for this type of connection, the latency, which if not minimal could cause delays in response times.
Original and third party controllers: i controller per PS4 e PS5 (DualSense e DualShock 4) are also compatible for PC, but you will need to do key mapping. Also Xbox controller are compatible with computers, while for i third party pads I advise you to check its compatibility and above all avoid the modified ones (mobbed or chipped).
Asymmetrical and symmetrical controllers: controllers of this type differ according to the arrangement of the analog. Asymmetrical are Microsoft's Xbox controllers, while Sony's Playstation controllers are symmetrical.
Other elements to consider are theautonomy for wireless controllers, the weight, the LED and the possibility of move the keys in the most congenial positions.
Best PC controllers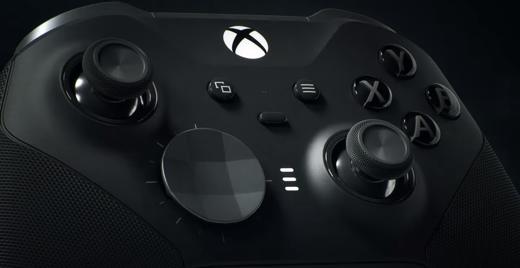 Here is a selection of the best PC controllers in circulation cheap and expensive. I am sure that you will find the device that best suits your gaming PC and will help you have an exciting gaming experience.
Best cheap PC controllers (under $ 50)
Logitech F310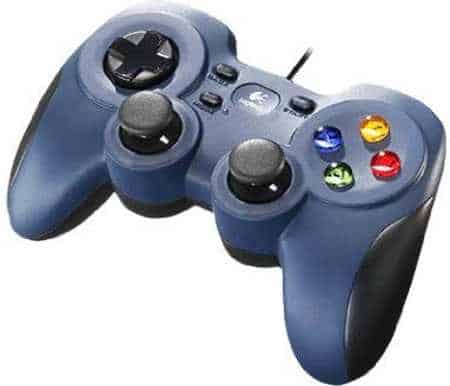 Economical PC Controller.
Connectivity : Wired | Features: programmable buttons, DirectInput switch for use with old and modern games.
For
Very cheap
Functionally simple
Cons
If you're in the market for a true budget controller, it's hard to beat Logitech F310. It may be paramount in its execution and functionality, but there is something to be said about the no-nonsense nature of this budget option. Just plug it in via USB and you are ready to go. Considering the glut of customization options and features of all the premium controllers available, F310 it is strangely refreshing. It also boasts an admirable directional pad and a great button layout.
As expected, the price comes with a number of trade-offs. First of all, the controller is quite light, which lends an unfortunately fragile quality to the gaming experience. Furthermore, without wireless functionality, the cable interface may not be ideal for some. However, given these caveats, the F310 is an excellent choice for a budget mouse and keyboard alternative.
Buy on Amazon
SN30 Pro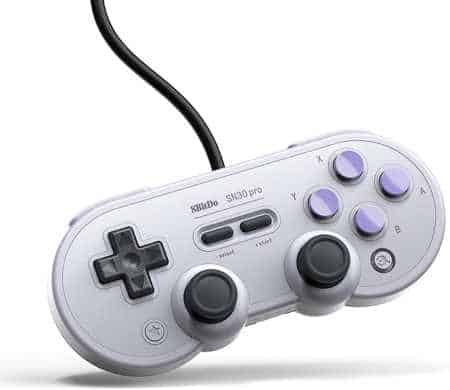 Best retro controller.
Connectivity : wired, Bluetooth | Features: vibrato, screenshot button, turbo button.
For
Cons
Small and slightly uncomfortable
The peripheral manufacturer WeChip created his brand basing his products on retro design, and theSN30 Pro it's his best device. Modeled on controllers Super Nintendo old-school, it's ideal for PC's ever-growing library of retro-inspired games, though it's not necessarily for everyone. The button layout is familiar to anyone who has grown up with 2D platforming and JRPG.
The SN30 Pro controller shows itself surprisingly robust ed economic. It also shows off a pair of levers analog that you can use with modern shooters or action games. Its small form factor does not facilitate long gaming sessions; regardless, there are a number of games that would benefit from the authentically retro feel the SN30 brings to the desk.
No products found.
JAMSWALL Xbox 360 Game Controller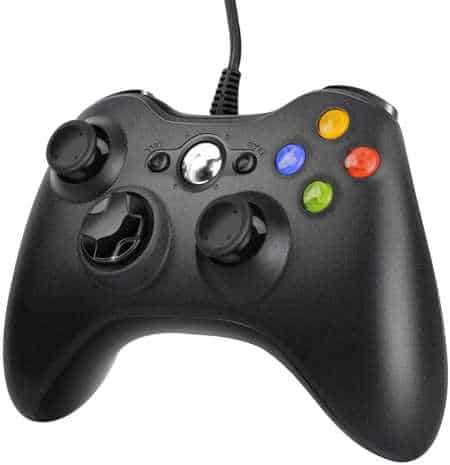 Best economic asymmetrical pad.
Connectivity : wired | Features: two vibration motors, 3 levels of rumble control, two analog pressure triggers.
For
It does not need batteries as it is powered by cable
You can connect 3,5mm jack headphones
Responsive keys
Robust
Cons
Il Jamswall Xbox 360 is a cross-platform controller suitable for Xbox 360 and Windows PC. Ensures comfort and playability, thanks to a more aerodynamic handle design. Works with USB cable that you can extend up to 150cm. It is easy to install and does not require any software for its use.
It has 3 levels of Rumble Control (full, medium, low or off), two pressure analog triggers, two vibration motors and an 8 directional pad to maintain control. The vibrations guarantee thrilling gameplay and the ability to connect earphones, give that extra option that is absent on many controllers. It is compatible with Fortnite, GTA, PES, Minecraft and other famous titles.
Buy on Amazon
Nacon PC Controller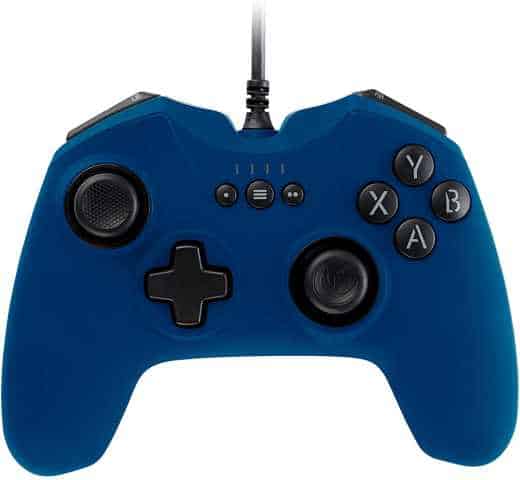 Controller available in various colors.
Connectivity : wired | Features: Vibration motor, two push analog triggers, 6 action buttons and an 8-way pad.
For
Available in various colors
100% compatible with Windows
It works well on all games, including Fortnite
Cons
Start key and back key are reversed
It is not wireless
Not compatible with Mac
The cable is not removable
Il Born PC controller it is perfect for any type of hands. It shows up with a rubberized surface very resistant and perfect for comfortable grips during long gaming sessions. The the two the heights analog asymmetrical they are ideal for those who love computer shooter games. It has 6 action buttons, 2 grills, 2 back buttons and an 8-way directional pad.
Thanks to engines integrated vibration, you will live unique gaming experiences. Finally, you will not have to do any installation, as it is a product Plug and Play. Just connect the long one 1,8 meter cable to the USB port of the PC and the game is done.
Buy on Amazon
Bimonk Wireless Controller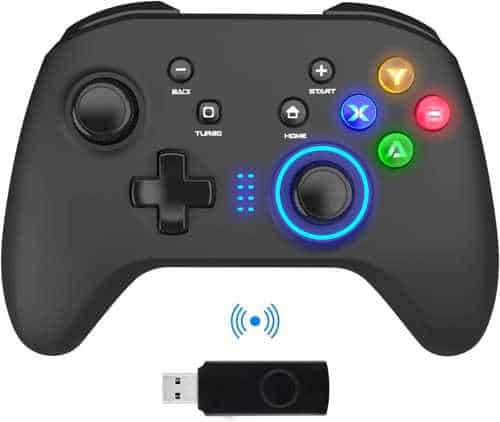 Best value for money.
Connectivity : wireless and wired | Features: vibration motor, M button, combination keys that can be set are: A, B, X, Y, LB, RB, L3, LT, RT, R3, direction keys: up, down, left, right.
For
Supporta OTG
Both wireless and wired
Responds well to commands
Construction material
Beautiful illumination of the keys
ergonomic
Great battery life

Cons
Il bimonk is a controller with wireless technology 2,4GHz with long bi-directional transmission distance. It has a better frequency than the ISM bands and is compatible with Windows, Android TV Box, PS3, Switch e Android 4.0 or higher. It is not compatible with XboX, Mac, PS4, raspberry, Amazon Fire TV and Amazon Fire Stick.
Il button M on the Mobile game controller allows for better manipulation and modification of any complex operation. It comes with a vibrating motor asymmetrical and linear able to enhance the game scenario for an unprecedented experience. You can use it both in wireless mode than wired, useful when the battery is low.
No products found.
Best PC controllers over $ 50
Microsoft Xbox Wireless Controller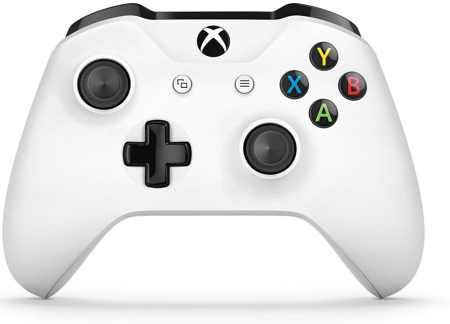 The best gaming PC controller.
Connectivity : wired, Bluetooth | Features: textured grip, 3,5mm stereo headset, replaceable battery.
For
Cons
There aren't many features
Il Microsoft's Xbox controller has been the benchmark for all other PC game controllers since the Xbox 360 was born. It is comfortable and heavy and with a button layout that feels natural. The latest version, designed for the console Xbox One, iterates on everything that made the last generation model great, adding clickable protruding bumpers and a significantly improved directional pad.
Il wireless bluetooth integrated it simplifies the association with the desktop and the price is very attractive for those who have a limited budget. It is also available in one variety of colors and reasons, which means you will likely find something that matches your rig. And, even if there is no color scheme, Microsoft will allow you to customize it through the Xbox Design Lab.
Buy on Amazon Buy on Amazon
Microsoft Xbox Elite Wireless Controller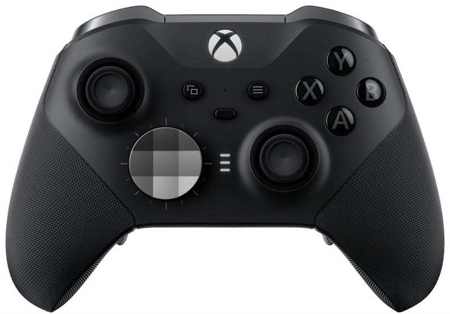 Best controller for Windows 10 PC.
Connectivity : wired, wireless (via adapter) | Features: interchangeable components, tactile rhombus, 3,5mm headset, extensive customization.
For
Tons of features and customization
Fantastic software
Cons
Il controller wireless Xbox Elite is a premium version of the Xbox One controller. It features a huge number of updates compared to the controller Xbox standard, such as an interchangeable component arrangement and paddle buttons on the back. There is also a trigger adjuster that you can activate for more sensitive shots.
The Elite controller includes some truly impressive software features, allowing you to tweak and refine almost every aspect of the game. Here, you can customize many different profiles, of which the controller can hold two at any time, allowing you to change them at the flick of a switch. If you're looking for the most feature-rich controller available for your PC, this is your best bet, provided you're willing to shell out some cash.
Buy on Amazon
Sony DualShock 4 Controller (PS4)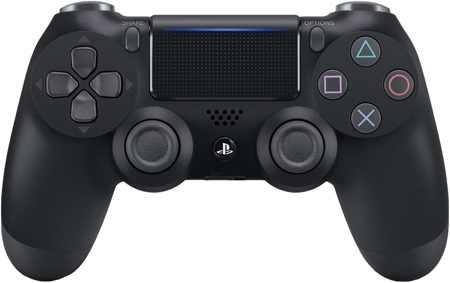 Best wireless controller for PC ever.
Connectivity : Wireless | Features: 3,5mm headphone, touchpad, motion control functionality
For
Comfortable and cool D-pad
Motion controls
Cons
Uncovered shoulder buttons
The official controller PlayStation 4 is the best controller from Sony and luckily for us it is compatible with the entire game library of Steam. Very comfortable in the hands, the DualShock 4 boasts tactile analog sticks with enough resistance and possibly the best directional pad ever. It also features a motion technology compatible with a surprising number of games, which will allow you to drive in racing games or aim and shoot, by moving the controller.
There are a couple of problems, though. Particularly, uncovered protruding buttons make it easy to accidentally bump your desk. The rubber on the analog sticks also tends to rub after prolonged use. However, Sony's controller ranks among the best options for controller-based PC gaming.
Buy on Amazon Buy on Amazon
Razer Wolverine Ultimate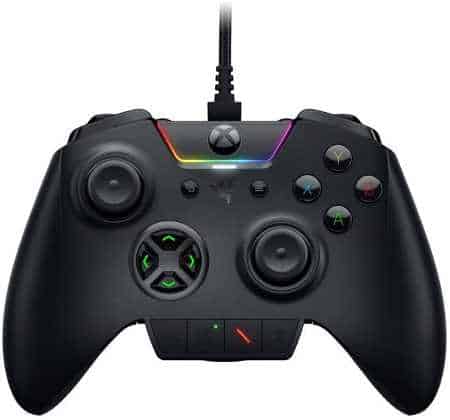 PC controller with strong buttons.
Connectivity : wired, Bluetooth | Features: customizable, ergonomic multifunction buttons, interchangeable levers and D-Pads and Razer Chroma RGB.
For
Replaceable stick and D-pad
Strong and satisfying buttons
Cons
No wireless mode
Expensive
Wolverine Ultimate from Razer it could very well be the best gamepad available today, except for one critical factor: it cannot connect to a PC wirelessly. The Xbox-style gamepad offers many of the same luxury features as the controller wireless Xbox One Elite, as a D-pad replaceable and customizable rear paddles.
Wolverine Ultimate has its fair share of unique and downright enticing features. For starters, the front buttons - the ones with the label A, B, X e Y - they click like a mouse. This detail makes the difference. It's like using a membrane keyboard with mechanical switches. So if the included 3-meter braided micro USB cable takes some getting used to, the tactile button presses are a worthy compromise.
Of course, no Razer product would be complete without a good dose of Chroma, the brand of RGB lighting three-headed of the company of green snakes. However, rather than integrate it into the app Synapse 3 existing for Windows, Razer has decided to develop a specific app for Xbox One. So if you plan to use this controller for your PC, be aware that you'll need a separate app to set it up.
Buy on Amazon
Steam Controller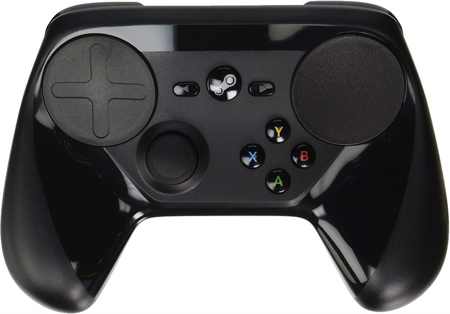 The best joypad for playing games that don't support controllers.
Connectivity : 2,4 GHz wireless | Features: 500 mAh rechargeable battery or 2x AA, weight 287 g.
For
It can be used to control mouse-keyboard games
Highly configurable control mapping
Cons
The first attempt at Valve turning the living room into a viable PC gaming space is not yet complete. Of course, Steam Controller it can control games, but it still seems somewhere between the gamepad and the keyboard-mouse control.
Le grips they are huge and protrude a little too much. Fingers stiffen after a few minutes of play, which leads to too much accidental pressure with thumb cramps.
You may be wondering why it's on this list, well because the Steam Controller ultimately takes up a unique space - it's the only one gamepad specially made for you to play games that don't support controllers out of the box. For games that support controllers, we prefer pads DualShock e Xbox. But if you insist on playing PC games away from the mouse and keyboard and want to replicate their features as closely as possible, the Steam Controller is the best gamepad on the market.
Buy on Amazon
For others gaming articles I also recommend: Best PC Gaming Headphones and Best Gaming Chair.