Best mini keyboard. A selection of small wireless and wired keyboards useful for those looking for easy-to-carry and space-saving peripherals.
If you have a small desk, work in a bar or are always on the go, having one of the best mini keyboards is extremely beneficial.
Small keyboards don't have the same functionality and power as full-size keyboards but if your space is kept to a minimum they are definitely a good compromise.
I am sure that to work comfortably in tight spaces, you will be better off with the best small mouse and with the best mini keyboard. That's why the small keyboards on this list are all painstakingly selected taking into account not only their small size, but also their performance, extras and design.
Best mini keyboard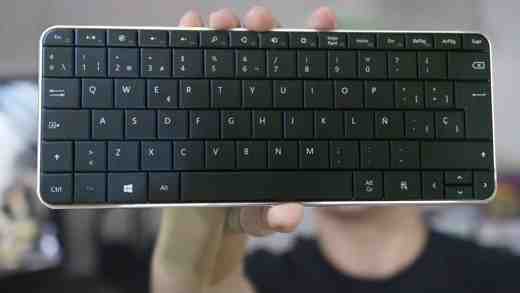 Being able to use the laptop keyboard on the move is useful for those who are forced to work every day without an actual workstation. Here's why having the best mini keyboard in your PC bag it can become a real added value if you love small peripherals.
1. Microsoft Wedge Mobile Keyboard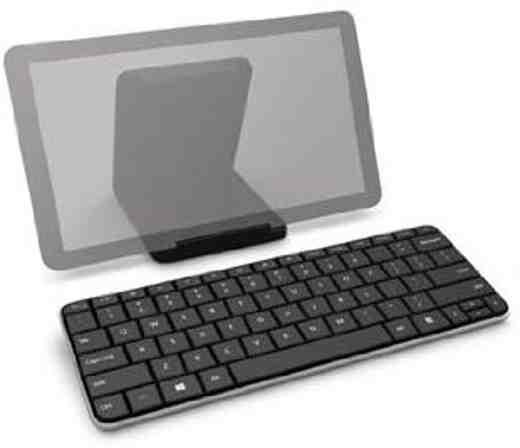 Your favorite keyboard wherever you are.
Interface: Wireless | Backlight keyboard: No | Sizes: 29,6 x 14 x 4,8 cm | Weight: 821 grams.
For
Portable
Easy to connect
Windows 8 keyboard shortcuts
Cons
Only suitable for tablets
Expensive
Every inch of the moving keyboard Wedge di Microsoft it is designed for travel, both in terms of its compact design, which measures only 10,1 inches in length and less than 1 inch in thickness, and in terms of Bluetooth connectivity which makes it a convenient support for Windows tablets. It's not as light as the other models on this list, but the fact that it's slim, durable, and with a dual-purpose case makes it easy to store in your backpack or suitcase. The Microsoft Wedge Mobile Keyboard is very comfortable to type, with light touch keys so you don't have to type unnecessarily, and it's also very responsive.
Buy on Amazon
2. Logitech K780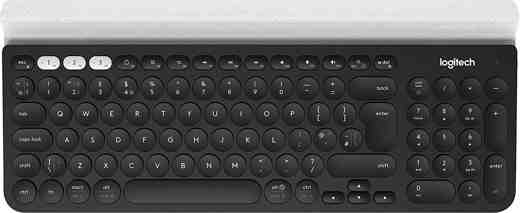 For all your devices.
Interface: wireless, cablata | Backlight keyboard: No | Sizes: 38 x 2,2 x 15,8 cm | Weight: 875 grams.
For
Great battery life
Multi-device functionality
Cons
No backlight
Auto sleep mode can be annoying
Logitech K780 it's a stylish wireless keyboard and it's a multi-device peripheral, which means it works with your computer, tablet, and phone. Not only that, but it also allows for effortless typing between devices thanks to Logitech's FLOW feature - just press a button to use it on another device. It also automatically recognizes each device it is connected to and adapts to the operating system of each device. Finally, it has a stand that fits both tablet and phone, as well as a two-year battery life.
Buy on Amazon
3. Corsair K63 Wireless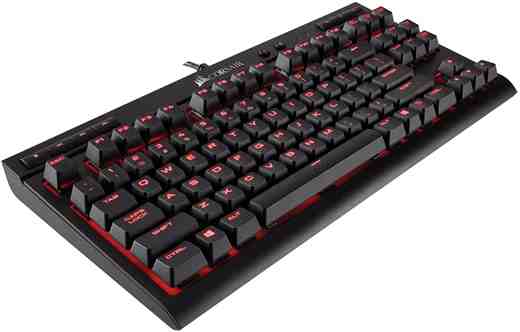 The best mini gaming keyboard.
Interface: Wireless | Backlight keyboard: Yes | Switches: Cherry MX Red | Sizes: 36,5 x 17,1 x 4,1 cm | Weight: 1,41 kg.
For
Solid wireless connection
Full functionality as a wired version
Cons
Slightly expensive
Fragile wrist rest clip
Il Corsair K63 Wireless it is not only among the best mini keyboards; it's also one of the best gaming keyboards around. Corsair has managed to pack this keyboard with many of the features and finishing touches that serious gamers have come to expect from their keyboards in a compact design: from per-key customizable LED lighting and dedicated anti-ghosting multimedia keys, full rollover keys and even a Windows Lock Key. This is a great peripheral for frequent travelers. With its ultra-fast wireless technology from 1 ms to 2,4 GHz with Cherry MX switch it is also perfect for gaming.
Buy on Amazon
4. Corsair K83 Wireless Keyboard

The best all-around mini keyboard.
Interface: Wireless | Backlight keyboard: Yes | Switches: ultra low profile scissor | Sizes: 38,1 x 12,5 x 2,8 cm | Weight: 481 grams.
For
Extensive connectivity options
Backlit secondary functions
Cons
Small trackpad
big dongle
The wireless keyboard Corsair K83 offers an almost complete keyboard solution for all your key press needs. It is comfortable to use and it is sturdy, so it will last a long time on your desk. Plus, it's much more than just a keyboard - it has a built-in precision touchpad with turntable functionality, a joystick, and a volume roller. It's great for gaming, but it's also perfect for controlling media, connecting to your PC from your TV and controlling compatible smart TVs.
Buy on Amazon
5. Logitech K400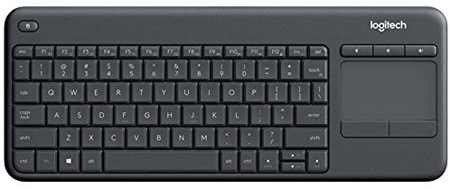 Keyboard and touchpad in one package.
Interface: Wireless | Backlight keyboard: No | Sizes: 37 x 15,2 x 3,4 cm | Weight: 522 grams.
For
Wide range
Great battery life
Economic
Cons
The touchpad isn't great
Keys not very responsive
With a wireless range of 10 meters la Logitech K400 it is fully among the best mini keyboards for all those who have a computer setup connected to the TV. It offers its users great control by adding a touchpad and multimedia keys in a slim and compact body. For even smoother operation, this keyboard has customizable F keys.
Buy on Amazon
Best wireless mini keyboards on Amazon
Below is a list of the best-selling small keyboards on Amazon.