Here is a buying guide for best Wifi routers for home and office with an indication of the pros and cons.
To better surf the Internet, you need to buy a good and powerful Wifi router, preferably with a Sim. To date there are many models on the market and understanding which one could be right for you is increasingly difficult.
Even today there is a tendency to confuse modems and routers. What is the Difference Between Modem and Router?
Il Modem it allows you to connect to the Internet through a telephone cable but does not redistribute the network between multiple devices, it is also not Wi-Fi and has only one Ethernet port.
Il Router instead it is a device that redistributes the network between multiple devices that need a connection to a modem to access the Internet.
Finally the Router Modems (the devices in this guide), allows you to connect to the Internet through a telephone cable and distribute the link to other devices wirelessly.
How to choose a Wifi router
Before buying a wi fi router, you need to consider several features that require in-depth analysis.
Wi-Fi classes
You need to know that routers support different W-Fi classes which are: class b, class g, class n, wireless class AC. There class b allows you to transfer data up to 11 Mbps, the class g reaches up to 54 Mbps, class n up to 450 Mbps, the classe wireless AC up to 1.3 Gbps. Depending on your internet connection you will need to use a modern router that can support the above classes.
Frequency bands
If you want to take advantage of all frequency bands and avoid interference, your best bet is to get a dual band router. The latter support the radio band a 2.4 GHz and can transmit the signal on the frequency band a 5 GHz, which means avoiding interference.
For 5GHz networks, since they have a shorter range than 2.4GHz networks, you need to have PCs and devices compatible with the 5GHz network.
There are also tri-band routers that are able to use the 2.4 GHz band and two 5 GHz bands at the same time, in order to guarantee high speeds in data transfer. However, they are very expensive and should only be purchased in case of specific needs.
Other high-end wheels support the technology MU-MIMO (Multiple User, Multiple Input, Multiple Output). This means that they can handle requests from multiple devices at the same time without affecting the data transfer speed in any way. To exploit the potential of these devices, you must use devices compatible with this technology and with the wireless AC standard.
Connection protocol
To take full advantage of the Internet browsing speed with your best modem router, it is also necessary to evaluate the connection protocol provided by the telephone operator, which can be ADSL2(up to 12M) or ADSL 2+ (up to 24M). You will then need to purchase a router based on the protocol your connection uses.
More advanced routers usually support the technology as well VDSL / VDSL2, which allows you to reach navigation speeds up to 300 Mega. It is also called fiber and provides for the connection from the street cabinet with the optical fiber control unit.
The profiles VDSL they are different and not all routers can support them. Usually the 17a profile is the most common and allows you to browse up to 100 Mega, while the 35b is the one that allows you to browse up to 250 Mbit / s in download.
Chipset, RAM, CPU e antenne
Other components to consider before buying a router are: the chipset, RAM, CPU, and antennas.
The chipset is important for the stability of the connection, the CPU and RAM are important for traffic management, such as the number of antennas and their power, the more powerful they are, the greater their range will be.
Ports and connections
All routers on the market have ports that allow the connection of different devices. The doors can be the classic ones Ethernet, USB (to also connect external HD) and ports DO NOT KNOW (to connect to other modems, VDSL or fiber).
Source USB they can also be used for mobile sharing of 3G / 4G keys via router. Those Ethernet they can be of type Gigabit, with transfer rates of 1000 Megabits per second, or type Fast Ethernet, with transfer rates up to 100 Megabits per second.
Some routers also have landline and VoIP support.
Functions of the router
Other functions of the router are the parental control, to block access to certain websites, the ability to create a network guest, support to WPS, technology to put the router in communication with other wireless devices (Wifi repeaters, printers, etc.).
Mesh support router
There are also routers with technology support mesh networking. They are usually bought when you have a large office or house and you need to spread the Wifi network in all spaces.
It is a technology that allows you to have a single network and one or more satellites capable of sharing the connection in all corners of the house. These types of networks are different from traditional ones, which consist of a router and a series of separate repeaters. Each router that makes up the network communicates with the other in the same dedicated radio channel, managing to expand the coverage of the Wifi network and creating a network for the whole house. You can increase the number of satellites as and when you want.
Read also: Best Mesh routers
Portable routers and 3G / 4G support
To date on the market we also find routers that support SIMs. of data or the Internet Key to surf in 3G / 4G. They are very useful when the ADSL connection is not present.
I portable routers instead they are compact, battery-powered devices, which allow you to connect to 3G and 4G networks on various devices at the same time.
To learn more, read also: Best portable routers
Best Wifi routers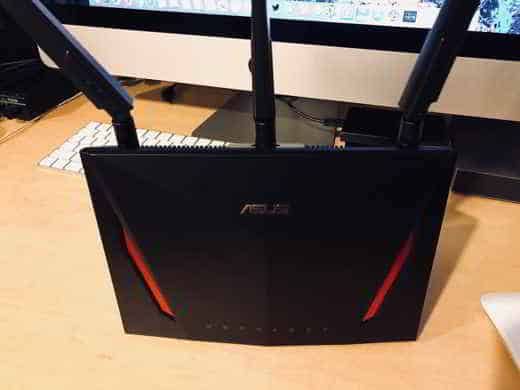 Now that you have a clear idea of ​​what the main features of wireless routers are, below is a rundown of the best modem router on the market valid for all budgets.
1. Google Wifi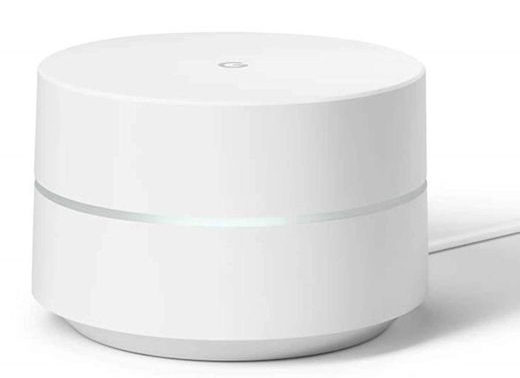 The best powerful Wifi router for home.
Speed: 802.11ac, download a 5GHz: 101.41 Mbps, download a 2.4GHz: 47.53 Mbps | Connectivity: 2 Gigabit Ethernet ports for Wifi (1 WAN and 1 LAN port each) | Features: AC1200, 2 x 2 Wave, 2 Wi-Fi, TX beamforming, pronto per Bluetooth Smart.
For
Easy to set up
Excellent quality / price ratio
Cons
Poor AC value
Limited hardware control
Google Wifi dictates the era of the best wireless mesh routers. It is certainly technologically advanced and using it you can have a certain number of receivers to be placed in key points of the house. All you have to do is capture the QR Code of each receiver and the network will be ready. It is very easy to set up and does not require expert hands.
Buy on Amazon
2. Asus RT-AC86U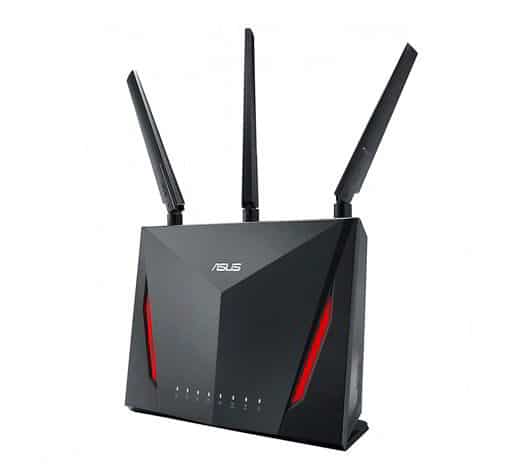 The best router with extreme design.
Speed: 802.11ac, 1734 Mbps in download | Connectivity: : 5 x Gigabit LAN, 1 x USB 2.0, 1 x USB 3.0 | Features: MU-MIMO, Traffic Analysis, Adaptive QoS, WTFast Gamers Private Network.
For
Veloce
Great coverage
Full firmware
Cons
The router RT-AC86U of the Asus certainly does not go unnoticed wherever you decide to fix it. In addition to the very eye-catching design, the advantages of this device are the hardware aspect and the cost. Let's talk about reasonable prices for a router with a fast connection. If aesthetics are not a problem for you, then you can think about it.
Buy on Amazon
3. Netgear Orbi AC2200 RBK23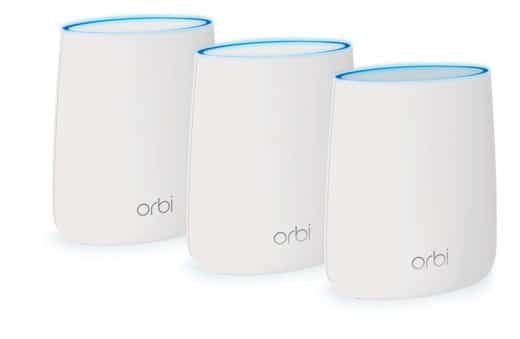 One of the smallest Wifi routers on the market.
Speed: 802.11ac, download a 5GHz: 68.8 Mbps | Connectivity: 2 Gigabit Ethernet ports per drive | Features: parental control Disney Circle, smartphone setup, Tri-Band networking, modular.
For
Cons
The router Netgear Orbi AC2200 RBK23 it is a model dedicated to those who have to cover not large spaces. It offers fewer antennas and the Ethernet ports are inferior to the original model, but they are still valid for good coverage. The small size still allows you to place it anywhere.
Buy on Amazon
4. Asus BRT-AC828 router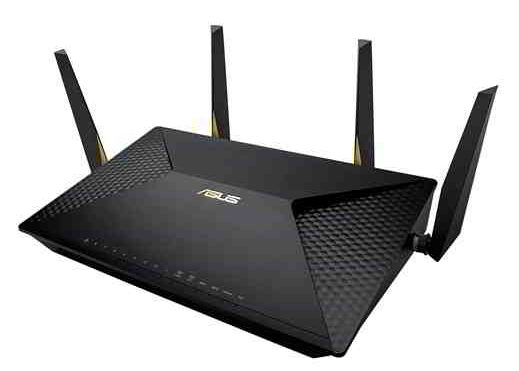 The best Wifi router for office.
Speed: 802.11ac: 1734 Mbps, 802.11n: 800 Mbps | Connectivity : 8 x Gigabit Ethernet, 2 x USB 3.0, 1 x M.2 SATA | Features: hardware security, dual WAN, RADIUS support.
For
Incredible expansion capabilities
8 Gigabit Ethernet ports
Cons
Asus is famous for manufacturing motherboards and laptops, the BRT-AC828 it is his only corporate router and is certainly one of the most used. It offers support for LTE with 2 x 1 Gbps WAN ports and RADIUS (Remote Authentication Dial-In User Service) support, with the ability to aggregate 4 x 1 GB Ethernet ports into a virtual 4 GB. It is definitely a top of the range with theoretical speeds up to 2,6 Gbps and coverage up to 100 m. It also partnered with Trend Micro to integrate a security package called AIProtection.
Buy on Amazon
5. TP-Link Archer C5400 v2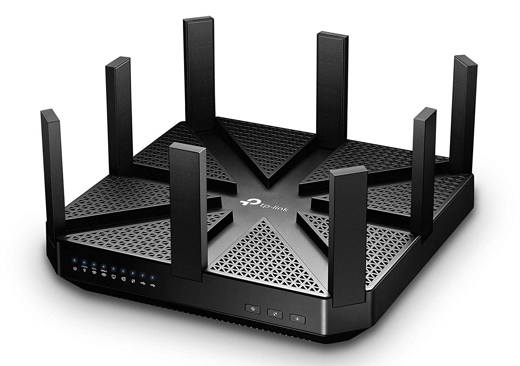 Wireless router with high performance and extravagant design.
Speed: 802.11ac 5GHz in download fino a 2,167 Mbps, 2.4GHz in download fino a 1,000 Mbps | Connectivity: 4 x LAN, 1 x WAN, 1 x USB 3.0, 1 x USB 2.0 | Features: MU-MIMO, Tri-band Wi-Fi, 8 external antennas, Alexa voice control.
For
Powerful and fast
Compatible with Alexa and IFTTT
Cons
Buy on Amazon
6. Netgear Orbi Pro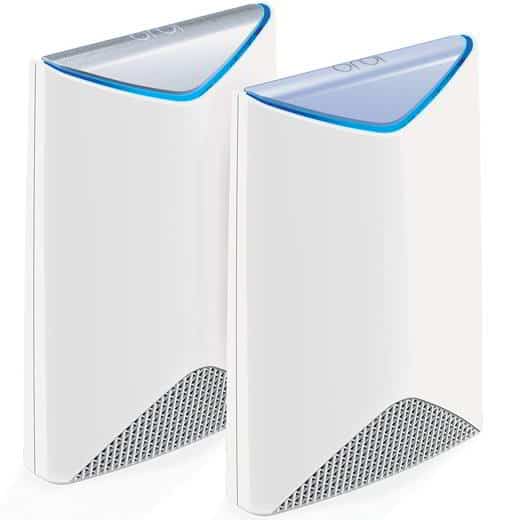 Best office mesh router.
Speed: 802.11ac 5GHz in download fino a 2,167 Mbps, 2.4GHz in download fino a 1,000 Mbps | Connectivity: 4 x LAN, 1 x WAN, 1 x USB 3.0, 1 x USB 2.0 | Features: MU-MIMO, Tri-band Wi-Fi, 8 external antennas, Alexa voice control.
For
Incredible performance
Easy to set up
Cons
Il Netgear Orbi Pro is a latest generation router. It is in fact a modular Wifi mesh router with design and performance for your business. It's not cheap, but if you want to avoid slowdowns due to the Wi-Fi network in a long day of work, I recommend that you take it into consideration.
Buy on Amazon
7. TP-Link Deco M9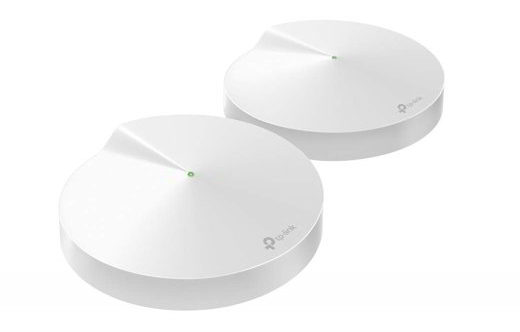 Best wireless modem for smart home.
Speed: 802.11ac 5GHz in download fino a 2,167 Mbps, 2.4GHz in download fino a 1,000 Mbps | Connectivity: 4 x LAN, 1 x WAN, 1 x USB 3.0, 1 x USB 2.0 | Features: MU-MIMO, Tri-band Wi-Fi, 8 external antennas, Alexa voice control.
For
Great coverage
Easy to install
Cons
Routers with mesh technology are lately the preferred by the consumer as they offer a level of coverage never achieved in the past. With the advent of the router TP-Link Deco M9 integrated with IoT support for the smart home, you will get top performance with features that require a nice outlay of money.
Buy on Amazon
8. D-Link Covr-C1203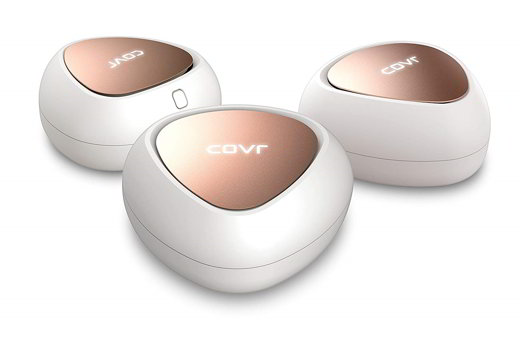 Better router with advanced wireless mesh networking.
Speed: 2.4 GHz: up to 300Mbps; 5GHz: up to 866Mbps | Connectivity: 2 x Gigabit Ethernet LAN per nodo | Features: MU-MIMO, Parental control, Smart network control, installation for smart devices.
For
Cons
If you don't need great features and want to try out wireless mesh router technology, then I recommend the D-Link Covr-C120. It offers the same coverage as Google Wifi at lower prices even if the performance is not at the top; fortunately they are fine for most users. The triangular design is very cool and won't bother you having to hide it for fear that your friends will see it.
Buy on Amazon
9. Billion BiPAC 8900AX-2400 router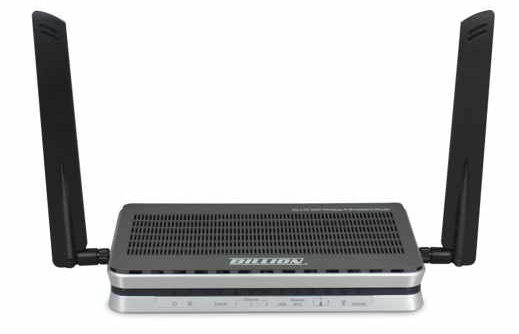 Mesh network router for experts.
Speed: 802.11ac: 1750 Mbps, 802.11n: 600 Mbps | Connectivity : 4 x Gigabit Ethernet, 1 x USB 2.0 | Features: failover automatico, 16 tunnel VPN IPSec x
For
Performance
ADSL2+ modem included
Cons
Clumsy interface
USB 2.0 ports only
Billion BiPAC 8900AX-2400 it's a truly performing router and has been around for more than a decade. This device is perfect for those who have an ADSL2 + connection and for those who are familiar with setting up networks. If you want a router with a plug and play setup, then this modem is not for you. In terms of functionality, you can reach 2,4 Gbps on both bands with an automatic failover feature connect a 3G / 4G modem to the USB port. The price is competitive, but you'll have to settle for just 4 Ethernet ports and a USB 2.0 connector.
Buy on Amazon
10. Amplifi HD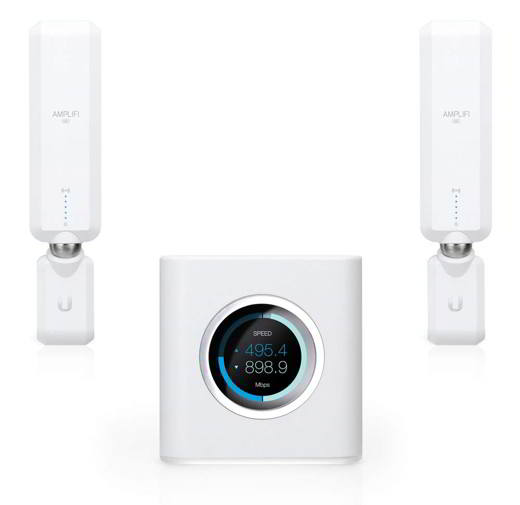 Wifi router with mesh network and modern design.
Speed: 802.11AC 1300mbps | Connectivity: 1 x Gigabit WAN, 4 x Gigabit LAN | Features: Modular network coverage, modern design, LCD touchscreen.
For
Modern design
Easy to install and configure
Cons
The router Amplifi HD it is more expensive than Google Wi and offers a modern design with high performance but at an excessive price.
Buy on Amazon
11. Linksys Max-Stream EA9500 router
Best tri-band modem
Speed: 802.11ac: 2166 Mbps, 802.11n: 1000 Mbps | Connectivity : 8 x Gigabit Ethernet, 1 x USB 3.0, 1 x USB 2.0 | Features: 8 antennas, tri-band, Linksys Smart Wi-Fi app.
For
Cons
No option to aggregate LAN ports
Il Linksys EA9500 is a tri-band router that uses MU-MIMO technology, with 8 antennas, to provide two 2,17 Gbps streams with additional 1 Gbps stream for legacy 2,4 GHz devices. Inside it has a powerful dual processor 1.4 GHz core for the management of three bands. You can pair the Max-Stream AC1900 + MUMIMO Wi-Fi Range Externder to this device for uninterrupted roaming and absolute coverage. The EA9500 not only has 2 USB ports but also 8 LAN ports and a WAN port, for connections to other modems.
Buy on Amazon
12. Netgear Nighthawk X10 router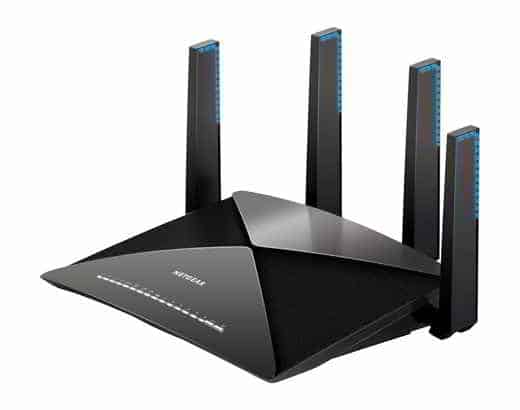 Best Wifi ADSL router.
Speed: 802.11ac: 1734 Mbps, 802.11n: 800 Mbps | Connectivity : 7 x Gigabit Ethernet, 2 x USB 3.0 | Features: 10G LAN SPF, 802.11ad, Amazon Cloud Drive in bundle.
For
10G LAN SPF connectivity
Support 802.11ad
Cons
Il Nighthawk X10 is a router that offers functionality for business use. It is technically advanced and has many LAN ports (seven Gigabit). You can add 2Gbps and it also features an SPF 10G LAN connector for accessing a NAS. It also features a pair of USB 3.0 ports and quad-core ARM processor clocked at 1,7GHz, 1GB of RAM and 512MB of storage. Supports 802.11ad, short-range high-speed connectivity that requires line of sight to function properly. Also known as WiGig, it operates at 60 GHz and tends to replace wires altogether. A 6 month subscription to Amazon Cloud Drive should be included with this router.
Buy on Amazon
13. Synology RT2600ac router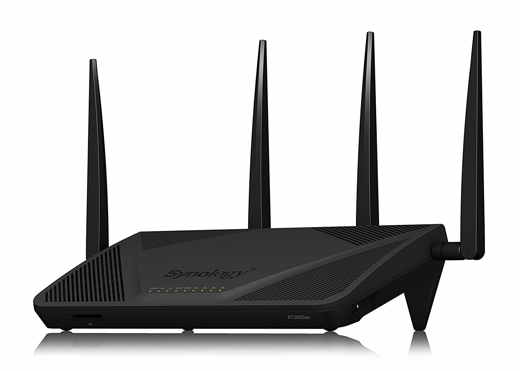 A NAS that thinks like a router.
Speed: 802.11ac: 1733 Mbps, 802.11n: 800 Mbps | Connectivity : 4 x Gigabit WAN, 1 x USB 2.0, 1 x USB 3.0, 1 x SD card reader | Features: 1,7 GHz dual-core processor, MU-MIMO, beam-forming, 512 MB of RAM, 4 GB flash memory.
For
Cons
Synology RT2600ac it's what you get when you merge a traditional wireless router with a network attached storage device or NAS. This device has a lot of features, such as built-in VPN and the ability to aggregate two WAN ports. It offers 4GB of built-in storage, you can connect an external hard drive and set up your cloud service similar to Google Drive or Microsoft OneDrive. You can also download a selection of NAS-quality apps as a VPN client and server. Unfortunately, the app selection is sparse at the moment. Keep in mind that this is just Synology's second attempt at a router of its own, so despite some shortcomings, there's plenty of room for improvement.
Buy on Amazon
Best selling Wifi routers on Amazon
After reviewing our selection, here is the ranking of the best selling Wifi routers on Amazon. The list is continuously updated. I hope you can find the modem routers that best suit your needs.