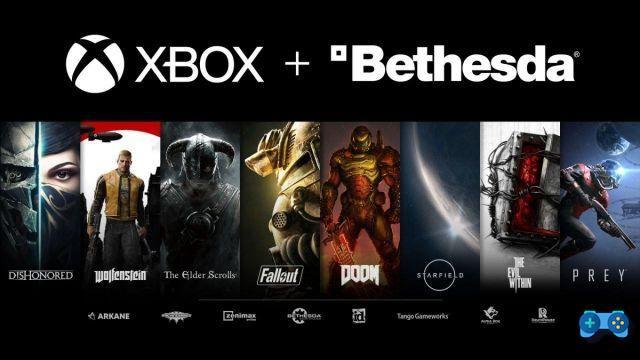 Microsoft products has significantly expanded its roster of first party studies over the years: here are the 23 studios hosted to date under the Xbox Game Studios brand.
With Microsoft preparing to launch its next generation consoles, Xbox Series X and Series S, the company is putting the full power of its range of first party development studios towards exclusive new titles. Alongside its long-standing franchises like Halo, Gears of War and Forza, the American company has added several new first-party development studios to Xbox Game Studios. Most recently, it surprisingly announced that it had acquired ZeniMax Media, parent company of Bethesda Softworks, making its list of developers even wider.
After its other recent acquisitions in recent years such as Ninja Theory, Obsidian, Double Fine and others, Xbox Game Studios now has 23 studios to his credit to bring fan-favorite franchises and new IPs to Xbox consoles.
Here are the main ones:
343 Industries (2007)
Recent games: Halo 4 (Xbox 360), Halo 5 (Xbox One), Master Chief Collection (Xbox One, PC)
Upcoming games: Halo Infinite (Xbox One, Xbox Series X / S, PC)
Compulsion Games (2018)
Recent games: Contrast (Xbox One, PS4, PS3), We Happy Few (Xbox One, PS4, PC)
Upcoming games: TBA
Double Fine Productions (2019)
Recent games: Rad (Xbox One, PS4, Switch, PC), Psychonauts in the Rhombus of Ruin (PS4 VR, PC VR), Full Throttle Remastered (PS4, Vita, PC, Mac, iOS)
Upcoming games: Psychonauts 2 (Xbox One, PS4, PC, Mac)
inXile Entertainment (2018)
Recent games: The Bard's Tale IV: Barrow's Deep (Xbox One, PS4, PC, Mac), Wasteland 3 (Xbox One, PS4, PC, Mac)
Upcoming games: Frontpoint VR: Proving Grounds (PC VR)
Mojang Studios (2014)
Recent games: Minecraft Dungeons (Xbox One, PS4, PC, Switch), Minecraft Earth (iOS, Android)
Upcoming games: TBA (working on updates for Minecraft)
Ninja Theory (2018)
Recent games: Bleeding Edge (Xbox One, PC), Hellblade: Senua's Sacrifice (Xbox One, PS4, Switch, PC)
Upcoming games: Senua's Saga: Hellblade II (Xbox Series X / S, PC), Project: Mara (TBA)
Obsidian Entertainment (2018)
Recent games: Pillars of Eternity II (Xbox One, PS4, Switch, PC, Mac), The Outer Worlds (Xbox One, PS4, Switch, PC), Grounded (Xbox One, PC)
Upcoming games: Avowed (Xbox Series X / S, PC)
Playground Games (2018)
Recent games: Forza Horizon 3 (Xbox One, PC), Forza Horizon 4 (Xbox One, PC)
Upcoming games: Fable (Xbox Series X / S, PC)
Rare (2002)
Recent games: Battletoads (Xbox One, PC), Sea of ​​Thieves (Xbox One, PC)
Upcoming games: Everwild (Xbox Series X / S, PC)
The Coalition (2010)
Recent games: Gears 5 (Xbox One, PC), Gears Tactics (PC), Gears of War 4 (Xbox One, PC)
Upcoming games: TBA (working on updates for Gears 5 and Gears Tactics)
The Initiative (2018)
Recent games: no
Upcoming games: TBA
Turn 10 studios (2001)
Recent games: Forza Motorsport 7 (Xbox One, PC), Forza Motorsport 6 (Xbox One), Forza Motorsport 5 (Xbox One)
Upcoming games: Forza Motorsport (Xbox Series X / S, PC)
Undead Labs (2018)
Recent games: State of Decay 2 (Xbox One, Xbox 360, PC), State of Decay (Xbox One, PC)
Upcoming games: State of Decay 3 (Xbox Series X / S, PC)
World's Edge (2019)
Recent games: Age of Empires II: Definitive Edition (PC)
Upcoming games: Age of Empires IV