Even today you continue to receive notifications from Netlog and you don't know how to cancel your account? Do not worry in this post we will explain how to unsubscribe from Netlog.
With the success of Facebook and Twitter, the Belgian social network aimed at European youth, Netlog, it has lost many users and its popularity has certainly dropped.
How to delete your Netlog account
The steps for unsubscribe from Netlog are the following:
Let's connect to the site http://it.netlog.com/ and we carry the login with our data. If we no longer remember your password, you can retrieve it by entering your email address.
After logging in, click on the item at the top right Settings and let's go to the section Account, placed in the top menu. In the Accounts control panel there are several items: Nick Name, Password, Trust, Clear, we choose, by clicking on it, the item Clear.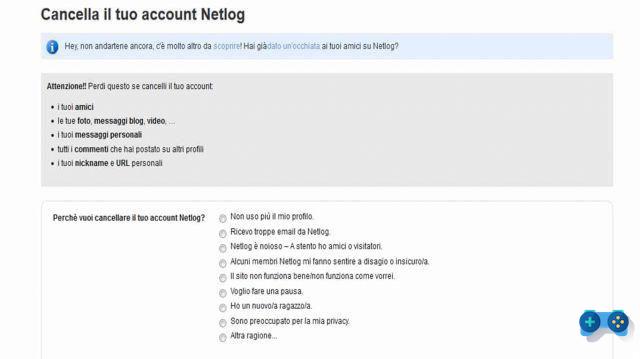 On the page Delete your Netlog account we choose one of the reasons why we want to leave the social network and click on the link Do you still want to cancel your account? Click here to continue ... We insert ours Password, le Notes and security code indicated and click on the button Delete account.
At the end of the procedure Netlog will redirect us to Home with the following confirmation message: Your Netlog account has been successfully deleted. We hope to see you again soon.
We just have to wait two weeks without logging in so that our data is permanently deleted from the site.