na buying guide on best USB Hubs and which USB 3.0 splitter does its job best.
If you regularly use a Mac or PC along with a number of other devices, you may find yourself having a limited amount of USB ports available and therefore having a hard time managing your files better.
What you need then is a reliable and smart USB hub that can comfortably extend the number of USB sockets at your disposal and your desktop configuration to include cameras and portable storage units, such as the best external hard drives, for example.
Best USB Hubs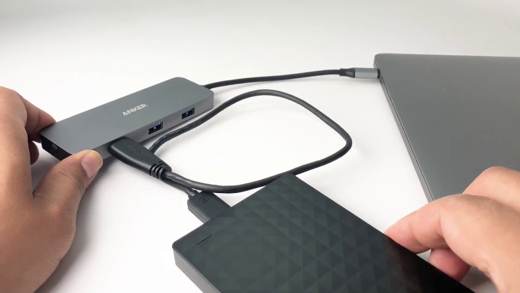 In this article I will reveal the best USB hubs so that you are really spoiled for choice. From self-powered to bus-powered, from USB Type C to multiport hubs. Many brands are turning the tables when it comes to providing expandable USB power, so enjoy this list and pick the best USB hub for PC.
Please note:: There are generally two types of peripherals: Self-powered e bus-powered. The bus-powered peripheral means that it does not require an external power supply, but the power supplied by the bus is sufficient, max 500mA. The self-powered device means it is self-powered.
The best USB-C hubs for Mac and notebook
The best 2020 USB-C adapters for MacBook and notebook
1. Sabrent a 4 port USB 3.0 Hub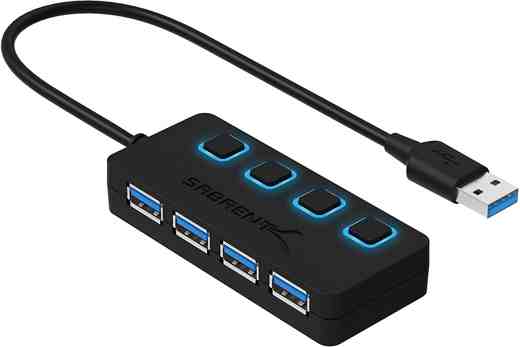 Best usb 3.0 hub.
For
Built-in 8-inch connection cable
USB Type A
Veloce
Light
Compact

Portable
Cons
It cannot be used for charging devices
THESabrent 3.0-port USB 4 hub is the best USB hub around thanks to an exceptional value for money and almost 12.000 positive reviews from Amazon customers. If you are looking for a fast and efficient USB port hub then this is sure to take some time with its under 10 euro price tag. It supports transfer rates up to 5Gbps and is also backward compatible. It is also 10 times faster than previous USB 2.0 models.
Each separate port also has its own individual power switch and LED display indicator, so you can control it individually. It's the perfect solution for neatly and conveniently organizing all your USB peripherals and is extremely compact, portable and perfect for travel, as well as rugged with a durable protective casing in ABS. It's easy to set up, as it doesn't require any installation, and it's a simple one dispositivo plug and play.
It connects up to 4 devices and has a perfect design for those who have to travel frequently for work.
Buy on Amazon
2. Anchor Hub USB 3.0 4 Ports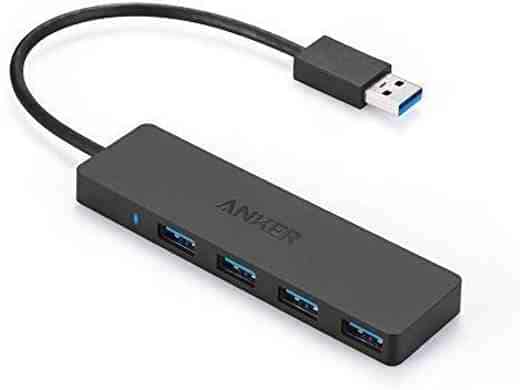 Best Compact USB Hub.
For
USB connection cable
USB Type A
Veloce
Ultra thin and light
Super compact
Portable
Cons
It does not charge tablets or other devices that require more power input
If you are looking for a small and fast USB 3.0 hub, you really can't go wrong with thehub a 4 porte di Anker , one of the favorite brands in homes around the world. It allows you to turn just one of your computer's existing USB ports into four additional external ports for all your device's charging and data management requirements. With a fast sync option, you can quickly transmit data over USB at speeds up to 5Gbps. This means you can transfer a high definition movie in seconds.
Perhaps one of the most important features of this Anker 4-door USB hub it is the fact that it is thin and compact. It is also equipped with a reinforced cable and a sturdy outer casing and heat resistant connectors. In case that isn't enough to give you peace of mind, Anker also offers an 18-month warranty. This Anker ultra slim USB hub has been built for high performance and is perfect for both everyday use and on the go.
Buy on Amazon
3. HooToo – Hub USB C Space Grey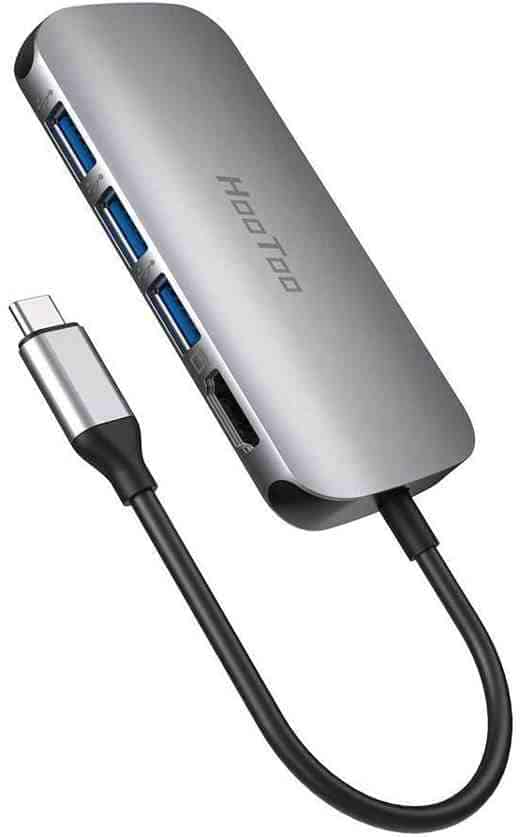 Best Mac Book Pro USB C Hub.
For
6-in-1 functionality
USB C connector
4K Ultra HD
SD card slot
Charge the laptop
High speed transfer
pocket
Cons
The USB port cannot be used to charge iPad or tablet
It can only support one external hard drive at a time
THEhub USB-C 6 in 1 di HooToo It is feature-packed, comes with three USB 3.0 ports that let you expand and connect more devices to your MacBook, and also offers an additional HDMI power output and an SD card slot. The 4K HMDI port can support 4K 30hz or 2k 60hz video and is optimized to deliver a resolution of 3840 x 2160 pixels.
Unlike many other hubs, with this one hub USB HooToo mac, you can conveniently charge yours MacBook Pro when transferring data or use it to connect to other peripherals. For all Mac enthusiasts, it has also been beautifully and stylishly designed with a 2.5D aluminum alloy ionized finish and looks great combined with a Mac-style LED indicator. EMI protection also prevents interference from other wireless devices. , which again can be a problem with some hubs.
Fully supports the operating system Windows, Mac OS, Unix e Chromebook OS. With its slim and stylish pocket design, it is also perfectly portable and will easily fit into a laptop case so you can always have access to the USB expander no matter where you work from that day. Make sure you combine this with one of the best USB sticks on the market.
No products found.
4. Anker Hub USB Premium 7-in-1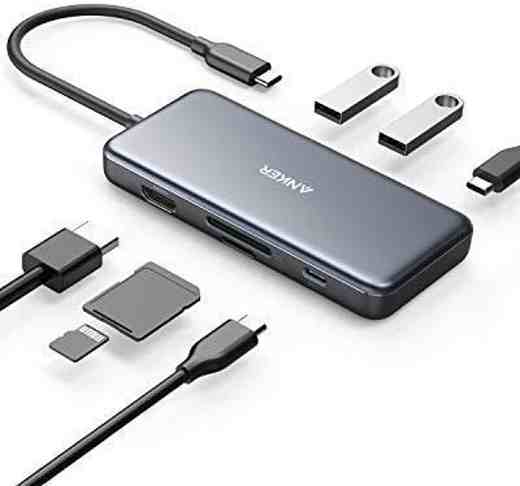 Best USB hub brand.
For
7-in-1 functionality
USB C connector
4K Ultra HD
SD card slot
Elegant anodized design
High speed transfer
pocket
Cons
Not compatible with 2018 iPad Pro or Nintendo Switch
There are other incompatibilities, so check before purchasing
The next best USB hub reviewed is the Premium one from Anchor. This is a 7-in-1 USB C Hub that offers a significant amount of additional peripheral expansion that extends not only to three USB ports, but also to an additional HDMI port, SD, micro SD and USB card slots. C which offers a charging port.
It is ten times faster than USB 2.0 and can offer a super maximum speed up to 5120 Mbps. It streams 4K high definition video at 30Hz so you can download a new movie in seconds. It is SD ready and can both swap and read SD and microSD cards for versatility and exceptional data storage. It's also perfectly portable and can easily slip into a laptop case or any small backpack compartment. It also comes with its own travel case and an 18-month warranty, so you can truly take this 7-in-1 hub with you wherever you go without worrying about it getting damaged.
Anker's USB hub is truly a premium product and allows you to synchronize an entire workstation simply using this compact and simple central hub system. It is perfect if you need to combine HDMI with standard SD and USB. The elegant chromatic anodized finish will also perfectly match the aesthetics of yours MacBook, so if style is as important to you as substance, then you will love what this is Hub USB C Anker 7 in 1 can offer.
Buy on Amazon
5. TP-LINK 7-Port USB 3.0 Hub 4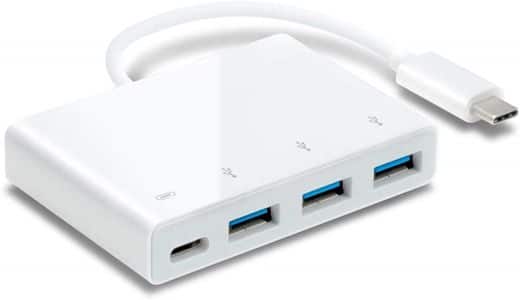 Best Portable USB Hub.
For
Slim design with LED indicator
Driverless installation
Ultra robust case with reinforced PVC coating
Foldable cable
No USB connectors exposed
Light
Super compact
Portable
Cons
No dedicated integrated charging port
From the famous brand TP-Link, here is a slightly different USB hub from the others. Not only is it portable and travel-friendly but it also features 4 USB ports and a USB-C port. Its ultra-compact design with foldable cable is ideal for travel. TP-Link was previously ranked as the world's number one provider of WLAN products, so you can rest assured that you are looking at a product that has been built and designed to last and deliver exceptional quality and performance.
With its 3,0 ports, it allows you to sync or charge four compatible devices with a maximum output per port of 900MA. It features a fully configuration plug-and-play, so it doesn't require downloading or installing drivers to be up and running. It works with Windows, Linux e Mac OS. And also backward compatible con USB 2.0 e USB 1.1 and can support a wide range of transfer rates up to a super speed of 5Gbps.
What sets this unit apart from many others is the unique foldable cable design and its slim and compact features. This not only means that the hub can easily slip into a tight pocket but it won't scratch your PC either. I conclude by making sure that TP-Link offers 24/24 technical support.
Buy on Amazon
6. Jelly Comb 6 porte USB charger station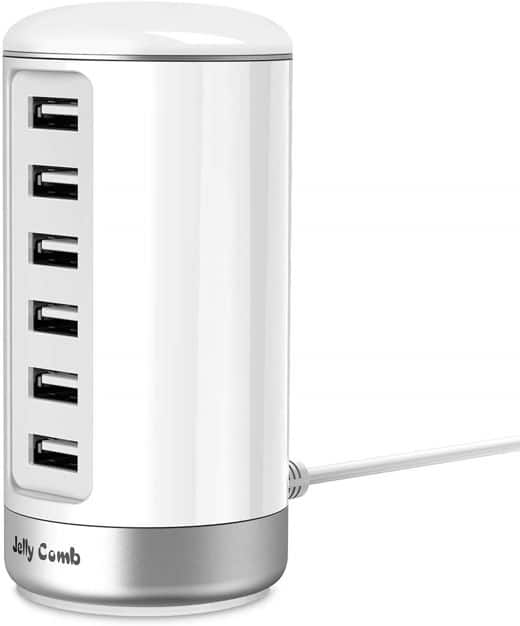 Best powered usb hub.
For
6 ports charge 6 devices
Quick charging technology
Compact office tower design
Smart device identification
30 watts and 6 amps of power
Portable
Stable base
1 year warranty
Cons
The USB charging hub Jelly Comb it's perfect for a busy office or home environment where you may need to charge multiple phones and tablets over the course of the day. With its sleek and discreet tower design, it fits into any home or office decor and eliminates the usual clutter of chargers and wires. It provides a clear and simple solution to your charging needs in one easily accessible location. With a rubberized bottom on the base of the charging station, it holds the position firmly.
This Jelly Comb 6 Port USB Charging Station uses the most advanced fast charging technology and is capable of detecting connected devices to ensure that optimized smart charging occurs, regardless of the combinations of devices using one of the USB ports in that moment. It will automatically charge your smartphones and tablets to their optimal performance. It is also a great option for those of you who love to travel as it is capable of handle both 110V and 240V in a very compact design.
It is equipped with the advanced materials and the LED function is integrated into the base next to the non-slip mat. It's an excellent choice and works on a wide range of compatible devices from iPhone a Nokia, Motorola e Samsung a HTC e Google, as well as a number of other well-known smartphone and tablet manufacturers.
No products found.
7. AUKEY Hub USB 4 Porte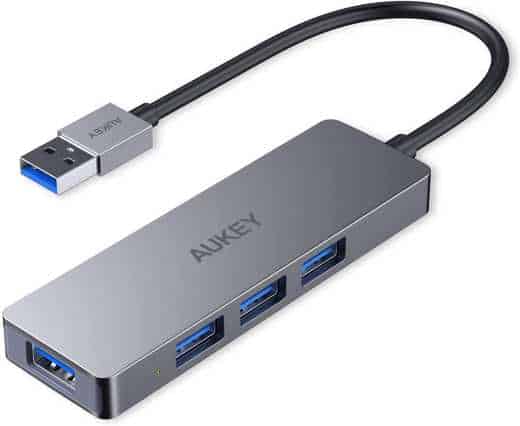 Best USB Hub 3.
For
4 ports
5 Gbps transfer
Backward compatible
light
Compact
Perfectly portable
Safe and reliable
Cons
USB A port may seem a bit narrow at first
If you are looking to invest inhub USB Thunderbolt offering wide compatibility, this 3.0 port USB 4 hub Aukey it's a smart and reliable choice. It allows you to easily connect with a variety of peripherals from a flash device to a hard drive, printer to tablet, card reader or even a mouse. It also supports 2,4GHz wireless devices and MIDI devices, so there's really a huge scope to expand your desktop setup.
Offers a data transfer super with extraordinarily high synchronization up to 5 Gbps, which means you can transfer your new favorite HD movie in seconds. Plus, it's built reliably and durably from solid cast aluminum with stress-relieving cable reinforcements that should ensure the longevity of this USB hub for many years to come. The design itself is also very sleek and compact, plus it offers plug and play performance, which means you don't need to download or install any annoying drivers to start using this hub. It also offers reliable protection too with built-in electronics that help protect the precious connected devices you are using from EMI and ESD. It enjoys wide compatibility with devices from all popular brands including Apple, Google and Dell and many more.
No products found.
Best selling USB hubs on Amazon
Below is a further updated list with Amazon bestsellers of the best USB Hubs. I hope you can find the USB power strip that best suits your needs and pockets.