Best PC keyboard. A buying guide on the best keyboards to make your work more productive both at home and in the office.
If your PC keyboard is starting to show signs of aging, then consider getting one of the best keyboards on the market. The benefits of comfort, speed and reliability that you can get with the best keyboards will surprise you incredibly.
Once you buy one of the keyboards on this list you will never want to go back. If you are writing, chatting or playing the best PC games, you will find out how much the best PC keyboard it will make your life easier. The same goes for gaming keyboards which, unlike traditional ones, are intended to improve your gaming experience.
Which keyboard to buy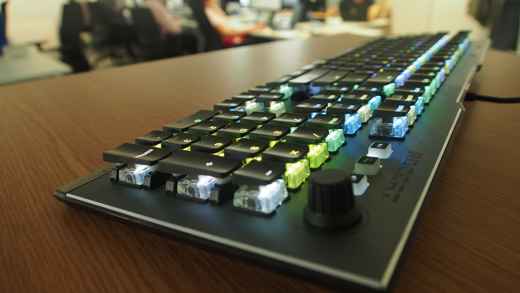 Let's see the characteristics that a good keyboard must have to facilitate you in your work.
Sizes
Before buying a keyboard you need to pay attention to its size. Those exist standard (full size) but also those mini, used with portable devices or Smart TVs.
On the market you will find keyboards with numeric keypads on the right (tenkeyless) and those without. The former ensure a better user experience but take up more space on your desk. You will then need to consider how much space you have available.
There are also keyboards ergonomic which will help you avoid carpal tunnel syndrome.
Membrane keyboards and mechanical keyboards
There are keyboards on the market mechanical and keyboards a membrane. The mechanical ones use a mechanical switch for each key and are very precise. They are a favorite of gamers and fall into the category of gaming keyboards.
I mechanical keys of these keyboards differ in the effect they offer to the user when typing. The most famous switches are the Cherry MX:
Red: linear responses.
Blue: fast and snappy, but noisy.
Brown: light pressures.
Black: linear responses but strong pressures.
Switch proprietari: Razer and Logitech produce switches but with similar characteristics to the Cherry MX series.
Usually these are keyboards with keys with backlight RGB customizable, which cost much more than membrane ones, which, in addition to being economical, are more widespread, versatile and less noisy.
layout
Il layout is another thing you need to look out for when buying a keyboard. The Spanish layout is QWERTY, nomenclature established by the succession of the first keys at the top left. Foreign ones are different (for example the French layout is QWERTY).
Backlight
If you love working in the dark a keyboard with backlight RGB will allow you to see the keys you are typing and will allow you to be faster.
Wireless, Bluetooth and wired keyboards
Keyboards can be either wireless that with cable.
Those with cable have a USB connector and physically connect to your desktop or notebook PC.
Source wireless e Bluetooth in recent years they are becoming more and more popular, thanks to their comfort since they avoid the clutter of cables.
The keyboards Bluetooth they do not need external receivers and if your system is compatible with Bluetooth, just pair them. Furthermore take advantage of the 2.4GHz band but they require the use of an external receiver to be connected and are not always compatible with tablets, smartphones, and more. They also require an available USB port like wired keyboards.
Other characteristics
Other things to consider before choosing a keyboard are i trackpad o trackball, integrated pointing systems that allow you to move the mouse on the screen and are very useful with tablets and Smart TVs.
Finally, there are also keyboards with programmable keys which, in addition to the standard ones, are used to execute applications or a series of actions such as opening the Internet, starting a music playback, and so on.
Also Check Out: The Best Android Virtual Keyboards.
Best PC keyboard

Now that you have a complete overview of the features that a keyboard must have, here are the best mechanical or membrane keyboards, for home and office. Hope you can find the best deal.
Best membrane PC keyboards
Logitech K120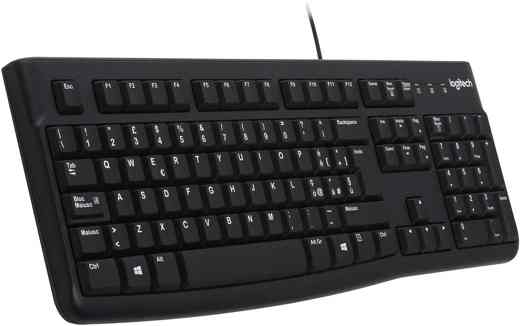 It is the best PC keyboard of the moment.
Interface: wired | Backlight keyboard: No.
For
Sturdy and durable keyboard
Price
Adjustable feet
Anti-splash material
Cons
Logitech K120 is a USB wired keyboard, with a Spanish layout with durable keys and a truly elegant design. Born for extended use, silent keys, traditional layout and numeric keypad with full size. You don't need to install software to use it. E 'compatibile con PC, notebook e Windows tablet o Linux. It guarantees long-lasting performance thanks to the sturdy keys of 10 million keystrokes and adjustable tilting feet. This Logitech product is perfect for office work and home smart working and is great value for money.
Buy on Amazon
Microsoft Sculpt Ergonomic Desktop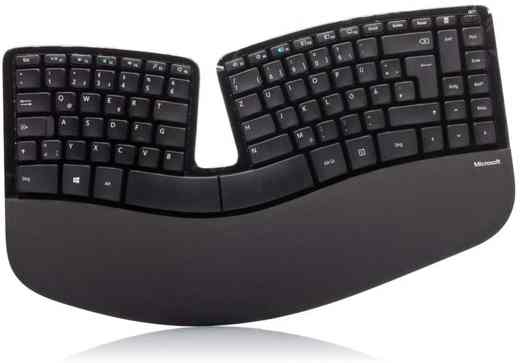 Best ergonomic keyboard.
Interface: wireless | Backlight keyboard: No.
For
Ergonomic
Padded palm rest
Shape to correct twisting of the wrists
Separate numeric keypad
Cons
Not really cheap
Requires an adjustment period
Difficult to clean wrist rests
This keyboard Microsoft with Spanish QWERTY layout it consists of a unique design to allow you to work comfortably and with all possible functionalities. It shows up with a crafts arched whose purpose is to reduce and correct the twisting of the wrists that could cause discomfort and pain over time. The keyboard is divided into two parts and great wrist rests padded promotes a natural and relaxing attitude for hands and wrists. For its use 2 AA alkaline batteries are required, included in the package with a mouse.
Buy on Amazon
Corsair K83 Wireless Entertainment

Best Bluetooth keyboard.
Interface: Bluetooth | Backlight keyboard: Yes | Switches: Ultra Low Profile Corsair Scissor.
For
Fantastic keys
Rugged and portable
Cons
If you have a home theater PC, you may be frustrated by the lack of keyboards that might be right for you. Fortunately, there is a keyboard for you: Corsair K83 Wireless, is a fantastic keyboard for entertainment. Not only is it lightweight and portable, it also has a host of entertainment features that will make life in your living room easier. Thanks to its wide range of connectivity options, including Bluetooth and 2,4GHz wireless via a dongle, you can use it with different platforms. However, it's not great in games, so keep that in mind.
Buy on Amazon
Logitech craft

Best wireless PC keyboard.
Interface: Wireless | Switches: scissor mechanism.
For
Heavy and solid construction
Useful and unique dial
Cons
La Logitech craft it's a sturdy, tactile and attractive keyboard, but it also features a unique dial in the upper left corner, which will help creatives speed up their workflow. The usefulness of this quadrant will vary by application, from simple volume control on the desktop, to editing levels in various Photoshop tools. If you spend a lot of time creating content on your PC, Logitech Craft is one of the best keyboards you can buy today.
Buy on Amazon
Logitech K780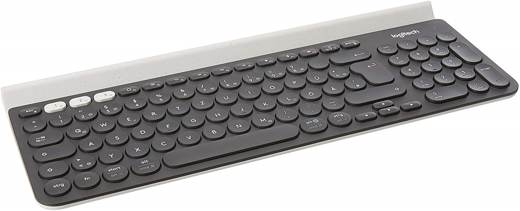 Best versatile PC keyboard.
Interface: wired | Backlight keyboard: No.
For
Well built
Design versatile
It can be used on three devices at the same time.
Cons
AA, instead of rechargeable battery
Limited customization options
Not very travel friendly
With its latest keyboard, Logitech will appeal to smartphone and tablet owners who prefer to use their device while sitting at a desk. And, if you were a fan of the predecessor, the K380, Logitech K780 should be for you, especially thanks to its additional numeric keypad. This keyboard can connect up to three devices at the same time via Bluetooth or wireless with the use of the button Easy Switch which allows you to switch from one device to another. The dimensions are standard and the keys are large and quiet. The key system Logitech Perfect Stroke offers precise, quiet and solid typing with fast and thin keys. This wireless keyboard is compatible with Windows, Mac, Android, and Apple mobile devices. The 2 AAA batteries are pre-installed and last up to 24 months.
Buy on Amazon
Apple Magic Keyboard

Best Apple keyboard.
Interface: Bluetooth | Keyboard backlight: No.
For
Elegant and minimalist design
Quality materials
Cons
Impossible not to mention the Apple wireless keyboard available in two models: the one without the numeric keypad and the one with the numeric keypad really useful for those who work with calculations. It offers directional arrows on the right side in evidence and a large space bar with keys Cmd e Other well positioned. Includes 19 function keys to control music and functions.
Buy on Amazon Buy on Amazon
Logitech K480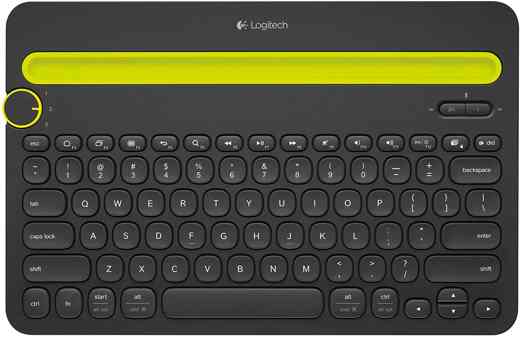 Best small wireless keyboard.
Interface: Bluetooth | Keyboard backlight: No.
For
It connects with most of the major platforms
Comfortable keyboard
Cheap
Instant switching between devices
Cons
It is not compatible with the Windows Phone operating system
No backlight
Not compact or light enough to be used as a portable tablet keyboard
It doesn't have all the usual keys you find on a full-sized keyboard
Logitech K480 is a wireless keyboard compatible with all devices. It has a knob Easy Switch to switch between devices with Bluetooth wireless technology. In addition to the standard keys, find hotkeys you use frequently for Windows PC, Mac and Chrome, for Android and iOS mobile devices. The integrated base allows you to place your smartphone or tablet to read while you are typing. Its range is up to 10 meters and the 2 built-in AAA batteries last up to 24 months with an indicator that warns you of the battery charge. The dimensions are: 29.9 x 19.5 x 2 cm for a weight of 820 grams.
Buy on Amazon
Best mechanical PC keyboards
AUKEY KM G12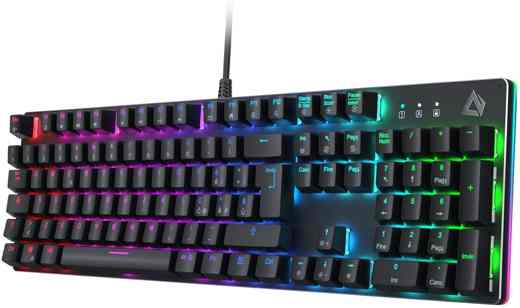 Best budget backlit gaming PC keyboard.
Interface: wired | Backlight keyboard: Yup.
For
Economica
Excellent overall build quality
Comfortable low-profile keys
Rollover n-Key Completo
Eye-catching RGB lighting
Cons
Software to improve
Blue switches aren't ideal for gaming
It is not possible to disable or modify the position lights
This mechanical keyboard AUKEY KM G12 present an RGB backlight with 7 preset colors and 12 preset lighting configurations. The AUKEY Red switch keys require little force to press and are not only smooth but also very easy to use. The steel frame is durable and abrasion resistant as well l'anti ghosting allows the keyboard not to miss a single key typed. It offers a degree of comfort when typing. You will hardly miss a beat as every key responds perfectly and with minimal effort. The brightness and color intensity are good and its aggressive look will appeal to any gamer. Finally, the key rollower correctly manages the keystrokes that are permuted at the same time.
No products found.
Roccat Vulcan 120 Aimo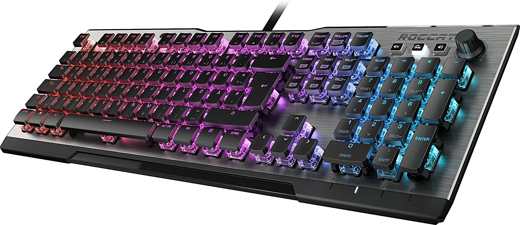 Among the best budget backlit keyboards.
Interface: wired | Backlight keyboard: Yes | Switches: Roccat Titan switches.
For
Great for playing and writing
Phenomenal switches
Aluminum PC keyboard with clean design
Cons
Expensive
Nessun USB pass throughs
It has now become law for keyboard manufacturers to implement their own switches on keyboards to customize them and Roccat - with Vulcan 120 Aimo - follows the same trend. It's about a backlit keyboard marketed as a gaming keyboard. His Titan Switch they are tactile enough to be satisfying, plus they bounce so fast that they are comfortable to type for long periods. Its sci-fi aspect is also fantastic. Certainly one of the best keyboards of the last years..
Buy on Amazon Buy on Amazon
Corsair K70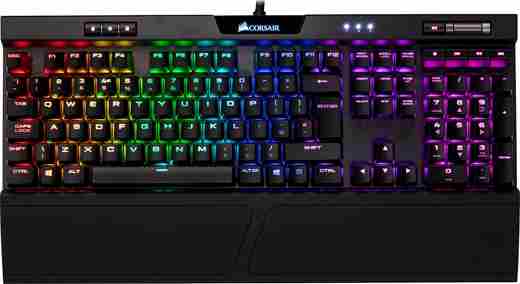 Best keyboard with silent Cherry MX RED.
Interface: wired | Backlight keyboard: Yes | Switches: Cherry MX Red.
For
Useful and fun RGB backlighting
Excellent performance
Cherry MX Red switches
Cons
Features removed from the previous K70
Difficult to use software suite
The gaming keyboard Corsair K70 offers German switches Cherry MX Red linear and fast without audible click. The keys are linear, low resistance and with fast response and comfortable return. The design is slim and fits into any modern desktop setup. The frame is aluminum aircraft anodized and is perfect for long gaming sessions. Customizable dynamic RGB backlighting and color control is virtually unlimited. Very pleasant is the wrist rests removable, comfortable to rest the wrists and not keep the forearm in tension. Overall an excellent product resistant also to dust and liquids. The QWERTY layout is in Spanish.
Buy on Amazon
Wood Gramr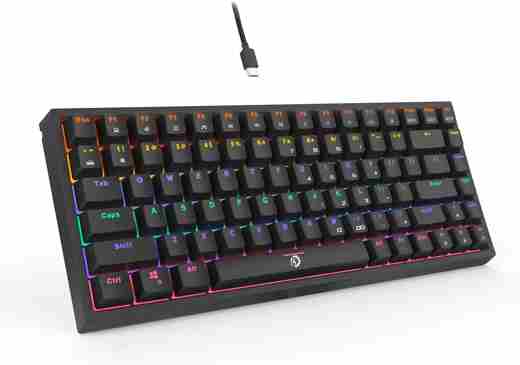 Best quality mechanical keyboard at a good price.
Interface: wired | Backlight keyboard: Yup.
For
Tastiera entry level
Good build quality
Detachable cable
Outemu Black linear switches are smooth and consistent.
Cons
Inconsistent backlight brightness.
The mechanical keyboard Wood Gramr 84-key is perfect for gaming. It offers rainbow backlighting with multiple light effects to give fun in your evening gaming sessions. In a unique layout you can find 12 function keys that allow you to use the multimedia function, such as e-mail volume, lock windows and much more. In addition to the double shot ABS Keycaps, we find an easily detachable USB Type C cable. The top shell design makes the keyboard solid and compact improving the typing experience.
Buy on Amazon
Filco Majestouch-2 Tenkeyless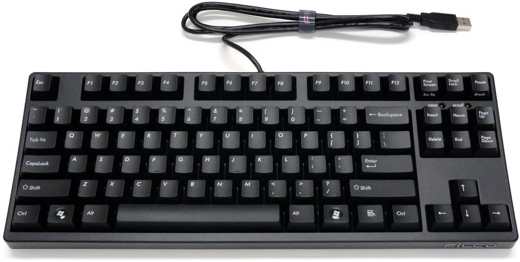 Best mechanical PC keyboard.
Interface: wired | Switches: Cherry MX (brown, blue, black, red).
For
Solid build quality
Compact
Cons
The keyboards of Filco they tend to be built like tanks and Majestouch TKL follows this trend. This space-saving mechanical keyboard features a compact design and has less than 1cm of space between the edge of the keys and the keyboard. Its durability does not allow it to withstand bumps and scratches, but it also has a positive impact on the typing sensation. You can in fact beat hard on Majestouch 2 without any problem.
Buy on Amazon
PFU Happy Hacking Professional 2 (HHKB2)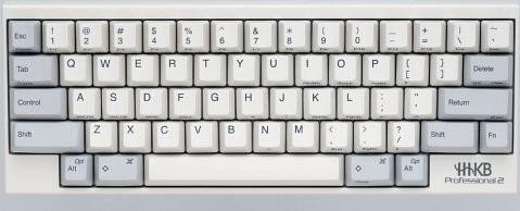 Best laptop PC keyboard.
Interface: wired | Switches: Topre electrostatic capacitive (45 grams).
For
Incredibly portable
Light
Cons
Key layout not for everyone
No arrow keys
Happy Hacking Professional 2 di PFU it is a keyboard aimed at programmers, but it is also perfectly suitable for those who love to write. Forgo the traditional arrow keys, instead using function keys and key combinations to do this. It will take a minute to get used to, but once you get used to it, the small size is a huge plusor, as you will be able to take it wherever you go. Plus, that sweet "thock" sound of the Topre switches is fantastic.
Buy on Amazon
Microsoft Modern Keyboard with Fingerprint ID

Best Microsoft PC keyboard.
Interface: Bluetooth | Keyboard backlight: No.
For
Flawless style
Fingerprint scanner
Cons
La Microsoft modern keyboard with fingerprint takes things to a whole new level. If you use Windows 10 and like the aesthetics of the Surface, this is definitely one of the best keyboards available. Not only is it fantastic, it also delivers safety biometric, including one fingerprint scanners discreet right next to the "Other". It's an expensive device, but as with everything Microsoft, you'll be sure what you're paying for.
Buy on Amazon
Best cheap PC keyboards
Buy on Amazon Buy on Amazon Buy on Amazon Buy on Amazon Buy on Amazon
The best keyboard cleaners
From compressed air spray cans, to remover gel, to cordless vacuum cleaner, here are the best cleaners to quickly and easily clean your keyboard.