Best ethernet cable. A buying guide on the best good quality LAN cables for your connection.
Anyone who has ever used Wi-Fi or any other type of wireless connection is aware of how this type of network knows how unreliable this type of network can be. For this reason, many people have turned to an Ethernet connection which guarantees great speeds and a stable connection.
Of course, to create a large home or office LAN network, you need to acquire quality hardware that, in addition to the best network switches and routers, also includes the best ethernet cables, which can be a real problem if you don't know them.
This guide will walk you through a couple of steps to discover the most important aspects of Ethernet cables so that you can be happy with your purchase.
How to choose the best Ethernet cable
Although LAN cables are simple products by definition and construction, they still have a couple of characteristics that separate them from each other and play an important role in proper decision making. They include the following.
Frequency / Speed
The frequency / speed supported by the cable is something that should be taken into consideration depending on the nature of the network usage and the characteristics of the connected devices. In other words, if your hardware and internet connection only allows 1Gbps speeds, you won't get much benefit if you buy 600MHz bandwidth cables that support speeds up to 10Gbps, but you will definitely notice the difference in price.
On the other hand, if you want to upgrade your network hardware soon or just want to build a future-proof network, go for higher frequencies. It's a more expensive option but will pay off in the long run.
Note that 100MHz and 250MHz cables usually allow maximum speeds of up to 1Gbps, while 500MHz, 600MHz, and 1000MHz cables allow speeds of 10Gbps.
Length
Quality and performance are very important to any product, including Ethernet cables. Be careful to choose a cable that is too short. Therefore, carefully measure and choose LAN cables according to your needs.
Duration
A good durability of the LAN cable means that you will be able to use it for a longer period. In other words, the stronger and stronger the cable, the more money you will save in the long run.
Best ethernet cable
Here is a short selection of ethernet cables with the elements described above and which will help you improve the quality of data transmission.
1. Media Bridge FBA_31-299-100B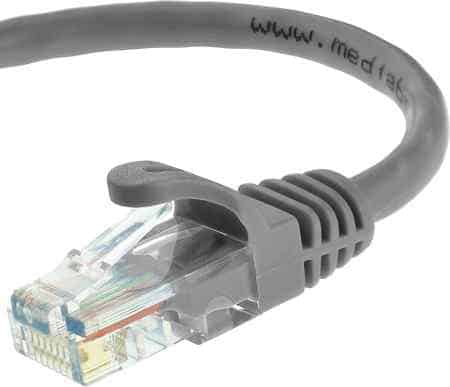 A highly durable Ethernet cable ideal for high bandwidth networks.
For
High speed
Durable
Copper wiring
Cons
Mediabridge FBA_31-299-100B is a Cat6 LAN cable that offers exceptional performance, with 550 MHz of bandwidth and 10 Gbps of speed, making it a perfect solution for even the most demanding streamers.
This LAN cable is only available in gray and white, but offers a large variety of lengths (1,5m, 3m, 4,5m, 7,5m, 15m, 30m) and a highly durable construction, which involves 24 AWG wire conductors and a 5,8mm diameter PVC shell.
Fast, substantial, with a solid connection and support for Cat6 / Cat5e / Cat5 standards, Mediabridge FBA_31-299-100B is undoubtedly a definitive option for anyone looking for the best ethernet cable for streaming.
Buy on Amazon
2. CableGeeker Cat 7 Shielded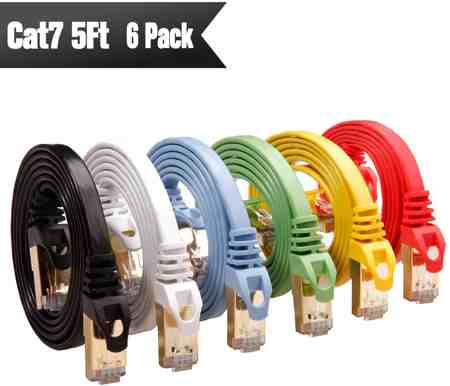 An Ethernet cable made for gamers.
For
Convenient price
Available in various colors
Cons
Cable a little shorter than stated
Cat7 quality performance and speed, followed by the reliability and length of only 1,5m, are some of the crucial aspects of the CableGeeker Cat 7 shielded Ethernet cable. More importantly, these features make it perfect for small networks that include multiple bandwidth-hungry devices, such as PS4 or Xbox consoles, gaming routers, Smart TVs, etc.
It is available in bundles of six cables available in black or in a combination of red, blue, green, yellow, white and black. With a solid construction that includes a 32 AWG conductor, gold-plated contacts and copper cabling, this LAN cable package is an ideal choice for even the most demanding users, including those prone to cable "torture".
Flat and tough, with 600MHz bandwidth and support for 10Gbps speeds, CableGeeker Cat 7 Shielded Ethernet Cable it's a great multipurpose cable and definitely one of the best gaming ethernet cables available on the market.
Buy on Amazon
3. AmazonBasics Cat6 Ethernet patch cable with RJ45 connectors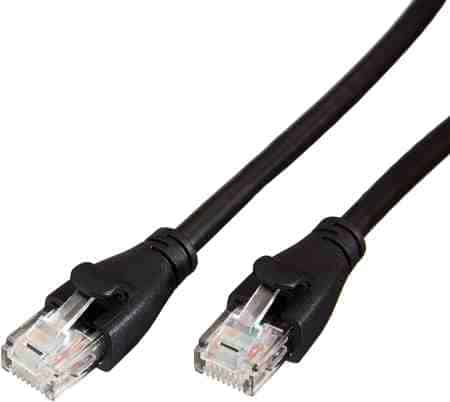 An affordable LAN option for those looking for functionality before performance.
For
Exceptional performance
Stable connection
Built quality
Available in various sizes
Cons
Finding a functional LAN cable, with satisfactory performance that doesn't cost too much, is the most important aspect for many users. Amazon made and produced the cable Internet Patch RJ45 Cat-6 Ethernet base that meets all these requirements.
It is available in various lengths (1m, 1,5m, 3m, 4m, 7m and 15m) and bundles of one, five, 10 or 25 cables. Additionally, it offers modest 259 MHz bandwidth with only 1 Gbps of speed, but is still sufficient for most users.
In other words, if you need a cheap connection LAN cable and aren't bothered by its limited performance, the cavo Internet Patch Ethernet Cat-6 RJ45 AmazonBasics it may be exactly what you are looking for.
Buy on Amazon
4. Ultra Clarity Cables CAT6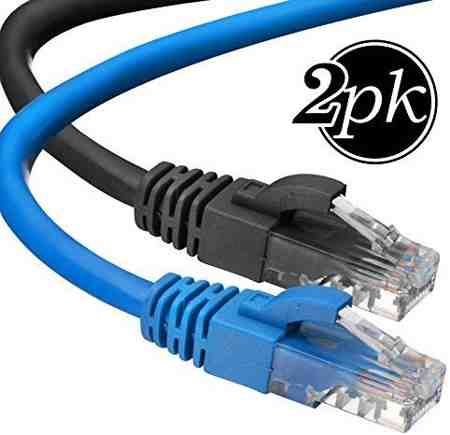 One of the best Cat6 cables available.
For
Cons
Questionable duration
Quality control
A great combination of excellent performance, durability and affordability is very hard to find, but luckily there is, and the cable Ethernet CAT6 Ultra Clarity Cables it is clear proof of this.
This stunning Cat6 cable offers incredible build quality that includes 24AWG stranded bare copper conductors, gold-plated contacts, and UL standard 5,8mm PVC shield. More importantly, each cable has passed rigorous testing, making them an ideal option for the most demanding users, who demand constant stability and reliability of their network.
The Ultra Clarity CAT6 Ethernet cable supports good bandwidth of 500MHz, enabling speeds of 10Gbps and is available in seven different lengths (1m, 2m, 3m, 3,5m, 4,5m, 6m, 7,5m ), which makes it suitable for various uses. The package itself includes two cables of the same size, one black and one blue, and more importantly, it is priced fairly.
Overall, if you are looking for the best Ethernet cable with a Cat 6 standard, it would be a good idea to pay more attention to this equipment - you certainly won't be disappointed.
Buy on Amazon
Best selling ethernet cables on Amazon
Below is an up-to-date list of the most popular LAN cables on Amazon. Have a good consultation!
Other useful articles