Traditional flat panel monitors are increasingly losing market share to curved monitors. PC game lovers today are increasingly oriented towards best curved monitors, which provide a better field of vision and increase the overall gaming experience to a much higher level.
Of course, finding the best curved monitor that suits your needs, especially if you are not an expert in the field, is not easy. That's why I wanted to include a couple of tips in this buying guide that I am sure will be very useful to you.
Best curved monitors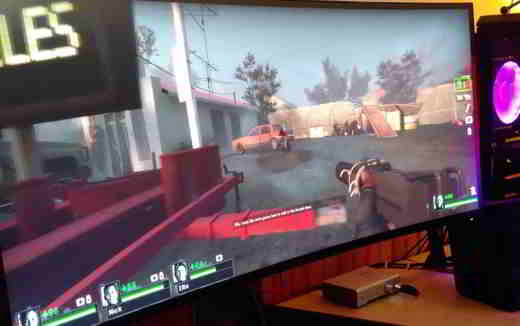 Here is the ranking of the best curved monitors starting from 27 inches to offer you a completely different and more enveloping view than a traditional monitor.
Alienware AW3418DW (34 inch)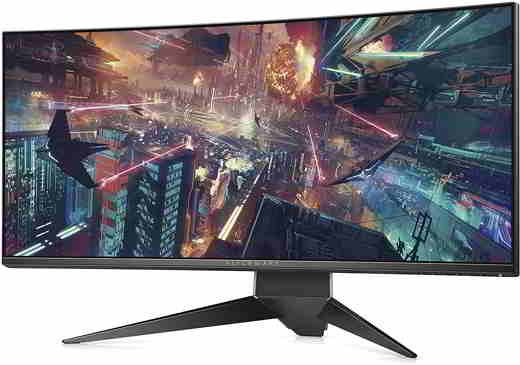 Best 34 inch curved PC monitor on the market.
For
Fast performance
Attractive design
Lots of game features
120Hz refresh rate (when overclocked)
Big screen
Plug and play functionality
Cons
Expensive
Not perfect performance in dark scenes
No HDR support
Alienware AW3418DW is a curved monitor from 34 inches high performance and modern looking, with 21: 9 aspect ratio and numerous gaming features that make it particularly suitable for FPS titles come Overwatch, Call of Duty, Doom Eternal.
This monitor has resolution 3440 1440 pixels x, 1900 radius, and decent connectivity that provides for a connection HDMI and a DisplayPort, as well as four ports USB 3.0. It features an extremely low delay, with a excellent response time of 4 ms and a native refresh rate of 100Hz which can go up to 120Hz with the help of overclocking.
It has a support NVIDIA G-Sync (there is also a model with support FreeSync) and four lighting zones with excellent viewing angles and color reproduction. It also provides very smooth movement, ideal for fast paced games.
The only flaws to consider are: not great performance in dark scenes and high price. However, these aspects must absolutely not condition your choice, we are facing one of the best curved gaming monitors on the market.
Buy on Amazon
LG 34GL750 (34 inch)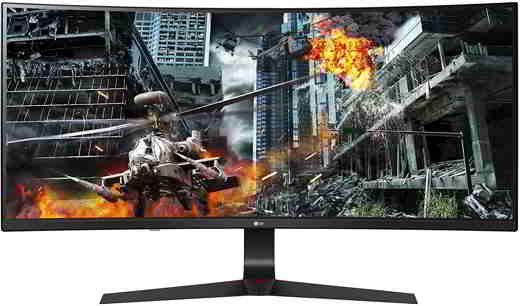 One of the best highly responsive and low lag gaming monitors.
For
High refresh rate
Sharp image
Low delay
Good viewing angles
Compatible with FreeSync and G-Sync
Cons
Low contrast ratio
Software-emulated HDR support only
Low pixel density
Not good black uniformity
For all those who wish to experience intensive and dynamic gaming in the best possible way, the ultra-wide monitor LG 34GL750 it's a very good option.
With this monitor, you will get a excellent response time of 5 ms it's a motion blur reduction by only 1 ms. More importantly, you'll end up with a device with a 144Hz refresh rate and capable of delivering a premium gaming experience, featuring low lag and vibrant colors to enjoy your favorite titles to the fullest.
The main disadvantages of this curved monitor are: the low contrast ratio and the poor black uniformity. On the other hand it is
LG 34GL750 is an IPS monitor from 34 inches, compatible HDR10 (emulated software only), with a 21 aspect ratio: 9 and a resolution of suns 2560 x 1080 which gives it a low pixel density. Fortunately this doesn't have a huge impact on image quality which is still pretty sharp and should please most users.
This monitor is compatible with both FreeSync and G-sync, offers good viewing angles and comes with decent connectivity which includes one DisplayPort, two doors HDMI, two doors USB 3.0 and headphone jack.
In conclusion, if you are looking for the best ultra-wide curved monitor, with lots of features and great overall performance, the LG 34GL750 is the device for you.
Buy on Amazon
Acer Predator Gaming X34P (34 pollici)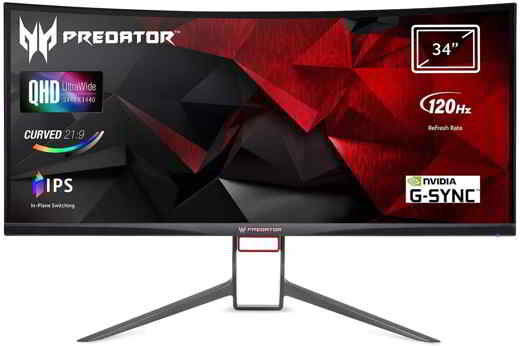 A monitor created for video game enthusiasts.
For
Attractive appearance
Good connectivity
Excellent image quality
Very responsive
Excellent build quality
Cons
The VA panel has poor contrast
No ultra-low motion blur (ULMB) support
Acer Predator Gaming X34P is a premium quality monitor, intended for users who are looking for something more. It's attractive and offers first-class performance, which, translated into numbers, means it's a little expensive.
It is ultra-wide, 3440p x 1440 pixel, with a radius of 1900 to provide fast operations, as well as good contrast and color accuracy. The response time is 4 ms, is compatible with G-sync and has a respectable 100Hz refresh rate which, with the help of overclocking, can grow up to 120Hz.
Acer Predator Gaming X34P is equipped with two 7 W speakers and offers numerous connectivity options, such as one DisplayPort, a door HDMI, four doors USB 3.0.
In short, if you are looking for one of the best gaming monitors, the Acer Predator Gaming X34P will not disappoint you.
Buy on Amazon Buy on Amazon Buy on Amazon
Samsung C27JG52 (27 inch)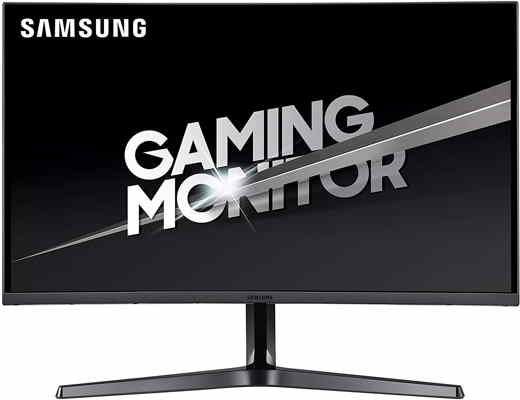 Best 27 inch curved PC monitor, solid and reasonably priced.
For
High refresh rate
Low delay
Excellent 4ms response time
Good gray uniformity
Compatibility with FreeSync
Cons
No HDR support
Poor ergonomics
Il Samsung 27 inch C27JG52 it is a decent quality monitor, with solid performance and reasonable price.
Note that this monitor is FreeSync compatible, unlike previous generations, and it comes with a range of 1800 and a resolution from 2560 1440 pixels x, which fits perfectly to its 27-inch size.
Samsung 27 inch C27JG52 it has great responsiveness (response time is only 4 ms) and excellent 144 Hz refresh rate making it ideal for gaming. In addition, it provides exceptional gray uniformity and low delay performance, followed by a excellent contrast ratio of 3000: 1. All features that together with one DisplayPort e two HDMI ports, rightly place it among the best curved monitors available.
Unfortunately there are drawbacks, such as: bad black uniformity and terrible ergonomics (the monitor cannot rotate and cannot be adjusted in height). Therefore, if you are looking for the best curved monitors 1440p in circulation, this device should definitely be at the top of your list.
Buy on Amazon Buy on Amazon Buy on Amazon
LG 34GN850 (34 inch)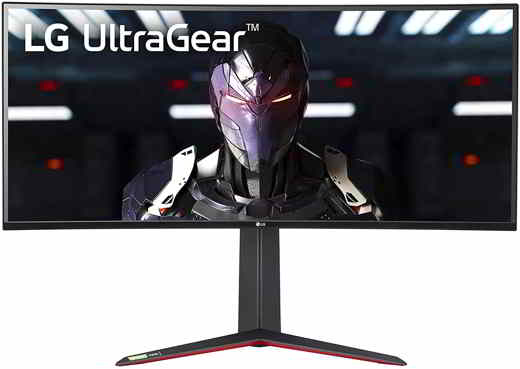 A highly responsive and feature-rich curved gaming monitor.
For
Accurate color reproduction
Good ergonomics
Solid connectivity
Compatible with FreeSync 2 and G-Sync
Very responsive
Low delay
Cons
It doesn't have the best quality control
Poor contrast levels
LG 34GN850 is a high quality monitor, with excellent performance and numerous features that make it a great option for your gaming adventures.
Its main features are the excellent response time of 5 ms 144 Hz refresh rate which can be overclocked up to an impressive 160Hz and the compatibility with G-Sync and FreeSync 2 technologies.
Furthermore, it is compatible with HDR10 and is equipped with the function Dynamic Action Sync which effectively reduces the delay. In other words, the premium user experience and smooth gameplay are guaranteed with this monitor capable of delivering one resolution of 3440 x 1440 pixels, 1000: 1 contrast ratio and decent connectivity that it incorporates due HDMI it's a DisplayPort, Besides three 3.0 USB ports.
This monitor offers accurate colors and overall very good image quality. However, its reproduction of dark content is a bit mediocre, which could pose a serious problem for those who enjoy playing darker-oriented titles.
Buy on Amazon Buy on Amazon
ASUS ROG Strix XG35VQ (35-inch)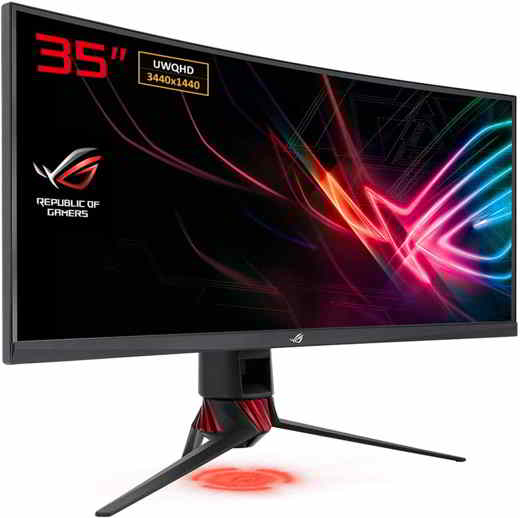 Among the curved monitors it is the most excellent, but expensive.
For
Shiny look
A solid gaming performance
Excellent image of the VA panel
ELMB blur reduction
Cons
Expensive
Refresh rate only 100Hz
No HDR support
If you are looking for the best curved monitors ultra-wide one that can offer good image contrast, accurate colors and smooth overall performance, ASUS ROG Strix XG35VQ is the device for you, even if the price is high.
With this monitor you can get exceptionally fast gaming performance, thanks to the response time of 1 ms, as well as a very fluid movement that comes from technology Extra Low Motion Blur implemented.
La resolution is 3440 x 1440 pixels with a radius of 1800, While the 100Hz refresh rate it is slightly lower than the competition, but fortunately not that far off. This monitor is equipped with an advanced VA panel which offers the image quality of monitors compatible with HDR low-end and makes up for it too lack of HDR support.
ASUS ROG Strix XG35VQ offers compatibility Sync e FreeSync; is equipped with lighting RGB ASUS Aura Sync and overall it provides solid connectivity that includes a DisplayPort, two HDMI ports and three connectors USB 3.0.
All in all, it's almost a perfect gaming device. even if its price is not for everyone.
Buy on Amazon Buy on Amazon
How to choose the best curved monitor
If you decide to buy the best curved PC monitor you should definitely take the following factors into consideration:
Response times
A shorter response time means the monitor will provide fewer ghosting or blurry images. It is best to choose monitors with a response time of 5 ms or less, which will help you prevent this unpleasant behavior or at least minimize it.
Refresh rate or refresh rate
The refresh rate is the number that tells you how many new images a screen can display in one second. In other words, the higher the refresh rate, the smoother the movements on the monitor, the better the overall gaming experience.
Connectivity
The more connectivity options your monitor has, the better its versatility. For this reason, always choose as many connectivity options as possible, this way you can prevent any future problems.
Compatibility with FreeSync and G-Sync
Compatibility with AMD FreeSync e NVidia G-Sync they are a kind of today's standards. Depending on which graphics card you intend to use (AMD or Nvidia), you should look for this type of compatibility in your chosen monitor, or preferably choose the monitor that supports both of these standards, and which will surely overcome any problems.
Difference between flat and curved monitor
To be brief, a curved monitor usually comes used by those who love to play or see movies. Those who use the PC to work will certainly not have great benefits in using a curved monitor, rather they will have to consider the space available on their desk, since a curved monitor can guarantee a unique experience only from 27 inches upwards and with a ratio of 21: 9, while the standard of flat monitors is 16: 9.
Other differences are the costs: the curved monitor costs a lot more than a flat screen monitor. The reason is related to the fact that you will be able to enjoy amore realistic and enveloping visual experience, since the human eye is round. Plus you will get the feeling that you are getting a wider viewing angle, direct light towards the eye and less image distortion (reflection and glare are incredibly reduced).
Best Selling Curved PC Monitors on Amazon
Below is a ranking of best curved monitors sold at the best price on Amazon. Before buying one, I recommend that you carefully read the reviews released by users.