After having revealed the best antivirus and the best anti-malware, to make your web browsing even more secure, here are the best ad blockers for all browsers: Chrome, Firefox, Edge, Opera, Safari and Internet Explorer.
Internet advertising can become annoying the moment you visit a site, continuous ad blocks prevent you from reading content or viewing videos. When this happens, you can try to browse incognito or open a new browser window. In most cases it works. Alternatively you can take advantage of a adblocker as an add-on to your browser to install and activate.
Better ad blockers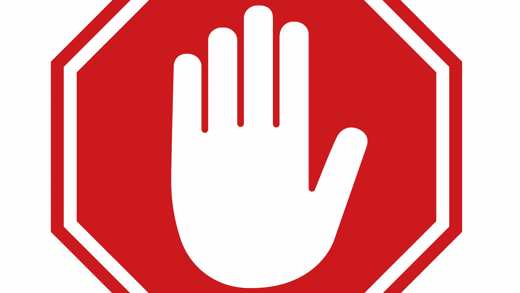 Are you tired of the advertisements on the websites you visit and would like to stop seeing them for a while? In the next lines we propose the best ad blockers free and independent to block advertising while browsing.
Before choosing the adblocker that best suits your needs, check its compatibility with your operating system, be it easy to use, that does not take up too many resources to work and finally that comes from a secure site.
1. AdBlock Plus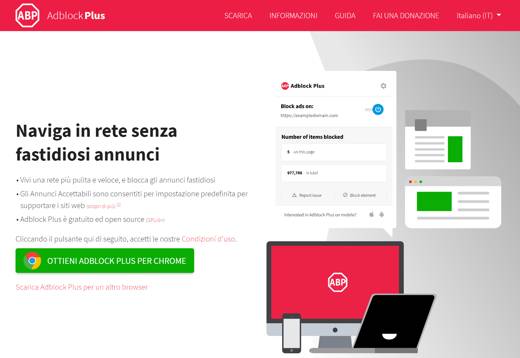 AdBlock Plus has been around for about 10 years and was one of the first effective ad blockers around. In addition to blocking pop-up ads, it also eliminates banner ads and other types of ads from social networks such as Facebook.
Since it participates in the "Acceptable advertisements", By default Adblock Plus does not block ads that are considered non-invasive. This is because the ads are meant to support the sites. That said, in the AdBlock settings you can still decide to block any ads.
Among the customization options you can also find the items: filters for individual ads, whitelist which include sites where you do not block advertising e colorful themes. You can also choose to replace several advertisements with AdBlock animal and landscape photos.
AdBlock Plus protects against phishing scams, from malicious ads and third party tracker. You can backup and synchronize your customizations between the various browsers you use.
For doubts and questions you can consult the official website.
Download AdBlock Plus for:
Adblock Plus Chrome
Adblock Plus Firefox
Safari
Opera
AdBlock Plus Android
2. AdBlocker Ultimate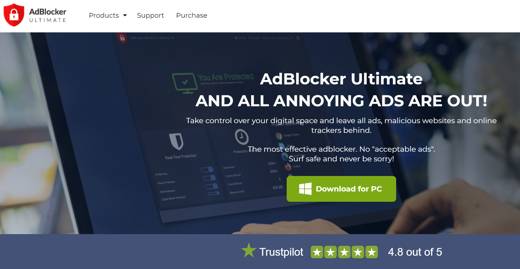 AdBlocker Ultimate allows you to block, delete and hide any type of advertising while browsing the Internet. Among the best ad blockers, it is very easy to use and is able to protect you from phishing by also effectively stopping the download of malicious code. The functionality was recently added whitelist, so you can manage exceptions if you intend to display the banners of a website you are visiting.
AdBlocker Ultimate is effective with most browsers and even with Twitter. It is free only in the add-on version for the browser, otherwise it costs about 3 euros per month for Windows and Mac.
Download AdBlocker Ultimate for:
Chrome
Mozilla Firefox
Edge
Opera
Android
iOS
3. AdGuard per browser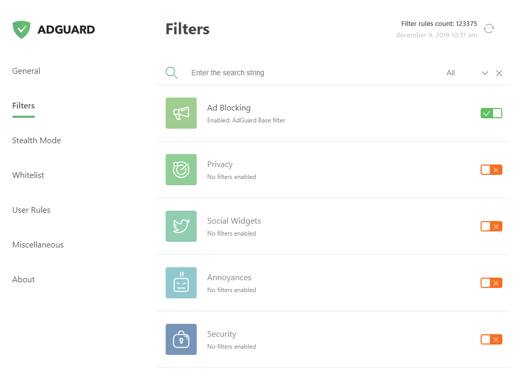 AdGuard per browser is a very lightweight browser ad blocking extension. Avoid triggering of trackers and other online threats including adware, spyware and various tracking systems. It warns you if a website is malicious or you are about to fall victim to a phishing attempt. It is one of best ad blockers more flexible around and is compatible with the best computer browsers and even Yandex.
Among the most interesting features we find: the management of scripts that block adblockers. All you have to do is send a complaint to the technical support of the program which will work around the problem by allowing you to visit your favorite sites without necessarily having to whitelist them.
Download AdGuard for:
Chrome
Mozilla Firefox
Edge
Safari
Opera
Yandex
Android
iOS
4. Ghostery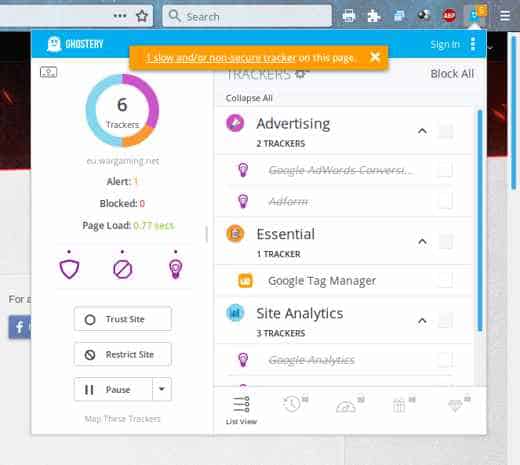 Ghostery it is among the best programs for surfing incognito. He's able to block ads and trackers offering you free, in the basic version, a good level of service.
Ghostery is available for Chrome, Firefox, Opera and Edge, as well as for systems Android e iOS. Using it you can speed up your online browsing, since advertisements significantly slow down the opening of web pages.
La basic version of Ghostery is free and allows some flexibility in the navigation of customized settings, even if to a lesser extent than its competitors.
Using this program you can decide whether to accept the sale of your data to third parties anonymously or refuse to participate.
Download Ghostery for:
Chrome
Mozilla Firefox
Opera
Edge
Safari
Android
iOS
5. uBlock Origin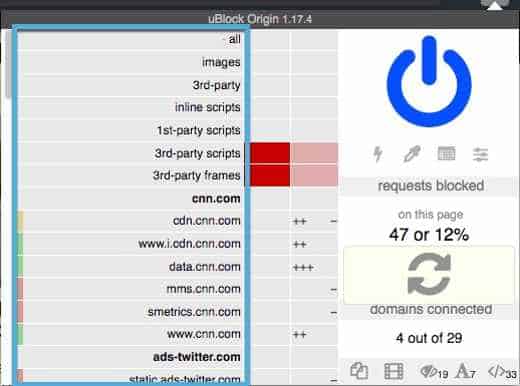 uBlock Origin is an open source extension compatible with Chrome, Firefox, Safari and many others. It can block ads but also defend you against malware and trackers. Furthermore takes up little memory e does not commit resources excessively.
Allows you to apply various filters. By clicking on its icon, next to the address bar, you can view the requests that the program is blocking for you. You can pause the extension or show ads for the site you are visiting.
A click on the settings icon opens a panel that allows you to carry out more control over the instrument.
By visiting a site that prevents browsing when you block advertising, you can decide to proceed by unblocking one element at a time. By doing this, you will be able to read or watch the content that interests you and reduce the number of ads displayed.
The latest update of uBlock Origin has improved its effectiveness against port scanning attacks, those capable of controlling single ports or port ranges.
Download uBlock Origin for:
Chrome
Mozilla Firefox
Opera
Edge
Safari
Android
iOS
Other ad blockers to consider
No Script Security Suite
Brave Browser
AdFender
Opera
How to activate an Ad blocker
After choosing one of the ad blockers proposed above you must:
Install it on your PC as an extension on your compatible browser or as an app on a mobile device.
Activate it, if necessary, by clicking on the prohibition sign or red button (if it is an extension, the icon is usually next to the browser address bar).
Browse the web without invasive advertisements.
What are the dangers of advertising
In addition to the forms of online advertising that annoy, like pop-up that get bigger, videos that start on their own o flashing banners, there are those that can contain by clicking on them adware, malware e Tracker. The latter can follow you from one website to another, collecting information on your interests, browsing habits and geographic location. Some are even able to infect the machine without having to click on it.
This is what happens if you are infected with adware:
You are continually redirected to unknown pages.
You see unusual advertisements.
The browser home page changes all the time.
New plugins or extensions appear.
The default browsing browser is not the one you set.
To protect you from advertising able to track your interests and harm your privacy, I recommend that you:
Always log out of personal profiles (Google, Facebook, etc.) that you use on computers that others can access.
Clear browsing history, cache and cookies.
Surfing incognito.
Use a good anti malware and an antivirus.