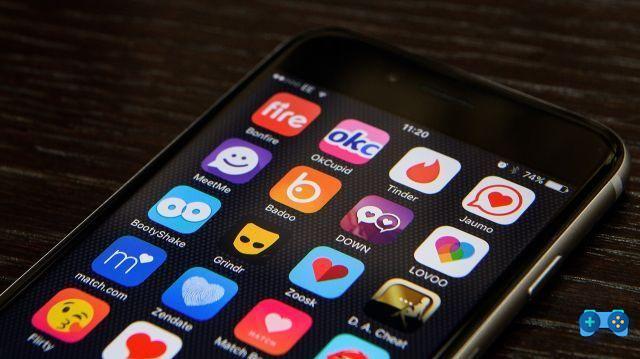 Everyone knows someone who has met their "twin soul" through applications e online platforms, but not all dating sites are the same. "So, what are the best dating apps of 2020?" We took a look at all of the major dating apps on Google Play, then identified the five apps that got the most user feedback and the most installs.
Whether you are looking for a casual fling, a "release" to get over a painful breakup or your next long-term relationship, you can start by downloading one of these dating apps.
You are ready, let's get started!
The purpose of dating apps is to connect (initially virtually) users. Between a chat and the other, interest could actually arise which, in the best of cases, will turn into a live meeting. The functionalities, at least basic, do not change. Looking at a simple photo, you can decide whether to "like" or "move on". Please note that some options will only be available by subscribing to a monthly subscription plan (paid).
tinder
It is certainly among the most popular apps in the world. With over fifty millions of users (average age 25) has become a real reference model for other similar apps. After registering, you will have to upload a series of photos (which will make up your personal photo gallery), a short biography, talk about your interests and you will be ready to "conquer". A swipe left or right will allow you to decide whether you like a person or not. But before doing that, it will be necessary to set the age range, geographical distance, gender. In this way, only the profiles of your interest will be shown. The paid features (Tinder Plus and Tinder Gold) concern exclusively the possibility of seeing "a preview" of who has liked you and consequently being able to reciprocate the like in turn, thus starting a conversation. Go back if by mistake you have discarded a profile that interested you and modify (through the Passport function) your geographical area of ​​interest. Finally, it is also possible to connect other services such as: Facebook, Omegle, Instagram and Spotify. In this way you will give a greater completeness to your profile
Lovoo
A rather popular app among the very young. Born in 2011, it has been particularly appreciated in Europe (especially in Germany and Switzerland) but is used frequently. To start the registration phase (via Facebook or email) you will need to fill in a series of fields: name, city, birthday and gender. Once this is done, it will be possible to activate the "radar" function which will show photos of people who are in the immediate vicinity of our position. Once you have found the person of your interest, it will be possible to start chatting to get to know him and maybe, if everything goes right, meet him in real life. It will be possible to show interest in a person through a system not unlike that of Tinder, namely Swipe left or right and through a series of features. Among these stands out the "icebreaker" which allows you to break the ice by introducing yourself, through a short caption, to the person you are interested in. The user who receives it can refuse or accept the "proposal". No less important is the "Live" feature that allows you to record videos to be better known by others who will then have the opportunity to watch it firsthand.
The premium features of the application allow you to:
Remove advertising
Know immediately who likes our profile
See all the likes posted
Hide profile views
Get more visibility than other subscribers
Chat before others with new users who live near us.
Bumble
Practically the clone of Tinder but with an important difference, in fact only women will be able to "take the first step". If there is a compatibility, the fair sex will have 24 hours to interact with those who have shown interest before the contact vanishes into thin air. It does not necessarily configure itself as a "dating app", it can very well be used to seek friendships and, why not, work contacts. Like other apps, it has a monthly subscription plan that allows you to boost your profile and find contacts that are now expired. The age compared to other apps is certainly more adult, we speak on average of 30/35 years. Registration is only possible via Facebook and Apple accounts.
Grindr
A dating app designed for LGBTQ people. It will be necessary to register through the appropriate form by entering: your email address, a password and date of birth. Of course, a profile without a photo is a profile that is unlikely to capture the attention of other subscribers, which is why you will need to insert a nice profile photo, a short biography, what you are looking for and you will then be ready to search for the users closest to our position. Grindr is a simple and intuitive app to use. Just consult the profiles of other users and scroll through the photos to see if they can be interesting or not. Then you can decide whether to start a chat. Just like on WhatsApp, the application allows you to send text messages, audio, photos and much more.
Ok Cupid
Finally, we have Ok Cupid, the latest dating app that we recommend on this list. Just as the name indicates, it is designed for an audience that does not seek adventures but stable and lasting relationships. Unlike the other apps indicated, it is based on an awaiting algorithm that analyzes different data to create an affinity with another person. During the registration phase, the user will have to answer fifteen questions (ranging in various areas: politics, religion, sex, love, hobbies and so on), selecting the type of response that would be expected from a potential partner. Once this is done, the app will create a percentage based affinity system. In this way you can decide to scroll through the profiles that have a certain level of affinity or perhaps those with the lowest percentage. In addition, it will be possible to insert a more detailed biography than other apps, one's religion, profession, languages ​​spoken and so on. The premium features, in addition to a profile boost, allow you to preview the answers given to the questionnaire by potential users of our interest. Being very structured, Ok Cupid is aimed at an adult audience, over 35!