Here is a tutorial on how to create a newsletter and which program to use to retain your customers and transform potential ones into actual customers. Let's find out Mailpro a company that offers consulting services for small and medium-sized enterprises in the context of personalized email marketing strategies by offering a tool for managing newsletters and e-mailing campaigns.
What is a newsletter? The newsletter is an informative email sent by a blog, company, or brand via email. Its content is based on the topic dealt with by the sender. The information can relate to offers, articles, news, products, and so on.
How a newsletter works. The newsletter is still today one of the most effective and used tools in online marketing and is aimed at people who have voluntarily signed up and who are therefore also interested. Their frequency varies according to the strategy implemented and can be daily, weekly or monthly.
Although effective, care must be taken not to abuse this technique, as the bombardment of messages to subscribers could become counterproductive by forcing them to consider your communications spam. This is why it is necessary to understand that the task of a newsletter is not to sell but to help drive sales iInviting subscribers to click on the newsletter link to visit your website.
Having a clean database by eliminating suspicious or duplicate addresses will help you maintain a good flow of communication and better segment your contacts.
How to create a newsletter and which program to use
Do you want to find out how newsletters are made? Then I must first explain to you how to create a newsletter and which program to use. Mailpro is one of the best newsletter programs with advanced tools (API, mobile applications, online email marketing platform) and several ways to create newsletters with geolocation statistics and antispam tests before sending the email.
The most important feature of Mailpro is the Newsletter generator, which allows the customer to create a professional and responsive newsletter in no time. Through a HTML editor you can choose content blocks, such as: buttons, text and image blocks, social media links, colors and fonts, responsive design and much more. You will not have to write HTML code but simply click on the buttons to see, even in preview, the tables and images of your newsletter automatically adapt to smartphones and tablets.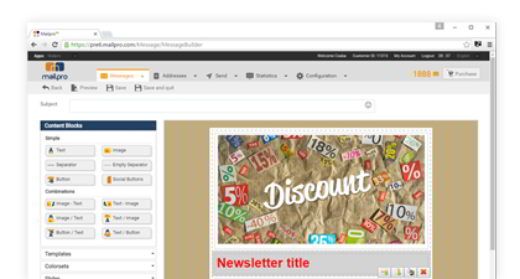 To set up a newsletter, just choose one of the lots of free templates (divided by category) and available after registering an account with Mailpro. By logging into your free account you can also create custom HTML templates and use them as free templates. You can also automate your communications creating specific emails for subscribers to your newsletter by setting the sending after an action or simply after a user clicks on a link.
At the end you will be able to evaluate if your mailing and automatic mailing campaign is having success. Mailpro offers statistics to view specific campaigns or types of automatic emails. In the statistics you will find: the contact geolocation, the cancellations, click rate with detail, type of email program used, open rate of sent messages and much more. The statistics tool will allow you to improve the quality of your newsletters by giving you a detailed idea of ​​what your customers like and dislike.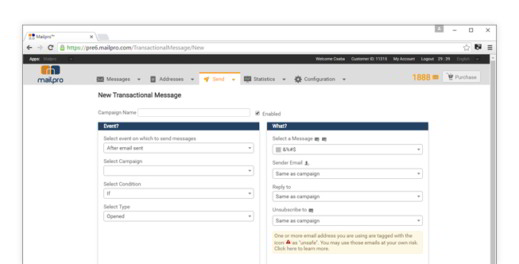 Mailpro also presents a form generator with links and plugins to other applications, such as WordPress. Also for developers it is possible to make use of API and use configurations SPF (allows you to define the IP addresses from which sending emails is allowed) e DKIM (authentication used by some providers to identify if a message comes from an authorized system).
What are the advantages of Mailpro
Mailpro is a powerful tool for creating, editing and delivering newsletters. There deliverability of e-mails is much better than those sent by other competitors. The servers are located in Switzerland and customer data is strictly confidential. Furthermore the Our Services Mailpro not only guarantees assistance but is free, and this also applies to free accounts.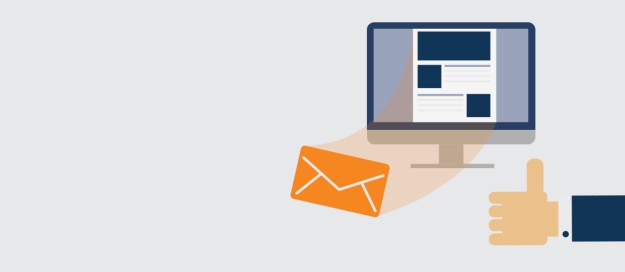 The advantages of Mailpro are:
Integrated graphic editor.
Wide choice of themes.
Contact management
Automatic replies and automatic emails.
Ease of use with free trial function.
Transparent routing and delivery of emails via a server located in Switzerland.
Free phone and email support.
Legal and technological development.
Software solution without the need for any installation.
Compensation of the CO2 impact produced for each email sent, thanks to the Green Emailing function.
Compliance with the GDPR (regulation that guarantees individuals the right to the protection and control of their personal data).
Detailed and concrete statistics to analyze the success of each campaign.
Conclusions
Even if you have no technical knowledge, with the Mailpro email marketing software you can be successful in e-mailing and send professional newsletters in no time by discovering and testing the graphic editor and templates provided by the service for free. Mailpro offers on its website, introductory videos and e-mailing guides to have a complete vision and achieve the hoped-for success in e-mail marketing.

If you want to try Mailpro you can subscribe to its platform ed to open an account to take advantage of 100 free credits, which is equivalent to sending 100 e-mails. Alternatively you can:
Purchase an annual subscription with a certain number of credits to use each month. The credits that you will not use will not be available in the following months.
Buy pay-as-you-go rates with prepaid card that will contain your credits. 1 credit is worth 1 e-mail sent. Credits have unlimited validity.