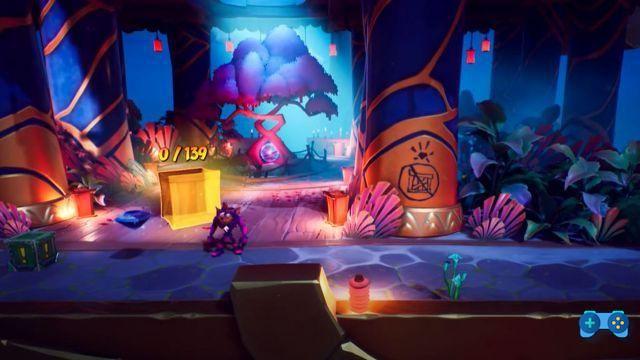 Nobody ever said it was going to be easy!
Crash Bandicoot 4: It's About Time is the new title of the Toys For Bob boys linked to the brand of the cute marsupial that has accompanied our afternoons since the days of PS1. This new title, from the very first moments of the game, combines the modern graphic style with the historical difficulty of the 90s platformers.
As usual, even on this occasion, the good Crash will not just destroy crates and enemies relentlessly, but will have to find all the colored gems in order to be able to complete each level 100%.
It might interest you:
Tips for getting started
How to get the Red Gem
How to get the Green Gem
How to get the Yellow Gem
No more chatter, let's start looking for the Blue Gem, which once in our possession, will make us unlock the objective trophy Dizzying Sapphire.
Map: Waterfalls of Tranquility - Level: Take it easy
Taking the coveted Gem will be anything but simple, in fact, you will have to complete the level avoiding breaking the crates. If you meet this requirement, you will find the sapphire at the end of the level. If you have any doubts about the destroyed crates, press L2 (PS4) o LT (Xbox One) and you will see all the information relating to the level on the screen.
No crate is excluded from the count, so you can't even destroy the Checkpoint crates, in short, at the end of the level you must have 0 out of 139 crates destroyed.
Surely this is the most difficult gem to obtain, but the Soultricks team is here to help you, and we are sure that thanks to these tips you will be able to make this treasure yours too. Here's what to do:
When you are in possession of the powers of the purple mask (Akano) before using its incredible power with Triangle (PS4) o Y (Xbox One) we advise you to do a nice slide with jump (Circle / B + Cross / A) and then resort to quantum rotation. In certain sections it will be mandatory.
Since you can't destroy any Checkpoint cash desk, we advise you to get on the platform with question mark (?) which will lead you to the bonus path, as it has the same function as the cashier. Once inside the path, don't break any crates and launch yourself into the void. Trust us, it will come in handy.
Let us know in the comments if you've already gotten the Blue Gem and are enjoying Crash Bandicoot 4: It's About Time.