In the daily frenzy, more and more people do not find the time to attend a gym or practice constant physical activity outside the home: for this reason Home Fitness, or training practiced within the walls of your own home, is becoming increasingly popular, which allows you to continue to devote yourself to the care of your body while having little time at your disposal.
Among the novelties of Home Fitness we cannot fail to mention the elliptical bike, also called a cross trainer, whose success comes directly from the United States. So let's see what the elliptical is and what benefits it brings.
The elliptical is neither more nor less than an evolution of the exercise bike, to which is added the possibility of pedal backwards and also train the upper body (arms and shoulders). In particular, it consists of: two side platforms, a flywheel, two vertical handlebars, and a console.
When pedaling forward, the quadriceps, glutes and abdominals are particularly stressed; with the back pedaling you train the hamstrings, finally with the movement of the upper part of the elliptical train all the muscles of the arms as well as the pectorals. It is also possible carry out cardiovascular workouts to increase your resistance under stress.
The key feature of the elliptical is the smooth and smooth movement with which the exercises are performed: this involves practically no risk of injury as there are no movements or dangerous stresses. THE two main types of movement they are the circular movement (pedaling type) and the displacement movement (cross-country skiing type). The two movements occur simultaneously and harmoniously, and train both the upper muscles (arms, shoulders, abdominals) and those lower (all major leg muscles).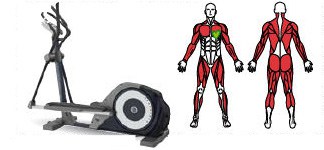 The different types of elliptical cross trainer are possible distinguish based on stride length:
Less than 1 meter: often their length is not sufficient to propose a real fluid elliptical movement, so the movement of the legs remains quite circular.
Between 1 and 1,30 m: in this case the amplitude of the stride is smoother and softer. They are pleasant to use ellipticals and the upper part of the body (arms, torso and back) is particularly stressed during the session, allowing a workout suitable for all levels.
Superiore a 1,30 m: in this case we are talking about high quality ellipticals with a very sturdy structure and a considerable range of travel. Generally, users over 1,80m tall are recommended.
So let's see what the benefits of the elliptical:
Burn more calories than a stationary bike and treadmill: indeed 10 minutes on the elliptical trainer is worth half an hour on the treadmill;
Train all the muscles of the lower limbs at the same time, thanks to the double pedaling, back and forth;
They can also be done cardiovascular workouts;
Can also be used with rehabilitation purposes, for example following an accident.