Looking for info on better internet search engines beyond Google? Here is the top 10 you were looking for of the most used search engines worldwide.
If you only know Google e Bing, you should know that there are many other less famous search engines but they provide a lot of quality results.
The most famous search engine is Google, which also provides various functions and customizations in searches. Yet there are valid alternatives to Google, such as Microsoft's Bing, the default search engine on PCs with Windows 10, or Yahoo !, once among the most popular search engines, and DuckDuckGo, the king of privacy.
Read also: The best browsers for privacy
Not just Google! Here are the most famous and used Internet search engines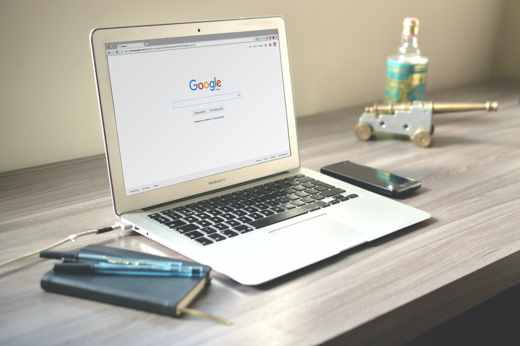 Let's see which are the search engines that are worth considering and that could one day unseat the throne of Big G.
1. Google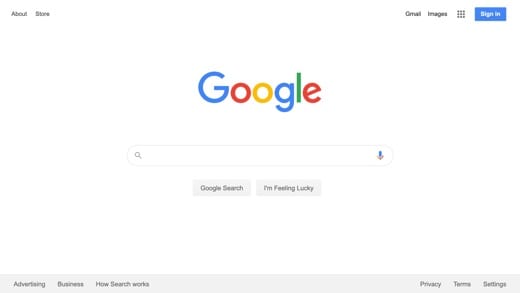 To date Google is the best internet search engine. It offers state-of-the-art algorithms, customized user experience and easy-to-use interface. Its popularity is due to the continuous updates of both search results and features, in order to guarantee users the best experience.
For- Provides quality search results. It has the largest catalog of web pages and allows developers to build applications that interact directly with Google's server (API).
Cons: catalogs users' browsing habits and shares information with advertisers.
2. Bing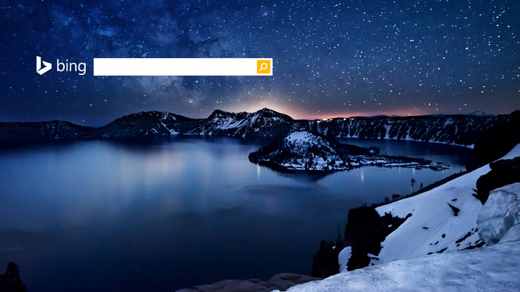 After Google, Bing Microsoft is the second most popular search engine in the world. It boasts unique features that will thrill users. Its filters give rise to different tabs such as: announcements, maps, videos, images and news. It offers users the ability to accumulate points that can be redeemed directly in the Microsoft and Windows stores. It works on all browsers and is the default search engine on Windows PCs.
For: Scan hidden and non-hidden content, perfectly index videos too.

Cons: Offers slower results than Google, forums are indexed but ranked low in search results.

3. Yahoo!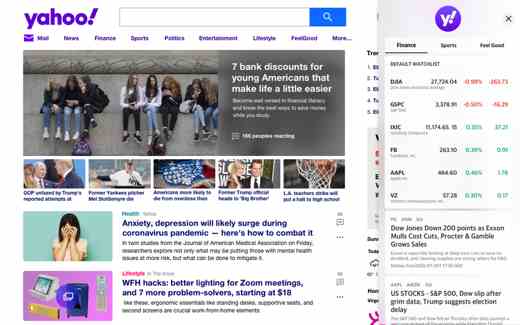 In the past Yahoo! it was the arch competitor of Google, today it occupies the third place among the best Internet search engines. Its web portal is still popular though thanks to a remarkable interface, clean results, and an impressive catalog of websites.
It is also considered among the best email providers and its search results are powered by Google and Bing. On some browsers, such as Mozilla Firefox, it is the default search engine.
For: boasts other services such as Yahoo Finance, Yahoo mail, Yahoo Answers and several mobile apps. Offers complete organic results. Its shopping search offers more detailed features and options than other search engines.
Cons: undated search results, difficulty distinguishing organic from non-organic results.
4. DuckDuckGo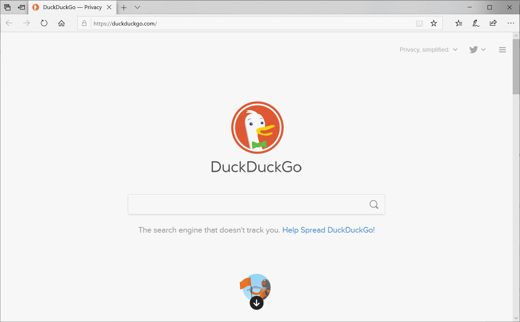 Unlike the other search engines DuckDuckGo takes into account the privacy of users by avoiding the tracking and storage of personal search information. It allows you to search for anything, including: images, videos and maps. It is also not full of ads and has very interesting features.
For: does not track or catalog user information, provides quick results for instant searches, has a clean and simple interface.
Cons: Results are not customizable, image search results are limited.
5. Yandex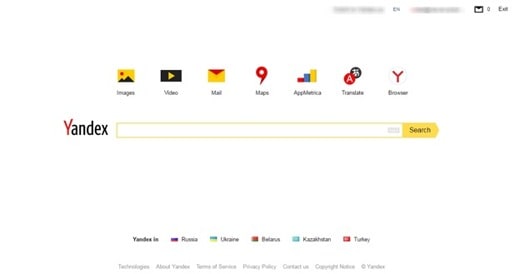 Yandex is a search engine founded in 1997 and is widely used in Russia. The founding company presents itself as a technology company specializing in the creation of machine learning-based intelligence products and services. In Russia, Yandex accounts for over 65% of the market share and you can find anything there, including videos, maps and images.
For- Provides world-class search results, translation services, geocoders and maps.
Cons: collects user data like most other search engines.
6. Baidu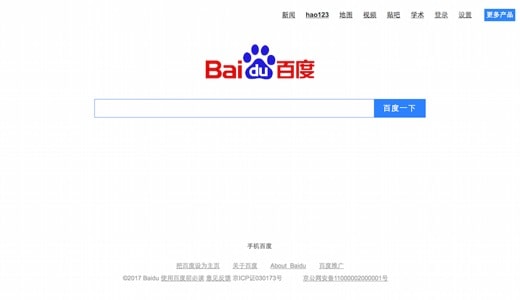 Baidu is the most popular search engine in China. Founded in 2000, the platform has seen a significant increase in the number of users over the years. Although it is mainly used in China, it still boasts an intuitive interface, several search options, and high-quality results.
For: supported by one of the largest internet services and artificial intelligence companies in the world, amazing features, many advertising options,
Cons: often censored by the Chinese government, its integrity has been questioned several times.
7. Usearch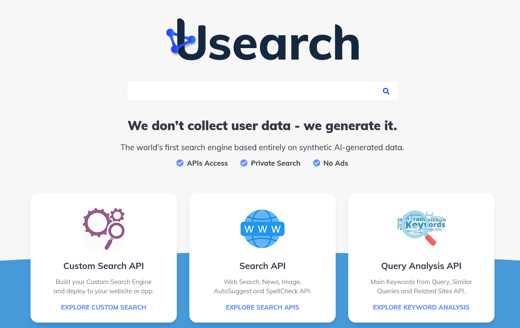 Usearch provides users with access to billions of web pages, news and images with a single API call. The API connects you to a search engine that mimics the way the human brain indexes memories for more in-depth search results. This API uses a combination of information about users and their behavior to create a context for custom searches.
For: uses contextual technology and underlying semantics to give a personalized experience, results are fast and accurate, provides access to a large catalog of web pages.
Cons: The API used may be complex for non-IT users.
8. Yippy Search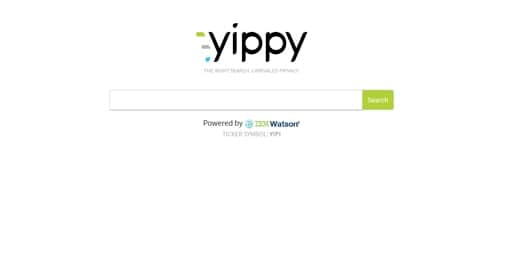 Yippy Search is the best search engine for the dark web: it helps users explore what other search engines can't find. Since deep web pages are harder to find in typical searches, Yippy Search helps you locate these web pages. It allows you to search for hard-to-find information such as government-related feeds, hobby blogs, academic research, or unusual news.
For: blocks unwanted Internet sites, provides previews of the results found, offers lots of related topics.
Cons: too many advertisements, complicated to disable the filtering process.
9 Wolfram Alpha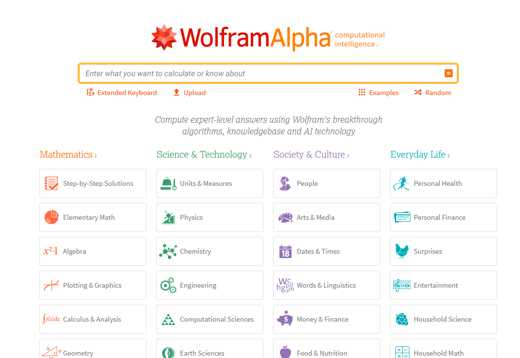 Wolfram Alpha unlike other search engines it is used to perform all kinds of calculations using innovative algorithms. You can use it to calculate the amount of mute, a loan, interest to be paid and much more. It was designed to give answers exclusively to mathematics, science, technology, culture and society.
The advantage of this search engine is that it guarantees maximum privacy by not keeping track of your searches.
For: includes complex queries, its localization and accuracy are better than the best search engines, mathematical calculation skills, variety of topics, always updated information.
Cons: free version allows limited number and time, questions must be specific, English language only support.
10. Mojeek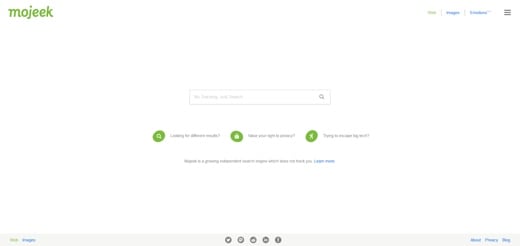 Mojeek is a search engine with proprietary technologies. L'interface closely resembles that of Google and the results it shows are very satisfactory. It could be a great alternative to conventional internet search programs as it would help find things that you may not find on other engines.
It's all about privacy and unlike browsers like DuckDuckGo or Ecosia, indexes web pages on its servers classifying them according to their algorithm. To date, it has indexed about 3 billion pages
For: privacy-oriented search engine, very user-friendly interface, looks a lot like Google.
Cons: algorithm to be perfected, competing with the giants is not easy.
Other search engines for PC
Ask: allows searches with natural language showing also the most frequent questions regarding the search data.
Ecosia: is the alternative search engine with low CO2 emissions. Each research feeds a tree planting program.
Qwant: allows the use of quick search functions (&) to be placed in front of the term you want to search and is based on privacy.
StartPage: another search engine for privacy.
What is the Best Alternative Search Engine to Google?
Google is certainly the best search engine, thanks to its complex algorithms and artificial intelligence. Surfing the Internet without Google might seem strange, yet there are already those who use search engines like DuckDuckGo which, unlike Google, avoids sharing your personal data and above all tracking.
So if you are looking for more privacy, impartial results and above all better usability, then I recommend you try one of the many options proposed above. These are the best alternative search engines to Google that you could use this year.