The new version of BlogEngine.net 2.6.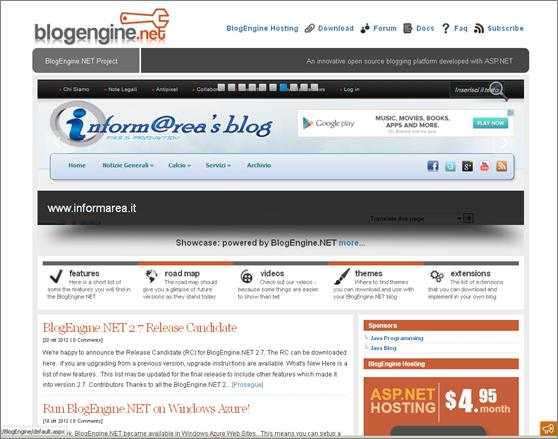 This version has new features that allow you to improve the management and maintenance of our Blog:
The Appearance section, reachable from the Settings item, in addition to the Extensions window, has two new windows: Themes and Widgets. Through this simple section it is possible to install new extensions, themes and widgets by browsing the specific gallery.
The QuickNotes section is a new feature to let you quickly jot down ideas that you can later publish in a new post.
The new Multiple Blog feature: Site Aggregation. In which it is possible to indicate an instance of the blog as the aggregation instance of the site.
New file provider system that allows you to control the storage location of uploaded images or files.
Graphic, web-based File Manager that allows you to upload and choose from existing uploaded files and images.
New Image Tools that allow you to rotate, flip, crop and resize images (available within the new File Manager).
Grouping and minifying JS and CSS folders with the new System.Web.Optimization bundling tools.

Numerous optimizations, fixes and improvements.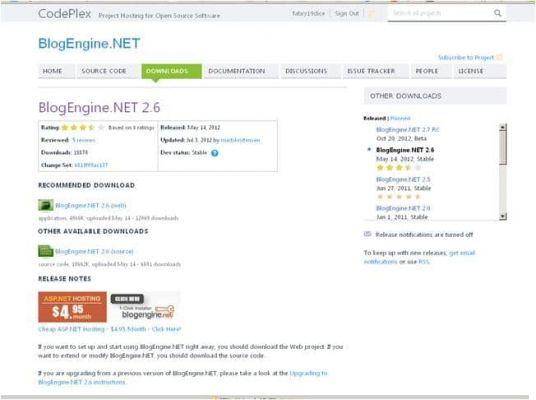 Attention before proceeding with the following steps make a Backup of your current BlogEngine.net version, necessary for a possible restore.

For those who have a BlogEngine.net version 2.5 or earlier and need or want to manually update to the new version, you can read the article in English Upgrading to BlogEngine.net 2.6. However, there is a trick to manual updating, a updater utility released by rtur.net, and valid only for those who use BlogEngine with XML files, which allows you to perform everything in a semi-automatic way:
Download the latest web version of BlogEngine.net 2.6 and unzip it in the following path c:upgrade (upgrade is a folder you have to create yourself).
In upgrade create a folder called be26 and unzip all the BlogEngine.NET 2.6 (web) .zip file.
Create two more folders old e blog (c:upgradeold e c:upgradeblog).
In c:upgradeold put all the content of your old blog.

Download this BeConsole.zip utility (5.47 kb) and extract it in the path c:upgrade.
start Command (from Start - Run) and type the following commands:

c: to place you in the main drive of the operating system
cd upgrade to access the upgrade folder
type the following command line: beconsole -u c:upgradeold c:upgradebe26 c:upgradeblog and send.

Exit to exit Dos.

Now your blog updated to BlogEngine.net version 2.6 is present in the folder c:upgradeblog you just have to update also on the server with an FTP client and that's it.
Of course it is possible to run into some unexpected events (as I have specified in the title of this post), here is the first problem I encountered.
The commands edit, delete and move Widget no longer work: the problem is due to the presence of old files of the previous versions still present in the folders. The cause is linked to some js scripts belonging to the old versions of BlogEngine and still present in the Scripts folder.
The files in question are all those files js placed outside the folders and presenting one date prior to that of installation by BlogEngine.net 2.6. All you have to do is delete them and you will see that your widgets will work again.
If you find it difficult to work with the utility described above, you can instead proceed with the manual update.

For manual update from Blogengine.net 2.5 to 2.6, DotnetBlogEngine recommends creating a folder, extracting the Blogengine.net 2.6 folders and deleting except for the two files

packages.xml
packagefiles.xml
all content of App_Data to replace it with the one you already had in Blogengine.net 2.5. Immediately after you can also insert not only the files but also your theme (in the Themes folder) that you used with version 2.5.
If, on the other hand, you are using a version prior to 2.5, you absolutely must not delete these 4 data:
blogs.xml
La directory Blogs in App_Data.
packages.xml
packagefiles.xml
In addition to these precautions, also take a look at an update on the security of your blog proposed by BlogEngine.net.
Always try everything in Local and never directly on your Server.
Until next time.