The dream of send self-destructing messages has now become a reality. If the conversations on WhatsApp seem unsafe to you, you should know that there are "Mission Impossible" style apps with the famous "this message will self-destruct in 30 seconds", which offer a privacy service remarkably high.
Today, sharing anything, emotions, messages and thoughts can immediately become within everyone's reach. Smartphones are full of apps to send messages, photos and videos wherever we want, but these same tools could become harmful and backfire on us.
Preliminary information
A tap is enough to make texts and content that we might regret become public domain. The same sites that have made their fortune on sharing know how important it is to offer their users tools capable of protecting their privacy and making sure that secrets remain such. Just think of Facebook that after failing to acquire Snapchat has developed a very similar app called Slingshot.
Best apps to send self-destructing messages
These apps allow you to send encrypted messages that self-destruct after being read, so there is no trace of them and even those who receive them cannot make any copies. If you want something to remain personal, here are the apps you can trust and that can keep your privacy intact.
1. Snapchat (Android, iOS)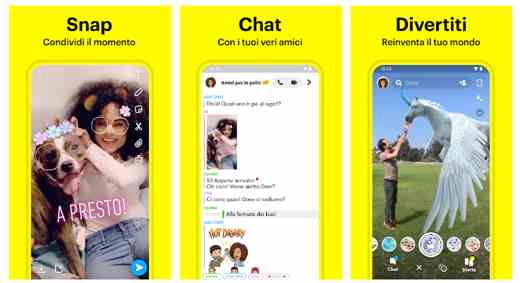 Snapchat, available for Android and iOS, has become one of the favorite apps for those who do "sexting"As it allows you to send hot photos to a person and be sure they will be the only one to see them. Once the image has been opened on the recipient's display, it will be deleted and will disappear from the screen without being stored in memory. You can also send videos and add text to messages, all without any trace of it being left on the servers. Read also How to use Snapchat.

2. Telegram (Android, iOS)
Telegram, available for iOS, Android and PC, it is an app that allows you to send private messages by setting a destruction time after which, the message is self-destructed by all devices. To use it, you need to register using your mobile number. To send a secret conversation from Contact it is necessary to plug up New Secret Chat. Read also How to use Telegram.

5. Wickr Me (Android, iOS)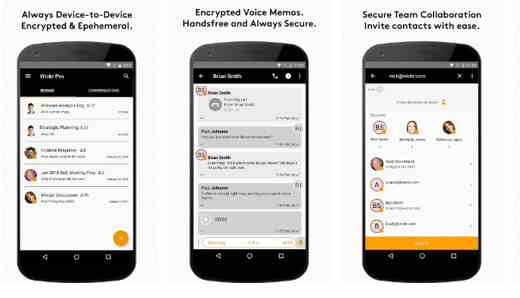 Wickr me, available for Android and iOS, is an app in which messages are encrypted with a very high security algorithm and only those who send the message can decide who can read what and for how long. No metadata (geographic coordinates, device type, etc.) is saved on the server.
6. Frankly! (Android, iOS)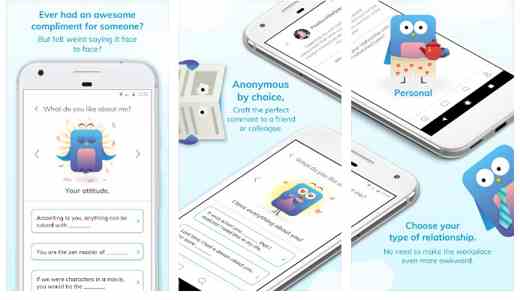 Frankly, available for Android, is a safe place where people can freely converse. You can choose to change the color and font size of the text to better convey your feelings or mood and just like in a real conversation, what is said is canceled after a few seconds. Furthermore, you can start anonymous chats, an exciting way to say anything you want and in complete freedom. The notification app also tries to capture the conversation screens with screenshots.
7. Whisper (Android, iOS)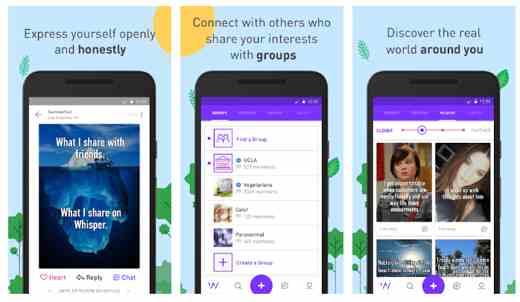 Whisper, available for iOS, Android and PC, is a completely anonymous social network where people can express themselves freely, get in touch and share their emotions. A place where no one can know our identity.
8. Confide (Android, iOS)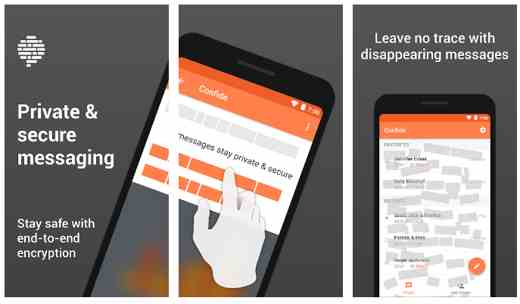 Confide, available for Android and iOS, is a screenshot-proof app, meaning that to read the messages you need to swipe your finger over the text to make it readable. It is once read, they disappear for ever protecting our privacy.
9. InSegreto (Android)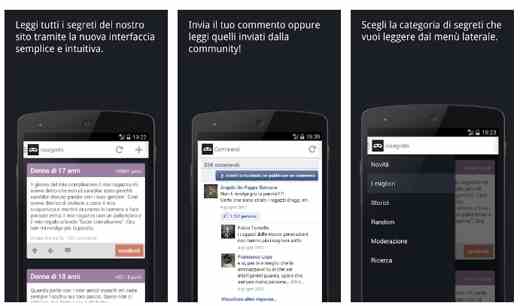 Secretly, available for Android, is a hilarious app that allows you to read and share secrets posted anonymously by various users. You can confide in the community anything without your identity being revealed. The features aren't many, aside from being able to rate secrets and browse categories, but you can find hilarious comments on any topic.
10. PrivaText (iOS)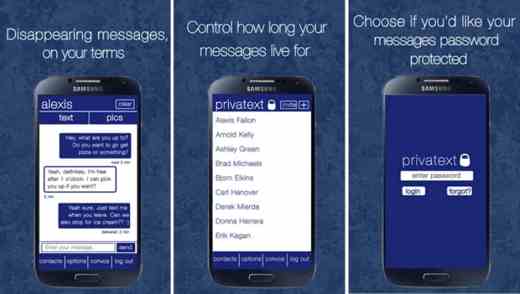 PrivaText, available for Android and iOS, this is yet another app for sending private messages. The sending is encrypted so only the recipient of the message can read it. It is possible to add an additional level of protection to messages by introducing a password. For those who want, you can set a life time after which the message will be automatically deleted. If you have sent a message to the wrong person by mistake, with this app you can delete it before it is received.

Other useful articles
The best dating apps for singles
The best apps to find a soul mate