Let's see together what are the best Torrent clients to download music, movies and games. A guide on which Torrent client to aim for for movies, music, games and TV series.
Are you looking for the best program to download movies or a program to download music? Do you want torrent games? In this article I will reveal the best Torrent clients and which of the many can be considered the best Torrent client. Let's start by saying that Torrents are KB documents that allow programs like uTorrent to download and share files on the BitTorrent network.
The BitTorrent network is a peer-to-peer system and torrent files do nothing but direct BitTorrent clients to the files that users want to download to their PC. There are also links called magnet links that after clicking on them allow you to download data from the BitTorrent network without intermediary files.
With Torrent clients you can download any type of file, even large ones, with good speed. Not only that, in addition to finding a lot of material you can block and resume the download as and when you want. With a good connection you could get very fast download times, especially if you have decided to switch from ADSL to Fiber.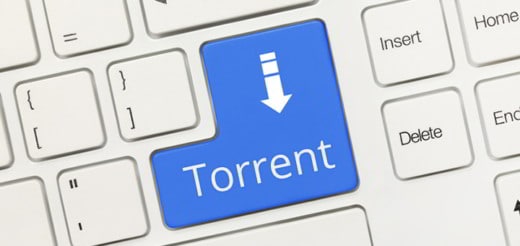 But let's see what the best Torrent clients to download music, movies and games which allow you to open .torrent files for downloading shared content, such as torrent music, movies, games, software and TV series, to your PC.
Best Torrent Clients
Using torrents is a crime as you are downloading material without copyright. That's why most geeks hide behind a VPN in a way that makes it difficult to identify.
Some of the torrent clients listed below, such as uTorrent, allow you to automatically download torrent files linked within RSS feeds. This indicates that you can subscribe to any RSS feed, for example a TV series, to automatically get the new episodes as soon as there are updates on the BitTorrent network.
How to download torrent files via RSS feed
How to download files via RSS feed? To download you must first have the address of the feed available and then open uTorrent and go to File> Add RSS Source then paste the feed address and wait for the download.
qBitTorrent
qBitTorrent is among the best programs to download free open source music very fast and with an easy to use interface. The best program to download free movies, qBittorrent is not only light (only 16 MB) but takes up very few resources. For this reason it does not affect RAM and CPU but it is still a powerful program capable of encrypting the exchanged data, also offering the automatic configuration of the upload / download speed and port forwarding.
qBittorrent presents an interface organized like any other P2P with menus and buttons. The main tabs are Transfer e Search which help manage file downloads and search for content to download. For searches, if you have installed the program on Windows, you will be prompted to install Python, a free and necessary component to make the search system work. Accept the installation by clicking on Si. qBittorrent is Also available in Portable version and can be used on any portable storage device without necessarily having to install anything.
uTorrent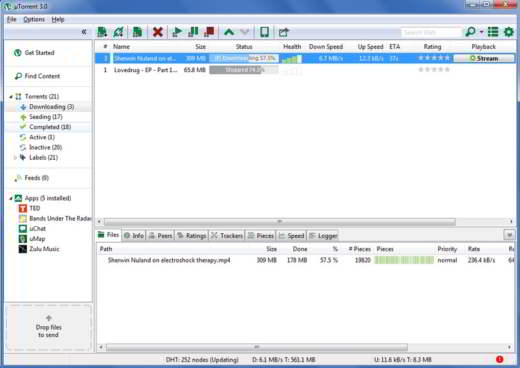 uTorrent is the best torrent that can offer fast downloads with automatic management of the available bandwidth. It uses very few resources compared to other P2p programs of the same type, but, at the same time, it is a very powerful application for downloading files in .torrent format.
How to download music with uTorrent? The program uses the BitTorrent protocol and has a search bar on the main screen with which to search for the latest torrents, or you can also manually add containers of files downloaded from the web to proceed with their download.
uTorrent it is compatible with both magnetic links and with links downloaded from the web that directly open the download client. In addition to downloading multiple files simultaneously, with uTorrent you can limit bandwidth usage for both a single torrent and for the whole program. You can also resume an interrupted download, select what you want to download, and download merged content via RSS feeds by subscribing to feeds. To conclude uTorrent is also available in a portable version, which means that no installation on a PC is required.
BitTorrent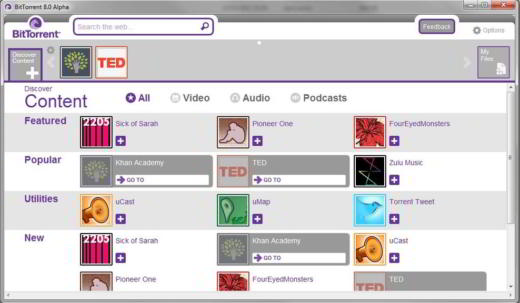 BitTorrent works like a normal P2P and is the best program to download music, It downloads large files at high speeds. The program allows you to download files from other users. By clicking on a download link you can send other users the data of the files you will have on your PC. The more files you upload, the more you can download.
BitTorrent it has no chat or contact list, just a main window where you can view the files you are downloading or uploading. You will also not be able to search for files, like in other Torrent clients, as there is no search button. To download files you will have to rely on the Web and look for available BitTorrent links that you can stop or resume for downloading as and when you want.
Deluge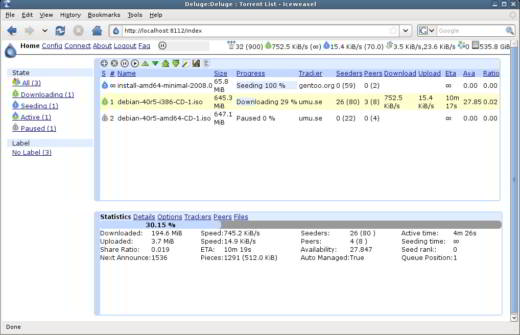 Deluge is another P2P file-sharing program, a valid alternative to uTorrent running on Windows, Mac and Linux. Free open source less graphically refined than other programs of the same species, it turns out to be a little more demanding of resources.
Widely used on Ubuntu, Deluge has a very intuitive user-friendly interface with details, options, files and trackers. It exchanges information with torrent trackers and naturally makes use of a communication port.
Vuze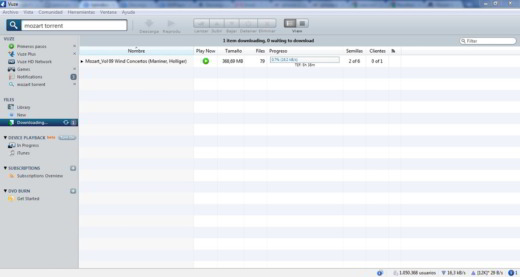 Vuze is a P2P client compatible with the Torrent network. Its extra features make it a valid alternative to the official BitTorrent client. The program is free, but there is also a paid version with additional features that allow you to burn DVDs after downloading the files.
BitComet
BitComet is another P2P file sharing program but also many other features to make it truly special. You can download files at the same time, pause them, limit the download / upload speed and communicate with many other users.
BitComet is a good filesharing program, free and spyware free. It also streams the videos you are downloading.
Transmission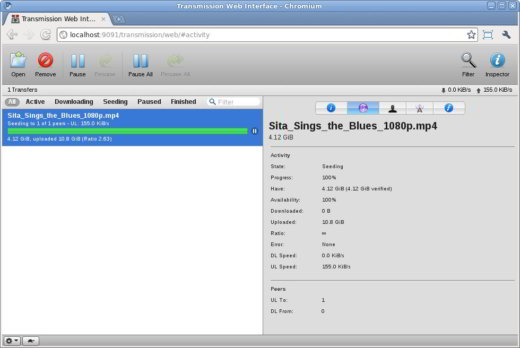 Transmission is a BitTorrent client used mainly on Mac. It supports all BitTorrent technologies and in addition to a user-friendly interface, it guarantees excellent performance.
Transmission offers several options to control the bandwidth available for downloads and uploads. You can decide which torrent to set a higher priority on by assigning it more network and resources. The only flaw is the lack of statistics with graphs to show the progress of downloads and uploads. I do not recommend using it on Windows, due to instability and not exceptional performance.
Tixati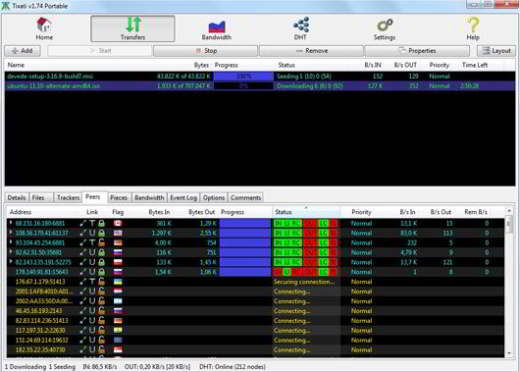 Tixati is a program for downloading torrents and is widely used on Windows and Linux. Simple and valid interface for novice users, it allows you to download music and movies in no time.
The Tixati algorithm that manages the download allows you to reach the maximum speed from your ADSL, it also manages RSS and Magnet Link, reducing the configuration to a minimum. Its use does not require the figure of an expert. The completeness and professionalism make it the best Torrent program to download music, movies and games. You can also download it in Portable or Installer version.
UltraTorrent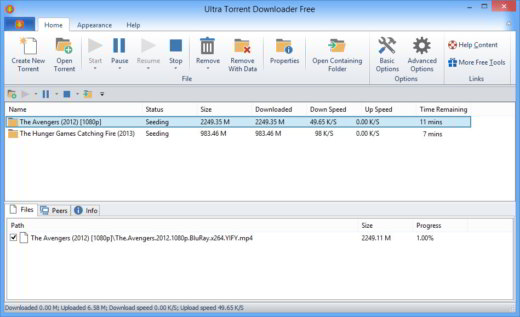 UltraTorrent is a torrent software whose best features are the high speed and the search engine, the latter is able to search, through 14 best torrent search engines, free movies and much more.
It also works through Proxy and Firewall networks and manages the best trackers, leaving out those sources that reduce download performance. Considered a high-end software, it allows you to download multiple files at the same time and insert a limit on the download speed.
Flud (Android)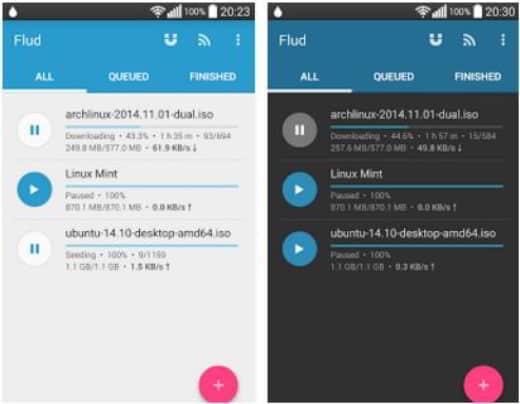 Flud is the best program to download torrents using the BitTorrent protocol. In addition to an intuitive and simple graphic layout, it offers, like other torrent programs, the All, Queued and Completed sections. It also captures Magnet Links without any upload / download speed limit and allows you to specify which files to prioritize.
You can download sequentially, move files as you download, and select files to download. Finally, it supports encryption, torrents with very large files and torrents with a large amount of files.
Other useful articles
Frequently asked questions and answers
uTorrent.
The most renowned torrent service client on the planet and also the most controversial.
20 oct two thousand twenty one
YTS (sometimes also known as YIFY) is probably the best torrent site for high quality movies and has over seventy-five million users worldwide.
This site contains almost thirty movies, many of them still with subtitles and free in 1080p.
27 Dec two thousand twenty-one
Wondershare UniConverter is the best converter to transform MP4 file to MP3, but there are other tools that are also ideal for transforming your files from MP4 to MP3.
31 Dec two thousand twenty-one
Compilation of frequently asked questions that our users have sent us and that our experts have answered.