Are you looking for a software to duplicate a DVD? You urgently need to copy a DVD to your PC but you don't know which program to rely on? Calm! WinX DVD Ripper Platinum, by Digiarty Software, Inc., is one of the best programs to backup and convert any DVD to digital format for playback on PC, TV and mobile devices.
It works fast and efficiently and not only can it be used for direct copying from DVDs, it also works with ISO images and DVD file folders. You can also quickly create videos suitable for playing on mobile devices Apple, Android, Microsoft e Sony. It is also theunique accelerated DVD ripper for Intel CPU, Nvidia GPU, AMD, Multi-core CPU, capable of ripping an entire 2-hour DVD in just 5 minutes (achieves a conversion speed of up to 32x).
Let's find out why WinX DVD Ripper Platinum is the best backup software and the Giveaway offering of 500 copies per day.
Why Choose WinX DVD Ripper Platinum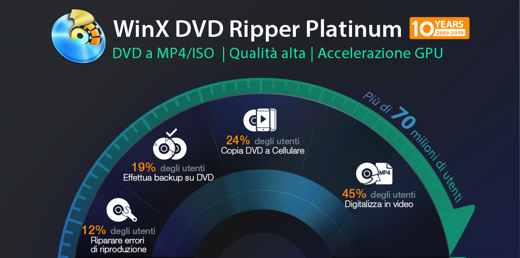 WinX DVD Ripper Platinum, launched in 2009, is celebrating the tenth anniversary. It is distributed in over 200 countries and regions and has been downloaded by over 70 million users. Its usefulness is recognized by users in several scenarios:
12% use it to repair playback errors by digitizing DVD to video.
19% use it to quickly backup old DVDs to video / ISO images with no quality loss and saving storage space.
24% use it to convert DVD video to MP4, H.264, HEVC, AVI, MPEG to play high quality movies even on Android and iPhone.
45% use it to rip DVD to MP4 (H.264 / HEVC) with high quality and perfect compatibility.
The latest version of WinX DVD Ripper Platinum has important updates regarding: the support for newly released DVD movies and a flawless improvement of video and audio output quality thanks to a high quality and deinterlacing engine.
What are the benefits of using WinX DVD Ripper Platinum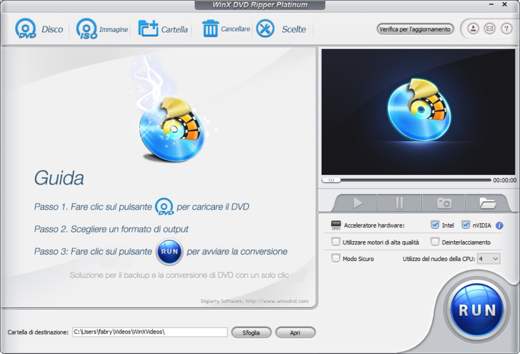 WinX DVD Ripper Platinum it is the best for 99-title DVDs and is always the first to support new DVDs. In addition to the 350+ built-in profiles, this DVD ripping program offers:
4 unique DVD copy modes.
Cloning DVD disc to ISO image, 1: 1 ratio folder.
Backup main DVD title content for playback on PC, Media Center, Console (PS3, PS4, Xbox) and so on.
Copy DVD title to multitrack MPEG2 file with video, audio and subtitles.
Moreover, thanks to an exclusive technology of level 3 hardware acceleration based on Intel® QSV and NVIDIA® NVENC / CUDA, accelerates DVD ripping by 50% ensuring maximum video quality and minimum CPU usage.
Black Friday Giveaway - Free License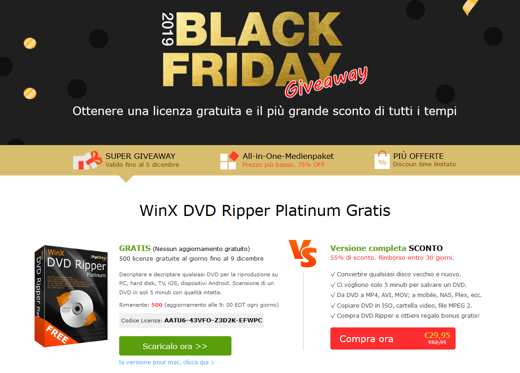 On the occasion of the Black Friday, Digiarty gives away in a Giveaway, 500 free copies of WinX DVD Ripper Platinum per day until December 9, 2019, without any free update service.
Connect to the official Giveaway page and copy the free license key for operating systems Windows 10, or earlier, e MacOS, for use after downloading the software.
Click on the button Get it Free and download the file winx-dvd-ripper-giveaway.exe on your computer. At the end presses twice on the downloaded file, to start it, and in the window Select the installation language, Choose Spanish in the drop-down menu. Then click on OK, NEXT, check the item I accept the terms of the license agreement I awarded her NEXT for 4 times and then on Install e end.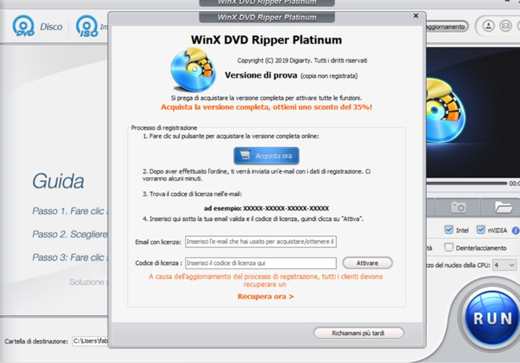 When the program starts, a window will appear in which you will have to paste in the field License code, the license key you previously copied and a valid email, in the field Licensed email. When finished, press the button Activate.
To take advantage of the lifetime upgrade of WinX DVD Ripper Platinum, an additional Black Friday offer is available: a lifetime full version with 50% off%, you can buy a $ 29.95 instead of $ 67.95, by clicking on the button Buy Full Version, in this page.
How to create an ISO file from DVD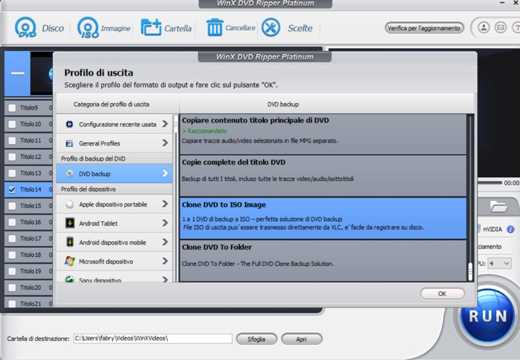 Here is a brief guide to making the creating an ISO file from DVD Win DVD Ripper Platinum.
Launch WinX DVD Ripper Platinum and from its user interface (available in languages: English, French, German, Italian, Spanish, Japanese, Chinese) follow these simple steps:
Insert the DVD to be copied into your PC drive
Start WinX DVD Ripper Platinum and press the icon disc, top left.
In the dialog box that appears select the source disk I awarded her OK
Click on the following path Output Profile> DVD Backup> Clone DVD to ISO image and press pulsating OK.
Press on RUN and wait for the operation to complete.
Besides the chosen option, you can even select 3 other DVD backup options and they are:
Full copies of the DVD title: Copy audio, video and subtitle tracks to a separate MPG file.
Copy DVD main title content: Back up all titles, including video, audio and subtitle tracks.
Clone DVD to Folder: retains the structure of the original DVD to be burned directly or played by the most popular media players.
Conclusions
WinX DVD Ripper Platinum is a program suitable for everyone: professionals, students, beginners and even seniors. Not only is it user-friendly and convert any type of DVD to different formats, but it delivers flawless speed, video and audio quality, and DVD support power.
Even more welcome, you can take advantage of a 30 day money back guarantee and a technical support who will answer your questions within 24 hours.
If you intend to switch your optical media to disk files and import your entire DVD collection digitally, this is the time to do it.