Have you noticed that for a few days WhatsApp does not download the photos? The message you receive is this: Download Failed: Download not completed. Please try again later. Unfortunately, the causes of this inconvenience are many and it does not necessarily depend on a single problem.
Let's start by saying that most of the time the most common problems related to downloading images, videos or voice messages on WhatsApp can concern the Internet connection or problems saving photos and videos on the device.

What to do when WhatsApp does not download photos, audios and videos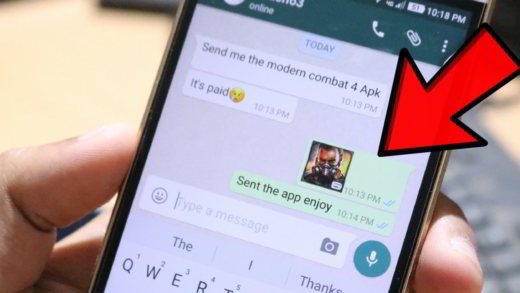 Phone connection problems

To analyze why WhatsApp does not download photos, I recommend that you check if you have an active Internet connection and if you have good signal coverage. You can try to browse the Internet and see if you see the web pages or download an image.
Then carry out some tests both with Data connection (3G / 4G), trying to understand if it is a problem with your telephone operator, and with a Wi-Fi network.
Phone date and time settings

Another element that must be checked to understand why WhatsApp does not download photos, is to take a look at the date of your mobile device. An incorrect date and time does not allow connection to WhatsApp servers for downloading multimedia elements.
Your phone's date and time setting must be either Automatic or Network Provided. Also check your time zone manually.

Se hai Android vai su Settings > Date and time.
There is an iPhone vai su Settings > General > Date and time.
Problems saving photos to SD card

Given that WhatsApp does not automatically save photos and videos on the SD card, but third-party software is required. The files downloaded on WhatsApp will always be saved on the mobile device and then take action to move WhatsApp photos, videos and audio to SD.
Read also> How to move WhatsApp photos, videos and audios to SD automatically
If you have an SD card and WhatsApp cannot save its files, then you must first check that the SD card is not full and maybe delete its contents to make space. To do this, simply connect your mobile phone to your PC and use it as a mass memory to enter the device and move the photos to the SD card.

If you have difficulty moving photos from WhatsApp to SD card, you may need to delete WhatsApp data from SD card. Before doing so, however, I recommend that you make a backup of all WhatsApp data by copying the WhatsApp folder on the SD card on your PC. Then open the SD card folder on your mobile and delete the WhatsApp folder. By doing so, all media will have disappeared. To complete the operation, restart your phone. WhatsApp should now download the photos and videos.
Alternatively you can, after making a backup of all the data to save them on the PC, format the SD card by doing this:
Settings> Storage> Unmount SD card (be present) > Tap Format SD card or Delete SD card e Restart the phone.
Other solutions

Haven't solved yet? Other solutions that I would like to give you if WhatsApp fails to save photos are:
Da Settings> Application Management> WhatsApp> Clear Data e Clear Cache.
Check if the SD card is damaged perhaps by trying to copy an image into it.
Check the space on your mobile device by going to Settings> Memory and maybe do some cleaning if the memory is full.
Uninstall WhatsApp and download the new version from the App Store or Play Store depending on your mobile device.
Check in WhatsApp Settings by going to Space and Data if Photo is active on When you use the mobile challenge and if it is also active on When connesso processes Wi-Fi. In case, remove all the flags and restart WhatsApp, then go back to Space and Data and put the flags again.
Open the SIM slot to remove and put it back. Restart your phone. It worked for me!
Do the mobile device reset.
Check if your mobile device is among those no longer supported by WhatsApp: In 2017 WhatsApp will no longer support old smartphones: here are what they are
Other useful articles

How not to save the photos you receive on WhatsApp
Unable to play video with WhatsApp
How to fix WhatsApp error codes (3108, 101, 498 ..)