You are perhaps looking for how to post videos on instagram? Here are the complete and quick instructions for posting videos on Instagram.
Instagram is a very interesting social network with which to spend hours of carefree and get to know many new things about the web. If you are reading this article you will surely want to publish your videos or the ones that impressed you the most on this platform.
In the next lines we will analyze in detail all the steps to follow for post a video on Instagram, be it from your smartphone or from your computer, dividing the two most important categories: video about Stories e video on IGTV.
Guide to posting videos on Instagram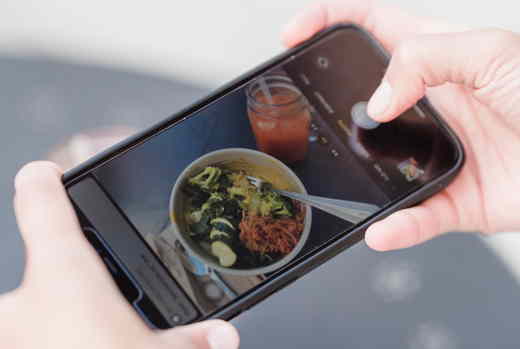 How to post videos on Instagram from smartphone? When you publish a video on Instagram from a smartphone as the first step you must identify your mobile device, that is, if it is based on an Android operating system or on that of Apple: iOS. Having taken note of this fundamental information, let's see how you can publish videos on Instagram on Stories and on IGTV.
How to upload videos to Instagram Stories with Android and iOS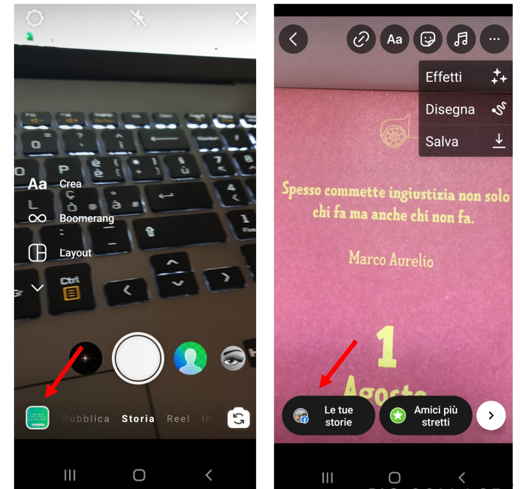 Launch the Instagram and log into your account.
Swipe from left to right to start creating a story.
Press the white button to record a video or take a photo or tap thesquare icon, to the left of the white button to add a video or photo.
Select a video from your gallery to upload it to your story.
Press, at the top, on the various icons to add a link, text, stickers, music, an effect or a freehand drawing.
To insert hashtag, stop on the sticker icon and select and add the hashtag of interest via the search bar.
Finally share your content by tapping on Your stories, bottom left, to post on Instagram.
How to upload videos to Instagram IGTV with Android and iOS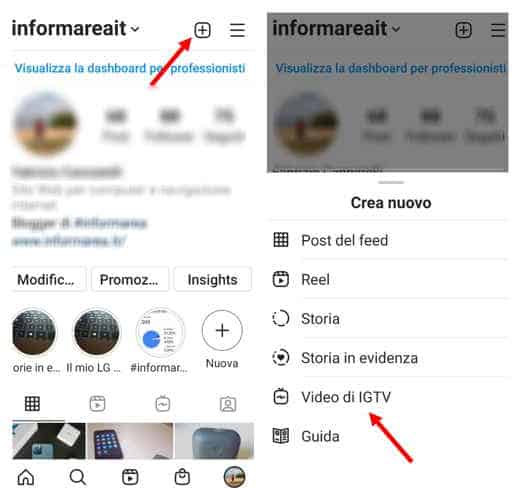 Launch the Instagram and log into your account.
Touch thelittle man in the lower right, to log into your Instagram profile.
Tap the icon [+] at the top and choose the option IGTV video.
You will automatically access the video gallery over 60 seconds of your phone's memory.
Select a video and press on NEXT, top right.
Instagram will ask you, on the page Cover, to select a cover image from your gallery or from one of the frames of the video you are uploading. Press on NEXT.

On the screen New video from IGTV, insert Title, Description, Add to your series, check the item Public preview and finally presses up Post to IGTV to complete.
The video will be officially on IGTV.
For further information read: How IGTV works
How to post videos on Instagram from PC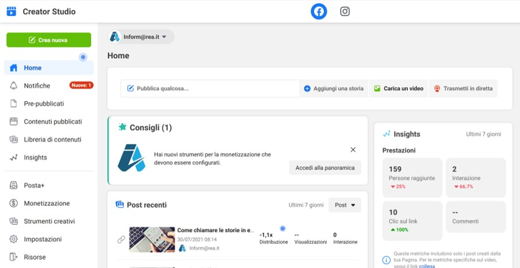 If you need to publish your multimedia content on Instagram from your PC, the procedure is slightly different, let's see it in detail.
Instagram puts at your disposal a tool called Creator Studio per Instagram, this is integrated into Facebook and allows you to publish videos from your PC to the photography platform with great speed.
However, you must necessarily have a corporate Instagram account, which in the settings you can select for free in a few seconds.
Log in to your profile Instagram and touch the icon with thelittle man at the bottom right to access your Profile.
Tap on three dashes superimposed, in the upper right corner.
Toccata Settings > Account.
Toccata Switch to a professional account.
Toccata Continues.
Select a category for your business and tap End.
Toccata OK to confirm.
Toccata Company.
Toccata NEXT.
Add contact information and tap NEXT. Or tap Don't use my contact information to skip this step.
Done this connected to the Creator Studio official site, log in with Facebook registration data and click on Start.
At this point you need to connect your Instagram by clicking on the Instagram icon at the top and select the option Link your account. Now you are ready to use the software, click on Create Postaward Instagram feed or on IGTV and you will find the section to upload videos and photos.
Read also: How to block auto-playing of videos on Instagram
How to repost a video on Instagram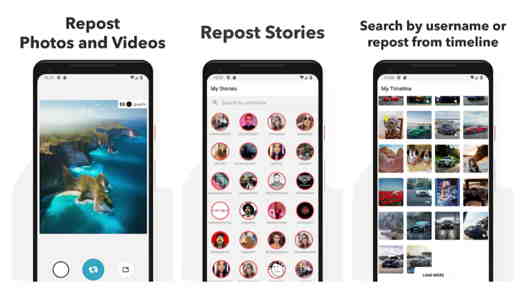 Have you reviewed a video of yours from the past and felt like sharing it with your new followers? Then you can repost it thanks to the Instagram tools, let's see how.
To share one again Instagram story you can resort to different solutions, let's see the simplest and fastest one.
We are sure that you have already installed the Instagram app and logged in so we will avoid repeating it, at this point press on the symbol of the house and observe your Stories by selecting the list at the top.
If you have been tagged just click on Add this content to your Story and it will be displayed in your Stories in a second.
If you have not been tagged we recommend that you use third party programs such as Repost It! (Android) or Repost Stories (IOS).
Read also: How to call featured Stories on Instagram
How do you put a long video on Instagram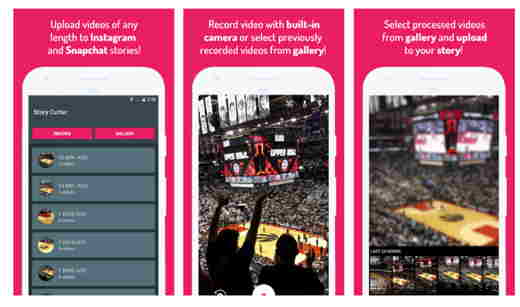 You don't like those limited Instagram seconds that much do you? To publish a long video on Instagram, the platform thought of IGTV, but how to avoid using this tool? So that you can post long videos on Instagram without IGTV we recommend that you opt for third party programs. These are real video editing software that allows you to cut videos where necessary and upload them directly to Instagram Stories or to the main profile.
We could spend hours explaining which are the most valid solutions on the market, both free and paid, but we will go straight to the point by recommending those most used by users.
Adobe Premiere clip, usable on both Android and iOS is the best solution, effects and video quality always at the highest levels. Also iMovie (iOS only) is a software that can give you great satisfaction.
For the Stories, however, we recommend you Story Cutter for Instagram if you have an Android operating system and Limitless Stories if you love iOS operating systems.
How to find videos to post on Instagram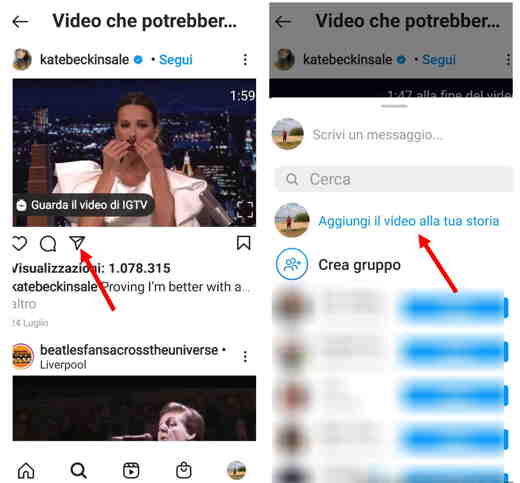 If you are looking for a funny or particularly motivating video, there are three main ways to go:
Search in the Instagram search bar.
Hashtag.
Other platforms.
Instagram search bar
Open the Instagram app and tap at the bottom left on the lens magnification. Here you can access the featured content on Instagram. Scroll through the images or videos and select the one you want to publish by clicking on it. Below the video are the symbols of: heart, message e arrow, press on the latter and the writing will appear Add the video to your Story.
#Hashtag
In the search bar, always pressing on magnifying glass, tap on the section Hashtag and then type in the hashtag that comes close to the content you are looking for. There will be tons of related hashtags that you can click on to watch videos with that keyword. Once you have selected the desired video you can publish it as previously written. For more information, don't miss our guide on the best Instagram hashtags to get likes and followers.
Other platforms
You can find interesting videos on other platforms as well, like YouTube o Facebook and share them without problems. The procedure, however, is not as direct as it may seem and it is worthwhile to deepen it in the following paragraph.
In addition to these three methods to search for interesting videos, you can also search for them in the Stories and profiles of your followers. Sometimes you may come across very interesting content that deserves to be posted on your Instagram as well.
Read also: When to post on Instagram
How to upload videos to Instagram from YouTube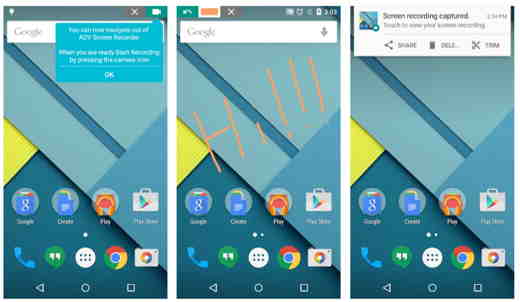 It is certainly one of the most famous platforms in the world YouTube, from this you can get numerous videos, whether short or long, by posting them on your Instagram. Let's see how to do it for both Stories that for IGTV.
How to put YouTube videos on Instagram Stories with Android
If you have not already saved the affected YouTube video on your smartphone then it is advisable to make a screen recording. If you have a modern mobile device you will find this function natively, otherwise we recommend that you use a program that can guarantee you the same function, for example ADV Screen Recorder for Android and Record It! for iOS.
Start the video on YouTube and at the same time also the recording, press on Stop when you want to finish and it will be saved in your gallery. At this point it's time to start Instagram and swipe from left to right. Select the media gallery icon, at the bottom left, and choose the video to post on Instagram. Press on end and the YouTube video can be viewed in your Stories.
How to put YouTube videos on Instagram Stories with iPhone
Also in this case the procedure is very similar to that for Android with some small details.
If you have an iPhone 8 or higher model you can access the Control Center and record the video on YouTube. Once in possession of the video, log in to Instagram and swipe from left to right, select the media gallery icon, at the bottom left, and choose the video to publish on Instagram. Press on end and the YouTube video can be viewed in your Stories.
How to put YouTube videos on IGTV
Start the Instagram app and tap on the little man at the bottom right to enter your profile. Select the icon capacitor positive (+) lead I awarded IGTV video. Choose the YouTube video you saved in the gallery by the screen recording method and press on NEXT, placed at the top.
If the recorded video is longer than a minute, Instagram will ask you whether to divide it into small posts of 60 seconds each or to publish it directly on IGTV.
Select the option Long video I awarded her Continue to direct you to the IGTV editor. Edit the video as you wish and press on Public. Now your YouTube video will be visible to everyone on Instagram's IGTV.
In conclusion IGTV allows you to publish videos of the duration up to 10 minutes for "standard" accounts and up to 60 minutes for popular and verified accounts. The minimum duration must be 60 seconds.
Requirements for uploading video formats to Instagram
Su Instagram Stories you can upload videos with the following requirements:
Su IGTV, instead you can upload:
Video format: MP4.
Audio: AAC.
Empty codeco: H. 264.
Frame rate: maximum 30 fps.
Resolution: minimum of 720 pixels and maximum of 1080 pixels.
Minimum playing time: Videos must be at least 1 minute long.
Maximum Playback Duration: Maximum 60 seconds if uploaded from the web, 15 minutes if uploaded from a mobile device.
You can load a vertical video with an aspect ratio of 9:16 or a horizontal video with an aspect ratio of 16: 9.
Maximum file size of 10 minutes or less: 350 MB
Maximum file size up to 60 minutes: 3,6 GB.
Recommended size for cover images: 420 × 654 pixels (1: 1.55 ratio).
All videos uploaded to Instagram must adhere to the Community Guidelines.