Here's how to send WhatsApp stickers and how to download new stickers to send in chat. A guide to help you send stickers and become familiar with the stickers, by accessing the appropriate section and tap on one of them.
Finally, even on WhatsApp it is possible to send stickers, stickers for chats, already used in other apps in the sector, such as Snapchat and Telegram. The stickers, also called stickers, are graphic elements to be used in chats to highlight your mood or represent a situation that involves your contacts in order to make everything more fun and sympathetic.
Preliminary information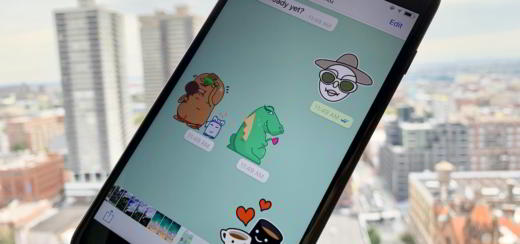 WhatsApp stickers are available on the instant messaging app from version 2.18.339 per Android e 2.1.1.100 for iOS. The dedicated section is placed next to the emojis and GIFs, all you have to do is tap on it to access it. By default the default chat stickers are few, the advantage is that you can install third-party apps to download stickers but also insert stickers on WhatsApp custom.
Download WhatsApp for Android or iOS for free.
How to send WhatsApp stickers
send WhatsApp stickers, with Android, iPhone and WhatsApp Web mobile devices, you need to enter the chat, select a contact and tap on the icon of theemoji, next to the area of write a message of WhatsApp.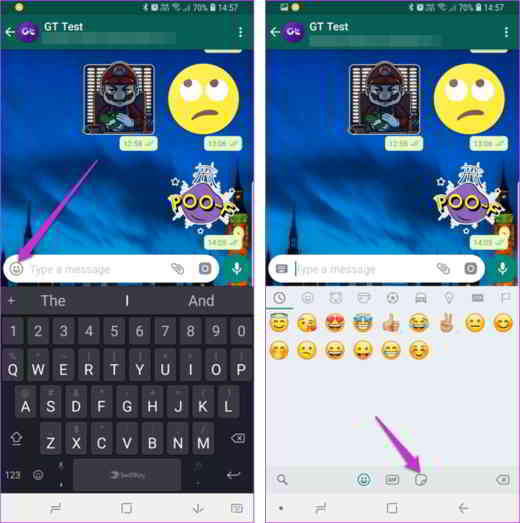 Next to the icons emoji e GIF you will also see the icon ofsticker which will allow you to put new stickers on WhatsApp, both in individual chats and in groups. By keeping your finger pressed on any sticker you can add it among the Add to Wishlist. To the question Do you want to add this sticker to your favorites? Press on Add.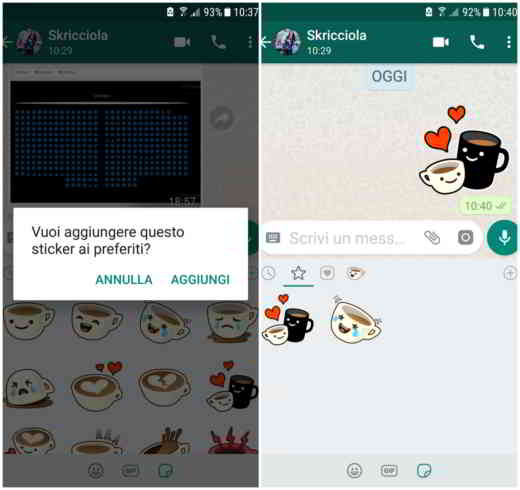 You will find the stickers added to your favorites always in the Stickers section, in the button bar. immediately below the WhatsApp message typing bar. Pigia on the icon of star to view them. Next you find other icons that are: the romantic stickers (heart icon), the sticker sad (icon with the sad face), the nice ones (icon with the smiley face), to conclude those of Alert, the exclamation mark icon. Do not miss the section of recently used stickers, represented by an icon in the shape of a clock.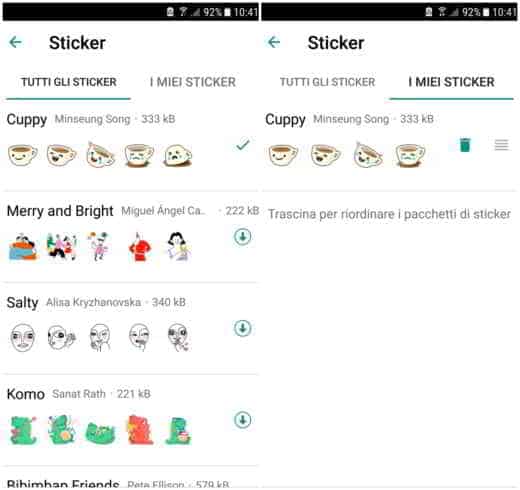 Once you send the stickers, WhatsApp will group the stickers in pairs to allow you to save space in the chat.
In case you can't see the stickers icon you will need to download updated WhatsApp, go to Play Store o App Store and download the latest version of WhatsApp, indicated at the beginning of this article. For example go up Android Play Store and Le mie app ei miei giochi, see if in section Updates there is a WhatsApp update. If so, proceed with the update.
If you still don't see the stickers, from an Android smartphone go to Settings> Apps> WhatsApp> Storage space and stop on Clear data e Clear Cache. Restart the app and enjoy the WhatsApp stickers.
Where to download Stickers WhatsApp
To add stickers to WhatsApp you need to go to the appropriate section and press the button +, to the right of the heart button bar, favorites, recent, and so on.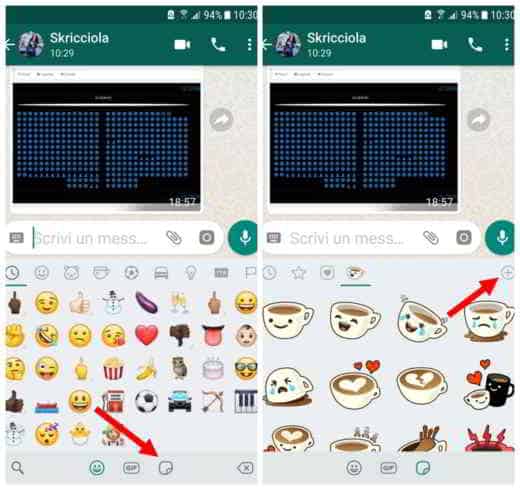 In All Stickers, you will find all the packs of stickers sorted by category and available for free download. To download new stickers, just click on the down arrow symbol, if you want to preview what will be downloaded, click directly on the package and then on the button Download. To delete an already downloaded package, click on it and then press the red button Delete.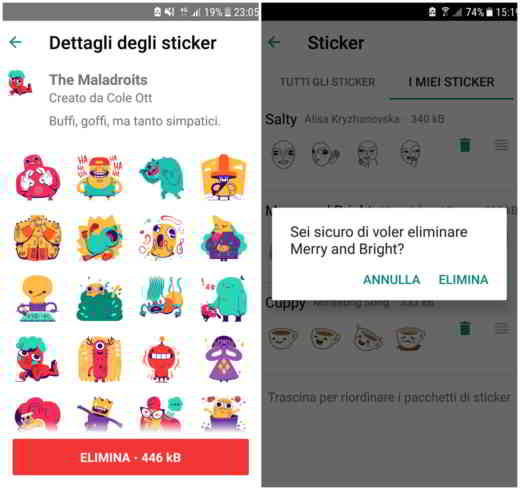 Once a new sticker pack has been added, they will be visible on the screen My Stickers. Here you can order packages by dragging them, or delete them by clicking on theicon of the basket.
Scrolling the screen All Stickers, you will see the link below Download more stickers. By clicking on it you will be redirected to Play Store or App Store, with the keyword WAStickerApps with all third party apps with stickers for WhatsApp.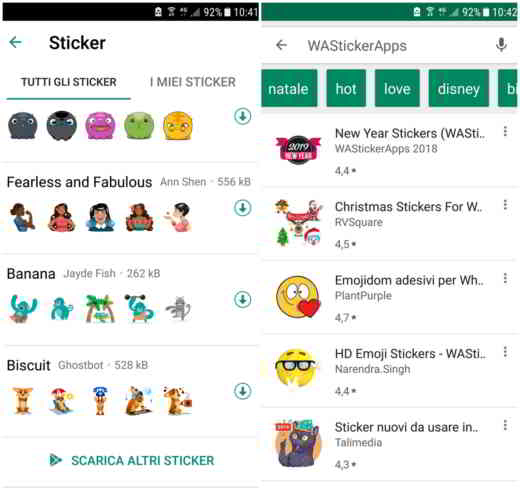 Remember that to send stickers on WhatsApp you will have to exit this screen and return to the one of the stickers menu, where the emoji, Gif and sticker icons are visible at the bottom of the screen.
Best sticker apps for WhatsApp
Here are the best sticker apps to create custom stickers. To add sticker packs from third-party apps to WhatsApp, all you have to do is open the app and press the button Add to WhatsApp o Add to WhatsApp. The reactions will be immediately available in the sticker menu for free.
Studio Decal is definitely the best app to create custom WhatsApp and GBoard stickers. You can cut out the part of an image that interests you most, create a sticker and share it with your friends on WhatsApp.
Right WAStickerApp is an app with a remarkable collection of reactions as stickers: from the famous Pow of Superman to the Boom of Batman, but also commonly used expressions such as Hello, Wow, Oops and so on.
WhatsApp Stickers – Halloween developed by the creators of the Telegram app, it offers a nice set of stickers with sleeping skeletons and truly comical pumpkins. You can download from a total of 10 available packages.
StickoText is an app with different sticker packs with different color and style images. In addition to stickers, with StickoText you can also create stickers with images from your gallery.
WhatsApp Stickers offers different sticker packs for WhatsApp. From Mario to Pokemon the stickers are of quantity and quality with well-defined and very sharp images.
Bigmoji is nothing more than an app with the enlarged versions of the emojis that you use daily in your smartphone apps.
AzPack WAStickerApps costs 1 dollar and offers stickers of Mr Bean, Pusheen, Heros. You can get new stickers through the app and find new ones every week.
The Simpsons Stickers find Homer Simpson and Bart Simpson stickers with scene packs that have evolved into memes.
Monkey Stickers we all have inside a crazy monkey trying to break free to hijack conversations. Give that monkey an emotional unlock with these stickers.
Falala Stickers 3 packs with 90 stickers to make your conversation much more fun.
Marshmallow Stickers cute marshmallows to make your chats fun.
Meep WAStickers offers a unique collection of Meep stickers whose packs are reminiscent of the softer version of emojis.
Earthy for WhatsApp Unlike Moon Stickers, this sticker pack does not have high quality Earth stickers but a well-functioning cartoon version.
Meme Stickers for WhatsApp contains old and new sticker packs with funny memes, photos and reactions for free available.
WAStickerApps Cats for those who love cats, here are famous cat stickers.
ZeroHart Stickers find the sticker packs of the best cartoons of all time.
Stickify Store find tons of categories of stickers divided into categories with emojis, messages, games, movies and TV shows, food, animals, anime and much more. You can also create your own custom stickers in no time.
Ultimate Pack Stickers find at least 2000 quality stickers to browse and add on WhatsApp.
Clippy Stickers are the stickers of the famous Clippy of the Office package of the past.
Donald Trump Stickers offers fun stickers of former US president Donald Trump.
EasyCodes Stickers do you like Deadpool, Marvel and Breaking Bad? You will have various stickers with most pop culture stickers.
Snew tickers for WhatsApp 100 packs of stickers divided into categories: video games, anime, pets, celebrities, TV series and much more.
Other useful articles