With the service Onbile we can create a Mobile version of our site even without having special skills and above all without the need for a different domain.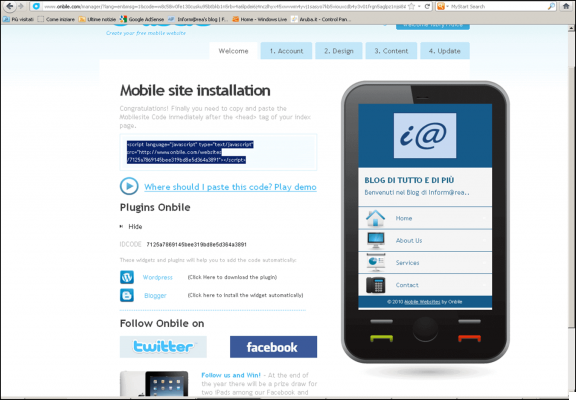 Let's go to the following address www.onbile.com , select the Spanish language at the top and click on Sign Up to start using it.
We create our account by choosing a username that will be used on the public page. We also need a password and email.
We read the terms of use and tick the box. Finally we click on Following to move forward.
The next page brings us to the choice of template to use for our mobile site. By clicking on the arrow on the right we scroll through the templates and choose the one we prefer by clicking on it to select it.
Further down we can choose the colors among those proposed for that particular model and the icons.
At each change of color or template the figure of the mobile phone on our right will change according to your choices.
The next page gives us the possibility to insert the contents of our site starting from Home Page, change the button name and add one slogan.
Going down the page we then have the space to insert the contents that will be displayed on the Home page. The editor allows us to view them.
To insert our logo we always click on the Home Page and on Upload files. The recommended size is 170 × 100 pixels, so resize it first.
Once you have given OK, the logo will appear on the right mobile phone. The optional settings section then allows us to enter other information.
We click at the top on other pages to insert their contents. Each page we open has a text editor with which we can customize what we write, also giving the formatting we prefer and choosing color and lettering.
There are four pages available to us: the home page, the services offered, the contact page and an information page about the company or about us.
After entering the contents of each page, click on Home and at the bottom we click on the button Following. We are now in the publication page of the site, we must enter the name of the Web domain for which we have created the Mobile version in the field and click on Publish.
We will receive the code to be applied to the e-mail address provided during registration, which we will have to paste on the page index of our site between the tags .
At this point, anyone who visits our web pages using a mobile device will automatically be directed to the version we have specifically created with the service Online without needing to change domain or do other operations.
Hello Fab