All the news of the main mode of Konami's soccer game
Pro Evolution Soccer 2010
Pro Evolution Soccer 2010 it could be the turning point in the series that we have all been waiting for for a long time. Halifax and Konami inform us today of the substantial news that we will find in the Master League, the most famous and beloved game mode of the Japanese soccer game.
The introduction of the team stand out Spring and the complete restyling of the game menu now divided into three main sections, each sectioned for a specific function.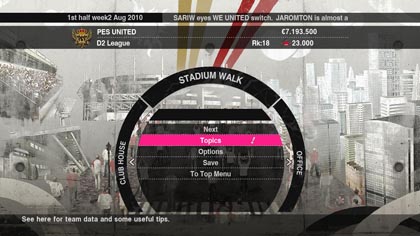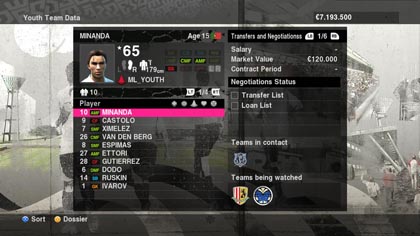 Below is the official press release with all the details, while we remind you that PES 2010 will arrive in the fall season on platform PC, Playstation 2, Playstation 3, PSP, Wii and Xbox 360:
PES 2010: The Master League evolves
Konami reveals the expansion of management elements, including new tax measures, sponsorships, and the introduction of the youth team.
Konami Digital Entertainment GmbH today unveils details on the significant advancements of the Master League mode in the upcoming PES 2010.
The Master League has always been one of the key modes when it comes to the longevity of the PES series and PES 2010 will introduce a number of new elements that will contribute to greater global realism and a massive increase in the fun and longevity resulting from this.
By selecting the Master League option, players will be presented with a menu divided into three sections: 'Club House', 'Stadium Walk', and 'Office'. Each of these elements represents the different aspects of the role of a football manager, the 'Club House' section is dedicated to the tactics settings and match of the day options, 'Stadium Walk' for the main game settings, and 'Office 'for research and related negotiations for the acquisition of a player.
The game menus are now much more immediate and accessible and players will be able to move between the 3 sections with great ease. The Club House mode also sees the introduction of a brand new section of the Youth Team who will train alongside the first team. As the game progresses, the user will therefore have the opportunity to invest in new promises from their youth team to follow their development. The real talents can later be included in the first team as happens in real football schools.
The Office section is where all transfers, contractual and tax agreements take place. In PES 2010 we will finally switch to real currency to measure investments and expenses and other payment methods will also be accessible
The sponsorships can now be negotiated with the possibility for the user to close millionaire deals with the various companies that can be used for investments in the first team and in the youth team. The results on the field will directly influence the value of the Club in the eyes of the interested parties and the fan clubs will also be used as a barometer of the team's success.