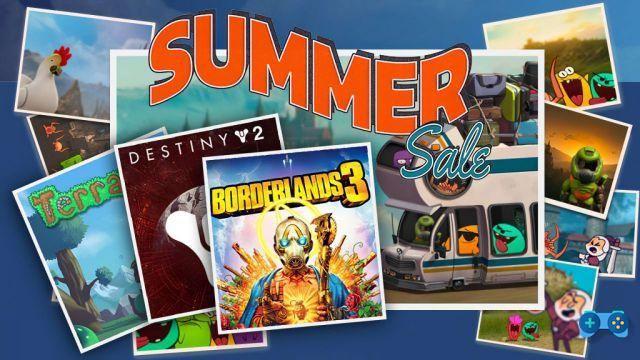 It's that time of year again ...
Ok… we all know, this is the saddest time of the year for our wallets. Sealed and pampered during the year, now, in the name of a master father who responds to the name of Gabe, they are mistreated without any mercy and all for one goal: to expand our digital library with games that we will never play ...
It's time for STEAM SALE!
Joking aside, the Steam Summer Sale is a time of year where you can get some real bargains, taking home super discounted triple A titles. This year the Steam sales also have a different charm because the rise of Epic Games, which recently even gave away titles of the caliber of GTA V and Civilization VI, has put Valve and its store under pressure. The hope of all therefore, is that Steam decides this year to go down hard with its discounts to the benefit of us users.
I Steam Summer Sale will last from today 26 June until 19 of Thursday 9 July.
In this article we will see which in our opinion are the best games to buy during these sales, for less than 50 euros. Also keep in mind that by spending at least 30 euros, you will receive a 5 euro discount voucher directly in the cart, as part of the "Special On the Road" operation. Without further ado, then, here is our selection of the best discounted games under 50 euros.
Steam the best deals under 20 euros
Ni no Kuni II: Revenant Kingdom - euro 17.99 (-70%)
A Plague Tale Innocence - euro 15.29 (-66%)
Outer Wilds - euro 16.65 (-33%)
Sonic Generations Collection - euro 1.00 (-95%)
Sonic Mania - euro 6.79 (-66%)
Star Wars Battlefront II: Celebration Edition - euro 19.99 (-50%)
Final Fantasy VI - euro 7.99 (-50%)
BattleTech - euro 9.99 (-75%)
Titanfall 2 - euro 9.89 (-67%)
Slay The Spire - euro 12.49 (-50%)
Pathologic 2 - euro 14.69 (-58%)
Shadow Tactics: Blades of Shogun - euro 5.99 (-85%)
Assassin's Creed Odissey - euro 19.79 (-67%)
Soul Caliber VI - euro 14.99 (-75%)
Batman: Arkham Knight - euro 4.99 (-75%)
Deus Ex: Mankind Divided: Digital Deluxe Edition - euro 6.75 (-85%)
Fallout 76 - euro 19.99 (-50%)
If you want to spend a little more then we refer you to this other article with a selection of the best games on sale under 50 euros.