You need to send a large file but can't find a suitable solution to do it? When email isn't enough, there are several ways to send someone a large document. In this article I'll walk you through what are the sites to send heavy files without spending a euro.
Over time, the size of the files has been growing, the photos for example, with increasing resolution have become more and more defined but also heavier, to the point that sending a shot to a friend via email has become difficult.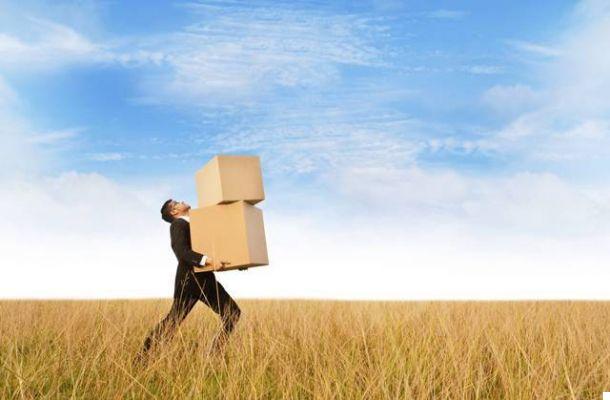 However, the problem of heavy files is now solved with services that mainly deal with this: transfer bulky documents through the Internet and allow the sender to upload the file through simple commands via the browser.
Read also: How to zip photos
Sites to post large files
send the large file, all you have to do is send a link to the recipient's email address to click to start the download immediately.
Read on to find out the best file transfer for sending large files.
1. WeTransfer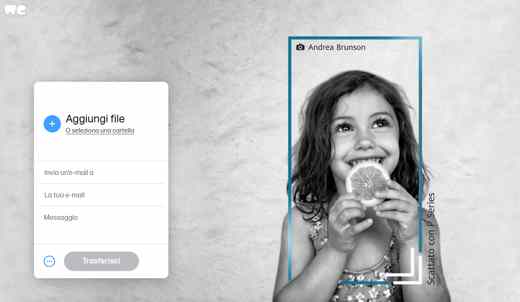 WeTransfer is one of the simplest services to use for transferring large files. A few mouse clicks and website clicks will automatically send the files and they will be available for download for seven days. Everything is also a lot user-friendly, with a step-by-step wizard that walks you through the upload process.
You can transfer up to 2GB to a free account, but for 12 euros per month or 120 euros per year you can upgrade to WeTransfer Plus which allows up to 20GB of file transfers at a time and 1TB of storage. You'll also have the option to set a password to download files, plus you can customize wallpapers and emails if you like.
Read also: WeTransfer how it works
2. SendAnywhere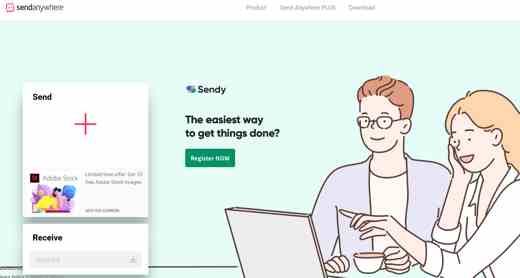 Send Anywhere is available for almost any platform you can think of and can transfer files up to 10 GB completely free. The file sharing service is available as a web app and browser extension for Chrome, as a mobile app for Android and iOS, and as downloadable software for Windows and macOS. There are also versions for Linux and Amazon Kindle, as well as plugins for WordPress and Outlook.
The browser widget allows you to share files up to 10GB, but the desktop software supports files up to 1TB for paid subscribers ($ 5,99 per month). This should be more than enough for all but the largest 4K video files.
3. Mediafire
MediaFire is another service for sending large files. Sign up for a free account and get 10GB of storage. Link your Facebook and Twitter accounts, install the mobile app and refer friends to earn up to 40 GB of bonus space. You can upload files directly from your computer or the web and generate a link that will allow others to download your files from the MediaFire website.
Paid subscriptions start at $ 3,75 per month and include 1TB of storage, a 20GB file size limit, as well as eliminating annoying captchas and ads. Another useful premium feature are one-time links that once the files are downloaded by the recipient will no longer be accessible.
4. Hightail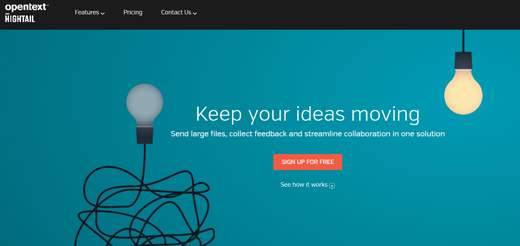 Hightail (formerly YouSendIt) was built with business users in mind. Upon registration, you can create special "spaces" for various files and projects, which you can then share with others. The practical function "PipPoints"Can also be used to record notes on documents while you and others work on them.
The free Lite version of Hightail only allows sharing of size files fino a 100 MB. The subscription For is available from $ 12 per month and includes unlimited workspaces and support for files up to 25GB. Also, there is no limit to the number of people who can access a file at any one time.
5. Resilio Sync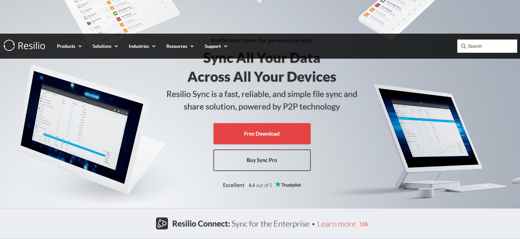 Previously BitTorrent Sync, Resilio Sync is a useful utility that uses the BitTorrent protocol - designed specifically for sending large files - to synchronize files directly between devices. This peer-to-peer connection can be used for two or more devices, such as a smartphone and a desktop PC.
Resilio Sync it also supports the generation of safe links to allow contacts to download files from folders. This naturally means that your device must be online at that time for them to access it. The software itself is provided free of charge and there is no limit to the amount of data that can be transferred or stored.
Note that only synchronization is free. Sync Home, which adds more features, costs $ 60 while Sync for Family, which can accommodate up to five family members, retails for $ 100.
Other sites to post large files
DropSend, allows the transfer of heavy files up to 4GB in size and the free version grants four mailings per month.
SendSpace, is capable of supporting up to 300GB to keep them online for 30 days.
Transfer Big Files, allows the transfer of 100MB files that remain available for five days. It has great paid plans at fair prices.
SendBigFiles, immediately makes clear the simplicity and immediacy of the service, offering 50MB file transfers to be sent for free. All options are in the payment plans.
EmailLargeFiles, it is a good service for those who work in a team. You can send up to 10 200MB files per day to up to three recipients, all for free.
Jumbo Mail, in the basic version allows the sending of heavy 200 MB emails with confirmation of receipt and without registration. By registering the limit increases to 500MB.
The free services for sending large files, seen on this page, use the Internet to transfer and pass files from one person to another. They are therefore cloud-based systems which, however, it is not possible to control personally, since they upload the files but without knowing where. All of this is fine for momentary needs.
But if you want to share material on an ongoing basis cloud sharing services represent the best solution.
To learn more, take a look at: The best Cloud Storage services.
The alternatives
FTP (File Transfer Control): All operating systems support FTP, and there are many websites and add-ons that support uploading and downloading from within the browser, such as FireFTP. Windows and Mac users can also use the free desktop FTP client Cyberduck.
External hard disk: The fastest way to send large files is not via the Internet but by using the best external hard drive. All major cloud providers (Microsoft, Google e Amazon) have the ability to transfer large amounts of data using hard disk drives. Try to take advantage of a file compression software as: 7-Zip, WinZip e WinRAR.