The track bike world championship celebrates its 10th anniversary.
La Red Hook Criterium is a unique competition in cycling, it requires athletes to make multiple laps in a 1Km circuit (approximately) in city routes on bicycles without fixed gear brakes. Taking motorsports as an example, athletes start by competing in timed qualifying to establish the starting grid for the main event. The finals, traditionally at night, are held in front of thousands of spectators everywhere. Born in 2008 and initially a competition between amateur and professional friends of a cycling community, the Red Hook Criterium has since evolved into a world championship hosted in cities such as New York, London, Barcelona and Milan. The race offers competitions for men and women, attracting thousands of athletes from multiple cycling disciplines. Athletes accumulate points for completing each race, traveling from city to city, fighting for a position on the competition podium.
Rockstar Games is proud to announce the 2017 edition of the Red Hook Criterium, which celebrates its 10th anniversary as the world's premier championship for fixed gear bicycles. Originally born in the Red Hook neighborhood of Brooklyn, the championship now extends to four different parts of the world, offering top-level sports and a unique atmosphere surrounding the race, much appreciated by the public.
2017 CALENDAR:
• April 29: Red Hook Criterium Brooklyn, NY, USA;
• July 22: Red Hook Criterium London, UK;
• September 2: Red Hook Criterium Barcelona, ​​Spain;
• October 14: Red Hook Criterium Milan, Italy.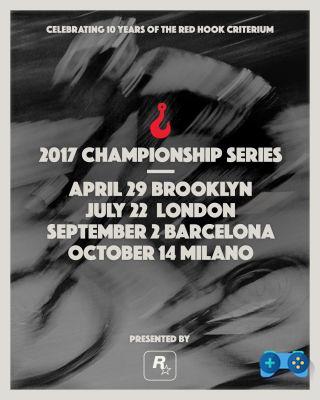 "It is a very special year that is beginning, in fact we are celebrating the 10th anniversary of the first race in Brooklyn. - said David Trimble, RHC Race Director - Thanks to the support of athletes and enthusiasts from all over the world, and with the invaluable help of the Rockstar Games team, we have been able to grow and evolve this championship, which has now become something of truly amazing ".
As for the upcoming season, all eyes will be on latest championship winners Colin Strickland and Ash Duban, both from the US, to see if they can stay at the top of an ever-growing competition.
The 2017 season also includes a new, more spectacular format with qualifying heats distributed over six different heats, which will take to the track in shifts to determine the final starting grid. The day will thus be a succession of non-stop races that will replace the qualifying on individual times used up to last year. Last season marked a big change, with the champions of the past who have given way to many new athletes, professionals, able to shine from the first races. Compared to previous years, the competition has changed in its approach; the team play and tactics implemented during the competitions have increased. Getting on the podium in 2017 won't be easy, but the biggest challenge will be winning the championship.

For more information visit www.redhookcrit.com