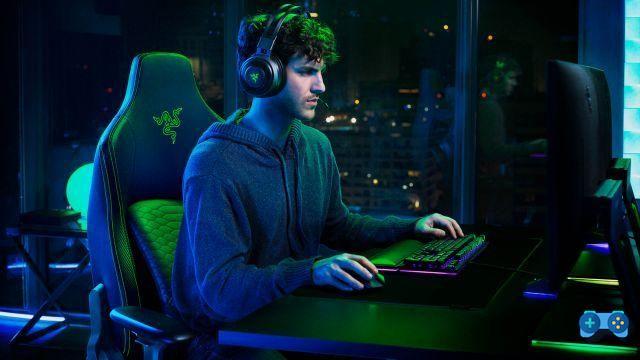 Razer fans may not have missed it, but October 10 was certainly a special day for the brand. The CEO of the company, Min-Liang Tan, in fact presented live, to an audience of over a million people connected via the internet, all the news that Razer has in store for gaming lovers. During the keynote that took place with the iconic Singapore skyline in the background, products such as the new Razer Iskur gaming chair, a new case were presented Razer Tomahawk and greetings from video game studios such as Romero Games, Perfect World Entertainment, Paradox Interactive and technology partners such as Intel, NVIDIA and Western Digital alternated.
The keynote was important because for the first time a gaming peripheral company attracted so much attention with its new product presentation conference, and this speaks volumes about the brand's attractiveness and reputation in the gaming world.
To know all the news presented, therefore, we just have to refer you to the press release below.
ANNOUNCEMENTS, PREVIEWS AND MUCH MORE, THE 2020 RAZERCON CONQUERS FANS FROM ALL OVER THE WORLD CONQUERS FANS FROM ALL OVER THE WORLD
During a live keynote in mixed reality peaking at 1 million concurrent views, CEO Min-Liang Tan announced new products, lots of news that will thrill fans and a surprise that closely relates to a community icon.
Milan, 12 October 2020 - Razer ™, the global leader in lifestyle gaming, has made October 10, 2020 a day to remember for the global gaming community. Fans from around the world tuned in to RazerCon to watch Razer CEO Min-Liang Tan's live keynote, a one-of-a-kind interactive session with Singapore's iconic skyline in the background. This was followed by panels on new Razer products, showcases of exclusive content and giveaways from video game studios such as Romero Games, Perfect World Entertainment, Paradox Interactive and technology partners such as Intel, NVIDIA and Western Digital.
The event was a huge success for fans, peaking over 1 million contemporary viewers for a total of 250 viewing hours and 175 million impressions on Twitter, Facebook, YouTube and Twitch. In a veritable celebration of all things gaming, industry celebrities including Brenda and John Romero, and Haz Dullul, presented their new projects, while famous gamers like CloakZy, CourageJD, PaladinAmber and many others got involved the community during their sessions.
Razer also announced its commitment to a more sustainable future with the #gogreenwithrazer initiative, whereby the company will invest in greener offices and products, while promoting sustainable practices for employees, partners, fans and the gaming community.
RazerCon 2020 was the first ever event to be animated by Razer Chroma RGB lighting (patent pending), and ended with a concert that featured performances by world-renowned EDM and metal artists, including Deadmau5, Sabaton and DragonForce, with fans at home enjoying seeing their Razer Chroma-enabled devices light up in sync with the bands' sets.
In case you missed the RazerCon 2020, you can enjoy the registration here.
At RazerCon 2020, the community got a preview of upcoming Razer product launches, including the Iskur Gaming Chair, the Tomahawk Gaming Chassis, and the highly coveted Sneki Snek Plushie along with much, much more.
For more details on the products and projects announced during the show, read on.
Razer Iskur Gaming Chair
Designed from the ground up with comfort, health and style in mind, the all-new Razer Iskur is Razer's first gaming chair, redefining this product typology with a one-of-a-kind external lumbar support system, high-density foam padding. density, an elegant multilayer synthetic leather and much more.
The Iskur has been designed to meet the need for superior ergonomics in today's gaming chairs, with the unique external lumbar support system offering 26 degrees of customization, to help improve the gamer's posture during the course. of long gaming sessions. This system works to reduce pain and tension by supporting the entire curvature of the spine, particularly the central and lower regions where tension accumulates the most. The Iskur is also equipped with high-density foam pillows for maximum comfort, a customizable 4D armrest system for optimal reach and a memory foam neck pillow for additional cervical support.
The Iskur sports a multi-layered black synthetic leather upholstery, with Razer green stitching for a pop of color. The green three-headed snake logo stands out on the headrest, with Razer's motto "For Gamers". By Gamers "printed on the front of the seat. The padding is finished with a distinctive snakeskin pattern to create a unique, all-Razer look.
Find out more about the Razer Iskur here: https://rzr.to/Razer-Iskur
Razer Tomahawk Gaming Chassis (not available)
The all-new Razer Tomahawk Gaming Chassis (not available) is the first true Razer desktop experience designed for PC gaming enthusiasts. The chassis is available in two different sizes: the Tomahawk ATX, a standard center tower case, and the Tomahawk Mini-ITX, a small form factor case.
For more information on the Razer Tomahawk visit here
Razer Blade Stealth 13 (not available)
More powerful than ever, the latest version of the Razer Blade Stealth 13 (not available) features an all-new 7th Generation Intel® Core ™ i11 processor, a new Full HD OLED touch display and crisp THX® Spatial Audio for offer gamers and creators on-the-go the ultimate portable experience.
For more information on the Razer Blade Stealth 13, please visit here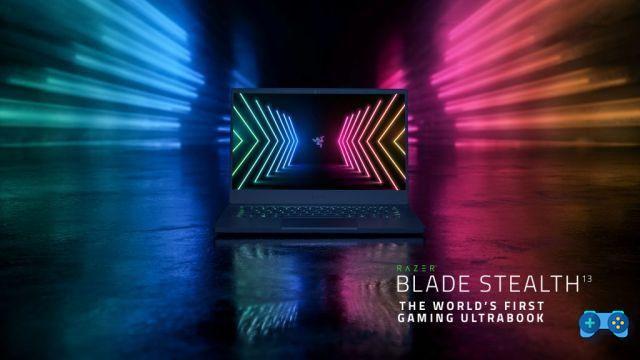 Razer Seiren Mini
For years, studio microphones have been bulky and unsightly, ruining cleaner, minimalist desk setups. Today, Razer is responding to the demand for a sleek and compact desktop microphone with the all-new Razer Seiren Mini, Razer's smallest USB microphone to date. The Seiren Mini delivers professional-quality sound in an ultra-compact form factor and a variety of colors including Razer Black, Quartz Pink and Mercury White to fit in any environment.
Despite its small size, the Seiren Mini outdoes itself with a supercardioid pattern pickup that helps reduce unwanted ambient noise, paired with a perfectly calibrated 14mm condenser capsule to deliver crisp, precise sound. To ensure vocal clarity in animated environments, the Seiren Mini features an integrated shock mount to reduce vibrations from external sources and a sturdy tilt stand to maintain stability and positioning accuracy.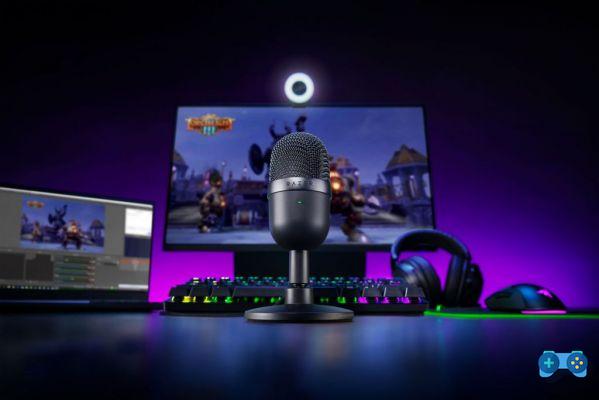 Made with convenience in mind, the Seiren Mini weighs less than 450 grams and stands at just 16,3cm tall, making it light enough to move anywhere and compact enough to fit on smaller desks. The microphone also features a simple plug and play design that allows users to switch to streaming or voice conferencing via a single USB connection.
Find out more about the Razer Seiren Mini here
Razer Kraken BT Kitty Edition
Loved by fans, the new Razer Kraken BT Kitty Edition allows them to bring the feline touch everywhere. Combining style and function, they cut the cords, thanks to Bluetooth 5.0 connectivity, and feature 40mm drivers, Razer Chroma RGB and up to 50 hours of battery life. The headphones also feature a built-in microphone with beamforming technology to block out ambient noise and capture the user's voice clearly and accurately.
The Kraken BT Kitty Edition is available in an elegant Quartz Pink finish, accented with Mercury White padding on the headband and ear cups. The latter and cat ears integrate Razer Chroma RGB technology, which responds to applications and notifications and can also be customized via the Razer Audio App to suit any style.
For more information on the Razer Kraken BT Kitty Edition, please visit here
Razer Chroma RGB
In addition to the new hardware announcements, Razer has introduced four new partners in the Razer Chroma Connect program: WD Black, Seagate Gaming, Yeelight and Twinkly. The Razer Chroma Connect program has over 50 hardware partners hours, resulting in the largest RGB lighting ecosystem for gaming devices in the world, with support for over 500 devices and more than 150 games and applications.
To help natively control the growing list of connectable devices, Razer also announced the first Razer Edition motherboards in partnership with ASRock. Versions of the ASRock Taichi designed by Razer, offer a unique design and support for the X570 or B550 chipsets. The cards are a first, with native Razer Chroma RGB support and universal compatibility with thousands of ARGB components. Those who build PCs with multiple ARGB components are now able to more easily sync them with their Razer peripherals via Razer Synapse 3.
To learn more about the Razer Chroma Connect program, visit here
Sneki Snek X Conservation International
At the close of RazerCon 2020, Razer shared exciting news about a new community idol: Sneki Snek has been named Razer's Official Gaming Mascot and is available for hugs in the form of a plush. What started out as a sketch by a Razer designer has quickly become one of the most sought-after designs, with dozens of fan art submissions, homemade puppets and even tattoos created in his honor. Sneki Snek has dominated the hearts and minds of fans around the world and now everyone can have him with them.
In addition to the Sneki Snek soft toy, Razer announced its collaboration with Conservation International, a global environmental organization whose mission is to empower companies to take care of nature and humanity in a responsible and sustainable way. To help realize this vision, Razer has called upon Sneki Snek's fans and powers to help save at least 100.000 trees, or nearly 400 acres of forest, on which endangered species depend to survive.
For every Sneki Snek sold, a contribution will be made to Conservation International to protect ten trees in the locations where it operates. With the help and support of fans around the world, Razer and Conservation International can easily achieve this.
To learn more about the Sneki Snek X Conservation International partnership visit here
PRICE AND AVAILABILITY
Razer Iskur is available for pre-order for € 499.99 on Razer.com.
The Razer Seiren Mini is available on Razer.com and at select retailers for € 59.99
The Razer Kraken BT Kitty Edition is available on Razer.com and at select retailers for € 109.99
The Razer Sneki Snek Plushie is available on Razer.com and at select retailers for € 34.99.