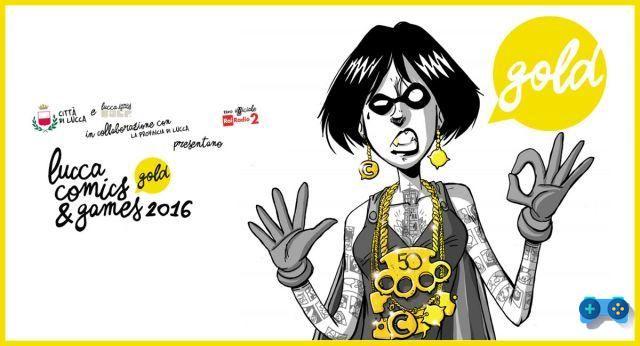 We fly higher and higher!
Once you visit it, it is difficult not to be fascinated by its mighty and magnificent walls and its typically medieval style. And if you love video games, comics and cinema, it becomes an inevitable annual stage in the life of each of us: we are talking about the wonderful Lucca, and specifically the very famous Comics & Games, one of the most important European trade fairs of its kind that this year has reached a great milestone celebrating its 50th anniversary.
As has become tradition, I could not miss the 2016 edition of this immense event that every year is able to give me emotions like the first time thanks to the evocative views of the town, the guaranteed fun and the myriad of exhibitors, cosplay and guests present. Strong of the increasing attendance of the past years, the Lucca Comics & Games has become increasingly vast and known and still continues to record dizzying numbers: with over 271.000 tickets sold and over 500.000 visitors in just 5 days, the Lucca fair marks a new and impressive record that can only confirm the enormous success of this event.
First of all, I would like to make a note of merit to the organization of the festival as, despite the hundreds of thousands of people, it is always managed in an efficient and orderly way, all thanks to the very helpful and kind staff of the stands. I can hardly believe that dealing with such a large number of visitors for 5 days in a row is not absolutely simple, and the discussion is extended to all citizens of Lucca, owners of restaurants and shops in particular given the disproportionate influx of customers.
Going to the gist of the fair, this year there were really many exhibitors and the guests were truly exceptional: it was in fact possible to meet famous and important figures such as Hajime Tabata, director of Final Fantasy XV, the great Frank Miller, Milo Manara, Cristina D'Avena, Zerocalcare, Zed Cook, Maccio Capatonda, Deanna Troi, Rocco Siffredi (really) and many others, all obviously located in different areas for specific events. In short, a very high level "cast" that seems almost a shame not to bring it back in full.
It goes without saying that all the pavilions were literally stormed due to the even wider variety of content on offer. Regarding theMovie area, the success was enormous: with 20 guests from the world of cinema and TV series, 25 screenings and 11 events including meetings, exclusive previews and panels, the queues could only be kilometers long, recording the beauty of almost 10.000 spectators only in this area; very nice, in particular, the Warner Bros. pavilion which this year, among other things, also exhibited several original objects directly from the set of the Harry Potter films.
Many, as always, the stands dedicated to the world of comics and manga, inside which you can really find everything, from books to action figures up to the most disparate t-shirts. L'Games areaInstead, it has been totally revised compared to past years in order to better organize the space available: the huge Carducci pavilion, in fact, mainly saw the presence of board games, leaving only a small area dedicated to some exhibitors games like Euronics, ASUS, MSI and HyperX, where I also got to meet the beautiful and very nice cosplayer Giada Robin. Obviously I could not take a picture with her and buy a preview of her signed 2017 calendar with a dedication. The mythical and well-known Paolocannone also hung out in those parts, who together with Terenas and other well-known figures was one of the guests of honor for the world of league of legends. Also this year, the Riot Games MOBA was one of the main protagonists of the fair and, given as always the very high number of fans present, it was decided to choose the former Cavallerizza as the only location in which to play tournaments, buy merchandise official and much more, thus eliminating the dedicated space in the Games Area as in previous years. Among the guests were also present Christopher Campbell and Brian Feeney (aka FeralPony), two members of Riot Games who unveiled interesting behind the scenes of League.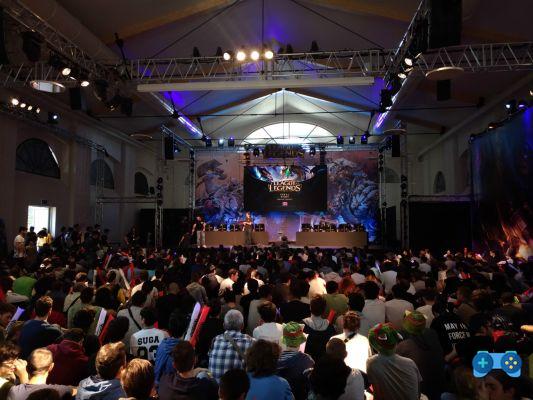 The stand of PlayStation, which took place in Piazza Santa Maria Foris Portam and made beauty available nearly 20 playstations equipped with PlayStation VR to let you try the brand new Sony virtual reality experience. There were obviously several stands scattered around Lucca that allowed you to try titles such as Tekken 7 and the highly acclaimed Battlefield 1, who also brought with him an authentic plane from the Great War.
Furthermore, among the most interesting novelties of this year, the Lucca Escape Room, a type of game that is experiencing great success not only in the Tuscan town: the aim, for those who do not know it, is to get out within the time limit from the room where you were locked up with a group of friends, but to do this, it is necessary to solve various kinds of puzzles. Logical and collaborative skills, therefore, play a fundamental role in the success of this goal and, undoubtedly, fun is guaranteed.
In short, we would have to write a book on everything that Lucca Comics & Games has to offer, especially now that it boasts an extension and a mass of amazing content. In this regard, the only "flaw" I feel I can mention is the fact that the fair appears to have become a bit dispersed, perhaps due to its vastness. By this I absolutely do not mean that everything should be stacked in the same spot, but I noticed that the subdivision of the areas in which the various stands are present is not particularly orderly. In my opinion, to optimize the influx of the public on the basis of their interests it would be necessary to "divide" Lucca into three macro-areas, namely cinema, games / video games and comics / books, within which to set up all the pavilions and themed stands , without having to go from one end of the city to the other to go from PlayStation to League of Legends (to give a concrete example).
Apart from this very subjective note, however, the success of the Lucca Comics & Games 2016 it was impressive and without a shadow of a doubt remains one of my favorite trade shows thanks to all it has to offer and the great organization and kindness of everyone who goes out of their way to provide the best possible service.
All that remains is to wait until next year to return to this fantastic world, with Lucca Comics & Games that renews the appointment from 1st to 5th November 2017, ready to (hopefully) break more attendance records and invite new famous guests.