Many are wondering how to take screenshots of theiPad? the system is there and it is very simple and immediate and it works with any application and whatever is on the screen at that moment.
We just have to press the Home button and the On / Off button at the same time, we will hear the classic click of the photo shoot and the screen, for a moment, will show a white flash.
Now the captured screen is inside the app Images, exactly as if we had taken a picture with the device's camera. The same procedure must be performed if we have a iPhone.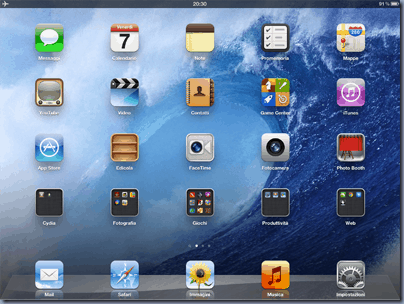 As regards the Mac the screen capture can be done through the combination of keys cmd + shift + 3 on the keyboard, a png image with the desktop photo will be saved on the desktop and the correct execution of the capture will be signaled by the sound of the camera.
To capture, instead, single portions of the screen, you need to perform the combination cmd + shift + 4 on the Mac keyboard by marking the area of ​​the desktop to be photographed with the mouse.