If you are having trouble accessing your favorite social network or are wondering how to recover TikTok account and videos you have posted, fear not. Just follow these short instructions to fix the problem.
Certainly it is unpleasant to try to return to your favorite social network but find it blocked. This is something that has happened more or less to everyone, for this reason various possibilities have been devised, in order to have access again to these apps that are now so important.
If you've been looking for this article right away, there shouldn't be much difficulty. You will just need a little patience to follow our instructions.
Guide to recovering your deleted account on TikTok: this is what you can and cannot do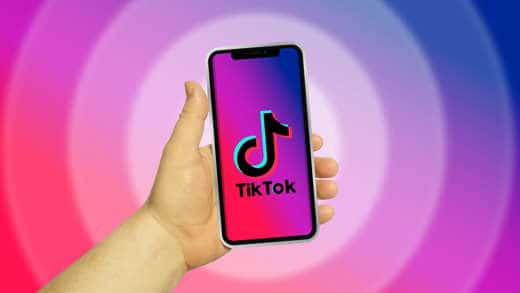 Before explaining to you how to recover TiKTok account we must point out that there are possible scenarios, some more serious and complex than others, but which in any case will allow you to get back to your social page.
Also Read: How To Make A Perfect TikTok If You Are A Beginner
How to recover a TikTok account without having the password
If you want to log into your TikTok account, but have forgotten your password, know that you will not find any difficulties. Once you have launched the app on your phone go to Log in to do tap su Use phone / email / username. Select at the top right Email / Username and then the question on the login form: Password forgotten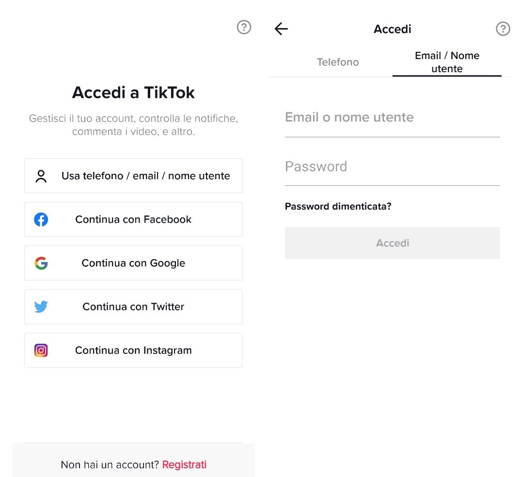 Select whether to obtain the password by Phone number or by Email. This depends on the data you entered when registering.
Once you have chosen, click on the button Send Code o Reset, to receive the verification code. From here you will simply have to select Submit and type the new password to use for TikTok. Then by tapping on Log in you will be in possession of your account again.
How to recover a TikTok account without having the email or username
If what you need for recover TikTok account is the email, just remember the username, or have also set the mobile number, during registration, as a method of account recovery.
To obtain the username, the shortest way is undoubtedly to ask a friend to read the nickname that appears under your profile image, the name that is preceded by a @.
Fai tap her Log in and then Use phone / email / username.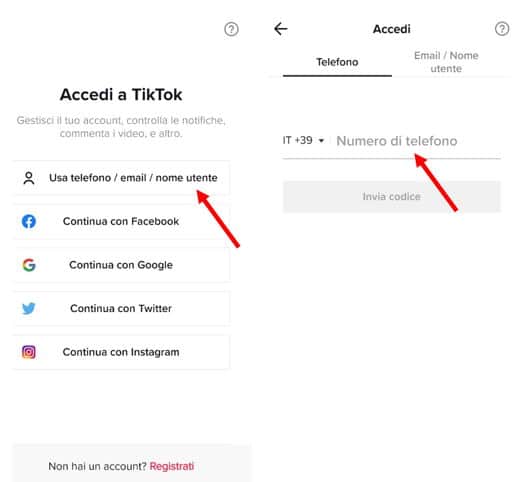 At this point you just have to enter yours telephone number in the space provided, press the button Send code and wait for the SMS to arrive.
Enter the code received in the appropriate section and press Submit. Here is your account again.
Remembering the username, another possible way to retrieve the email is to enter this, together with the password, in the fields to be filled in for login, then selecting Log in.
From here, you can easily view the email you used at the time of registration, by tapping on Me and then on the three dots at the top right. In the section Account management you will be shown the email, even if partially obscured.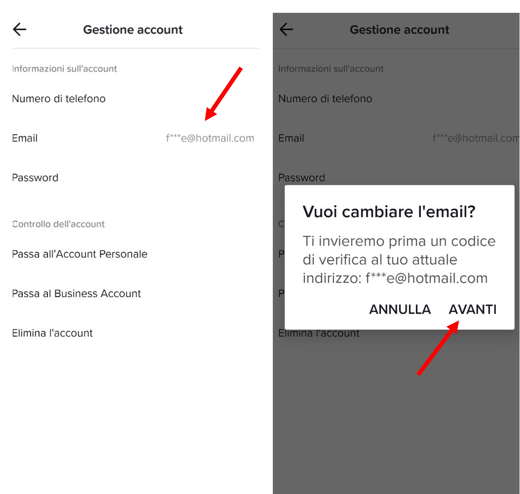 Going now on the item E-mail and then NEXT, you will have the opportunity to receive a message at the e-mail address indicated, in order to have confirmation of which one it is.
At this point, if you want to change it, you just have to write the code received in your mailbox in the appropriate field and access the form to do this.
Alternatively, if you do not have the possibility to access that specific email, select the question: Can't access the email address? to access the section Feedback and assistance.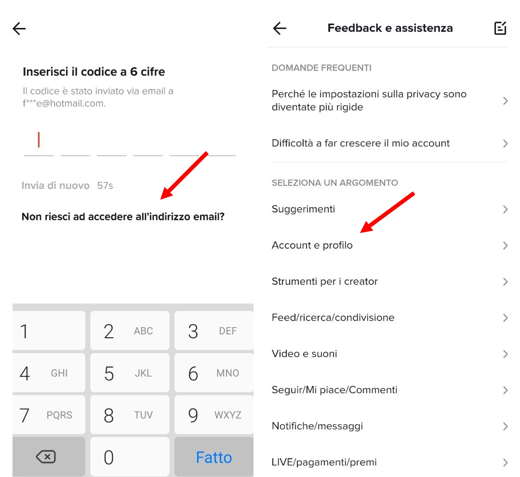 Here select Account and profile> Email and phone number and select one of the topics that will help you recover your account.
Read also: How to change your name on TikTok
How to recover deleted TikToks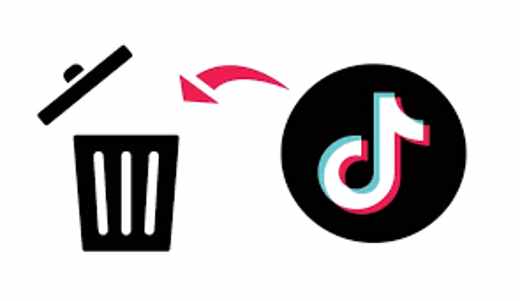 What to do if, once you get to your account, you notice that some TikToks are missing? There are several ways to recover deleted TikToks, so don't worry.
The only time it will unfortunately not be possible to have a video again is when this one has violated the fundamental rules of the social network and therefore, for legal reasons, it is no longer available. The only hope is to contact support for clarification.
Before starting the procedure to recover a lost video, however, it is important to check the section Drafts of your account, because it often happens to register something and then mistakenly think that you have published it. To find them you must:
Open the TikTok app for Android or iOS.
Tap on Me, at the bottom right.
Press the icon with the four bars.
Also Read: How To Save TikTok Videos Without Posting
The first TikToks to get back are undoubtedly the Favorites. To do this, just:
Open the TikTok app for Android or iOS.
Select Me at the bottom right.
Go to the heart icon.
Here you will find the section of deleted videos. Locate the one you want to have back and tap the share button, from where you will have the option to save it.
Backup is another effective way and to go this route you just need to check between the apps on your mobile device that have this feature.
Another possible solution sees the use of applications created specifically to recover videos and clips. To learn more, I invite you to read our complete guide: how to recover deleted TikToks.
How to recover a TikTok account that was deleted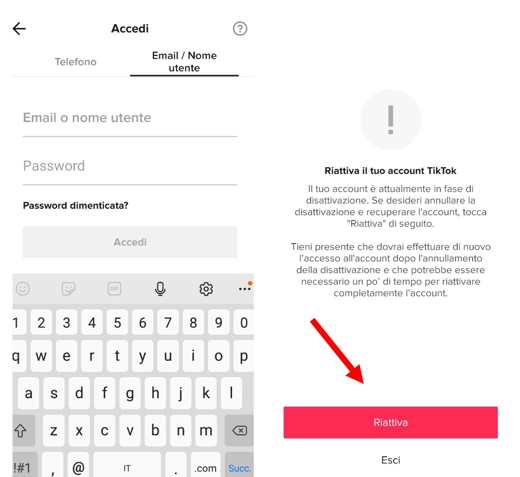 In the past you decided to delete your account, but now you regret it and want it again. So now the point is: how to recover an old TikTok account?
If all this happened less than 30 days ago, you will not find great obstacles.
All you have to do is tap the button Me, going up Sign Up and subsequently on Log in. From here you just need to log in to your page using your email, your username or phone number.
You will now be asked if you want to reactivate your account. Obviously you will accept, by pressing on Reactivate, and you will finally be in possession of your profile again.
In case you have deleted your presence on TikTok for more than 30 days, unfortunately it will no longer be possible to do anything, if not create yourself a new account. By doing this, however, you will have lost everything that was on your old page.
How to recover a locked TikTok account
First of all, it is essential to understand the reason for this block. The service may in fact have had more than valid reasons for such an action.
From 9 February 2022, at the request of the Privacy Guarantor, for example, all accounts of users under the age of 13 are automatically blocked.
For this, the quickest way is to contact TikTok directly via email at: feedback@tiktok.com.
In the message, specify your point of view, in order to ask for the reactivation. This will not lead to an automatic recovery of the TikTok account, but if you have a clear conscience there is a lot of chances that everything will go well.
Also read: TikTok terms of service
How to solve problems or concerns about TikTok
In the event that you encounter problems in one of these processes or need to clarify any doubts about it, the TikTok support service is always available to help you.
To contact him, all you have to do is write to: feedback@tiktok.com.
In the email you will send you will have to specify the problem in the subject and in the text provide all the necessary data, including those of your account.
The operators will do everything in their power to help you as best as possible in the shortest possible time.
Other useful articles
How to get visibility on TikTok
How to put your private profile on TikTok