There are many applications that allow you to record the screen of the Windows 10 PC, but they are usually either paid or have limited functionality.
With the new Windows 10 operating system, Microsoft has decided to integrate a hidden function called Xbox Game Bar. Let's see how it works and above all what are the free alternatives.

Index
How to Record Windows 10 PC Screen
Other free programs to record screen on Windows 10

CamStudio
OBS Studio
Flashback Express
ActivePresenter
How to Record Windows 10 PC Screen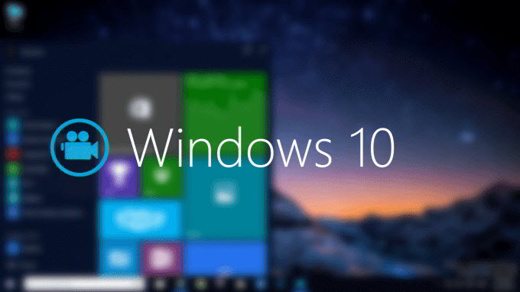 This is an application introduced in the new operating system to record game sessions, but it can also be used for record the screen of the Windows 10 PC.
The advantages are that it does not require any installation, as the feature was introduced about 2 years ago in the version 1703 of the Windows 10 Creators Update and you can use it without any time limit and advertising.
Unfortunately it has some limitations, such as not being able to record the desktop and File Explorer, but it can record any application such as a game or other. It works as a proprietary add-on already present in the settings of your Windows 10 PC.
To use it, start the app Xbox Game Bar and press the key combination Win + G. A series of customizable panels will appear on the screen that you can drag to any area of ​​the screen. These are widgets whose purpose is not to distract the gamer during his gaming session and whose intent is record the PC screen.

There are 6 panels in the game bar: Audio, Acquire, Performances, Xbox Social , Collection, Xbox achievements, Attiva Clickthrough. Besides these widgets you can add others by pressing on Menu widget. Next to it you will also find the Settings (gear wheel), where you can customize your recordings by going on Beta srl to act on the sections Registration in progress e Audio to be recorded.
The recordings will be saved in the folder Video/Captures of your PC (for example C: UsersfabryVideosCaptures) and you will be able to view or share them online through the Xbox app.
Attention recording is only allowed within the app and supports a maximum resolution of 1080p.
For
You don't need to install any software.
Turn the microphone on / off during recording.
Trim the start and end of videos after recording.
No watermarks, no time limits, no ads.
Cons
It is not allowed to record in full screen, webcam or specify a resolution to be captured.
No "pause" function during recording.
Limited video editing capabilities.
Xbox Game BAR: hotkeys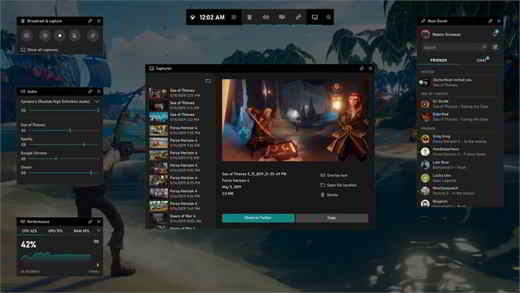 To make it easier for you to access the Game Bar features easily, here are some key combinations to use:
Win + G: opens the Game Bar
Win+ALT+STAMP: take a screenshot by capturing the screen.
Win+ALT+G: record the last 30 seconds of the game.
Win+ALT+R: start / stop recording.
Win+ALT+M: starts / stops recording from the microphone.
Other free programs to record screen on Windows 10
If you are looking for more professional but free software, here is a selection of screen recording or screen capture programs that also have video editing functions for Windows 10 that may suit your needs.
CamStudio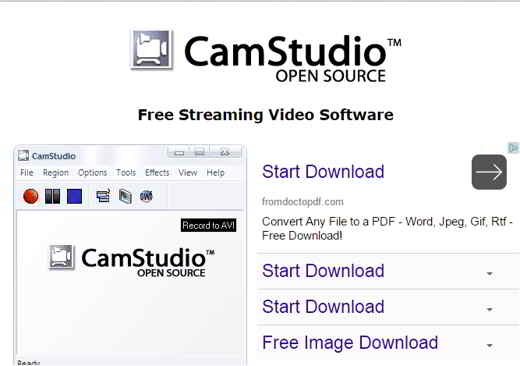 CamStudio is a very popular program among free screen capture software. It has several features, tutorials and video presentations that make screen recording easier. The software can export any video file you have recorded in AVI format as well. It also allows WebCam recording, compression methods and high quality recording options.
For
E' open source.
Easy to use.
Audio recording options to add later.
Adding captions.
No watermarks, no time limits, no ads.
Cons
It only supports Windows.
No integrated video editor.
It offers only AVI and SWF formats.
Not recommended for game recording.
For more information on CamStudio take a look at this guide on: How to film the PC screen.
OBS Studio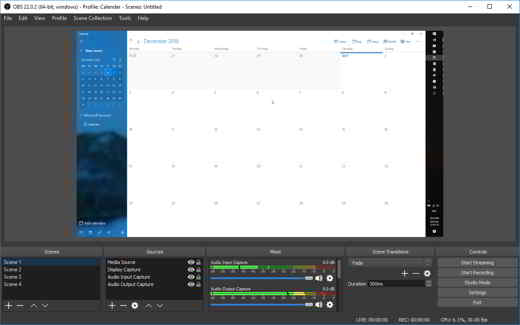 OBS Studio is software that record PC screen for free and in live streaming, with no watermark or time limit. It is much preferred by the players to broadcast their live game footage. Using OBS Studio, you can capture not only the entire display or window, but also from webcam and microphone. When it comes to streaming, the program allows you to select desktop applications and audio sources to share, as well as create layered videos for the webcam.
Unfortunately it does not integrate with a video editor, if you want to edit a recorded video you will have to use another tool.
Warning: it is an open source program, always download it from the official website.
For
Record everything.
Stream to Twitch, YouTube, Mixer, DailyMotion, and more.
Multiple filters for scenes, sources and audio devices
Intuitive audio mixer.
No watermarks, no time limits, no ads.
Cons
No "pause" function for recording.
No integrated video editor.
Difficult to use
Flashback Express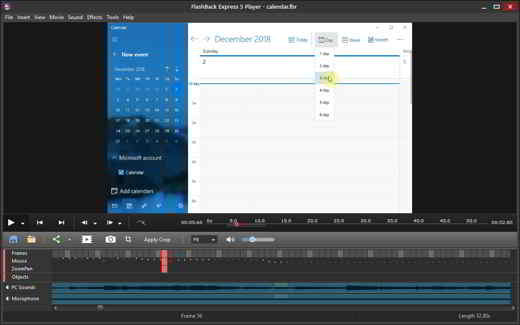 Flashback Express by Blueberry Software is free screen capture software and can also record screenshots, webcams and sounds. It does not set the recording time limit or watermark on the output video. If you are running this software on a multi-monitor system, you can record screenshots on multiple monitors or limit the capture to a single monitor. You can also use scheduled recordings to start and stop recording at scheduled times or when a specific application is started.
Flashback Express is a free version of a paid application, Flashback Pro. Although the two versions share the same recording capabilities, the free version does not include any video editing, annotation or effects features. As for sharing, users can save videos as MP4, REVIEWS o WMV and directly upload videos to YouTube. Only paid users can save videos as Flash, QuickTime, GIF, or standalone EXE and set password protection for the videos.
For
Record everything.
Record multiple monitors.
Scheduled recordings.
Highlighting the cursor.
Post videos directly to YouTube.
No watermarks, no time limits, no ads.
Cons
It is not allowed to record only from the webcam.
Limited video output formats: MP4, AVI, WMV.
No integrated video editor.
ActivePresenter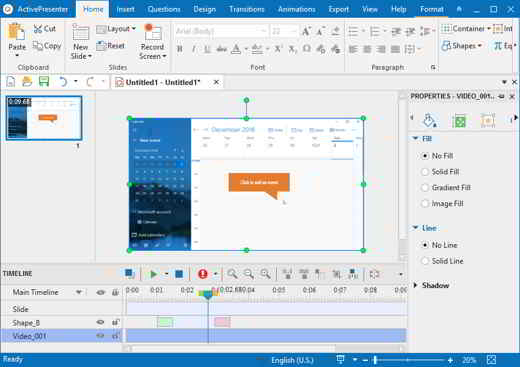 Active Presenter by Atomi Systems is an all-in-one screen recorder and video editor. It is much loved by YouTubers, video producers, educators and trainers that I have to do tutorials or demonstration videos. ActivePresenter has practically all the functions and effects you need to record your screen and edit your videos.
The free version of ActivePresenter is without watermark or time limit. After the capture phase, you can trim, split the recording, change the speed and volume, add subtitles, annotations, animations and more. When you upgrade to paid versions, more advanced video and audio editing features are available to create impressive video and software simulations.
For
Record everything.
It offers a video editor.
Basic video editing features.
Advanced video editing features.
Record software simulations with automatic annotations.
No time limits, no ads.
Cons
It is not allowed to schedule recordings.
No video cropping features, although there is a workaround.
Solo 64 bit.