Have you mistakenly sent a message to a group or contact on WhatsApp and want to delete it immediately? Well, from today WhatsApp offers the possibility of delete sent messages within 7 minutes of sending. It has been talked about for some time but finally the new feature has been implemented on all Android, iOS and Windows Phone mobile devices with the latest version of WhatsApp installed.
Keep reading this guide because in the next few paragraphs you will find out how to delete sent WhatsApp messages in a few simple steps. All you have to do is sit back and pay attention to what you read, because I am sure that when you realize that you have sent a message to the wrong recipient you will have no difficulty in deleting it quickly.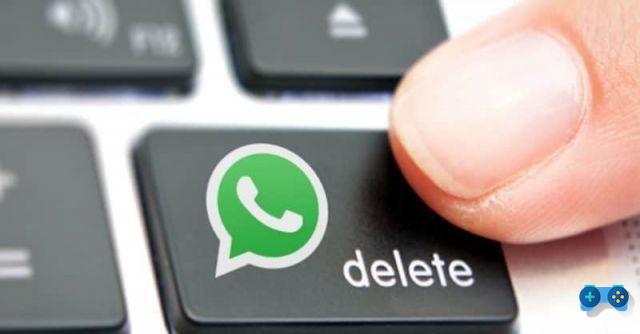 The most used messaging app in the world has finally introduced the new feature that will allow you to delete sent WhatsApp messages For error. You will be able to delete the offending message in both private and group chats within seven minutes of sending it. After this period of time, you will not be able to delete it.
The disadvantage is not only the short time guaranteed for deletion, but also the fact that the recipient may still have read the message. Furthermore, WhatsApp will not communicate to the person concerned the case in which the elimination will not be successful.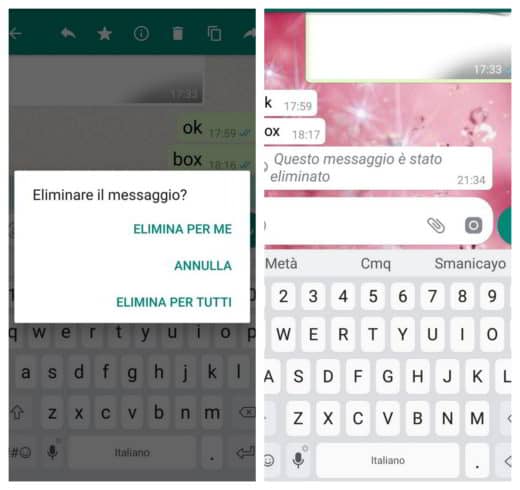 delete sent WhatsApp messages, after having sent one you have to click on it and press Delete, the trash can icon, then select Delete for all. In doing so, the recipient will see a message notifying the cancellation of the message: This messaggio è stato eliminato.
HOW TO DELETE WHATSAPP WEB MESSAGES SENT
To delete messages sent on WhatsApp Web, the procedure is very similar. You must first connect to the WhatsApp Web site and when you are in front of the screen Scan code, you open Whatsapp Web from your smartphone by clicking, in the main window, on the menu at the top right and then on the item Web WhatsApp. He then brings the phone in front of the computer monitor and focuses on the QR code. In this way you will see the WhatsApp command window appear with all your contacts on the left, and a warning will inform you of the need to keep the phone connected. Remember that to use WhatsApp Web, your smartphone must be connected via Wifi.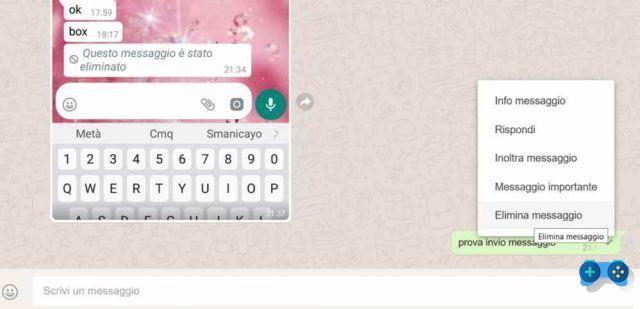 After sending a message click on it and in the menu that appears click on Delete Message. A window will appear where you can choose between Cancel o Delete for me.
Unfortunately, the command has not yet been entered on WhatsApp Web Delete for all. We are sure that the addition will take place in the next few days in this window.