Are you a member of several WhatsApp groups and do you often receive risque photos that you don't want to show in the mobile gallery? Does your girlfriend or wife often browse your Photo Gallery and would like to avoid finding yourself in embarrassing situations? I advise you to run for cover and to censor photos you receive on WhatsApp avoiding foolishness or even worse a bad scene from your partner.
Read on and I'll reveal to you in a few simple steps how not to save the photos you receive on WhatsApp hiding the folder that contains them.
The first step on Android is to install a file manager like CX File Explorer. Go to Memory or SD Card and navigate to /WhatsApp/Media/WhatsApp Images, and rename the folder WhatsApp Pictures adding a period ahead to the name (.WhatsApp Images).
By doing so, if you press and hold the camera button in a chat session to access the mobile phone gallery, you will notice that the WhatsApp photos will no longer appear and you can sleep peacefully.
If not, go to Impostazioni> App and clear the Photos app cache.
If you have an iOS mobile device, for example a iPhone, For How not to save the photos you receive on WhatsApp, all you have to do is go in Settings> Privacy> Photos and disable WhatsApp.
From then on, any photos you receive will not be saved to your mobile device.
How to restore saving WhatsApp photos on phone or sd card

To restore the initial situation and save WhatsApp photos on your mobile device you must first remove the point from the folder WhatsApp Images and if that doesn't fix it, open it ES File Manager click on the icon with the three horizontal lines at the top, next to the Homepage symbol e activate the Show hidden files option.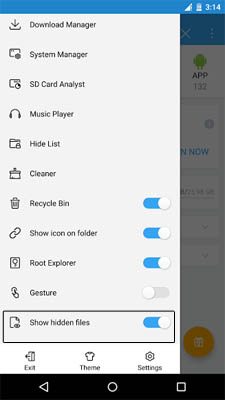 Other useful articles