Here is a guide on how Messenger Rooms works, the Facebook room where you can make group video calls for up to 50 people.
The latest addition to Mark Zuckerberg's social network is called Messenger Rooms and allows you to make group video calls up to 50 participants. Let's see what it is and how it works.
How Messenger Rooms works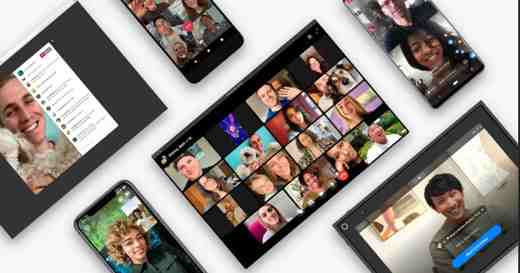 With the introduction of distance learning and smart working, the giants of the best video calling programs such as Microsoft Teams, Zoom, Skype and the same WhatsApp, have begun to acquire considerable popularity in both the school and the workplace.
In this context, the giant of Menlo Park decided to gear up with Messenger Rooms, also called Facebook Rooms, a virtual room where you can invite anyone for a video call with up to 50 people without any time limit. The invitations are valid both for those who are subscribed to Facebook and for those who have no account on Facebook.
To use Messenger Rooms you need to join the video call by clicking on an invitation link received privately or found in the room creator profile in a group or event.
If you already own the Messenger app (otherwise it is available for both Android and iOS) you can not only take advantage of the additional services offered during a video conference (for example effects AR to make the conversation more fun) but you can also create rooms by inviting people to join through a shared link via your news feed, event, or group.
By creating the Facebook room you can decide who will be able to see and join it. You can also remove attendees and lock the room as and when you want.
The element is not missing privacy of users. In fact, it is possible to report all those rooms that do not comply with the rules set by the platform.
After the increase in the number of participants in video calls on WhatsApp, Facebook is thinking of introducing virtual rooms also on WhatsApp and Instagram.
Create a Facebook room from Messenger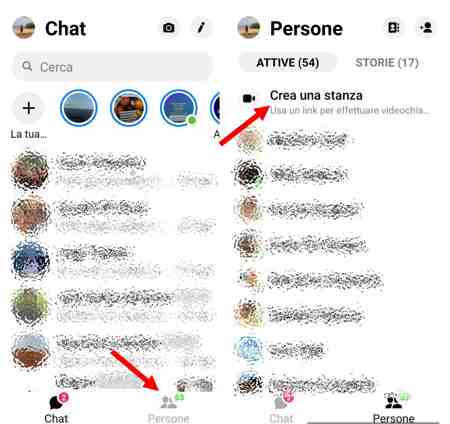 Creating the virtual room on Messenger is simple. Open the app and press the tab People at the bottom and in the following screen press on Create a room. Here you can decide who to participate by clicking on Modification and specify whether to involve only people with the link or only people on Facebook, and then press the button Share link.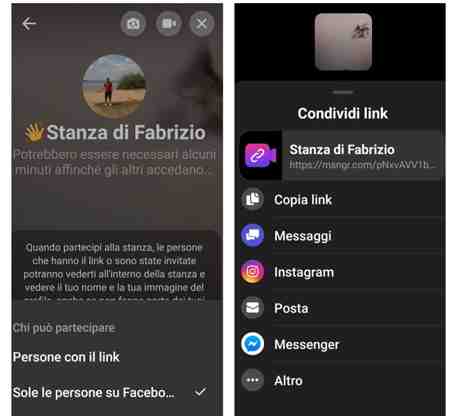 In case you don't see the link Create a room, update Facebook by going to Play Store o App Store from your mobile device to check for updates.
Invited people who received the link will be able to join the video call. The Facebook room creator can perform a variety of actions such as locking the room and leaving it, which other participants also have. The available options are:
Blocking of rooms: Rooms can be locked or unlocked when a call is initiated. If a room is locked, no one else can join, except a group administrator for rooms created through a group.
Remove a participant: The room creator can remove all unwanted participants. If the room creator removes someone from the call or leaves (delete Facebook room), the room will automatically lock and the room creator will need to unlock the call for others to join.
Departure: If at any time you feel insecure in a room, you can leave. Just because a room is locked doesn't mean you have to stay.
Relationships- You can report a room name or send feedback on a room if you believe it has violated community regulations.
User lockout: When someone you have blocked is connected to Facebook or Messenger, they will not be able to enter a room you are in and will not be able to join you.
Other useful articles