You were looking for info on how Paypal works? Read the article to find out all the details on how Paypal works!
The digitization of services has now become a reality, nowadays we can buy food, products and services on demand with great ease simply with a click on our smartphone or computer. You will have noticed that this evolution does not manifest itself only with the expansion of e-commerce but also through online payment processes.
Until a few years ago there were few people with a prepaid, debit or credit card capable of making online payments, but today everyone can do it with great ease thanks to a platform like PayPal.
You will surely have noticed how for some years this company has been synonymous with warranty for consumers and that more and more people buy goods and services through the official app or PC. But how PayPal works and how to best manage it? In the next few lines we will answer these and other questions on the subject.
Details and tips on how PayPal works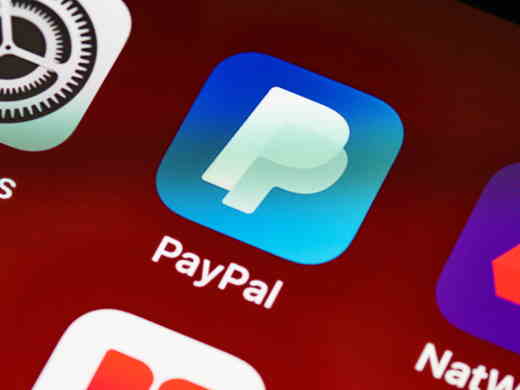 Before examining more deeply the characteristics and methods of use of PayPal, it is advisable to define it and understand what it is for.
From a technical point of view, PayPal is nothing more than one digital platform capable of sending and receiving money without the need to type in the credit card number or the coordinates of the current account, for the purpose of paying for online purchases or making transactions with friends, relatives and customers.
You can use PayPal in a very simple and fast way both on your PC and from the official app. These systems allow you to exchange payments simply by entering your email and linking a credit, debit or prepaid card to your digital account. Operation is truly within everyone's reach, you can make transactions all over the world, the platform, in fact, is international and was created with the aim of speeding up the exchange of money and protect consumers in case the sellers reserve some nasty surprises.
How PayPal is made and how much it costs

The first question to ask is certainly: how do you open a PayPal account? It is actually very simple.
Go from your PC to the official PayPal page by clicking on the orange button in the center Register for free. A window will open where you will have to choose whether to open a Bill Staff or a Business account. Select the one you want and click on Continue.

The next screen will ask you to enter your phone number, enter it and press on NEXT. PayPal will send you a code via SMS that you will need to enter in the window open on the browser. Once entered you will be officially on the platform.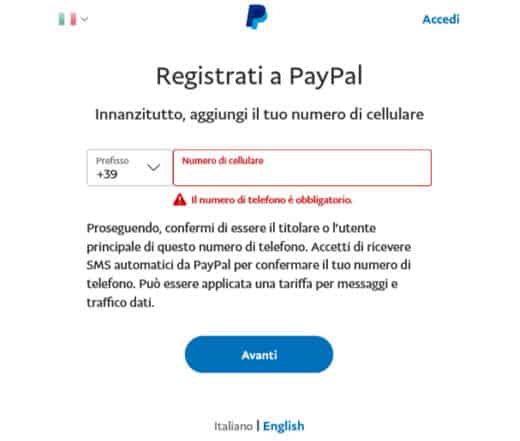 Opening a PayPal account has no cost, the digital platform allows you to carry out your operations without initial investments.
How PayPal payment works
Let's see how you can send and receive a payment via PC from this platform.
Access the PayPal home page by making the Login, you can do this by entering email e Password choices during registration.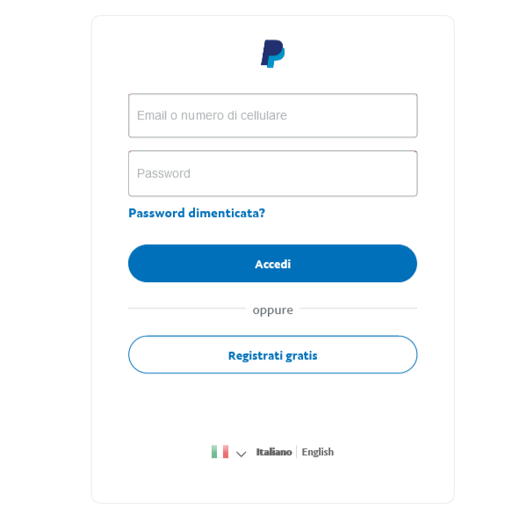 The home page is a summary of your account, with balance and movements made. For money exchange transactions, click on Send money, placed in the section Quick links or from the menu Make and receive payments> Send money.
Enter the iemail address or cellphone number I awarded her NEXT.

In the following screen type theamount to be sent, specifying a currency if different from euro, and press on Continue.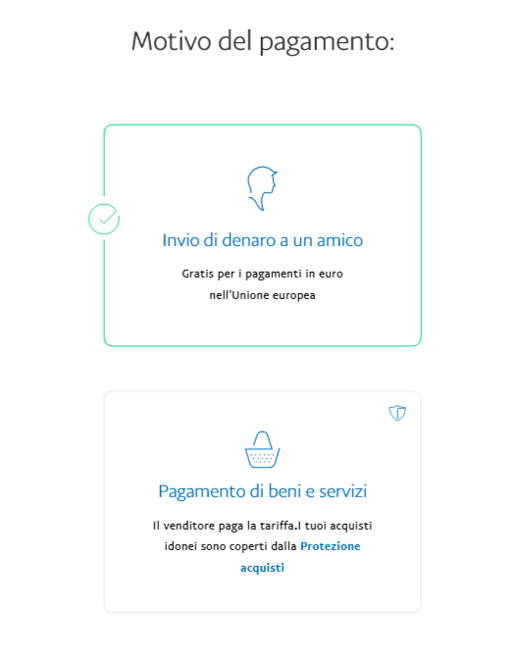 Now you can choose if send money to a friend or family member or to a seller with goods and services. In the first case there are no costs in the second yes, but you will have more guarantees in case of problems.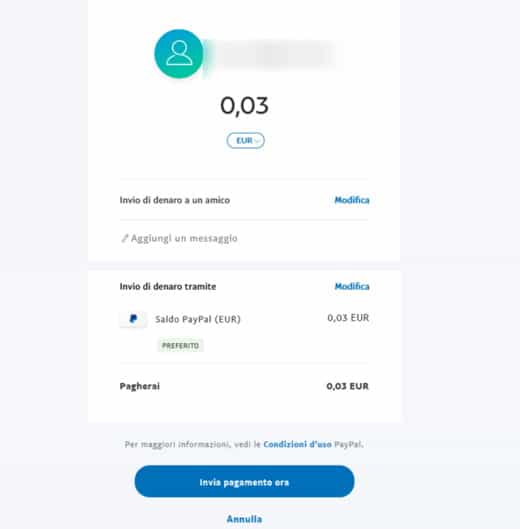 Once you have chosen the mode, press the button Sending payment now to finish. You can also add a message and shipping address.
Read also: How to pay with PayPal online
How the PayPal account works and what risks are involved
You may not have any balance in your newly opened PayPal account, but you want to do the same for inbound and outbound transactions. For this to happen you must necessarily link an account or a card, either debit or credit, to the PayPal account. How to do? Let's see it together.
We connect the bank account to the PayPal account: by clicking on the menu item Make and receive payments, present at the top of the home page, choose the option Bank accounts and cards, under the section Wallets. Press on Link a bank account o Connect one paper. Once you have made your choice, follow the instructions of the platform for entering data.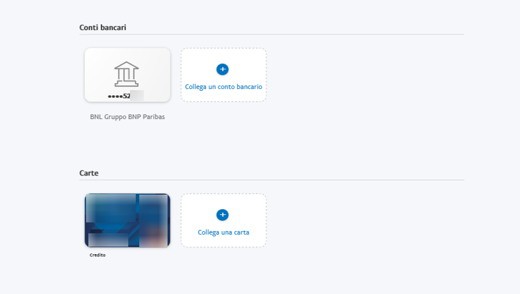 You can also do this from the PayPal app for Android e iOS pressing the icon of Settings (gear icon), top right, and tapping up Bank accounts and cards. From here you will have to press on the symbol capacitor positive (+) lead and subsequently on Bill banking o À la Carte. In the first case, add your account details and give the green light by tapping on Add this bank account.
How PayPal works between individuals
PayPal it gives you the possibility to carry out transactions even with individuals and not only with e-commerce and online sellers. The process is very simple, but we recommend that you evaluate the option Sending money to a friend in order not to incur additional commissions.
How PayPal works for sellers
The platform behaves slightly differently for those who sell online, in fact gets a commission from every transaction that takes place. If a customer can use it at no additional cost, a seller will have to charge a commission of 3,4% + € 0.35 for each transaction. Let's say that the seller has to receive a payment of 100 euros, this amount will have to be subtracted 3,4% + € 0.35, thus obtaining € 3,4 + € 0,35. In total, the seller will therefore have received € 100 -3,75 € = 96,26€.
If, on the other hand, it is a Onlus the percentage drops drastically to1,8% + € 0,35. Although the fees may seem excessive to you, these costs are justified by the assistance available and the guarantee they offer to customers in the event of a scam. As previously mentioned, customers are more likely to buy from a platform with PayPal as a payment method, this inevitably leads to an increase in the cost of commissions. For more details, I recommend that you consult the Rates page for PayPal sellers.
How to request a refund on PayPal
A very dear topic to the platform and its customers is the refund request, how can you request it in a short time?
If you have made a payment and simply want to request a refund, just open the section History> All transactions, locate the transaction made previously and press the key Refund. PayPal will send a message to the seller and will arrange the fastest refund if there are terms to do so.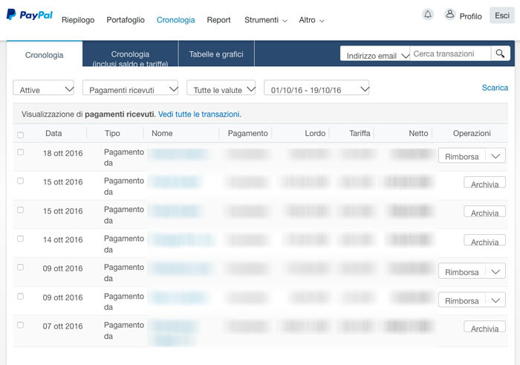 In case you don't see the Refund button, click on the transaction and then, at the bottom, on the link Resolution Center. The page will appear Report a problem, select one of the problems listed to get help from PayPal support.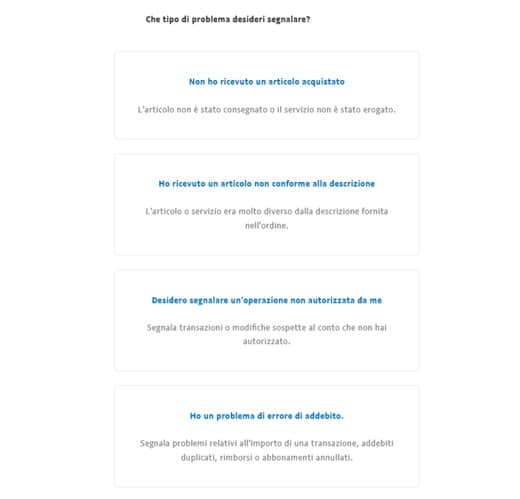 You might also be interested in our guide on how to report an unauthorized payment with PayPal.
How PayPal works to receive payments
You can of course also receive payments to your PayPal account and there are several ways to do this. The first is that of send your PayPal account email to the person who has to pay you, this will then proceed to pay the amount due. the second instead is that of send you a payment request entering by choosing the option Request money, visible in the section Quick links or from the menu Make and receive payments> Request moneyIn section Accept payments.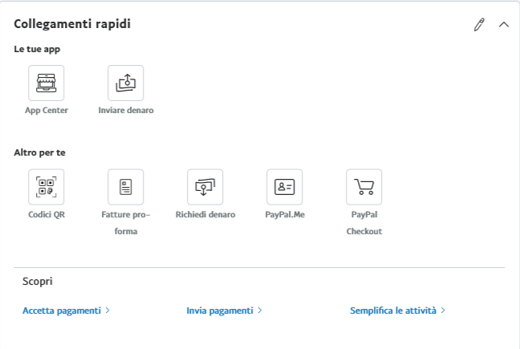 After pressing on Request money, insert email address o cellphone number to make your request and press the button NEXT. On the next page enter theamount required and press pulsating Request money now. You can request money for up to 20 people.
In addition to the above mode by accessing from the app and tapping on the key Request you can take advantage of these other options: Share your link, Send pro-forma invoice e Divide the expense.
How PayPal prepaid works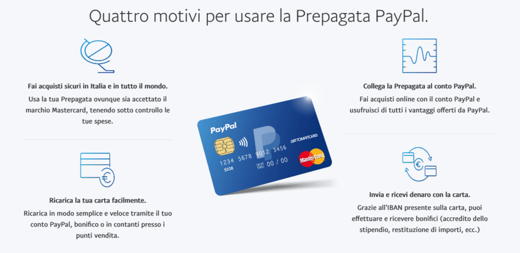 Among the many functions of this digital platform there is also that of creating one paper Prepaid.
The PayPal prepaid card is nothing more than one rechargeable card with which you can make purchases on the web in stores that support payment methods with MasterCard. It is very useful if you have to withdraw at the counter since at the moment you will have noticed we are still digital.
But how does the PayPal prepaid actually work? The card literally acts as a refillable on which the code IBAN, extremely useful if you wish receive or send money by bank transfer or top up a PostePay. You can top up it directly from your PayPal account or take advantage of the services of Lottomatica o Bank transfer.
require la PayPal letter you do not need to be an account holder PayPal. You can get it in two ways: by connecting to the site PayPal and fill in the request fields of the paper which will be delivered to your home or by purchasing it directly at a point of sale Lottomatica. For more information, I invite you to read the page dedicated to the PayPal prepaid card from the official website.

How PayPal.Me and PayPal Business works
You will surely have seen some commercials on PayPal.Me e PayPal Business, ma come funzionano?
PayPal.Me is a customized system that allows you to create a tailor-made link to better define the payment methods through social networks and chats. To create a custom link via app PayPal, press the gear icon and open the settings. Go to the section Profile Public I awarded her Create your PayPal.Me link. A window will open where you will have to click on the option Create a PayPal.Me profile, here enter the link you want to use for payment and click on NEXT. Accept the contract that will be displayed on the screen and click on end.
Da computer, connected to the PayPal site and go to the menu Make and Receive Payments> PayPal.MeIn section Accept payments.
PayPal Business instead it was designed for those who have an intense work activity. It is always free and you do not need to have an email address previously registered with the PayPal service. Companies use it mainly for PayPal Commerce Platform which allows you to better monitor payment activities.
Read also: The best apps to pay with your smartphone
How to contact PayPal customer support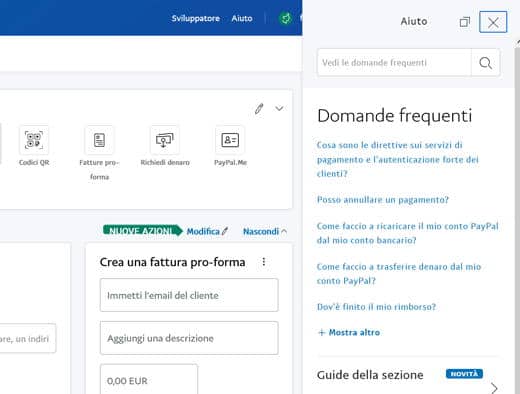 Among the strengths of this platform there is an excellent support service. You can contact him on the main social networks or take advantage of the dedicated area in the application.
Open the app PayPal and pressing, at the top right, on thegear select the item Help (from the browser you can find it next to the Developer item). The most frequently asked questions will appear, if you do not find the ideal answer, press on contact Customer Service at the bottom of the screen to speak with an operator.