Do you want to know how do you use IGTV Instagram? In this guide I will reveal to you what IGTV, the new app for Instagram videos, is and how it works. It is an app integrated into the photographic social network dedicated to the creation and use of video content with a duration of up to 60 minutes.
Are you curious about how to upload an IGTV video? Want to find out why IGTV isn't working or uploading videos? Make yourself comfortable and continue reading by concentrating on reading the next lines, because at the end you will be able to understand how do you use IGTV Instagram and to entertain all those who follow you on Instagram.
What is IGTV Instagram
IGTV as I have already anticipated is an Instagram app presented on 20 June 2018 whose name comes from the merger between IG and TV, IG is nothing more than the abbreviation of Instagram, while TV indicates television. The purpose of this app is to allow users to create vertical videos up to 60 minutes long to entertain community users.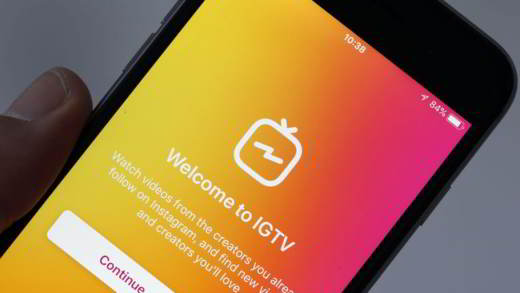 The videos on IGT must be not only vertical, but have an MP4 format with radio aspect from 4: 5 up to 9:16, a duration between 15 seconds and 10 minutes for normal users (with a weight no more than 650 MB ) and a maximum of 60 minutes for influencers (weighing no more than 5,4 GB).
For more information, I recommend that you read the community guidelines thoroughly.
How do you use IGTV Instagram
After telling you what IGTV is, let's see together how Instagram's IGTV works and how to get it on your mobile device.
If the Instagram app on your Android or iOS mobile device is up to date, the IGTV section should already be activated and visible. By clicking on its icon at the top right, you can view its Home and start discovering its features. If you want to install the IGTV app, you can download it for Android e iOS searching for it in the respective stores to start it by logging in with the Instagram account. On the Web side, you can take advantage of IGTV by logging into Instagram and clicking on the tab IGTV positioned under the your profile bio.
Once inside IGTV you will find that the videos are automatically visible and made available by the users you follow on Instagram.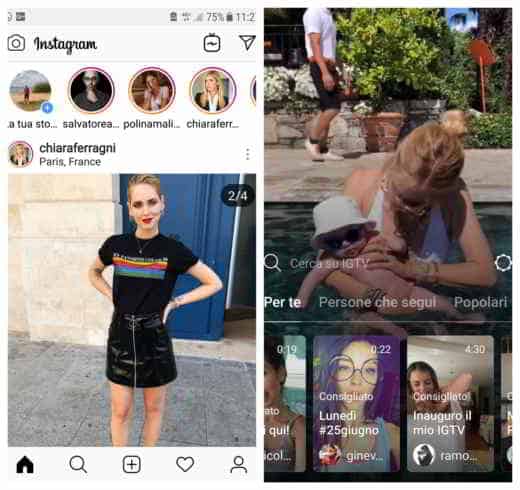 You do not have to carry out any research but simply watch the proposed videos or choose one of the tabs below to browse the available contents: te, People you follow, Popular, Continue a watch.
For you are the videos that Instagram recommends
People you follow are the videos uploaded by the users you follow
Popular are the most popular videos of the moment
Continue to keep are those videos that you started watching but have not completed viewing.
After making your choice, tap on one of the small videos below to start playing it and swipe down to hide the thumbnail videos below. If you want to scroll to go from one video to another and not wait for it to finish, swipe left or right to go back and you will go to the next videos.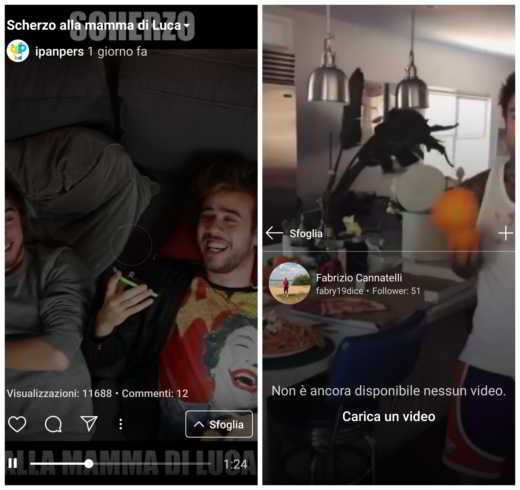 At the bottom of each video you can use the options that allow you to comment (icon of comic), to appreciate (icon of the little heart) or send a message through the icon of the airplane.
Also here you can search for a video on IGTV by clicking on the symbol of magnifying glass and then specify what you are looking for.
How to create a channel on IGTV
With IGTV it is possible to upload videos you have created, but you need to create a channel. To do this, open Instagram and press onIGTV icon, top right, and then presses onicona dell'ingranaggio. In the menu that appears, choose Create a channel, awarded his NEXT twice and finally on Create a channel.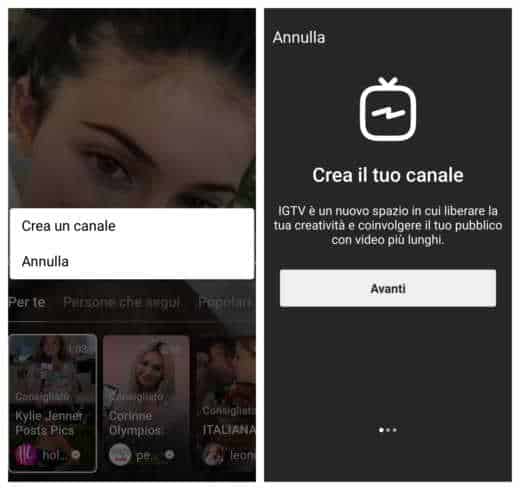 From the IGTV app the path is identical, on Instagram Web after logging in, press on your profile photo and then click on Channel> Create a channel.
If the operation was successful next to the item Close your IGTV you will see a dot with your profile photo.
How to upload a video to IGTV
To put long videos on Instagram with IGTV, go to the newly created channel. You open Instagram and presses on the IGTV icon, presses on theicon the dot of your profile and press the symbol (+) to add videos.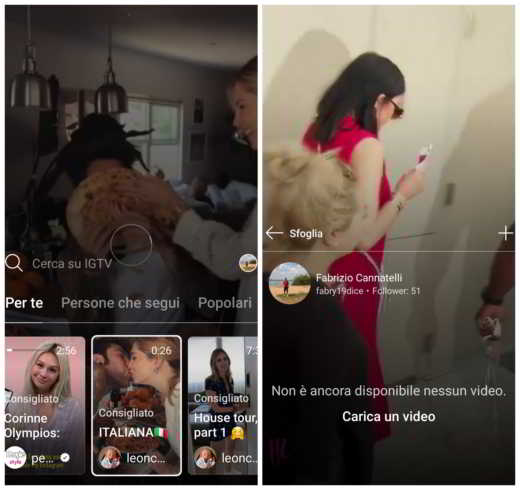 Choose one from your device and hit NEXT, top right, then specify Title e Description and if you want to make it visible on a Facebook page. Pigia, then, on Public to complete the operation. Below you will notice your video in thumbnail and the progress of uploading to IGTV.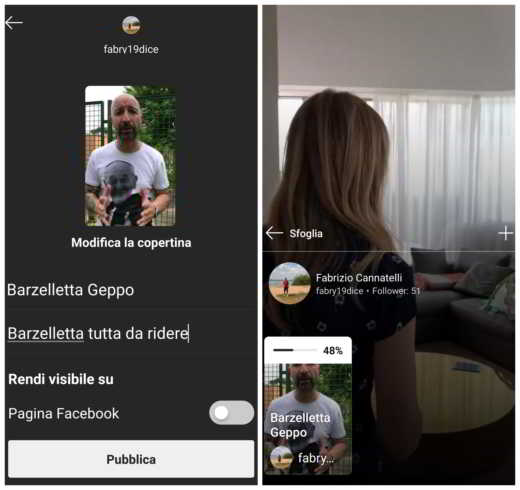 In case you want to delete the video uploaded to your channel, click on its preview and then on the icon (...), choose the item Delete and confirm everything by pressing once again on Delete.
For further information, consult the IGTV support page.
Other useful articles