Subscribing to Amazon's premium service could be extremely beneficial if you shop frequently from Jeff Bezos' site. That's why in this guide I'll show you in detail how Amazon Prime works.
Do you want to save with the Amazon shipping costs? If you don't know, Amazon makes the service available Amazon Prime, if you intend to try it, make yourself comfortable and read carefully because I will reveal all the costs and advantages offered by this service.
Amazon is one of the best e-commerce in the world, in addition to being open 24/24, it offers products of all kinds: clothing, food, hi-tech, products for the home, for sports and much other.
Amazon Prime cost. Buying on Amazon is very easy, just select a product, click on your PC or smartphone or tablet to receive it at home within a few days. To allow consumers to benefit from a series of services, including fast shipping, exclusive offers, an on-demand video service and much more, it is possible to subscribe to Premium, an annual membership program at the cost of 36 € o 3,99 euro monthly. For university students there is a 50% discount.
How Amazon Prime Works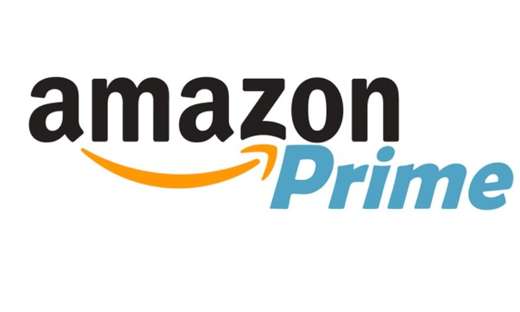 How to sign up for Amazon Prime. Signing up for Amazon Prime is very easy and does not require great computer skills. All you have to do is visit the service page and press the button Sign up and use it for free for 30 days. After pressing, follow the procedure to complete the registration and take advantage of all the benefits that I will list below.
It is not mandatory to renew after the 30 day trial. However, after the 30 days have elapsed, the registration will continue automatically and you will be charged the 36 euros per year or 4,99 euros per month. In case you want to deactivate your subscription during the trial period, simply connect to the Manage Amazon Prime settings page, and after logging in, click on No continue. In this way you will benefit from the free trial period up to the expiry of the 30 days.
If you are a college student by signing up for Amazon Prime Student, you can take advantage of Amazon Prime at half price with a 90-day free trial. In this regard, you can read this guide: How Amazon Prime Student works.
To disable the automatic renewal of Amazon Prime, go to Manage Amazon Prime settings, log in and click on the item Unsubscribe - Waiver of Prime benefits. The deactivation will take place when the subscription expires.
If you have not used the benefits of the service, Amazon will provide a full refund and will notify you via email when you cancel your subscription.
Fast shipping

On over 2 million products, the program Amazon Prime offers an unlimited number of shipments with single business day delivery and without paying anything, the cost of the product and the subscription to the service is separate. The products covered by the program have no shipping costs.
For all other products the shipment takes place in 2-3 working days.
Shipping "Delivery today"Costs 3,99 euros per shipment or is at no additional cost, for orders with a value equal to or greater than 29 euros (available only in Rome and Milan).
Amazon Pantry
Amazon allows you to shop, in the strict sense of the word. Amazon Prime subscribers can take advantage of the named service Amazon Pantry, thanks to which you can buy pasta, biscuits, detergents and various products of daily use, receiving everything at home, in a special package of max 20 kg.
You will have to pay the shipping costs of 4,99 euros and add products worth at least 15 euros to the cart. For more details read here.
Amazon Prime Video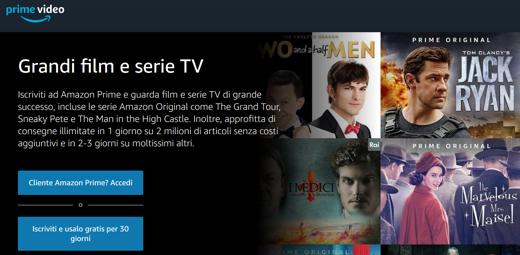 By subscribing to Amazon Prime you can also use the service Prime Video. It is a platform for streaming video with films, TV series, documentaries and content produced directly by the e-commerce giant (Amazon Original).
The service can be used via browser and via apps for compatible smartphones and tablets or smart TVs. Another cool feature of Prime Video is X ray, which allows you to identify song actors and learn more about what you are watching. Then there is the Download function to download your favorite content on mobile devices with an Internet connection. For further information read here.
Amazon Prime Music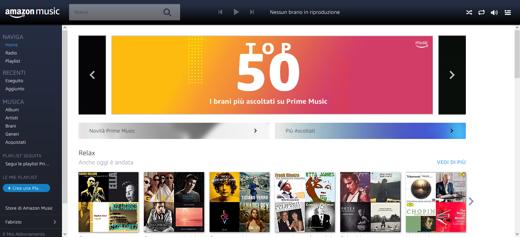 Not just streaming videos, by subscribing to Amazon Prime you can also get access to the service Prime Music, which offers a rich collection of over 2 million songs, albums, playlists to listen to in streaming without having to pay anything, both via the Web (through its Web Player) and through Android and iOS apps and Windows and Mac operating systems.
You can download the songs and listen to them even offline and without any advertising interruption. The only drawback is the listening limit of 40 hours per month. After which it is necessary to wait for the next mass to resume listening. For more information read here.
Amazon Music Unlimited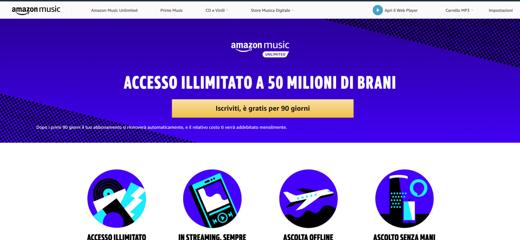 Amazon Music Unlimited is Amazon's music streaming service, a valid alternative to Spotify and Apple Music. By subscribing to Prime, you will be able to access the catalog of this platform consisting of over 50 million songs, to be listened to even in offline mode and from any device. After the 30-day free trial, if you are a Prime customer you can use it at a cost of 9,99 euro / month o 99 euro / year.
To learn more read: How Amazon Music Unlimited works: costs and benefits
Amazon Prime Reading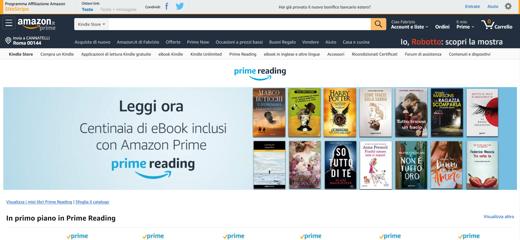 For those who are keen on reading, the Amazon Prime membership gives you access to as well Premium Reading, a service thanks to which you can read hundreds of successful digital books, comics and much more without having to pay for them individually and without having to activate additional subscriptions.
You can read content that interests you through the best Kindles, a Fire series tablet, or through smartphones and tablets, by downloading the appropriate app available for both Android and iOS. More info here.
Amazon Photos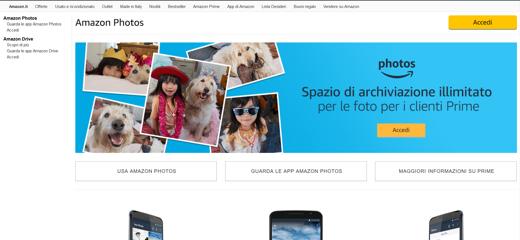 There are many services to store photos and videos online, but not all of them have the quality and are as free as that of Amazon Photos. It is a service that allows you to have unlimited and safe storage space for your photos without having to spend anything as long as you have subscribed to Prime.
Uploading and accessing photos can be done from the web, via the PC client or using the dedicated app for Android and iOS. Eventually you can also archive videos but they will occupy a high amount of storage which for Prime customers amounts to 5 GB. For further information read here.
Amazon Drive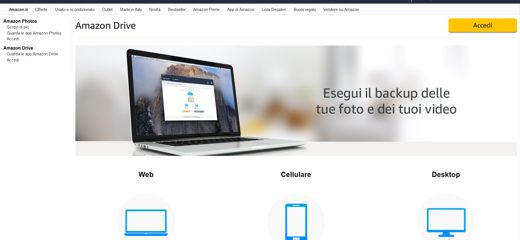 Amazon also offers an online data storage service called Amazon Prime. You can upload and store photos indefinitely and more to keep music and documents within a basic 5GB space. Amazon Drive is available on PCs, smartphones and tablets. To learn more, read here.
Prime Preview Offers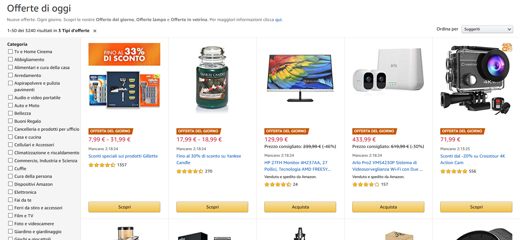 There are plenty of offers on Amazon. Every day the e-commerce giant offers discounts on many products that sell out immediately. By subscribing to Prime, however, you will be able to preview the upcoming offers in order to avoid missing an article of interest.
You can distinguish these types of offers as they are labeled "Prime Preview Offer". Visit the page with all the offers of the day and the Amazon flash offers,
Read also: How to track Amazon prices
Amazon Twitch Prime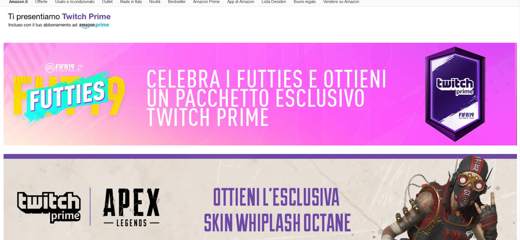 Twitch is one of the most popular video streaming platforms in the world. Unlike YouTube live videos and content referring to the world of videogames are the masters. The service is also available in a Premium variant, to which you can possibly have free access thanks to the subscription to Amazon Prime, which includes the name of Twitch Prime.
Amazon Prime Now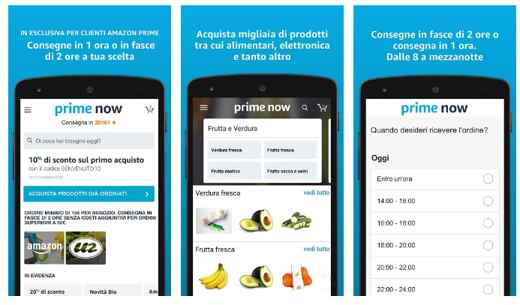 If you are in a hurry to receive a certain item, with the Amazon Prime subscription you can use the service Prime Now to receive the order placed within 1 hour with an accessible additional cost or free of charge, by choosing a time slot of two hours of the same day from 8:00 to 24:00.
Furthermore, using the dedicated app you can track the exact location of the courier in charge of delivery on the map, in order to find out precisely where your package is. The only drawback: this service is currently not available in all cities.
You can download this app on Android or iOS.
Amazon Dash Button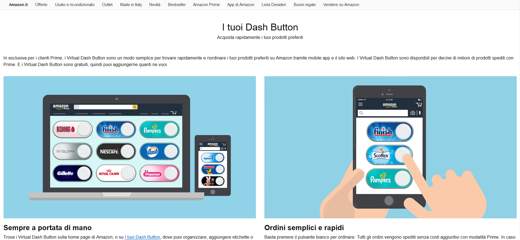 Ordering on Amazon is easy, but ordering by pressing a simple virtual button related to the products you usually buy is even easier.
With the Prime subscription you can enable the Virtual Dash Button. They are available for tens of millions of products shipped with Prime. They are also free and you can add them indefinitely. Find more info here.
App Shopping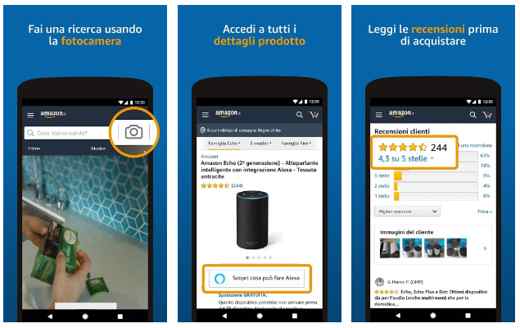 To buy on Amazon from mobile you can use the app Amazon Shopping available for Android and iOS. Through this app you can also contact Amazon customer service. To do this you need to go from your device to Menu (three horizontal lines) at the top left and select the Customer Service item. Then click on Contact Us and then choose the option Call Customer Service, in the section Have questions?
Log in and choose the reason for the contact by selecting from: An order I placed, My Kindle, Digital services, My Account o Other. Choose the item concerning your problem and type your phone number and then press the button Call me now.
Other useful articles
How to unsubscribe from Amazon Prime