One of the strengths of WordPress are the many free and unavailable themes. Finding the right theme is one of the key aspects of a site's success. In fact, those who want a professional site often rely on programmers capable of creating temi WordPress tailor-made at a cost of a few thousand euros.
Next to the many temi WordPress for a fee, however, there are also many free. These are themes made by programming enthusiasts who want to make themselves known and hope to sell some, other times they are free themes in a reduced version of the Pro ones.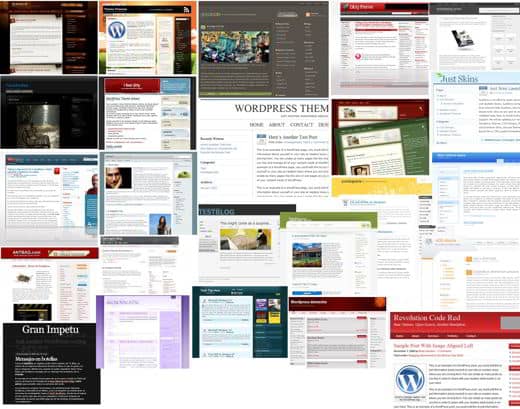 WordPress themes vary not only in appearance but also in the elements and functions that compose them. Some are quite simple and aimed mainly at graphics, others are much more complex and add new functions to those already present in the platform.
there temi WordPress developed for a particular sector such as music, cooking but also themes developed for online commerce sites that will have other features, such as linking to secure banking services.
Temi WordPress gratis can be found directly from the official WordPress site and can be accessed from the control window of your account. All the themes featured have been approved and tested by WordPress so you won't have to worry about your safety.
I temi WordPress are divided between free a payment and for category. For example, if you are looking for an online magazine structure you can choose the Magazine category, and so on.
In addition to searching by category, there is also the possibility of using filters that can only display themes that have a structure a a, the two or more columns, or i colors or even i menu that you find most interesting for your site.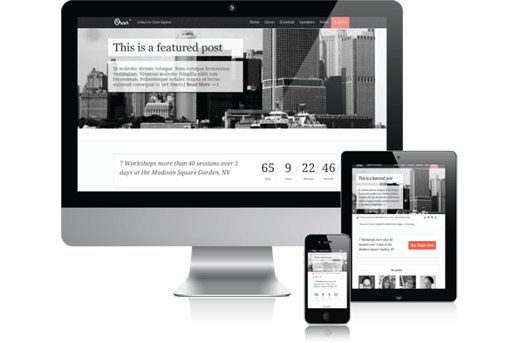 The advice I can give you is to analyze well the topic you are interested in viewing it through the demo, and only then check how it looks on your site by clicking Preview.
Choosing among the many free themes that are right for you is a long and tedious operation, so in case the structure of the chosen theme is not compatible with your site, do not waste too much time but immediately look for another theme by aiming up immediately to the filter window, visible in the section Temi, to find the category and structure you need.
All WordPress themes are SEO optimized and responsive. They are also updated automatically and their speed allows excellent rankings in search engines.
How to apply a theme in WordPress
If you are with a PC the first step to apply a theme in WordPress is to connect to its official page and click on Create website. If you have an Android or iOS tablet or smartphone, go to the store and download the WordPress App.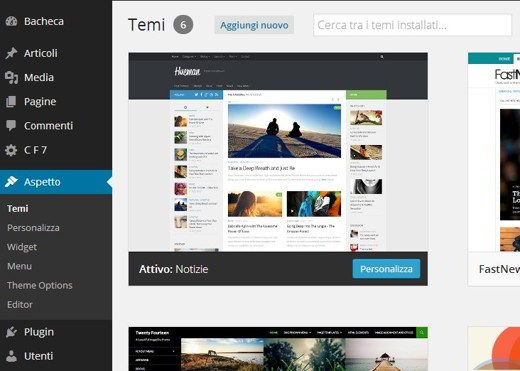 The first thing you will be asked is to choose a theme from those available: click on the one you like best, considering the fact that you can change it whenever you want. Or if you managed to install WordPress, you can from Dashboard going up Appearance> Themes> Add New, to view among the many categories (Featured, Popular and Most Recent) the theme that you think is most compatible with the blog you want to create. By clicking on the item Functionality filter you can see a page where you can select the features you would like in your ideal theme. You can tick as many as we want; the greater the number of features selected, the longer the list of identified themes will be. At the end click on Apply filters, top left, to view the result.
Another solution is to type a keyword in the Search for themes search field, for example magazine, to limit the results and display only the themes of a certain interest.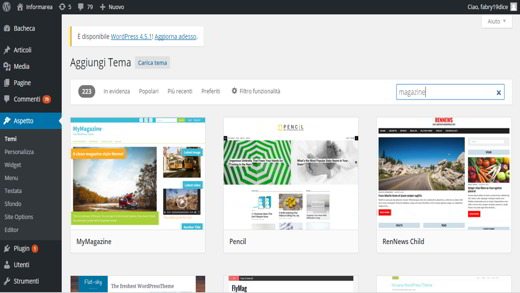 After identifying the theme, press the buttons Preview o Install, visible on the theme screenshot. Pressing Preview or Preview you can judge the performance with your site, the graphic structure and readability. Pressing Install the theme will be uploaded to your blog but will not be activated automatically. To do this, go back to the screen Temi and press pulsating Attiva, visible on the theme screenshot, to use the chosen theme.
WordPress allows you to intervene on some aspects of each theme to change its characteristics through the menu Customize. By clicking on it you will find a menu consisting of eight items, while on the right you can preview your called home page Customizer. The eight items are:
Identity of the site: contains the Site Icon item. This is the small icon that appears in the browser label.
Site colors: it contains the Color of the title and the Background color of the site.
Header image: here you can insert your company logo.
Wallpaper Background image: this is the image outside the site and present in the side columns.
Menu: this is the main menu and the secondary menu of the site.
widget: is the section that allows you to view the widgets you will add to the site in real time.
Static home page: is the page that should welcome visitors to the site.
Featured content: concerns the use and management of tags on the site.
Please note that paid WordPress themes, compared to free WordPress themes, offer, in addition to additional widgets, a support service and continuous updates.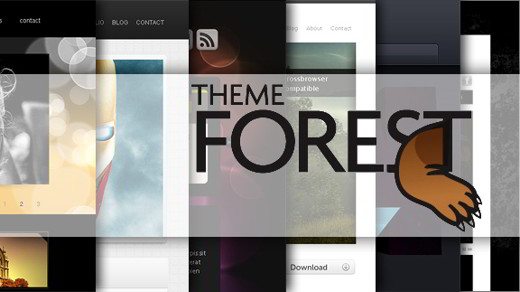 Below is a list of the best sites to find the best templates WordPress free and paid:
ThemeForest
WooThemes
StudioPress
Themify
Elegant themes
Template Monster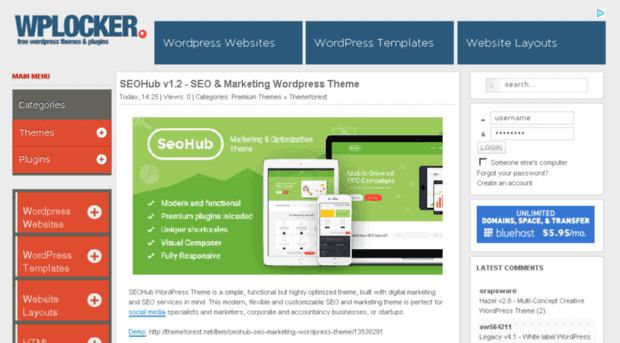 If, on the other hand, you want to test a new theme on your site before buying it and avoid spending money, you can try Wplocker. It is a service where you can download plugins and themes for free. I recommend that you visit it and take a look at it, it costs nothing.
How to choose the right theme
To close here are some tips for choosing the right WordPress theme. Like plugins, theme choice also affects the speed of a website. When choosing a theme, look for one that's already optimized for viewing on mobile devices and has good features of SEO integrated. Avoid broken or missing links and always use valid semantic code.
To make sure you are using the latest revision standards for WordPress themes, you can use the plugin WordPress Theme-Check.
To speed up the execution of your theme, use CSS styles where possible instead of inserting static images that involve long loading times. To help you with this conversion, use CSS Hat, a program capable of transforming Photoshop files into CSS. You can download it for about 45.
Another element to consider is to avoid filters like AlphalmageLoader to get graphic effects. Try to streamline your CSS files and avoid using too many files CSS e javascript.
Adriana gil We are a specialized and passionate team of virtual reality. We have extensive experience in this area. We decided to create ForVirtualRealityLovers to share all our information with customers and users. We have quality information. You can find tips, guides, interviews, top products and much more! If you are curious, enter our site ForVirtualRealityLovers.com and discover the virtual world! 😉 How to create a site on the free provider Altervista ❯
Articles related to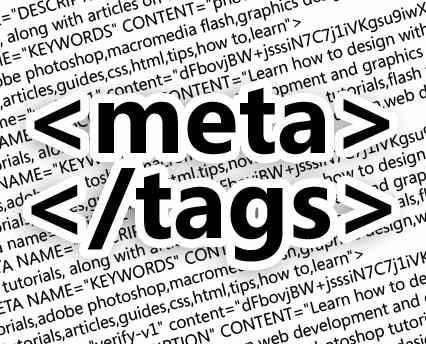 The robots meta tag and the robots.txt file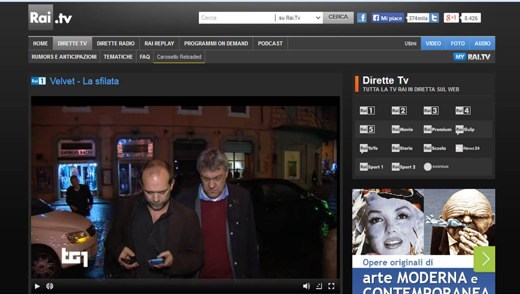 How to download and record the videos broadcast on the RAI website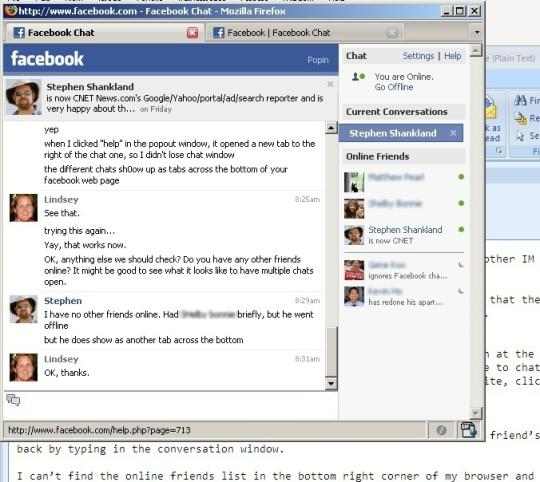 How to save conversations in Facebook chat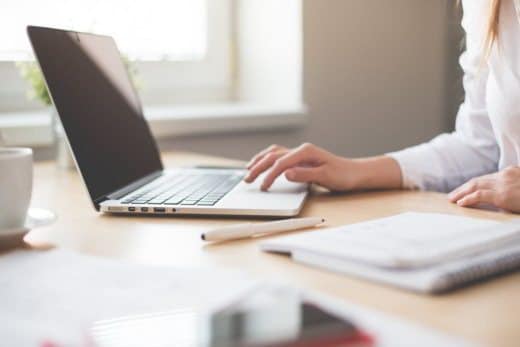 How Zimbra the modern open source email client works

Replace PostPager with PostPaging in BlogEngine.net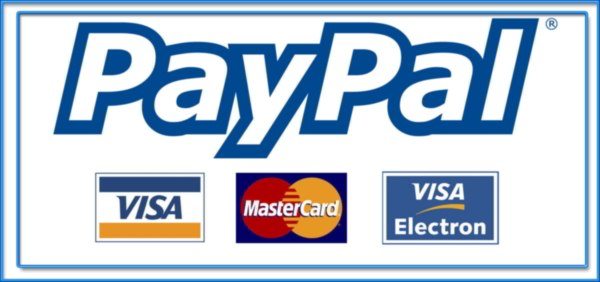 How to pay with PayPal when shopping on the Internet
Add a comment from Free WordPress Themes: Here are the best templates for your blog
Comment sent successfully! We will review it in the next few hours.

Internet
How to use uTorrent to download movies: Complete guide
Eurostreaming new address today
Bitstrips, the new app that turns us into comics, goes crazy on Facebook
How to find the owner of a car license plate on the Internet
How Facebook Reactions are used
Twitter says goodbye to the 140-character limit
How to find out who visits your Facebook profile
Adsl not working? Here's where the problem lies
Periscope arrives the Twitter app that streams our life
What to do when the wi-fi connection on notebook is not working?
Come convertire video Youtube in Mp3
Amazon games and toys offers: the Top 100
How to open specific sites when starting Chrome, Firefox and Internet Explorer
CB01 new address today
Which Hosting Service to Choose
Facebook towards the acquisition of WhatsApp?
EBooks and the revolution in the way of reading books
How to create Facebook acquaintances list
How to promote an idea with Giffits promotional items
What is a sitemap and when to use it
❤️Chi Sleep For Virtual Reality Lovers?
For Virtual Reality Lovers we are a team of people who aim to give you all the best information about Virtual Reality.
What information do we share?
We share everything you need to know about virtual reality, tips, prices, features, guides and much more !.
🤖What are the best virtual reality products?
We have the best information section on the best virtual reality products.



This work is under a Creative Commons Attribution-Non-Commercial-No Derivatives 4.0 International License. 2021/primerpaso.me X
Check out our best articles!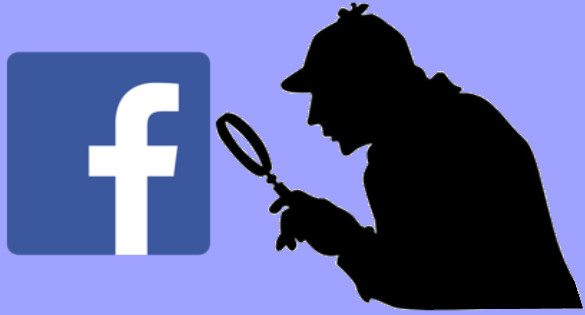 How to find out who visits your Facebook profile
How to insert a donation button in Blogengine.net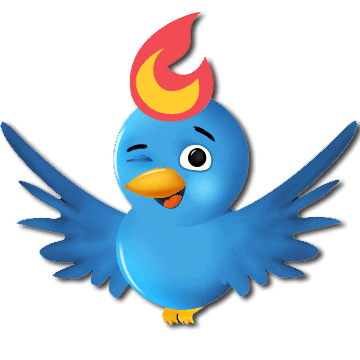 Track Twitter clicks with Feedburner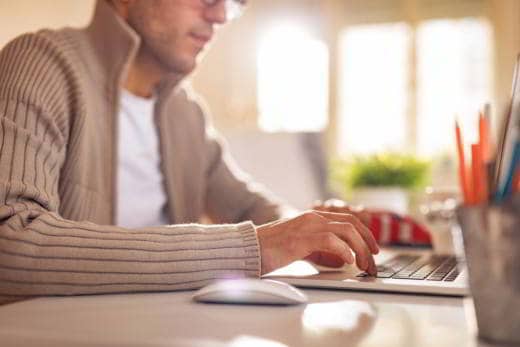 How to archive Outlook messages