The best file compressors. A selection of the most downloaded and used programs to compress files on PC and mobile.
If due to work needs you find yourself having to manage files in ZIP or RAR format, for example protected by passwords, it is good to have a program that can manage your archives safely and perfectly.
With today's guide I will show you the best file compressors for Windows 10 PC, Mac and for Android and iOS mobile devices. All you have to do is find the compression program that seems most suitable for your business needs.
Compression is very useful when you need to send multiple files via email and keep them within the attachment size limit, share them via a service like WeTransfer, or send them to a remote cloud server.
That's not all: in addition to reducing file size, the compression software offers many extra features to take into consideration. Perhaps the best feature of the compression tools is the ability to encrypt i fillet e protect them and with a Password, something you'll find in all of the tools listed below.
Index
Best file compressors

1. WinZip (Windows, macOS)
2. WinRAR (Windows, macOS, Linux)
3. 7-Zip (Windows)
4. Hamster Zip Archiver (Windows)
5. PeaZip (Windows)
6. Ashampoo Zip Free (Windows)
7. Zipware (Windows)
8. The Unarchiver

Other file compressors
App to open Zip files with Android
App to open Zip files with iPhone
Best file compressors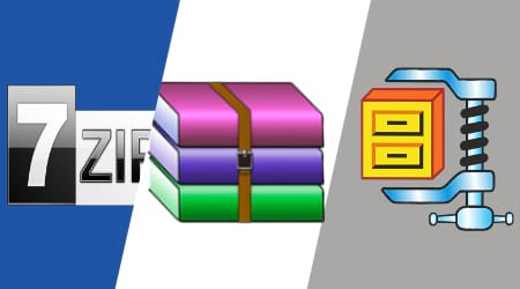 The most commonly used compression format is ZIP, but there are many more available. You never know what kind of compressed file you might encounter when downloading and sharing files, so it makes sense to have a program at hand that can handle all compression formats
If you have purchased a PC with Windows 10, you can leverage on File Explorer, the file manager included in Microsoft's operating system. It allows you to open both files ZIP that fillet ZIP encrypted, but if you are looking for something with more features then there is no need to settle for it.
Below we see which are the best programs to compress files taking into consideration those that offer the highest compression rates and those that support the greatest number of file types.
1. WinZip (Windows, macOS)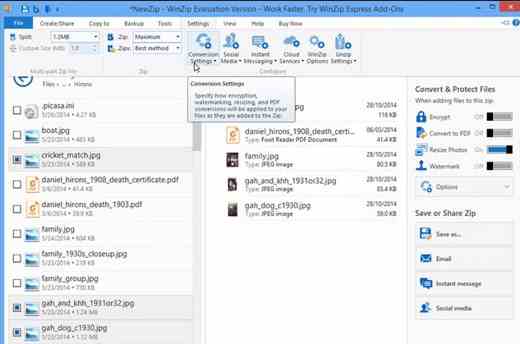 The best program to compress files around.
For
It supports many types of files
Splits large files
Advanced management tools
Cons
One of the most famous names in the world of software utilities, is WinZip. After nearly 30 years, it is still one of the best programs for compressing files around today.
By purchasing it for around 36 euros for the standard version you will enjoy all the features of WinZip and have a compression tool with support for a wide range of archive formats (including ZIP, ZIPX, RAR (extraction only), 7z, TAR, GZIP , VHD and XZ) and integration with a number of programs, including Office, to zip your work.
That said, you should also know that there are other valid free alternatives available on the market.
2. WinRAR (Windows, macOS, Linux)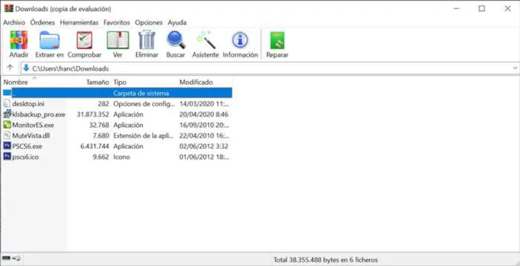 The only file compression software capable of creating RAR archives.
For
High compression rate
Works with multiple formats
Create RAR files
Cons
Famoso come WinZip, WinRAR It has made a name for itself thanks to its proprietary RAR format, which offers incredible levels of compression. Most compression programs can extract RAR archives, but only WinRAR can (officially) create them. This exclusivity costs around 30 euros.
WinRAR can be used to compress files into many other compressed formats and the program benefits from the fact that it is available for almost all platforms.
THEinterface is not the best among file compressors software and even if you choose to use the Explorer context menu to create or extract archives, beginners may feel overwhelmed by the number of options and settings displayed. That said, there is still a guided mode that eases most tasks.
WinRAR's main feature is full RAR support, with encryption, speed, self-extracting archive creation and themes. This means it's worth checking out the trial version to see if this is the file compression tool for you.
3. 7-Zip (Windows)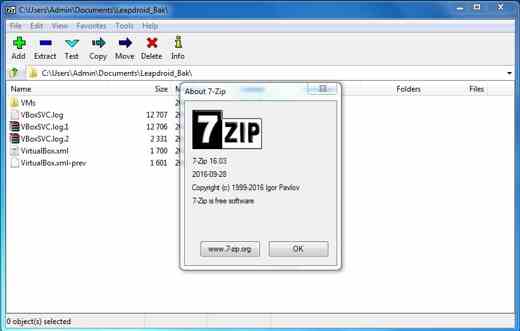 A free app with large format support and the ability to compress large files.
For
Free software
Own format
Great for large files
7-Zip is the first free option in this selection of the best programs to compress files. In addition to having a great reputation, it can handle virtually any compressed file format.
7-Zip boasts its own compressed file format, 7z. Not only does this allow you to compress really gigantic files, it also has an incredibly high compression rate. This means that you will have to sacrifice compression times; 7z can use "solid compression" to get small files, but it can be very, very slow.
7-Zip's interface is anything but attractive, and the number of context menu items created by the program can be a bit unnerving. However, by navigating through the program you can get rid of the options you don't need and take advantage of this utility that guarantees stability and reliability.
4. Hamster Zip Archiver (Windows)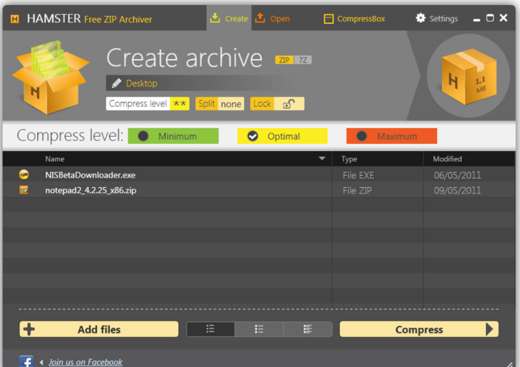 A smart looking file archiver that makes advanced compression easy.
For
Free software
Good interface
Drag and drop
It supports many formats
Cons
It might not be the first name that comes to mind when thinking about file compression software, but Zip Archiver has many supporters due to its carefully designed interface, excellent format support, and because it offers all of this for free.
What makes this program interesting is its incredible ease of use. Even those unfamiliar with the idea of ​​compressing and decompressing files can easily achieve the desired results.
Creating and extracting archives in one of a wide range of formats is reduced to a simple drag and drop process, and cloud support is a useful extra. This means that you can, in one quick and easy operation, create a compressed file, upload it to dropbox, OneDrive, Google Drive o Yandex Disk and automatically create a shareable link.
If you're compressing files to share, this is a brilliant option. If you're not a fan of the drag and drop interface, you can use the Windows context menu to take care of everything - the choice is yours.
There are dozens of compressed file formats, but Hamster Zip Archiver can handle them all. The only drawback is that Hamster Zip Archiver is only available for Windows.
5. PeaZip (Windows)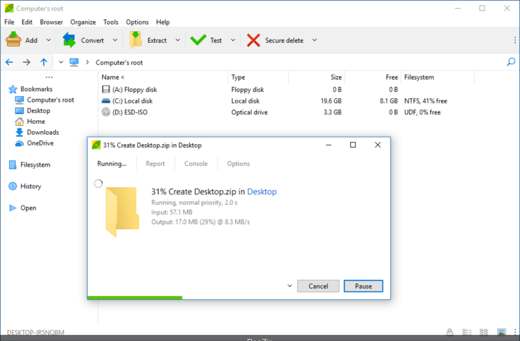 A free file compression tool that works alone or in conjunction with WinRAR.
For
For Windows and Linux
Convert archive formats
Security tools
Another free compression program, PeaZip (for Windows and Linux) is simple but surprisingly powerful and offers a lot of security options
In addition to the normal compression and decompression options, you can also use PeaZip to convert archives between formats. For security lovers, this file compression software also offers AES256 andauthentication to two factorsas well as a password manager.
As with the other compression tools in this roundup, you can either use the main program interface or fall in love with the right mouse button and use the context menu.
PeaZip is a compression tool that can, in a sense, create - and extract - RAR files. If you have WinRAR installed (be it the full version or the trial version), PeaZip can use the software to get full RAR support.
6. Ashampoo Zip Free (Windows)
A free alternative to WinZip optimized for touchscreens.
For
Easy to navigate
Interfaccia touch-friendly
Archive repair tool
Cons
Less advanced options than 7-Zip
Many free Winzip alternatives hide their best features behind a complex menu system. Ashampoo Zip Free is a rare exception, with a clear interface and an optional touch mode with larger, more intuitive icons.
Many of the options shown on the main boot screen are shortcuts to paid applications such as dedicated encryption and decryption tools, but it also features the free options found in other free file compression software, such as: multi ZIP creation, extraction, repair and writing -volume of the archive.
Interestingly, Ashampoo Zip Free also offers previews of files before extracting an archive. This can be very useful, but it happens automatically, so don't be alarmed if a music file starts playing on hover.
Ashampoo Zip Free doesn't offer an overwhelming number of options and each of its features are clearly presented and explained. Power users may prefer the finer customization provided by tools like 7-Zip, but for the average user this is an excellent choice.
7. Zipware (Windows)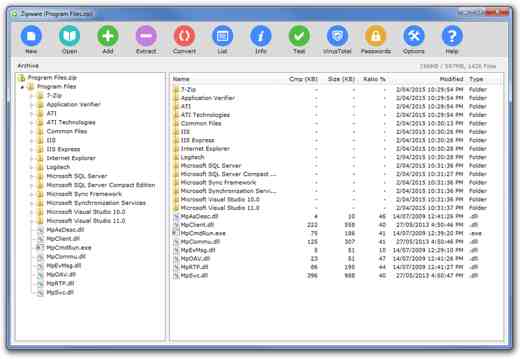 A great free alternative to WinZip whose simplicity is its priority.
For
Integrated virus scanner
Well designed interface
Cons
Zipware it looks as good as any other premium file compression software and is wonderfully simple to use. Just choose "New" or "Open", choose the source file or archive, change some optional settings and that's it.
Zipware's amazing feature is the built-in virus scan - if an archive is less than 32GB, you can check it for threats with VirusTotal. This is unlikely to be of interest to advanced users, but it is a useful addition for anyone unsure about extracting downloaded archives.
Zipware is free, but if you decide to join, the website invites you to make a donation to support its development - a reasonable request if you can afford it.
8. The Unarchiver
The best file compressor for Mac
For
Easy to use
It supports many formats
Cons
The Unarchiver is the program to compress files for Mac. It is the only app that will help you to open a RAR file on macOS and supports an infinite number of compression formats.
It is an easy to use free program that can be conveniently set as the default app for all your archive files. Having a RAR extractor for Mac will save you precious time, especially when it comes to managing compressed files.
Other file compressors
ZipGenius (Windows)
8 Zip (Windows)
iZip Archiver (maOS)
App to open Zip files with Android
If you own a smartphone or tablet Android, you can open zipped files via one of these apps:
ZArchiver
WinZip
X-plore File Manager
App to open Zip files with iPhone
With iOS 11, Apple mobile devices (iPhone and iPad) already have a pre-installed file manager, called Fillet, which allows you to preview ZIP files in internal storage and iCloud Drive. Unfortunately this tool does not support encrypted archives, which is why I recommend that you also use third-party apps, such as:
Readdle documents
Zip
WinZip