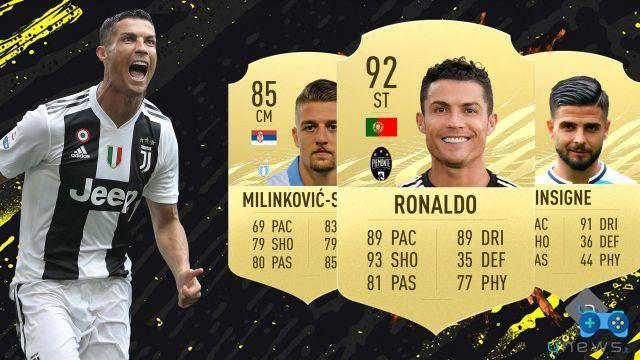 When the game is hard…
FIFA 21 has been on the shelves for a week already and we have seen that many of you are continuing to trust us by following our dedicated FUT Ultimate Team guides. On the other hand, let's talk about the most loved / hated mode by fans of the EA Sports franchise.
Often times, you will find yourself in trouble, as the players who have won you a thousand battles may not be as useful, especially during FUT Champions matches.
It might interest you:
How to recognize a Walkout
How to start earning credits with the Web App and the Companion App
The cheapest Serie A players to start
The cheapest Premier League players to start
The best Ones to Watch (OTW) to bet on
The cheapest La Liga players to start
The cheapest Bundesliga players to start
The best team in the Premier League for 100.000 credits
Advice on buying and selling
The best team in La Liga for 100.000 credits
The best team in Serie A for 100.000 credits
The most buggy players in Serie A
Eight economic "beasts" absolutely to buy
How to make a lot of credits with flipping
The most buggy players in the Premier League
The most buggy players in the Bundesliga
Find out with us which Serie A players will be able to transform your Dream Team into the strongest team in FUT Ultimate Team.
Please note: - next to each player you will find the relative purchase price. The one on the left refers to the PS4 version, the one on the right, the Xbox One version!
Module 4-3-3
Goalkeeper
Samir Handanovic (OVR 88) - 18500/19250: The Slovak goalkeeper who has been defending Inter goal for many years is now your best choice. Each value of his card is the clear demonstration that it will be difficult to find someone stronger than him in the Italian top flight.
Alternatives
Wojciech Szczesny (OVR 87) - 14000/16000: The Polish extreme defender with an unpronounceable name has nothing to envy to the Inter penalty bar, in this case it is more of a "fan's choice".
Gianluigi Donnarumma (OVR 85) - 6000/6100: If you are looking for a low-cost solution to defend your goal without sacrificing reliability, this young man is an excellent choice, if we then take into account the different versions that the card will receive, the good national Gigio it is definitely worth keeping an eye on.
Left back
Theo Hernandez (OVR 80) - 24000/16500: Serie A is a fairly sparse league of quality left-backs, for this reason, the only choice is the French defender in Milan. In case you want to buy its IF version (OVR 83), be prepared to spend some 107000/88500 credits.
Central Defenders
Kalidou Koulibaly (OVR 88) - 80000/70000: Since the transfer to the Premier League is skipped, betting on this rocky defender is the right choice. Speed, defense and taxes are the values ​​that make the Senegalese center a real "wall".
Matthijs De Ligt (OVR 85) - 27500/25250: The young Dutch defender under the training led by Pirlo is the right mix of speed and defensive attitude (and at least here he doesn't take it with his hands).
Alternatives
Giorgio Chiellini (OVR 87) - 14500/17000: The expert Italian defender is certainly an excellent choice for defense, but it must be admitted that the excellent defensive and physical characteristics may not be enough, as the player's speed could suffer the centometrists of other leagues (Rodrigo, Salah and company).
Right back
Juan Cuadrado (OVR 81) - 11250/8600: The fast Colombian full-back is the only quality choice available if you want to create a squad of players exclusively from Serie A. Although this is a forced choice, the Juventus player is perfect for the role, in fact, it combines unique offensive capabilities with a discreet defensive presence.
Midfielders
Luis Alberto (OVR 85) - 6000/6500: The Lazio midfielder is the right man to dictate midfield geometries and drive opponents crazy with intoxicating dribbling strokes. Pick this player and you will have a real number ten.
Sergej Milinkovic-Savic (OVR 85) - 7800/8500: Here is another player from Lazio, the Serbian titan is the perfect athlete to protect your midfield and punish some goalkeeper with some of the surface-to-air missiles he is capable of launching. If you want a safe midfield, he is the man for you. In case you have some credits aside (56000/63500), the IF version of the Lazio midfielder is devastating.
Alejandro "Papu" Gomez (OVR 86) - 57000/48000: The small Argentine midfielder is the ideal man to ensure a great performance. Speed, dribbling, shooting and passing make the atalantino a real fury, especially you want to run to the goal and unleash his deadly right. In case you have a nice nest egg aside (217000/188000 credits to be clear) you can ensure the performance of its In Forma version.
Alternatives
Christian Eriksen (OVR 85) - 8800/8600: The midfielder in strength at Inter is an excellent playmaker, even if Antonio Conte does not seem to have noticed. So if you are looking for an ambidextrous player, capable of exciting dribbling and capable of churning out impressive shots, you have bought the right man. In case you want a stronger version of this player, the IF version (OVR 86) is available at a cost of 48250/52000 credits.
Paulo Dybala (OVR 88) - 91000/85000: Talking about the player known as La Joya is always a pleasure, the crystalline class of this athlete gives sparkle and liveliness to this sport. If you want to field him in your FIFA 21 FUT Ultimate Team team, you will have a flexible player, fast and with a terrifying left.
Left Wings
Lorenzo Insigne (OVR 85) - 23000/21750: The snappy Neapolitan is the perfect player to churn out juicy assists and make impressive round shots. And if you love dribbling, the 4 stars of Skill Skill will make everything easier.
Alternatives
Douglas Costa (OVR 84) - 63000/40500: Do you love the Joga Bonito style and can't help but have a player who is fast as a train? He may have moved to Teutonic land, but his card is still available in Seri A. The Brazilian winger is therefore the man who can satisfy your every need on the left wing.
Right Wings
Hirving Lozano (OVR 80) - 1700/1700: Don't be fooled by this Mexican player's overall. In fact, you will have to let him express them at their best by running up and down the right wing and providing assists as if it were raining. In case you prefer an enhanced version (OVR 83) of this interesting card, be prepared to shell out a fair amount of credits (108000/87000).
Alternatives
Achraf Hakimi (OVR 83) - 5500/4000: The young Moroccan in force at the inter could be an interesting investment, in fact, thanks to his top speed he is close to the levels of the Mexican.
José Callejon (OVR 84) - 3400/3900: The Spanish winger, recently transferred to Fiorentina, could be an excellent low-cost choice, in fact, his balanced values ​​make him a complete player.
Forwards
Cristiano Ronaldo (OVR 92) - 1640000/1413000: If you want the best of the best for your team in FUT Ultimate Team, you'll have to look for him. The Portuguese champion has almost perfect values, the only problem is the cost, but if you want a valuable Serie A you can't miss him in your team.
Alternatives
Lautaro Martinez (OVR 84) - 14500/11000: In case you have not accumulated the necessary credits to buy Ronaldo, rely on the "Toro" of the Inter home, he is an omnipresent player with a high physical power and a devastating dribbling.
Romelu Lukaku (OVR 85) - 7200/8000: The other attacking element of Antonio Conte's Inter could also be an excellent choice for your Serie A. We are talking about a fast and physically powerful player who loves to leave his mark. Why not give it a chance.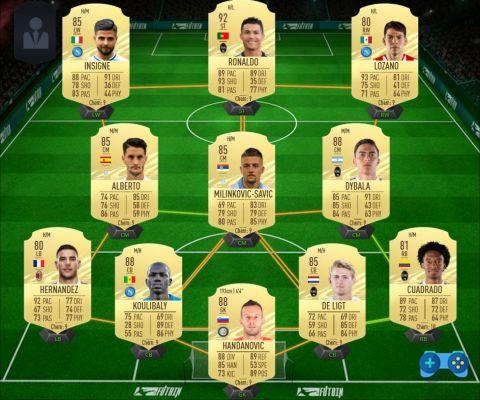 Let us know in the comments if you are playing FIFA 21 and building your Ultimate Team in FUT through our recommendations.