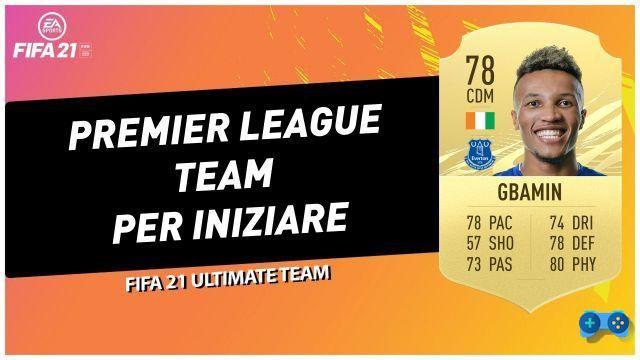 So, let's kick off!
Very little is missing from the release of FIFA 21, scheduled for next October 9 on all major gaming platforms. For this reason, it's time to think about which team to start FUT (FIFA Ultimate Team), the franchise's cross and delight mode for many years now.
There are many leagues to choose from, from the half-known and talented ones to the best-known ones full of champions.
It might interest you:
How to recognize a Walkout
Advice on buying and selling
The best Ones to Watch (OTW) to bet on
The cheapest Serie A players to start
The cheapest La Liga players to start
How to start earning credits with the Web App and the Companion App
The cheapest Bundesliga players to start
The best team in La Liga for 100.000 credits
The best team in Serie A for 100.000 credits
Eight economic "beasts" absolutely to buy
The best team in the Premier League for 100.000 credits
How to make a lot of credits with flipping
The strongest Premier League / Ligue 1 / La Liga hybrid team for 200.000 credits
Today, we will find out together which players of the English Premier League they could help you in this adventure, logically without spending too many credits. Before starting, we inform you that the Premier is the most used league online courses, so some players may require a higher credit disbursement than other athletes from different leagues.
Goalkeepers
Although the goalkeeper is the least relevant figure for many players, having a good one in goal can turn the match in your favor.

To start, Henderson (80) e Pope (82) they could be excellent choices, in case you prefer more reassuring evaluations, Dubravka (83) e Patricio (84) are the gloves that are right for you.
Central Defenders
We know very well that whatever team we choose to create the important thing is to have a solid defense, both in the real world and in the virtual fields of FIFA Ultimate Team. The players you choose to place in that portion of the field will make the difference between victory and defeat.

Again, there are good choices for a starter team. Manchester United duo, Bailly (79) e Lindelof (80), they might be good options, as well as Aké (79) of the City. Instead, if you want to focus on "safe used", keep an eye Sanchez (81) of Tottenham and the former Roma Rudiger (81), today in force at Chelsea. The latter two in fact, could be an interesting low-cost choice since they are two "common" stickers.
Full backs
As is known, full-backs are the most important players, both in real life and on FIFA Ultimate Team, especially in the Premier League, where there are a lot of young hopefuls with a shot worthy of the best centometrist.

These 5 players could be forced choices to start playing the fields and put your opponents in difficulty. For the right wing we have Hector Bellerin (80), Yedlin (76) e James (77). The latter does not have a great sprint, but it could offer you greater defensive capacity, it all depends on how you interpret the game and what your style of play is. On the left instead we find Van Aanholt (77) e Tierney (78), in this case it is two fairly similar players, in fact, are the characteristics of Physical e Threw to make a difference.
Central Midfielders
Central Midfielders and Central Defensive Midfielders will be your team's "draw horses", so try to ensure the performance of the strongest and most enduring players.

Despite the choice of many it is directed towards the physical might of the Nigerian Ndidi (84), we advise you to consider Gbamin (78) e Soucek (81), will be great alternatives to start with, especially if you're low on credit.
Also Sissoko (79) e Fred (81) they are very interesting, while the first makes brute force his job, the second thanks to his 4-star Skill Skill he can also be a decent dribbler.
Central Attacking Midfielders
The role of COC in FIFA Ultimate Team it is reserved for Playmakers such as the Legendaries Andrea Pirlo, Roberto Baggio e David Beckham. Unfortunately, none of these three (the Spice Boy is PES exclusive) are in business anymore and if you want to ensure the performance of at least two of these players, you'll have to shell out a fair amount of credits.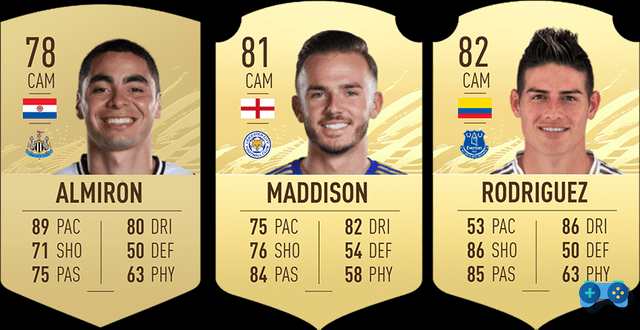 Unfortunately, there aren't many low-cost alternatives in the Premier League this year, so we'll have to "settle" for these three. Let's start from James Rodriguez (82) the former Real Madrid is the perfect choice if you love to dribble your opponents and come face to face with the goalkeeper. The only obvious flaw that could make you think again about the purchase is the speed, which is decidedly poor.
Maddison (81) ed Almiron (78) they are definitely balanced for the role, while the first is a quality assist-man, the second is ideal for those who like to take a few outings at the opponent's penalty area.
Right Wings
A good use of the Wings in Fifa Ultimate Team can often lead you to victory, in fact, thanks to their speed and the discrete predisposition to dribbling they are able to carry out long coast-to-coast actions.

Fortunately, the Premier League is full of players running on the right flank like Usain Bolt. We warn you that these athletes will be among the most expensive in your new squad.
Let's start with Arsenal's two outsiders, the Ivorian Pepper (82) e Willian (82), these players, gifted with speed and dribbling will be excellent to start your adventure. In case you have accumulated some credits, perhaps through Early Access, you can aspire to players with pure speed such as James (77) e Minamino (77).
If, on the other hand, you want a player who combines the strength of a bodybuilder and running as a sprinter, the Spanish Adama Traore (79) is the perfect player for you.
Left wings
As mentioned above for the players whizzing on the right flank, the Premier League has a decent selection even for those who will face the left side of the pitch.
Many of you may be shocked that the Chelsea player Pulisic (81) be a player non-rare. Despite having collected a series of not exceptional performances, it could be a low cost choice, in fact, it still has good speed and a decent dribbling.
Another low-cost player is Barnes (79) of Leicester, who appears to be a fairly balanced player for the attacking zone.
If, on the other hand, you are aiming for the best of the best, know that there are always the "dear" Felipe Anderson (81) e Saint-Maximin (80), who show off an enviable speed and a high propensity for dribbling. However, we must not disdain Diogo Jota (80), the Portuguese winger could be a promising investment to start moving into the Premier League.
Forwards
Now let's move on to one of the most important roles for a coach, in fact, without a good finisher every team is lost. Here is a series of interesting attackers, who will keep you company until you can buy phenomena like El Kun Aguero e Pierre-Emerick Aubameyang.

The Premier League is the ideal league for those looking for fast strikers who are able to overturn the result. Let's start with the "old" Lacazette (83) that despite this year's downgrade could still reserve some surprises in front of goal.
If you prefer to rely on Joga Bonito, Richarlison (81) could be an excellent choice, as he combines speed, dribbling, shooting and physique. If dribbling isn't your thing, King (77), Antonio (78) e Calvert-Lewin (79) they will reward you with all their speed.
Let us know in the comments if you plan to bring a good Premier League squad to FIFA 21 Ultimate Team and if you will try the new EA Sports boys title.