A selection of best free web programs and applications for PDF editing online or your PC.
Whether you're using them for work, school, or general use, PDF files are a great way to share information. In this article, we have collected the best free PDF Editor to edit PDF.
The advantage of PDF documents is that their content does not change, regardless of the type of program used to open them or the device on which you are viewing them. This makes PDFs ideal for important information that could be misinterpreted if the style or formatting of the document were changed.
Yet on the market there are tools capable of editing PDFs. That is why we have decided to put together a definitive list of together with the definitive list of the best free PDF editors, which you will find below.
Index
Edit PDF with the best editors

1. Smallpdf (Windows, macOS, Linux)
2. PDF-XChange Editor (Windows)
3. Formswift (Windows, macOS, Linux)
4. PDFescape (Windows, macOS, Linux)
5. Sejda (Windows, macOS, Linux)
6. PDF Buddy (Windows)
Edit PDF with the best editors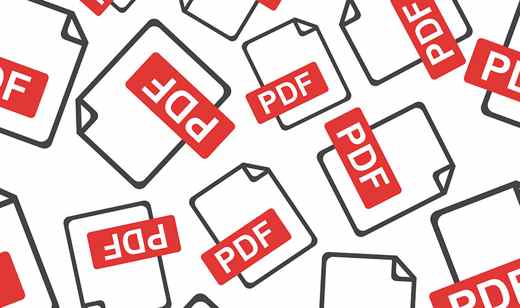 When deciding which free PDF editor to download and use, first consider which parts of your PDF file you need to edit. If you're just looking to add your information to a form digitally, you'll need a basic editor that supports text entry.
If you need to edit PDFs, you need a most powerful PDF editor able to make changes to text or images already stored in the file. In some cases, full PDF editing is preferable using a free PDF to Word converter program.
1. Smallpdf (Windows, macOS, Linux)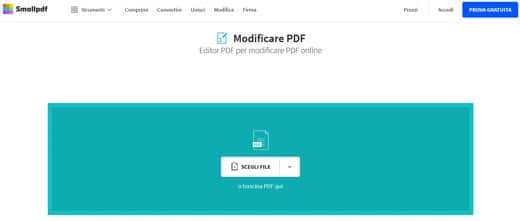 A handy cloud-based free PDF editor.
Powerful range of tools
Cloud-based
PDF to Word Converter
Limited free trial
With the tool Edit PDF online di Smallpdf, you get a simple user interface that allows you to add text and image content to your PDF files. This platform also offers a simple electronic signature and the ability to use tools for adding comments and highlights to information already stored in PDFs.
The Smallpdf system actually contains many other options for editing PDFs. In addition to the editor function, there are various options for converting PDFs to formats that are easier to edit as a Word e PowerPoint and you can save space by merging individual PDF documents into a single file.
But the best thing about Smallpdf is that it is a cloud-based platform. In other words, you can access it from any device with a web browser by visiting the Smallpdf website and dragging and dropping a PDF into your browser.
Don't be fooled by the button above Free trial: the use of Smallpdf is free (within the limits) you can purchase a subscription in case you decide to install theapp Smallpdf desktop for offline edits, to have faster uploads, unlimited use and simultaneous processing.
2. PDF-XChange Editor (Windows)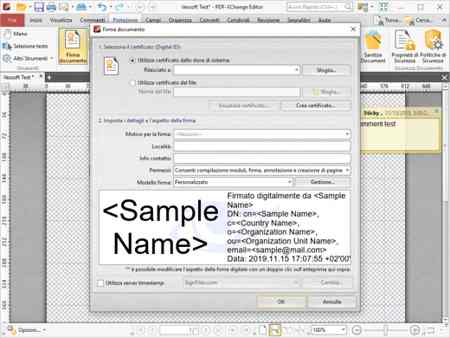 Another great tool for editing text in PDF, with built-in OCR.
Optical character recognition
Editing the text
Split and extract pages
Watermark documents
PDF-XChange Editor is a free PDF editing program for Windows operating system, developed by Tracker Software. The interface is a bit more complex than that of the Smallpdf editing suite, but gives easy access to many useful features such as a stamp option to mark documents as "Expired"Or"Approved".
Most users use PDF-XChange Editor for built-in optical character recognition (OCR). This means that if the original PDF document is a photocopy, PDF-XChange will still recognize the text and allow you to edit it. Furthermore, PDF-XChange Editor is capable of reformatting text and even converting it to fonts that are not present on your computer.
Like Smallpdf, you can use this platform to merge or split individual PDF files. The only downside to this powerful editor is that if you haven't signed up for the Pro version, a small watermark will be added "Created with PDF-XChange Editor"At the bottom of the PDF files you export.
3. Formswift (Windows, macOS, Linux)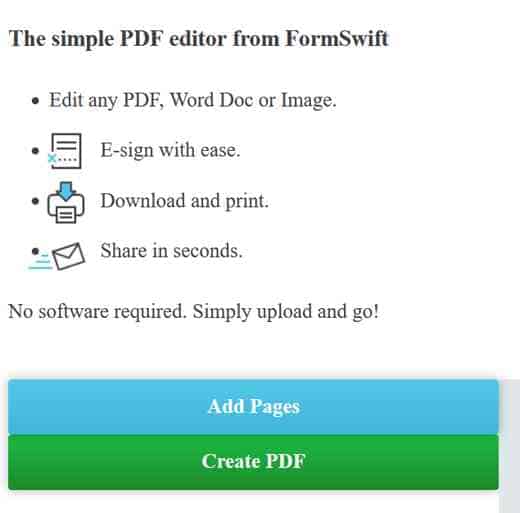 A completely free PDF editor for your web browser.
Scan documents from phones
Edit images and text in PDF
Simple cloud-based system
Cannot divide / merge documents
FormSwift is an in-browser PDF editing program that you can start using in seconds. Unlike PDF-XChange Editor and Smallpdf, the FormSwift it's totally free. This means that you don't need to start a free trial to use it. There are no annoying "upgrade now"To ignore.
With support for adding images, editing text, electronic signatures, and check marks, FormSwift has everything you need to perform basic PDF edits. After completing your changes, you can print directly from the FormSwift interface or save the file as a Word or PDF file.
Also, if you need to import a paper document for editing, all you need to do is visit the Snap FormSwift URL on your phone. Once permission is granted, the platform will use the phone's camera to import the file.
4. PDFescape (Windows, macOS, Linux)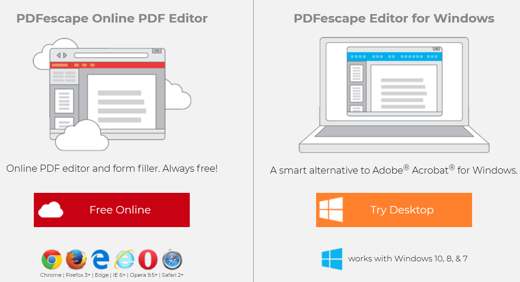 Ideal for editing smaller PDF files.
No account needed
Easy merging of documents
File size limit of 10 MB
The desktop editor is paid
With PDFescape Freeware PDF editing is possible online or via a desktop application. The desktop application is the more powerful of the two as it supports changes to pre-existing PDF content and allows you to scan paper documents. However, only the online version of PDFescape is free.
With free PDF editing of PDF escape online you can take advantage of many options, such as the ability to take freehand notes and a tool to add clickable URL links to your documents. You'll also find that it's refreshingly easy to add, rotate, and annotate pages with the browser version of PDFescape.
The one major flaw with this free PDF editor is that you can't upload documents larger than 10MB. A normal A4-sized PDF page only takes up about 100KB of data, so this shouldn't cause any problems unless you're editing a PDF book.
5. Sejda (Windows, macOS, Linux)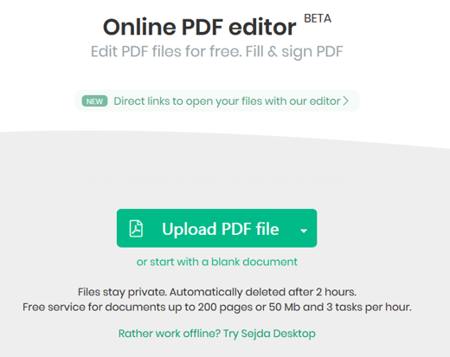 Edit PDFs with an intuitive interface in the cloud.
No account needed
Simple interface
File size limits
Premium is expensive
.PDF editor files are a good way to store business or financial information, which means their contents are often sensitive. Sejda is a free online PDF editor that you can trust, all files are deleted from its servers five hours after they are uploaded.
Safety aside, Sejda is a good choice if you are looking for a free PDF editor with an intuitive interface. Sejda's single menu bar makes it easy to find all the editing options you need to add text, links, images and signatures to PDF documents.
When you are done editing a document in Sejda, you just need to click on the "Apply changes"And proceed to save the finished product in your Google Drive account, in the Dropbox system or locally.
Sejda has some limitations, but they aren't restrictive enough to cause problems for casual users. You can only perform three tasks and upload 50MB or 200 pages of information to the Sejda platform every hour.
6. PDF Buddy (Windows)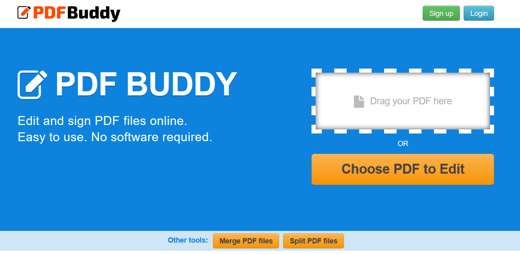 A program to edit PDF files for free, simple and no frills.
Quick upload and edit
Sign documents in seconds
Clear and precise instructions
Limited functionality
File security
PDF Buddy is another online PDF converter that deserves a place in the list of best free PDF editor In circulation. The service is in fact free and requires no download or installation to be used. With this tool, the PDF edited directly online can be downloaded in a few seconds.