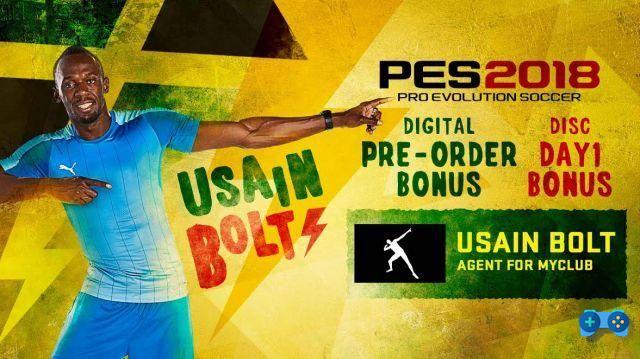 To by World.
Konami Digital Entertainment BV announced that Usain Bolt, also known as "the fastest man on the planet" became an ambassador for PES 2018
Usain Bolt is a living legend of athletics and is currently world champion in the disciplines of 100m, 200m and 4x100m relay. Since starting to hit the international athletics scene in 2002, Bolt has been unstoppable, winning countless medals and gaining unprecedented fame that has resulted in his signature "To Di World" victory pose becoming legendary. The Jamaican athlete is also known to be a great fan and an excellent footballer, and the agreement signed with KONAMI will allow anyone who pre-orders the game to be able to use him as a special player in PES 2018
Anyone who will reserve their copy of PES 2018 before September 14, he will be able to use Bolt as a player in myClub mode. KONAMI used its proprietary face scanning system to faithfully recreate the athlete in the game, while his signature running style is - very importantly! - his incredible speed will make him a key player in any part of the field.
Konami Digital Entertainment BV announced that Usain Bolt, also known as "the fastest man on the planet" became an ambassador for PES 2018